This Easy 10-Minute Dairy Free Hummus Quesadilla with Frozen Vegetables is perfect for a quick working-from-home lunch or weeknight meal. It uses frozen veggies and store bought hummus for a balanced meal in minutes!
I have to admit, being home so much has me in a bit of a lunch rut. During a regular work week, I'll often prep my lunches ahead of time, or plan to have leftovers each day for lunch. These days, I've been making dinner recipes with two portions only because we haven't really been in the mood for leftovers. The weather is getting nice, and having a warm meal with rice or pasta doesn't always appeal.
Last week, I started to get a little more creative with my lunches. In no way do I want to make a full recipe for lunch, this takes too much time and prepping one meal a day is more than enough at the moment! So I've been trying out new ways to revitalize some traditional lunch meals using the ingredients that I have on hand, in a way that makes then a little more interesting and enticing. This Easy 10-Minute Dairy-Free Hummus Quesadilla with Frozen Vegetables did not disappoint!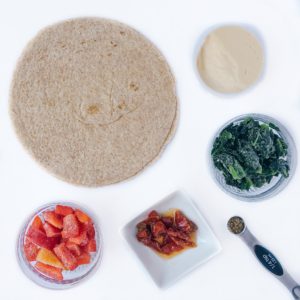 I've never been a real quesadilla fan because I find most often, they're too cheesy. I'm aware this might be a polarizing opinion, and don't get me wrong, I love cheese, but I want more from my meals than melted cheese, you know? This 10-minute Dairy-Free Hummus Quesadilla is the perfect solution. Using hummus as the binder in this recipe works perfectly to hold everything together. Hummus is also a source of protein to help keep this recipe balanced. I used roasted garlic hummus which added a delicious flavour too!
Easy 10-Minute Dairy-Free Hummus Quesadilla with Frozen Vegetables
This recipe uses only 6 ingredients which keeps this lunch simple. I also opted to use frozen veggies because who wants to chop vegetables at lunch?! I love adding greens to quesadillas because they shrink down to almost nothing and allow you to add tons of veggies without having issues with the quesadilla sticking together.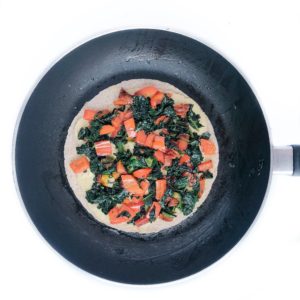 Looking for more quick and easy meals? Check out this Roasted Asparagus Grilled Cheese with Garlic Aioli recipe!
How to make it:
To make this Easy 10-Minute Dairy-Free Quesadilla with Frozen Veggies recipe, you'll start by sautéing the veggies from frozen in a medium pan with oregano, salt and pepper. Meanwhile, you'll spread hummus evenly over one side of each small tortilla. You can also make this recipe using one large tortilla instead of two small. If you're using one large tortilla, you will spread hummus evenly on one side of the tortilla.
Once the veggies have cooked, you'll set them aside. Using the same pan, you'll add one tortilla, hummus side up. Followed by the cooked vegetables and the other tortilla, hummus side down. You'll cook for a few minutes over medium heat, flipping once so each side gets brown. If you're using one large tortilla, you'll add vegetables to half of the tortilla, then fold the other half on top in order to close the quesadilla.
It doesn't get much easier than that! Try this Easy 10-Minute Dairy-Free Hummus Quesadilla with Frozen Vegetables recipe this week and let me know what you think!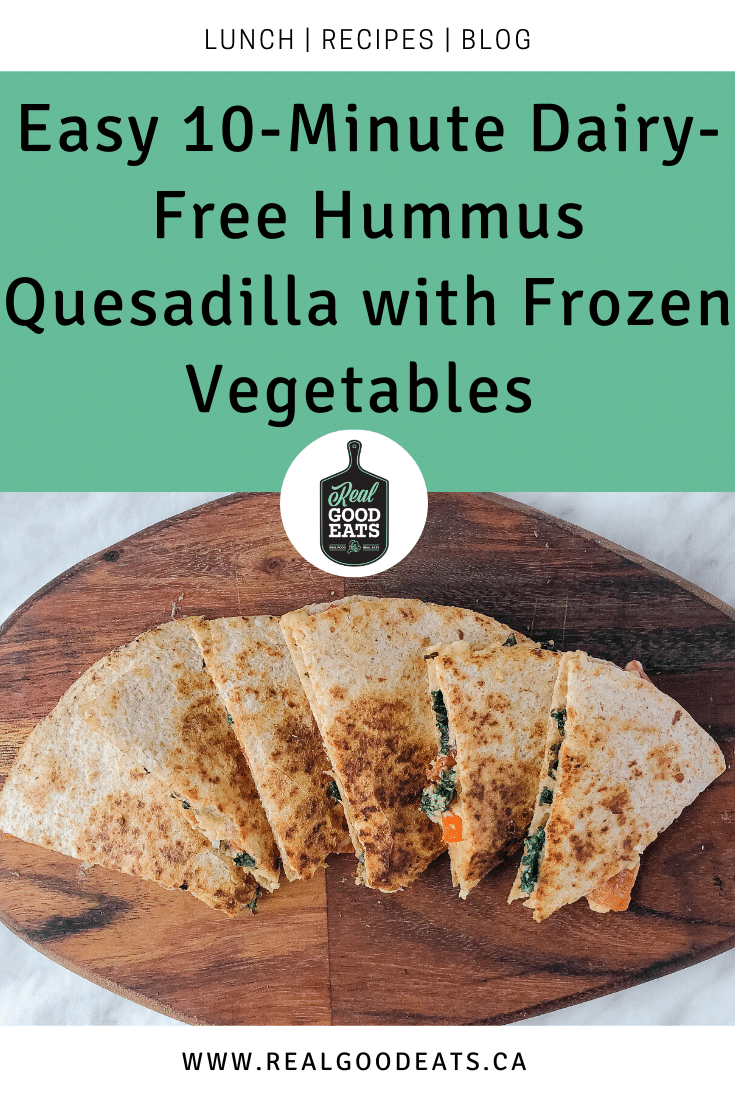 Print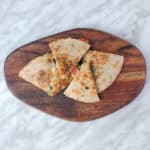 Easy 10-Minute Dairy Free Hummus Quesadilla with Frozen Vegetables
---
Author:

Brittany

Total Time:

10 minutes

Yield:

1

Serving

1

x
Description
This quick 10-minute dairy-free hummus quesadilla is quick, simple, and delicious. It also relies on some pre-prepped items for added convenience such as pre-made hummus and frozen veggies. Add this to your lunch routine this week, you won't regret it!
---
1 tsp oil
½ cup frozen chopped kale
½ cup frozen diced peppers
¼ tsp dried oregano
Salt and pepper, to taste
2 small whole wheat tortillas
1 individual portion of roasted garlic hummus (or about 1/3 cup)
1 tbsp sundried tomatoes, chopped
---
Instructions
Heat oil in a medium pan over medium-high heat. Add kale, peppers, and oregano. Season with salt and pepper and sauté until vegetables are thawed and starting to get browned. Remove vegetables from pan and set aside

Meanwhile, spread hummus on one side of each tortilla

Using the same pan, add a small amount of oil if needed. Add one tortilla, hummus side up. Add the cooked vegetables on top of the tortilla, then add the second tortilla, hummus side down

Cook over low-medium heat until browned, flipping once to brown each side.

Slice and enjoy!
Notes
If you don't need a dairy-free option, you can serve this with tzatziki.
Don't miss a thing! Subscribe and receive our latest recipes and nutrition tips straight to your inbox!
About Brittany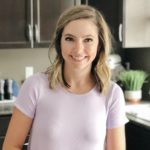 Hi there! I am a registered dietitian and I ? food! I am passionate about making it easier for busy people to eat well by sharing quick and healthy recipes. Healthy cooking at home can seem overwhelming, but it doesn't have to be. I love helping people uncomplicate weeknight dinners and reduce stress around meal time, so I'm so glad you're here!