Healthy Dinner Recipes Using 6-Ingredients or Less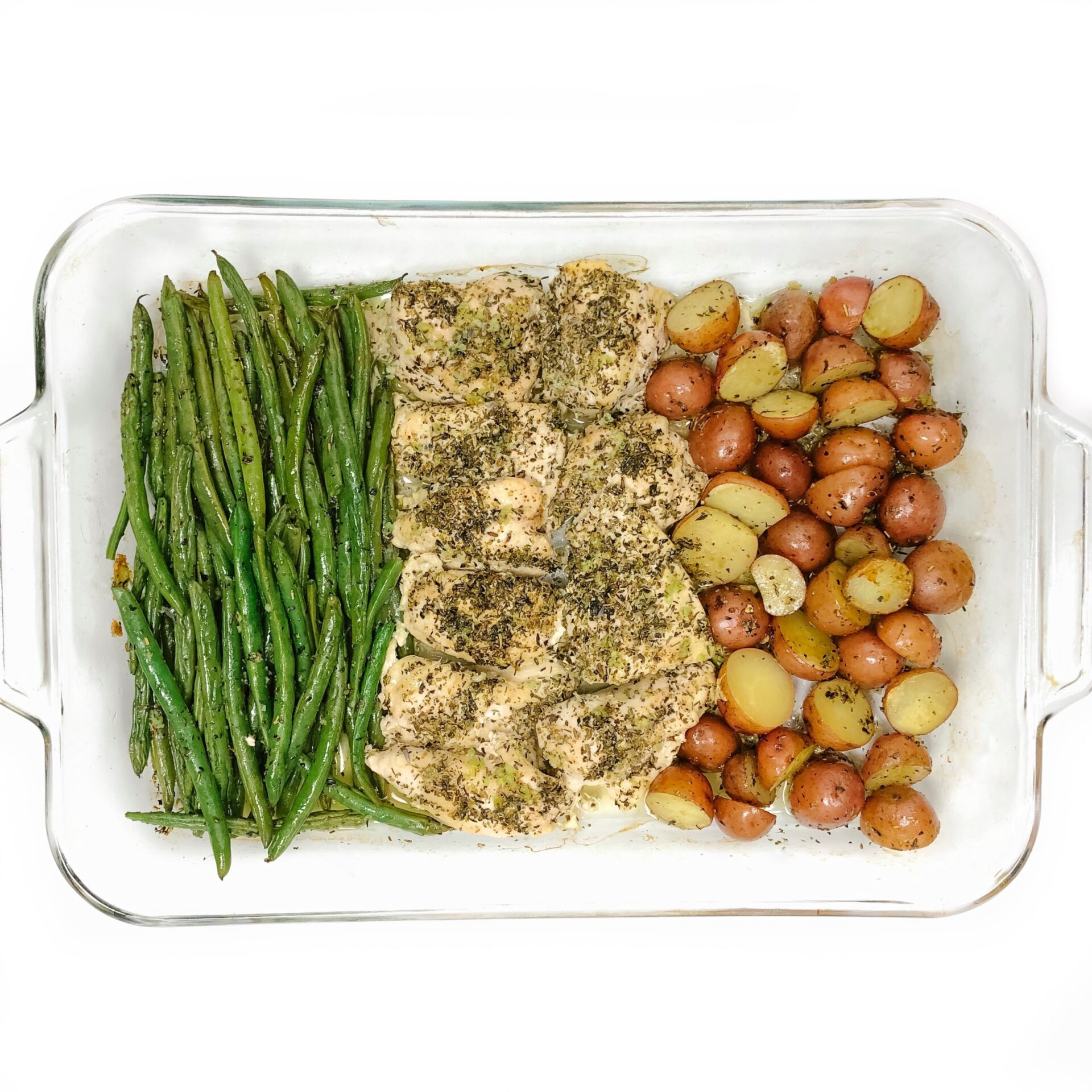 Hate recipes with a long ingredient list? Me too. Continue reading for my favourite Healthy Dinner Recipes Using 6-Ingredients or Less.
Healthy Dinner Recipes Using 6-Ingredients or Less
I used to hate the thought of using recipes because it seemed like everything I tried to cook required a million ingredients that I didn't have. I'm also not a pro in the kitchen and struggle to make truly tasty meals from 'winging it'. And honestly, I get sick of making the same food week after week.
Because I know I'm not alone here, I've made it my mission over the past couple of years to find quick and easy recipes that use only a handful of ingredients. Fewer ingredients usually mean less prep which means more time in your day to do everything else on your list. Not to mention, fewer ingredients to purchase in the first place.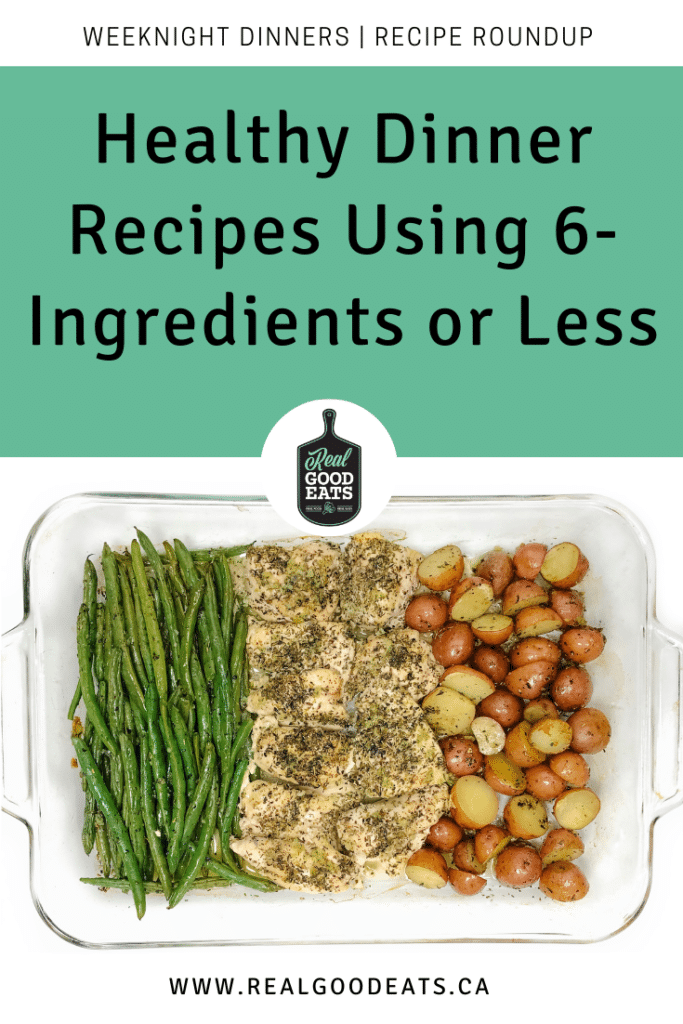 As it turns out, I actually love using recipes now because it allows me to try new cooking techniques and ingredients that I wouldn't otherwise be using. It also adds a ton of variety to my meal routine and helps me avoid hitting dinner burn out. The trick is finding simple recipes using only a few ingredients to produce a lot of flavour.
To help you get inspired to try something new and cook healthy and delicious meals at home, I've collected my favourite Healthy Dinner Recipes Using 6-Ingredients or Less. Each of these recipes has been taste-tested (as always!) and dietitian-approved to help you eat well, even on your busiest days.
Healthy Dinner Recipes Using 6-Ingredients or Less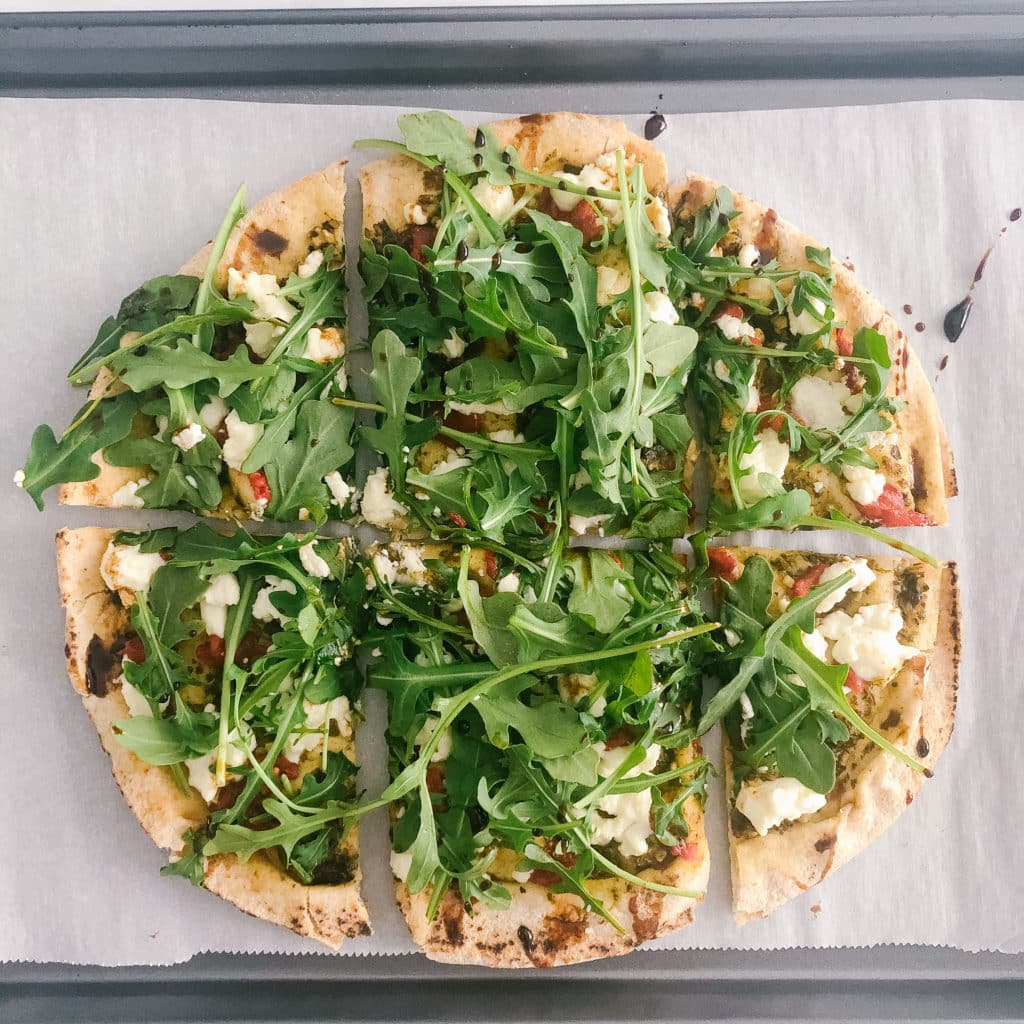 This Quick and Healthy Pesto and Goat Cheese Pita Pizza recipe requires no chopping or prepping ingredients! By taking advantage of some store-bought items, you can have a healthy and delicious meal on the table in 15 minutes!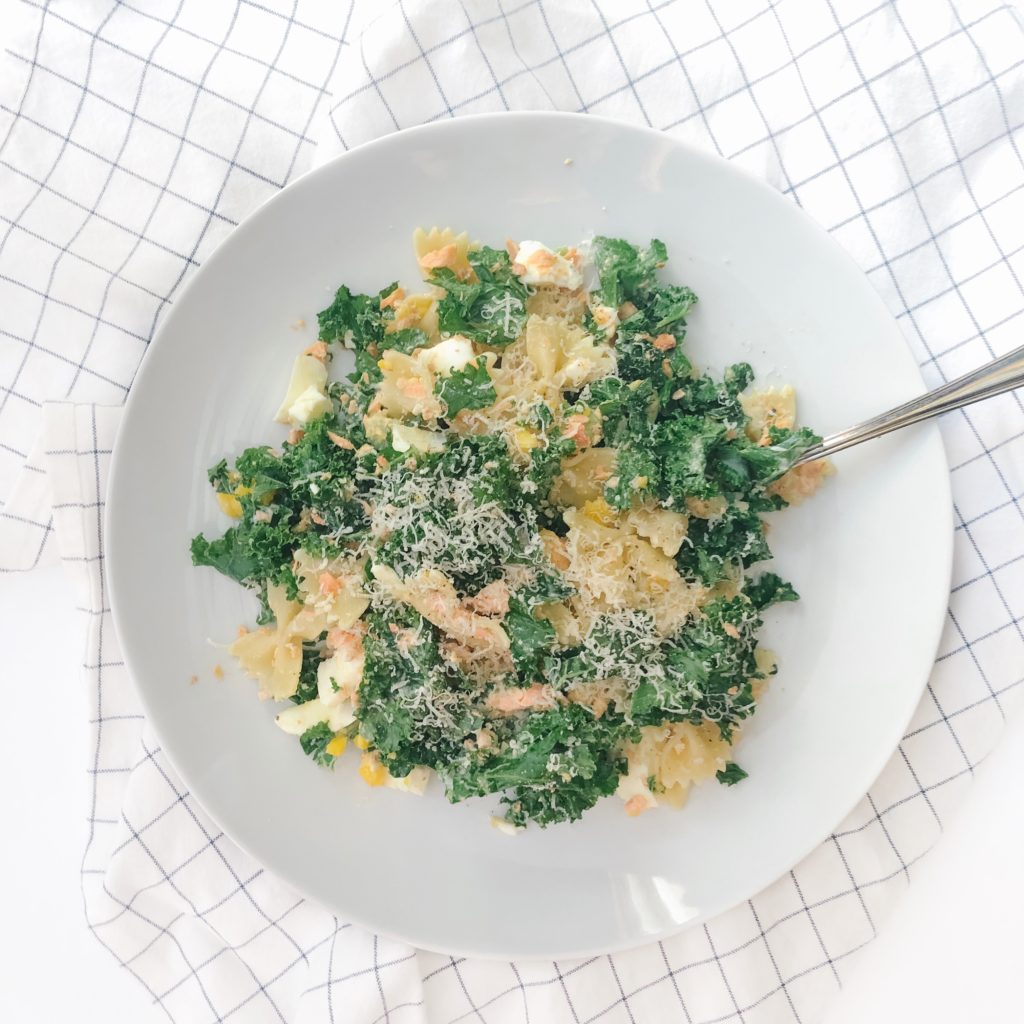 This budget-friendly and time-saving salad recipe from Budget Bytes is perfect for busy weeknights or meal prep lunches. With the convenience of only 6 ingredients including ready-to-eat canned salmon, this quick and easy weeknight recipe is a must-try.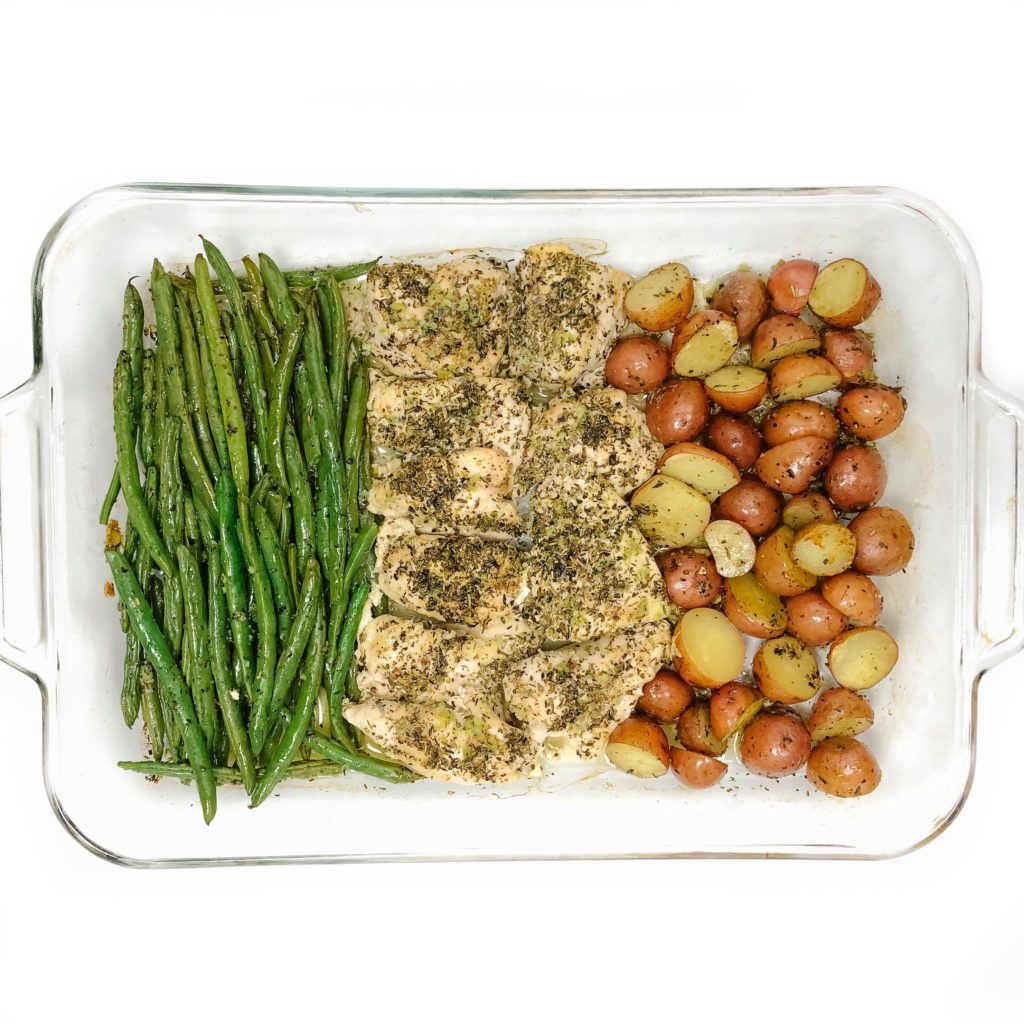 There nothing easier than throwing chicken and veggies into a dish with some seasoning and baking it into the oven. This recipe from Produce For Kids uses simple ingredients (only 6 total!) for a balanced and delicious weeknight dinner the whole family will love!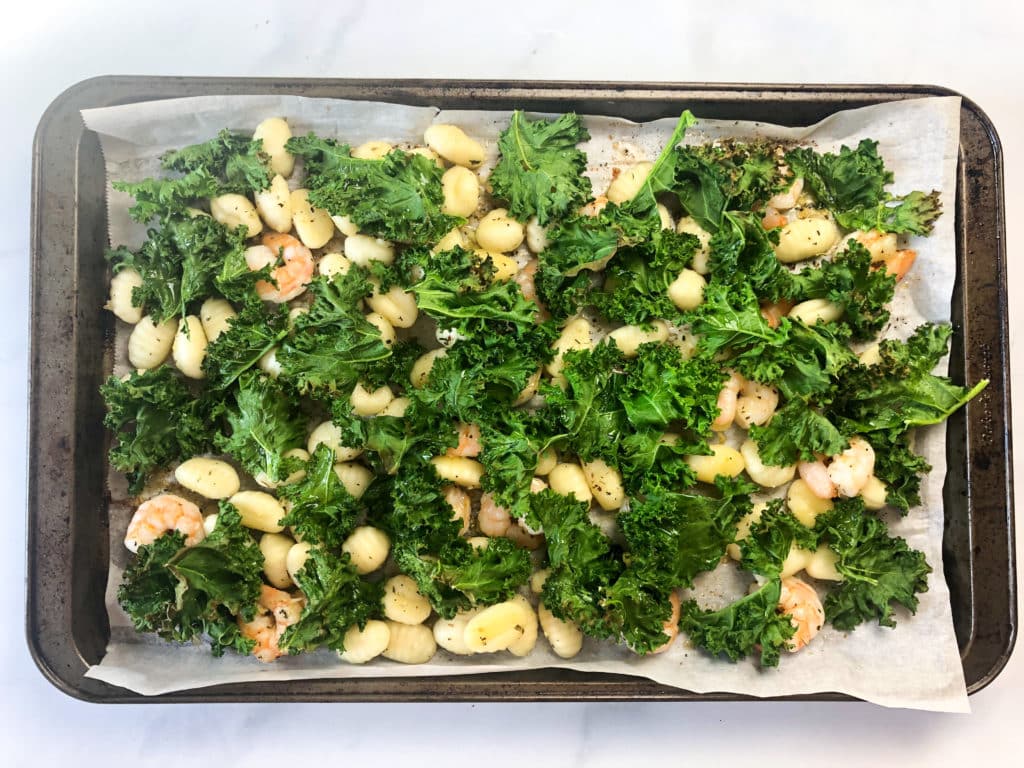 Meet your new go-to weeknight recipe! This 20-Minute Garlicky Shrimp and Kale Gnocchi recipe is ready in just 20 minutes and loaded with flavour. Did I mention it all cooks on a sheet pan? Even the gnocchi!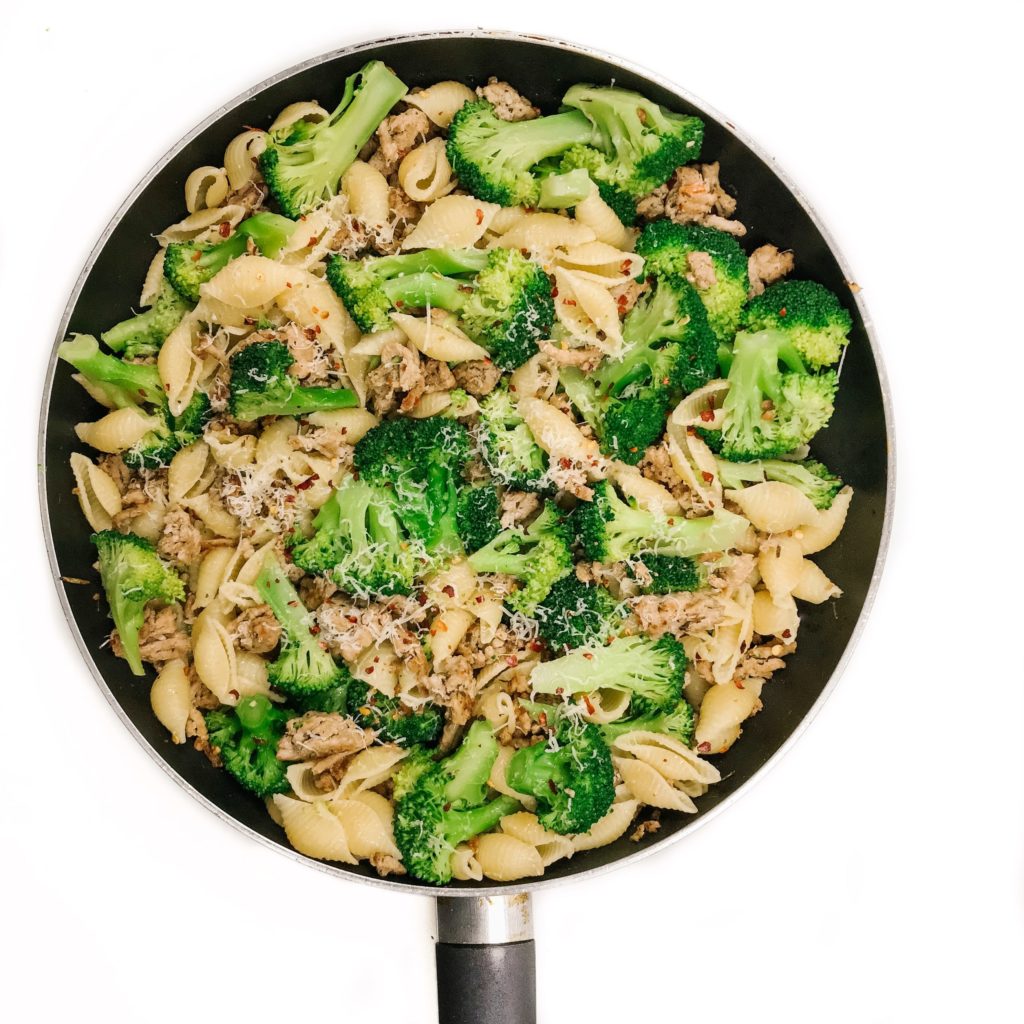 This quick and easy weeknight recipe from Real Simple relies on only a few pantry and fridge staples for a balanced meal in no time. Cooking the broccoli in the pasta water is a great trick for adding veggies to your pasta dinner to keep things balanced. Be sure to add this one to your meal plan this week!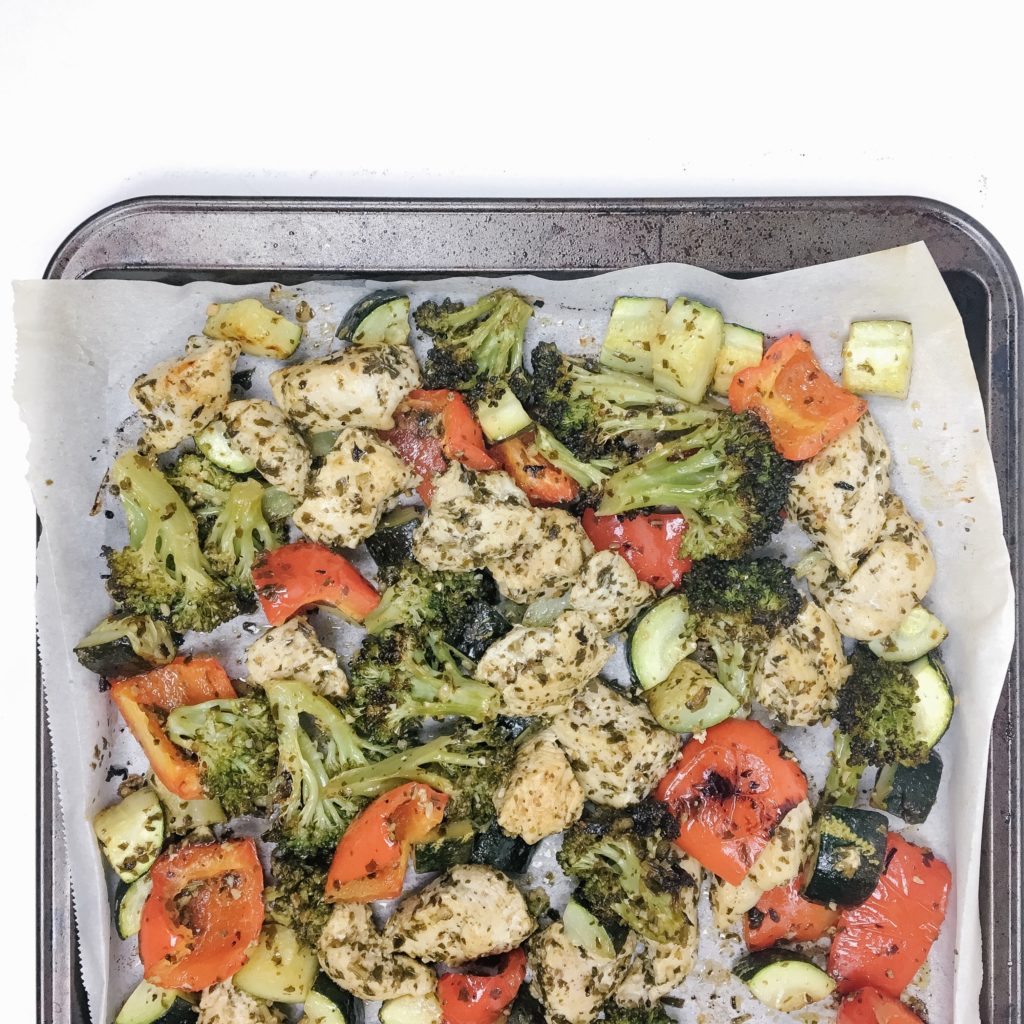 I love pesto for a quick and easy, no fail ways to add delicious flavour to meals. All you need to make this recipe from Gimme Delicious is a handful of ingredients, and you'll end up with a meal that does not disappoint.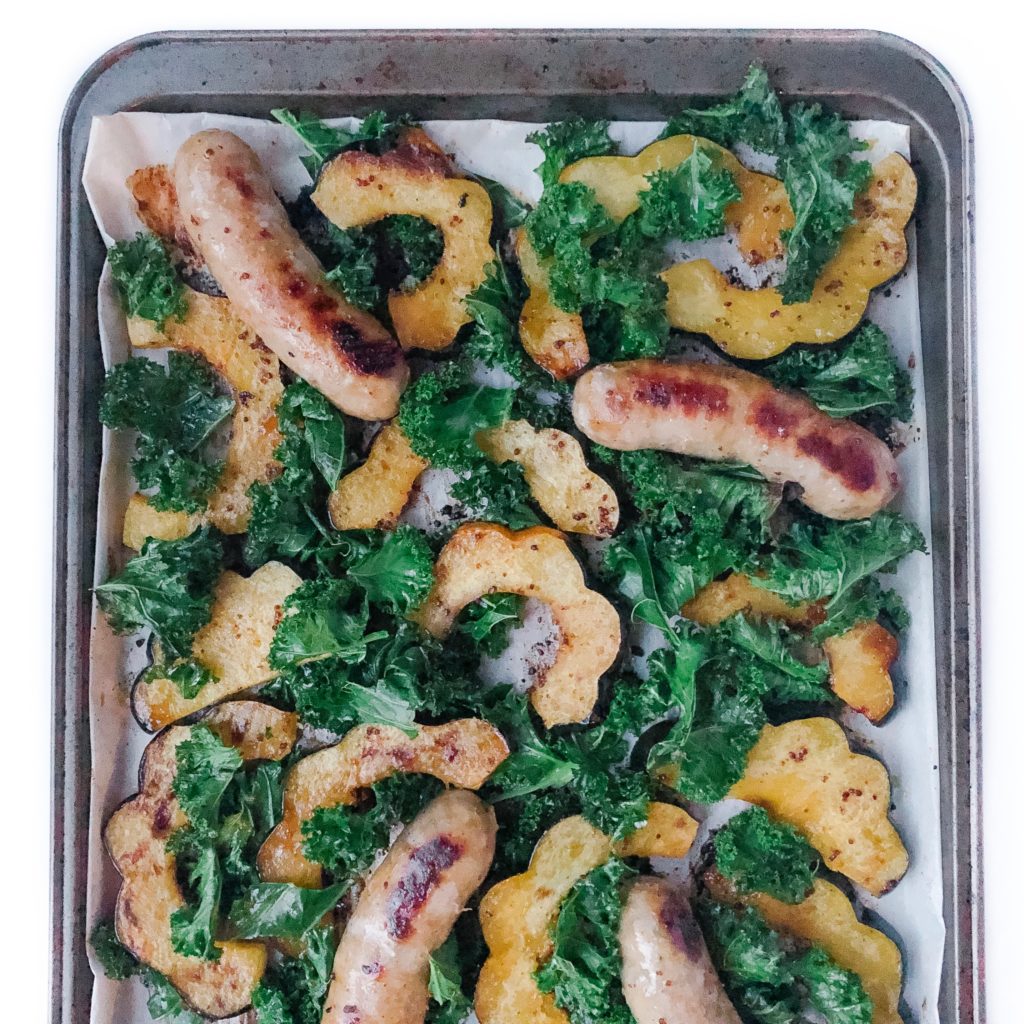 This quick weeknight recipe from Today's Parent uses only 6 ingredients for a simple and flavourful balanced meal in one pan. Swap the pork sausage for chicken sausage or a meatless alternative if you prefer – anything with a smokey flavour and some spices will work well here!
8. Easy 10-Minute Dairy-Free Quesadilla with Frozen Vegetables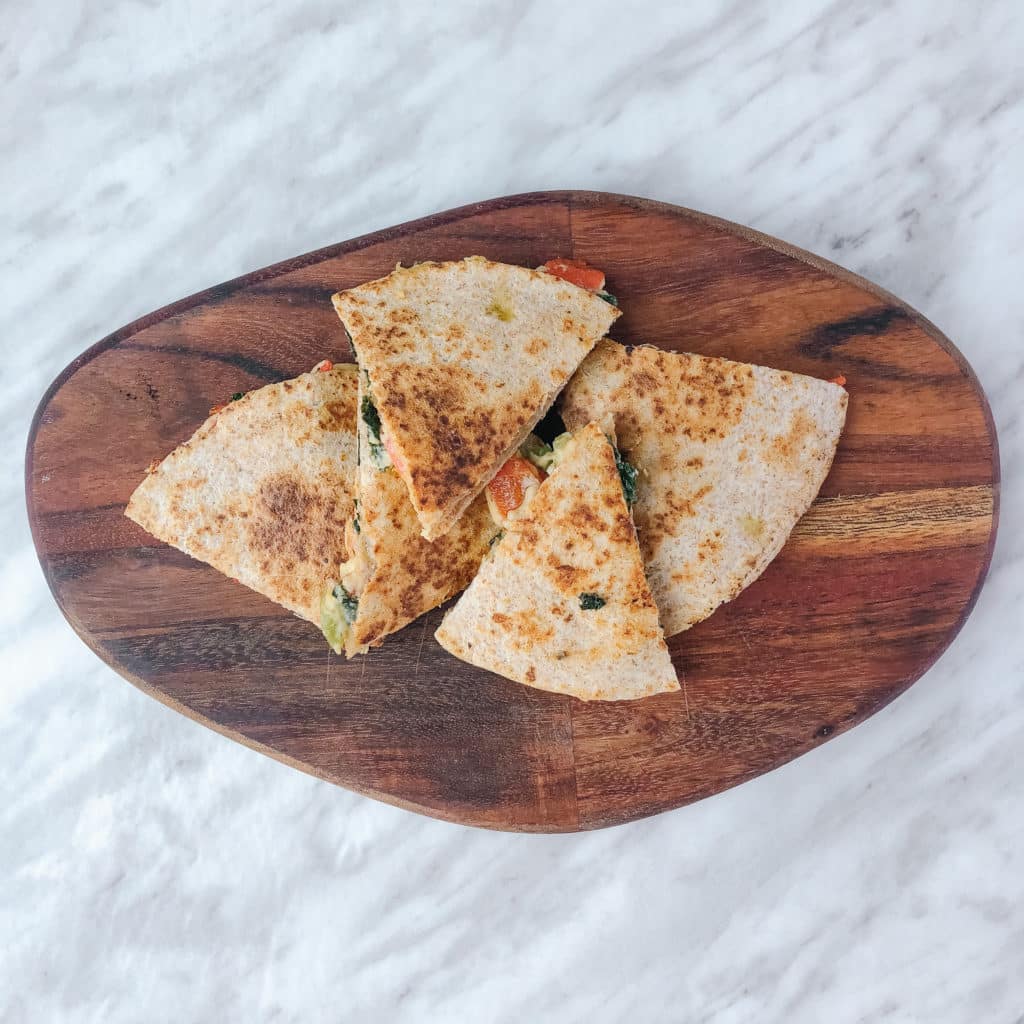 This recipe uses only 6 ingredients which keeps this meal simple. We love the idea of adding greens to quesadillas because they shrink down to almost nothing and allow you to add tons of veggies without having issues with the quesadilla sticking together.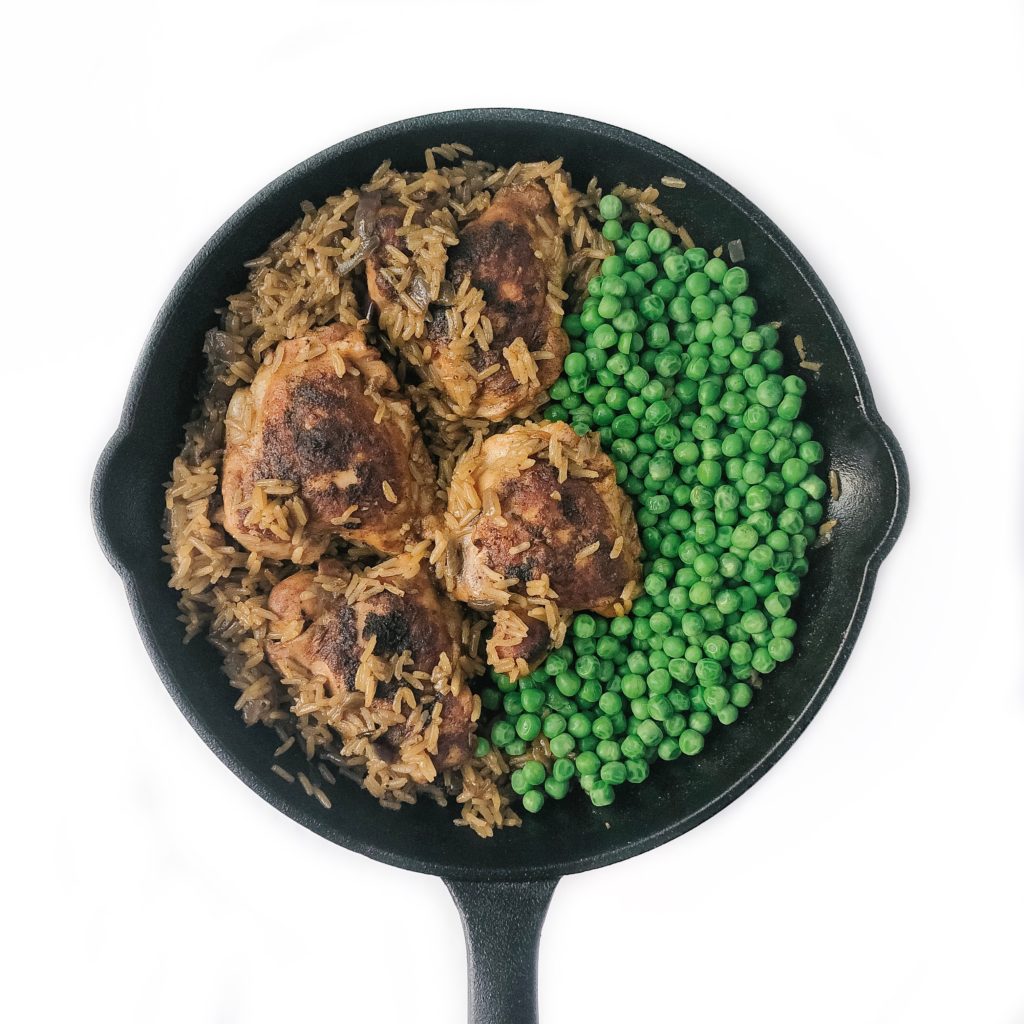 This quick weeknight recipe from Butter Your Biscuit uses only 6 ingredients for a simple hands-off balanced meal in one pan. I love the balance of protein, carbohydrates and vegetables. You'll love doing dishes.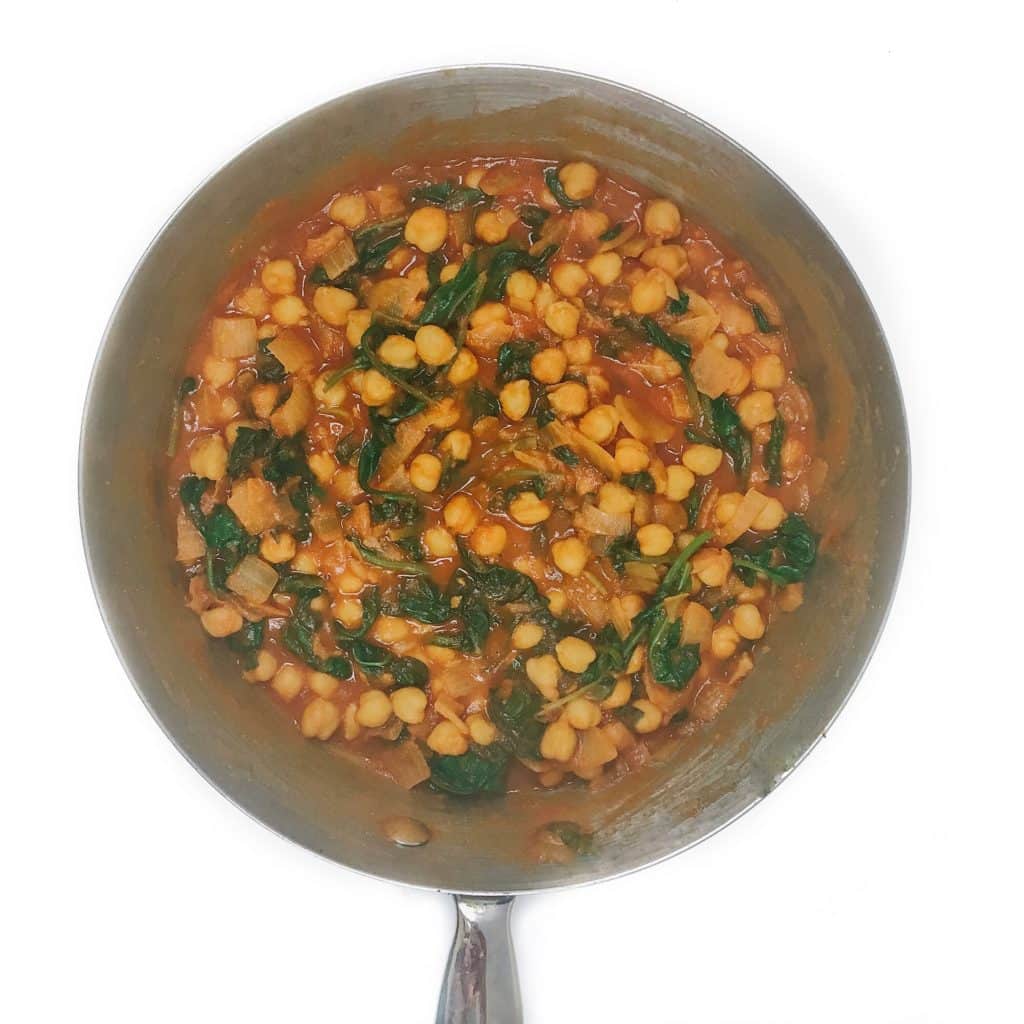 This quick and easy recipe from Budget Bytes is both budget friendly and balanced. Using only a handful of ingredients, this delicious meal comes together in under 30 minutes.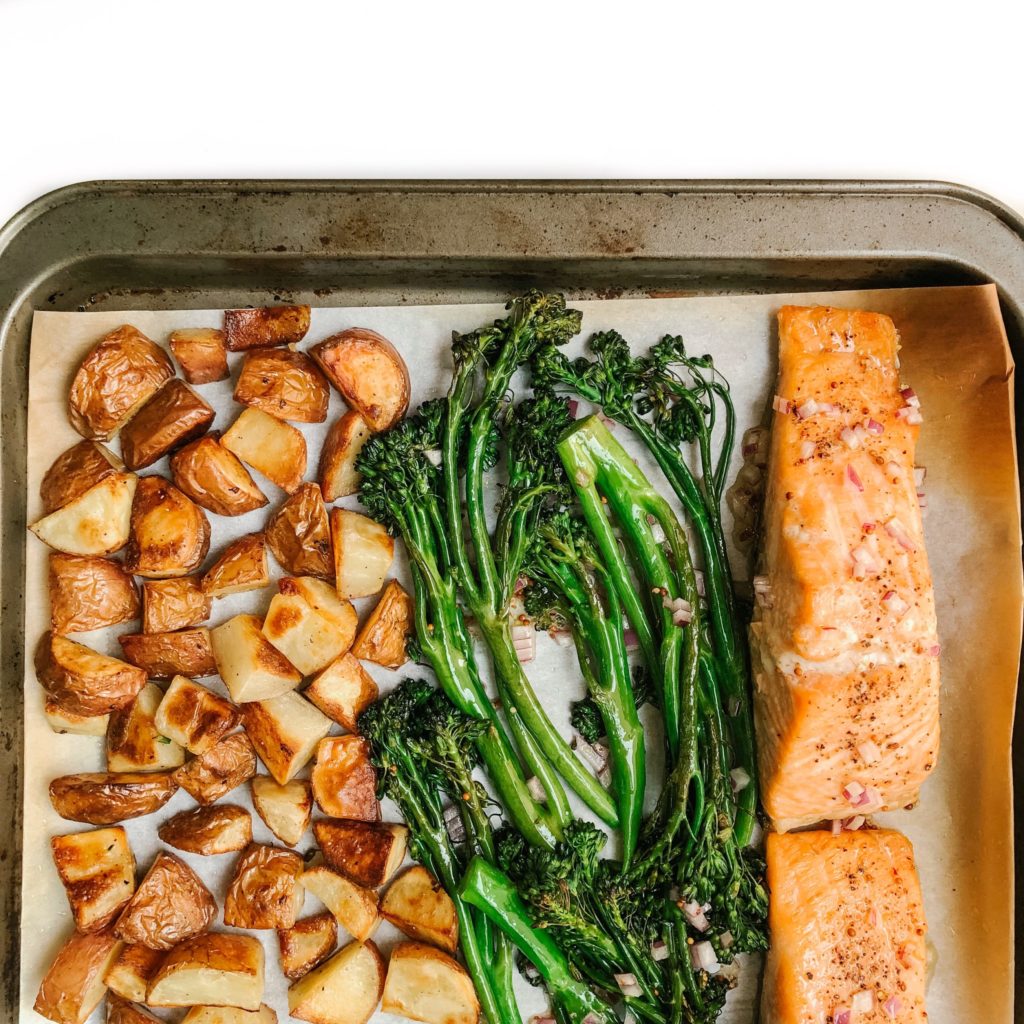 After seeing the short ingredient list needed for this recipe for Sheet Pan Salmon with Potatoes and Broccolini, I couldn't wait to give it a try. This recipe from Real Simple uses the convenience of sheet pan cooking along with some quick recipe hacks, making it perfect for busy weeknights.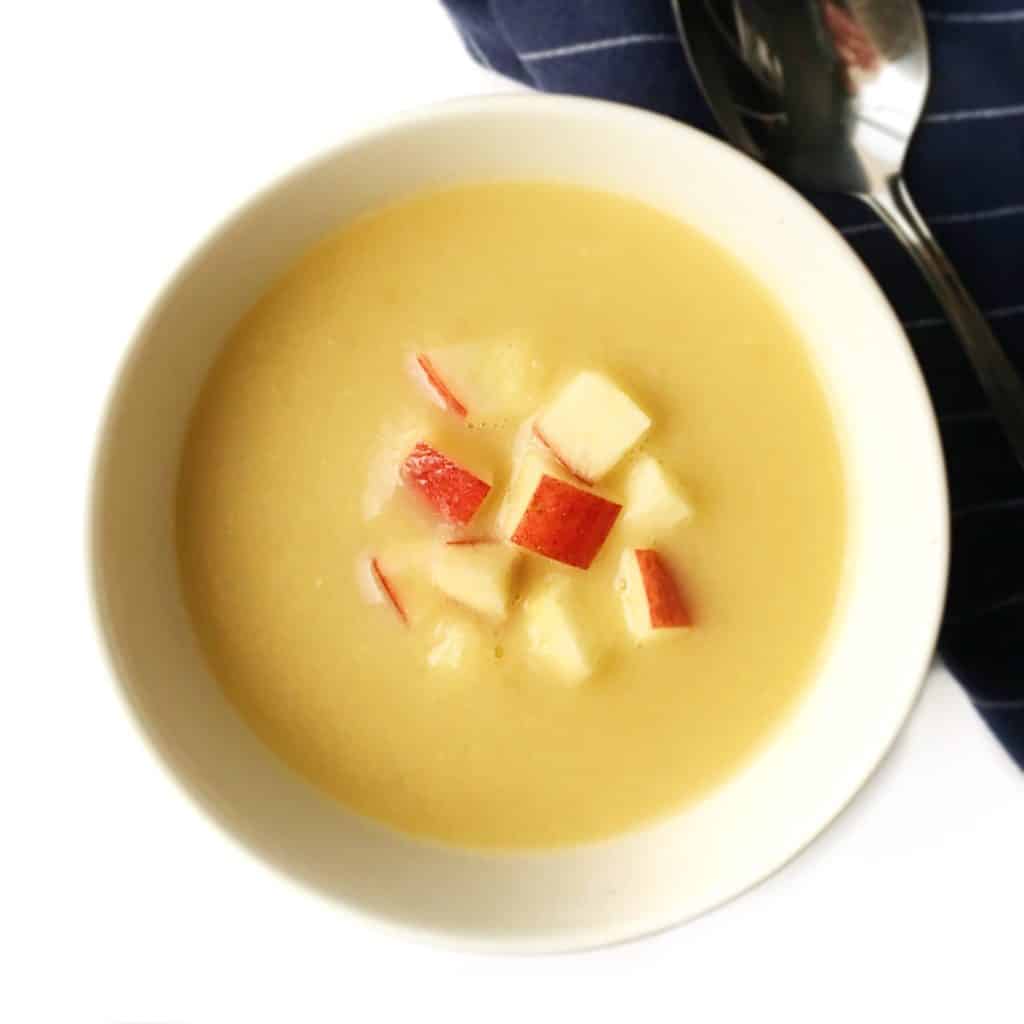 I love with this quick and easy Parsnip, Apple and Brie Soup from Foodland Ontario. Using Brie cheese adds a deliciously silky texture to this soup and provides protein that most cream soups lack. Try it for a simple dinner this week!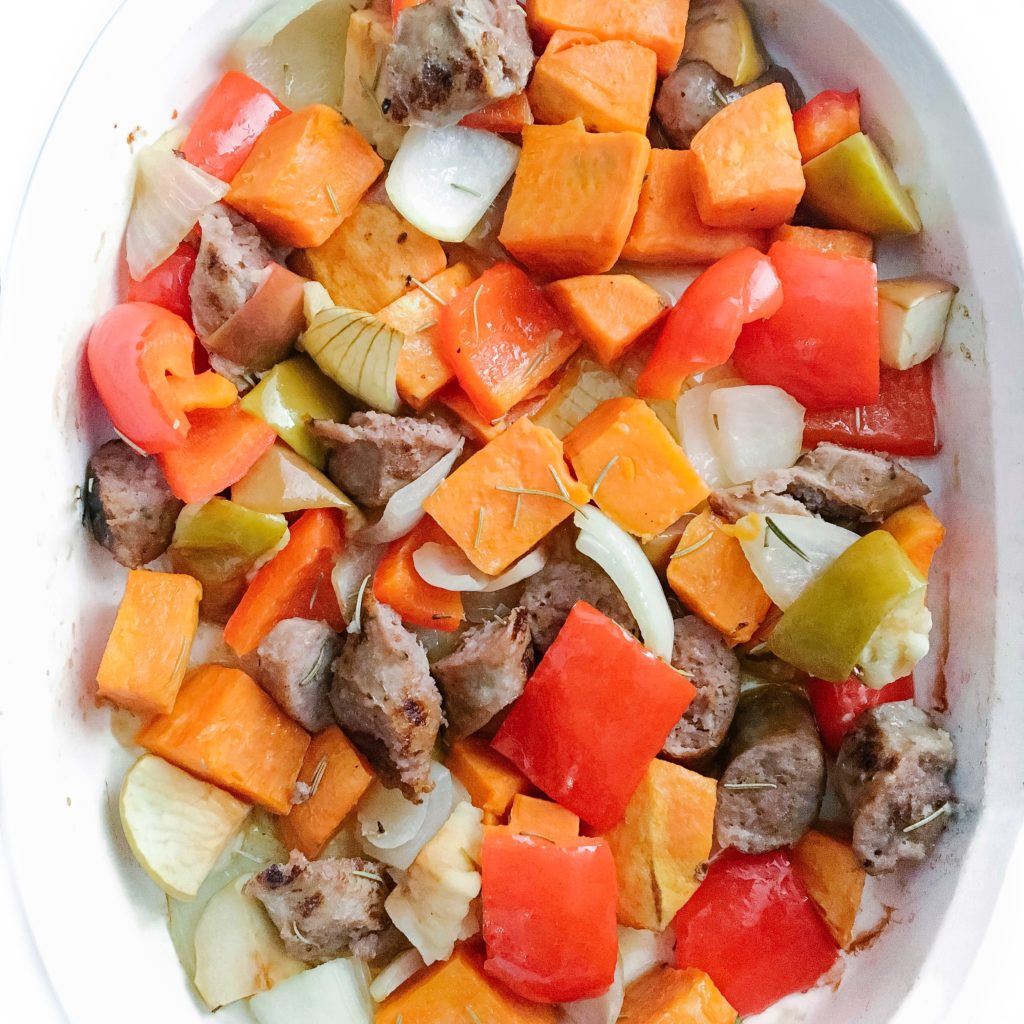 This one-pan recipe is perfect for a busy weeknight dinner. Sausage is pre-seasoned so you'll need fewer ingredients to make this tasty dinner recipe. No need to have tons of seasoning on-hand!
Don't miss a thing! Subscribe to receive the latest recipes and healthy eating tips straight to your inbox!
About Brittany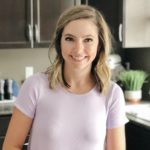 Hi there! I am a registered dietitian and I 💚 food! I am passionate about making it easier for busy people to eat well by sharing quick and healthy recipes. Healthy cooking at home can seem overwhelming, but it doesn't have to be. I love helping people uncomplicate weeknight dinners and reduce stress around meal time, so I'm so glad you're here!
---
---