Easy 10-Minute Canned Tuna Poke Bowl Recipe
Anyone else sick of tuna sandwiches? This Easy 10-Minute Canned Tuna Poke bowl is a simple spin on traditional poke bowls, using canned tuna instead of raw fish. If you've got leftover rice and canned tuna on-hand, this recipe comes together in minutes.
I wasn't intending on creating this recipe. But my boyfriend and I were doing some yard work one weekend morning. As we started getting closer to noon, that daily thought came to mind – what should we do for lunch? Canned tuna is such a great staple to have for quick lunches, but we've been relying on that more than usual lately and I'm starting to get tired of tuna salad sandwiches.
With some leftover rice in the fridge and some inspiration from trendy poke bowls I've been seeing everywhere online, I assembled this tasty meal for 2. A traditional poke bowl is made with raw marinated fish. I swapped this for canned tuna in this recipe for these Easy 10-Minute Canned Tuna Poke Bowls, which I always have on-hand.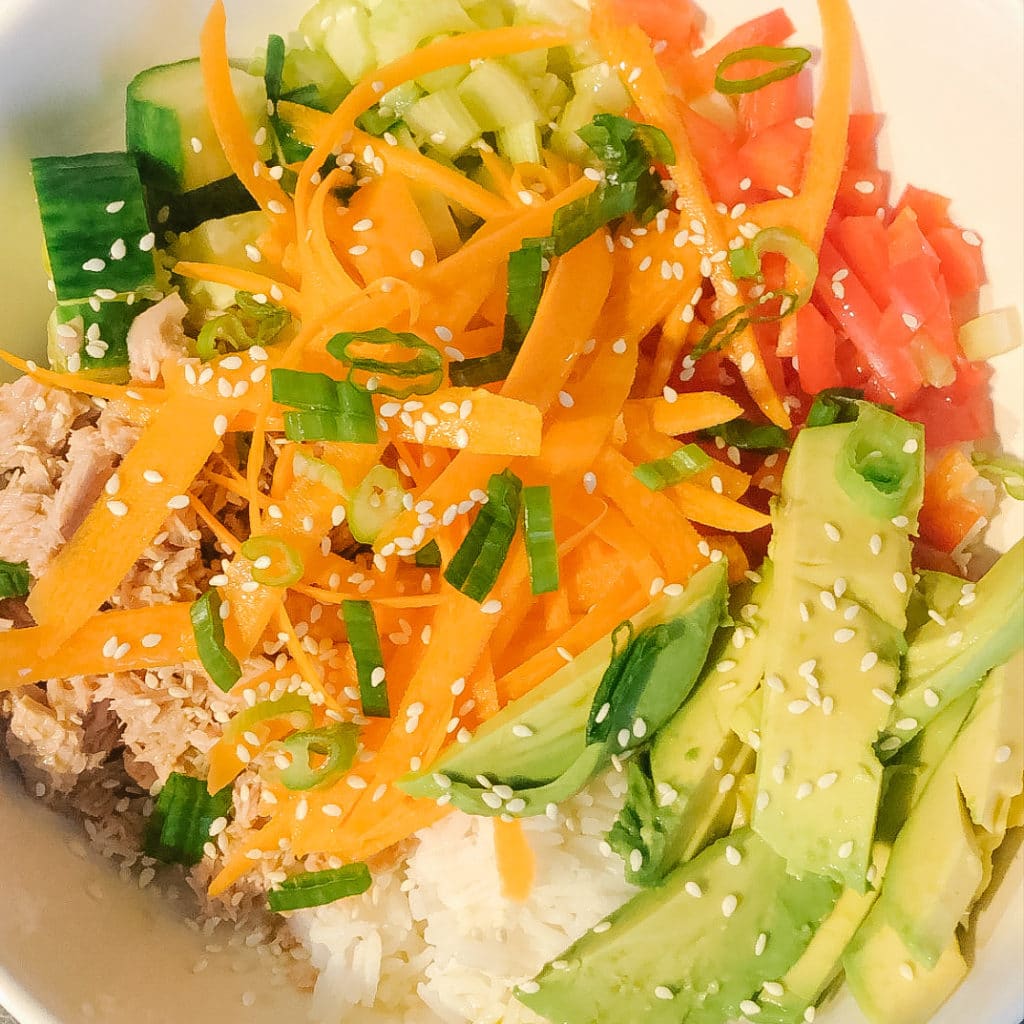 How to make it:
To make this Easy 10-Minute Canned Tuna Poke Bowls recipe, mix your drained canned tuna with sesame oil, soy sauce, and lemon juice. If you don't have canned tuna on-hand, I imagine canned salmon would work well too! The sesame oil and soy sauce are very strong flavours, so you don't need a lot. Mixing these ingredients into the tuna, along with lemon juice, helps to mask any fish or tuna flavour that I know many people don't love, without being overpowering.
Next, prep the vegetables. Using a peeler, peel the carrot into thin ribbons. Dice the celery, pepper, and cut the cucumber into slightly larger cubes. You can cut these veggies any way you want, but I love the variety of textures that these veggies add when prepped this way.
To assemble the bowls, divide the ingredients between two bowls, then top with sliced green onion and drizzle olive oil and red wine vinegar.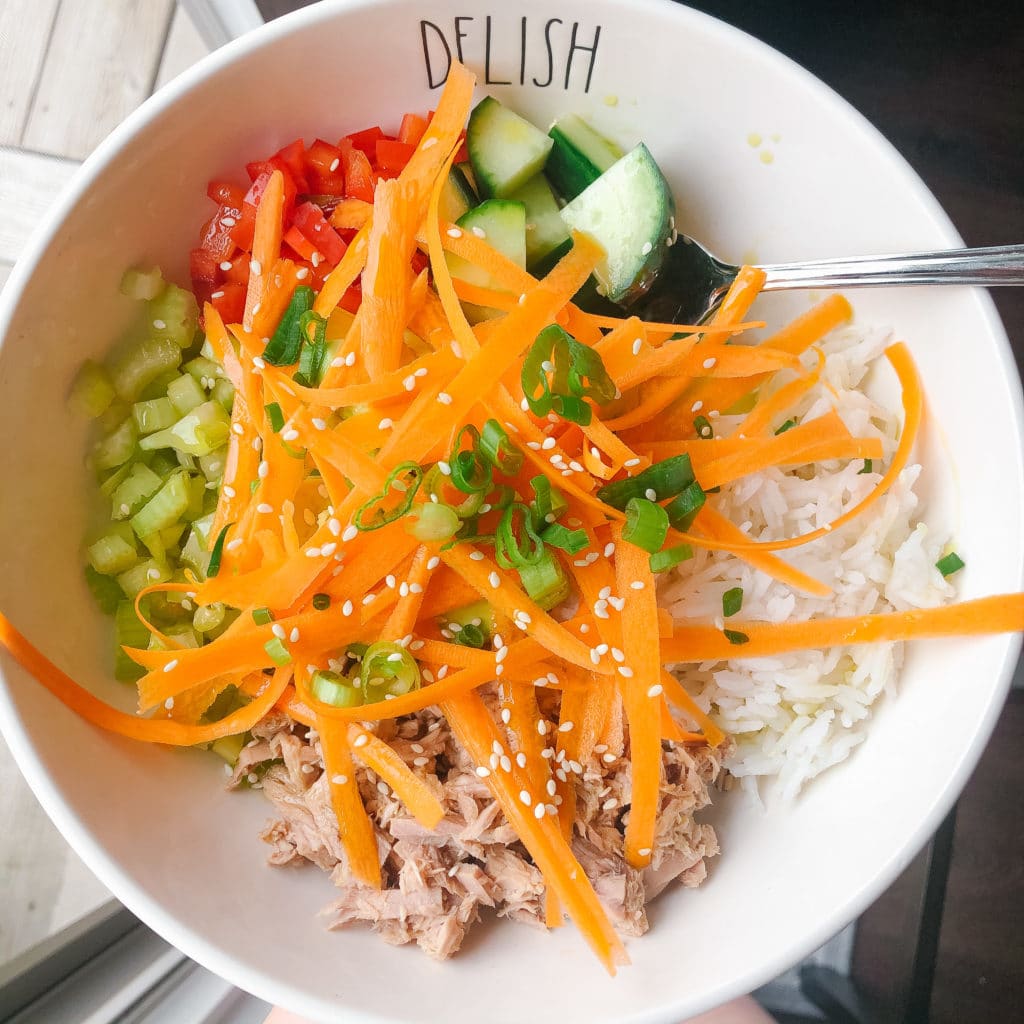 Try it out for your next working-from-home lunch and let me know what you think!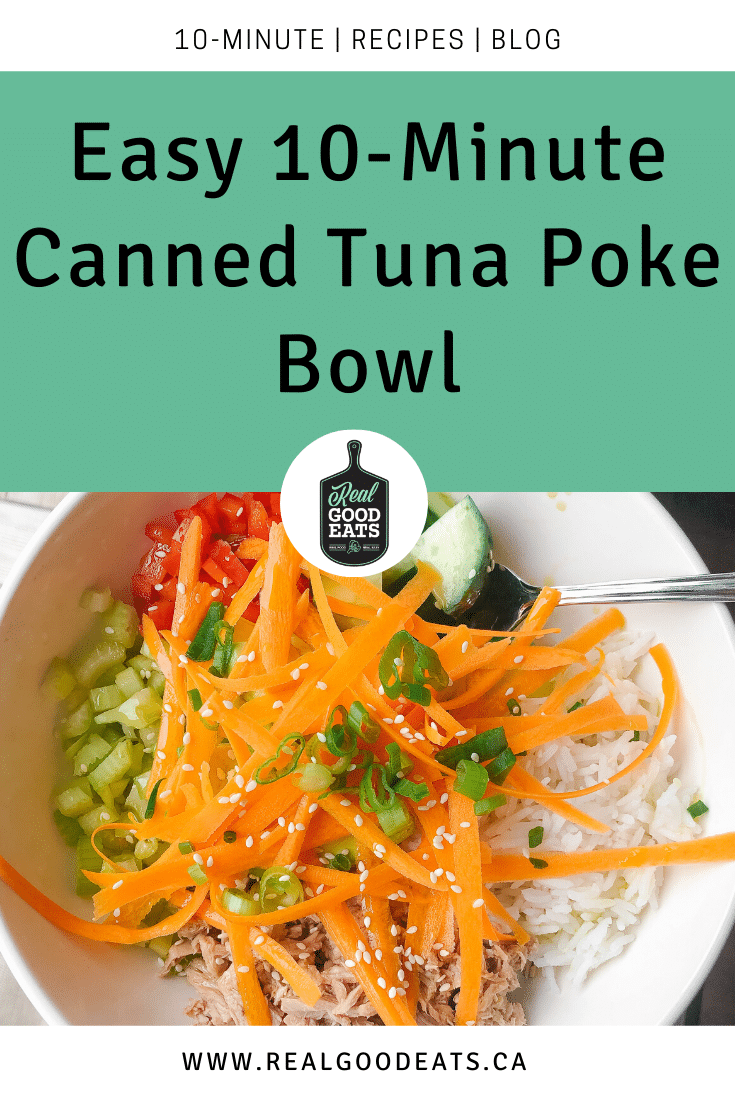 Easy 10-Minute Canned Tuna Poke Bowl Recipe

Don't miss a thing! Subscribe to receive recipes and weeknight meal ideas straight to your inbox!
About Brittany

Hi there! I am a registered dietitian and I 💚 food! I am passionate about making it easier for busy people to eat well by sharing quick and healthy recipes. Healthy cooking at home can seem overwhelming, but it doesn't have to be. I love helping people uncomplicate weeknight dinners and reduce stress around meal time, so I'm so glad you're here!
---
---