You asked, and we delivered! Created by a Registered Dietitian, Real Good Eats Food Nutrition Score helps you easily assess the nutritional quality of foods. Our Food Nutrition Score is based on many nutrition and ingredient traits to provide a total score out of 100.
We review:
Types of fats and sources
Types of carbohydrates and sources
Protein content
Sodium content
Ingredient quality
Processing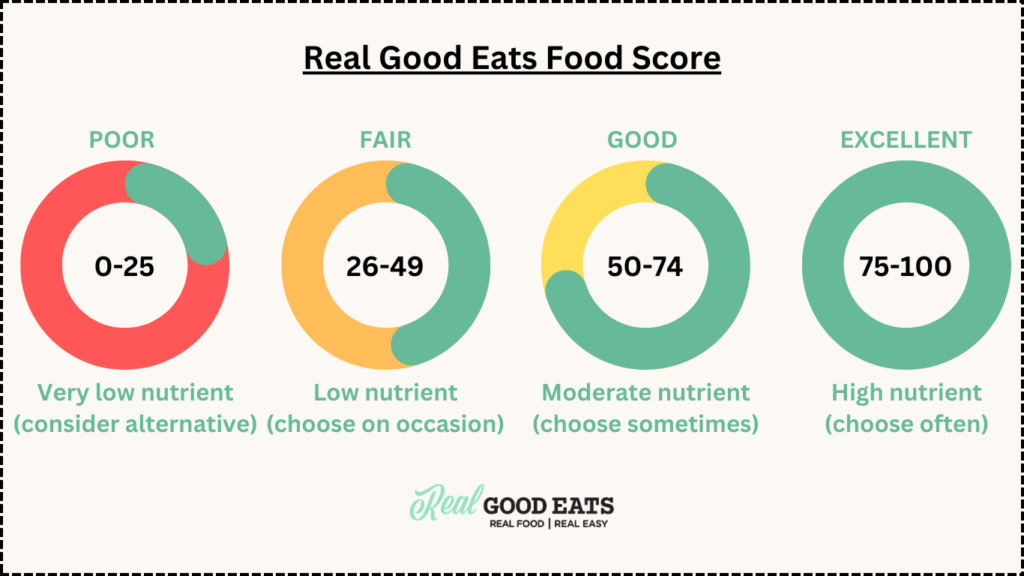 A Healthy Dietary Pattern
As Registered Dietitians and nutrition experts, we know that your overall dietary pattern is most important to your health. Your daily food choices matter more than a single nutrient or ingredient in a single serving of food. There are many reasons why we eat – health and nutrition, family tradition, enjoyment, and social gatherings. You do not need to eliminate foods from your diet, but instead, include certain foods more or less often to support an overall healthy dietary pattern.
Our food nutrition score has four result categories
Excellent (choose often): these foods have the highest nutritional value and contribute to a healthy dietary pattern.
Good (choose sometimes): these foods are moderate choices and can be part of a healthy diet on a less frequent basis.
Fair (choose on occasion): these foods are more processed and/or contain lower nutrient value and will not help you meet your daily nutrient needs as much as higher-scoring foods.
Poor (consider an alternative): these foods are highly processed and/or contain little to no nutrient value. We suggest limiting your intake of foods in this category.
Questions about our food score? Want to request a product review? Contact us here!