Weeknight cooking ain't easy. As a Registered Dietitian, I find the most common barrier to healthy eating among my clients is time. We're busier than ever, so the idea of cooking from-scratch meals every night of the week is daunting. Continue reading for my favourite quick and easy ways to use leftover chicken.
If you're a meat-eater, cooking your protein source is typically the most time consuming part of your meal prep. Most of us have time to steam veggies or boil water for pasta, but for the most part, cooking meat takes time that we don't have when we get home from work. As a result, many of us find ourselves relying on highly processed protein options such as lunch meat, frozen chicken burgers, take-out, or skipping the protein part altogether.
Protein
Let's talk about protein. The inclusion of protein with meals is crucial to balanced eating. Without it, we're more likely to struggle to keep our portions in check (think: pasta dinner with just noodles and red sauce), and we tend to get hungrier faster after eating a meal without protein.
Protein slows the digestion of our meal, helping to control post meal blood sugars and contribute to a prolonged feeling of fullness. But including a healthy source is important too. Although cooking a whole, unprocessed source of meat is time consuming, the convenient, ready-made protein foods we have available are often loaded with salt and lack the nutrition that whole food options provide.
Reinvent your Leftover Chicken
Cook once, eat twice! That's my tip for including healthy protein in a way that's also suitable for busy weeknights. Cook extra protein on the weekend (or whenever you have time) to set yourself up for quick and easy meals all week.
Chicken is a staple protein source in most households. Nutritionally, chicken is best known as a lean protein, but also provides a source of Niacin and B6, which help metabolize protein and fats, and support nerve function. Chicken also has a fairly neutral flavour and can be cooked in a variety of different ways, blending well with any spices or seasoning, and typically appealing to the pickiest of eaters. Grill several chicken breasts or roast a full chicken (or more than one, depending on the size of your family) and plan to use the leftover chicken for quick and easy dinners over the days that follow.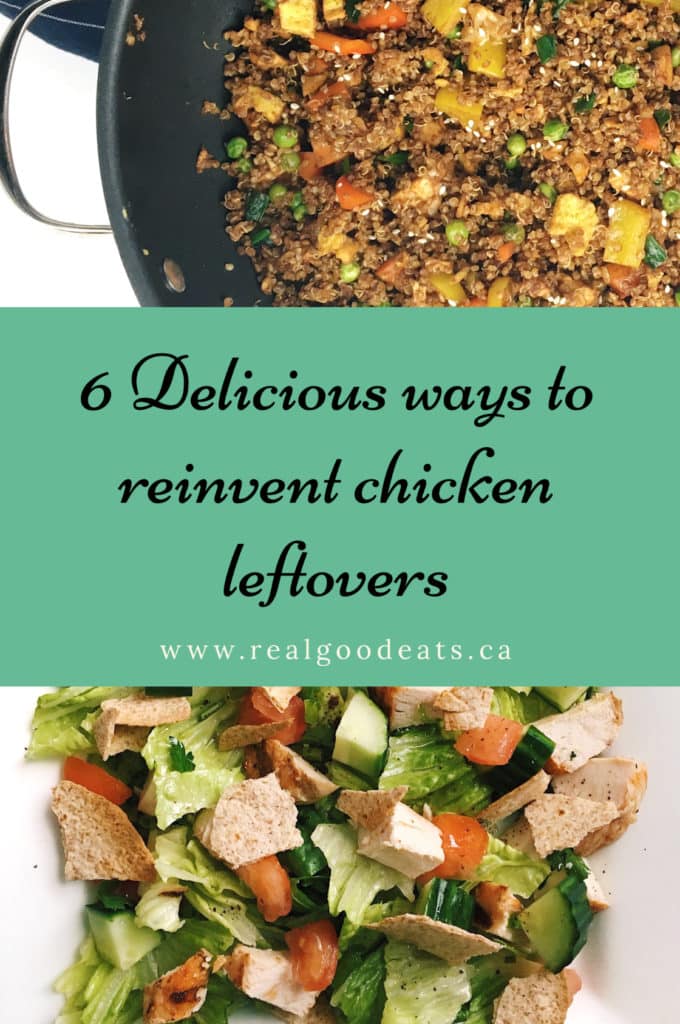 Quick and Easy Ways to use your Chicken Leftovers
Not a fan of leftovers? The key to using leftover chicken is to reinvent it in different ways to prevent it from getting boring. Regardless of your good intentions, there's nothing stopping you from picking up your favourite take-out food on your way home from work, so ensuring that you've planned a meal that you're actually looking forward to eating is essential to following through with your plan. Unsure of how to make leftovers more enticing? That's why we're here.
Read on for our 6 favourite balanced, quick and easy recipes to use your leftover chicken.
1.Chicken Quinoa Fried Rice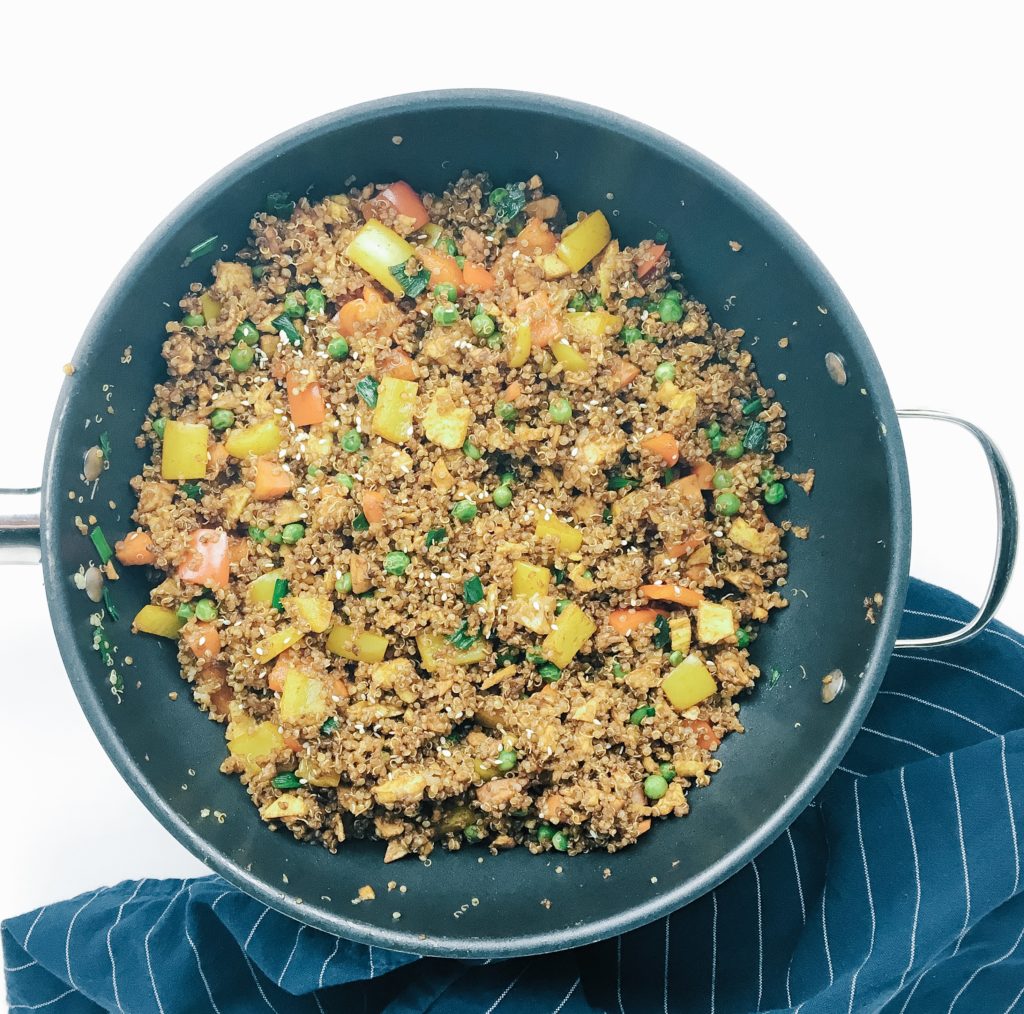 This recipe from Chicken QuinoaFried Rice recipe from Eating Well is a great way to not only use leftover chicken, but any veggies you have in the fridge. Or for added convenience, toss in frozen mixed veggies, and use minced garlic & minced ginger for a speedy weeknight meal.
2. Chicken Fattoush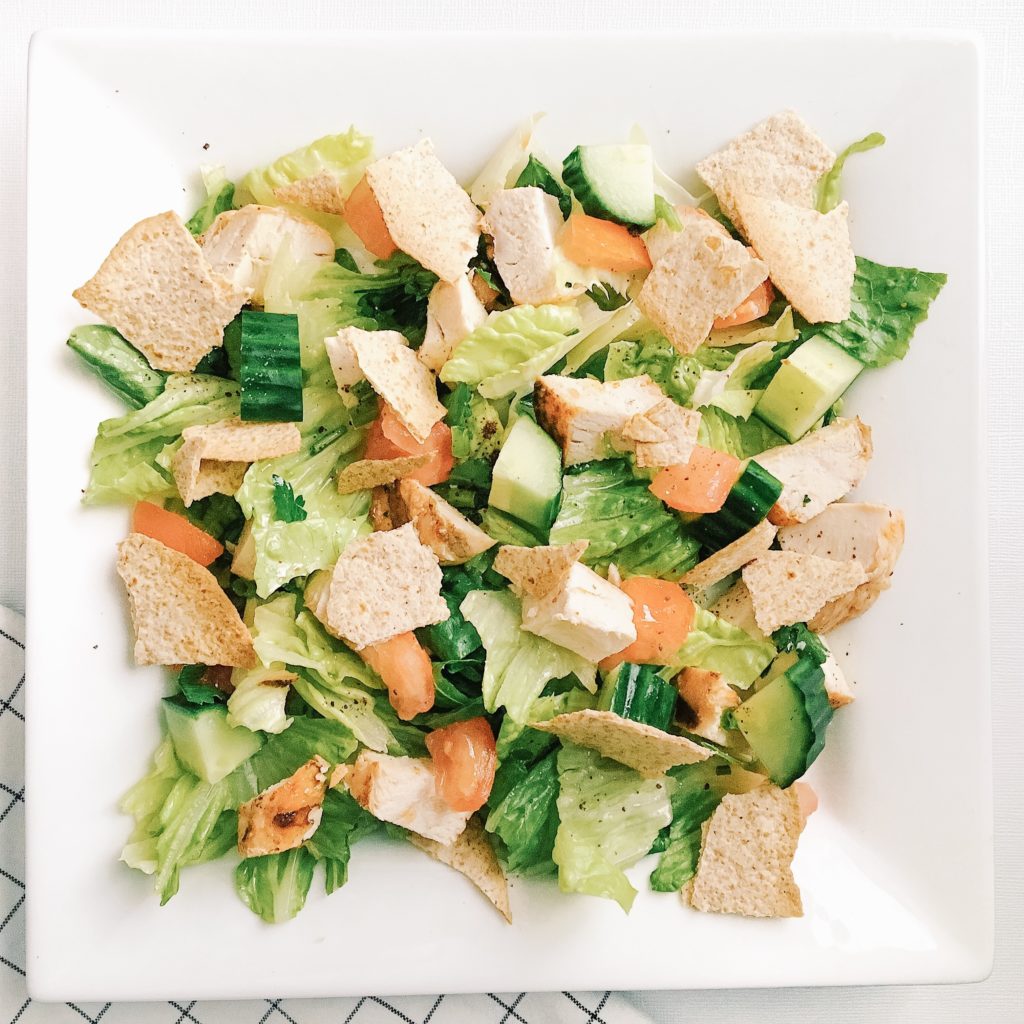 Salads get an unfair reputation for being boring, but they can be a great way to make sure you're getting enough veggies. Just make sure it's balanced, like thisChickenFattoush salad from BBC Good Food. This recipe caught my eye because it uses simple ingredients that I already had at home. I love the use of chicken as a lean protein source, and the fresh tasting dressing made from lemon juice and evoo.
3. Cheesy Tex-Mex Cauli Rice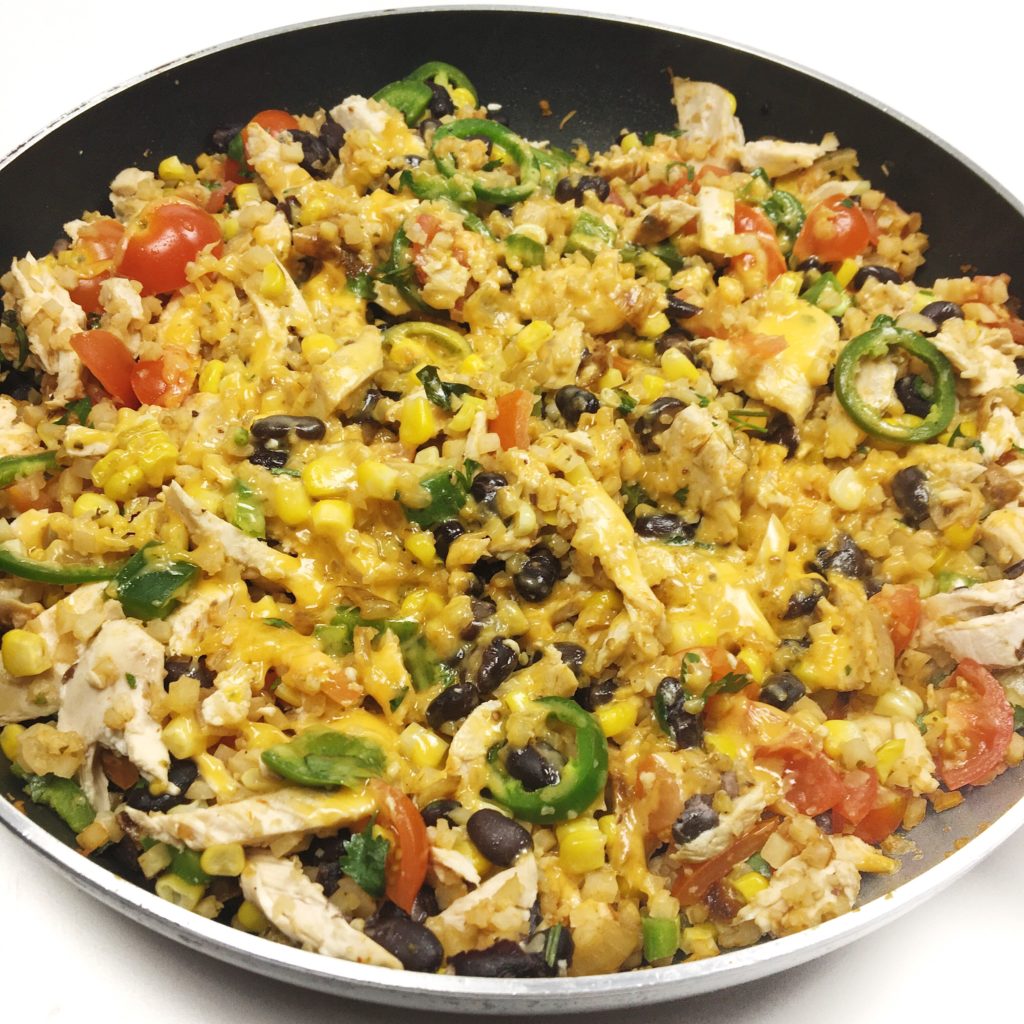 This recipe from Cheese Tex-Mex Cauli Rice recipe from Delish uses riced cauliflower as a veggie base, helping to keep things balanced, and also takes advantage of high fibre beans and corn as a complex source of carbohydrate. I used frozen, pre-prepared riced cauliflower for convenience, and leftover rotisserie chicken for this quick weeknight meal.
4. Add to pasta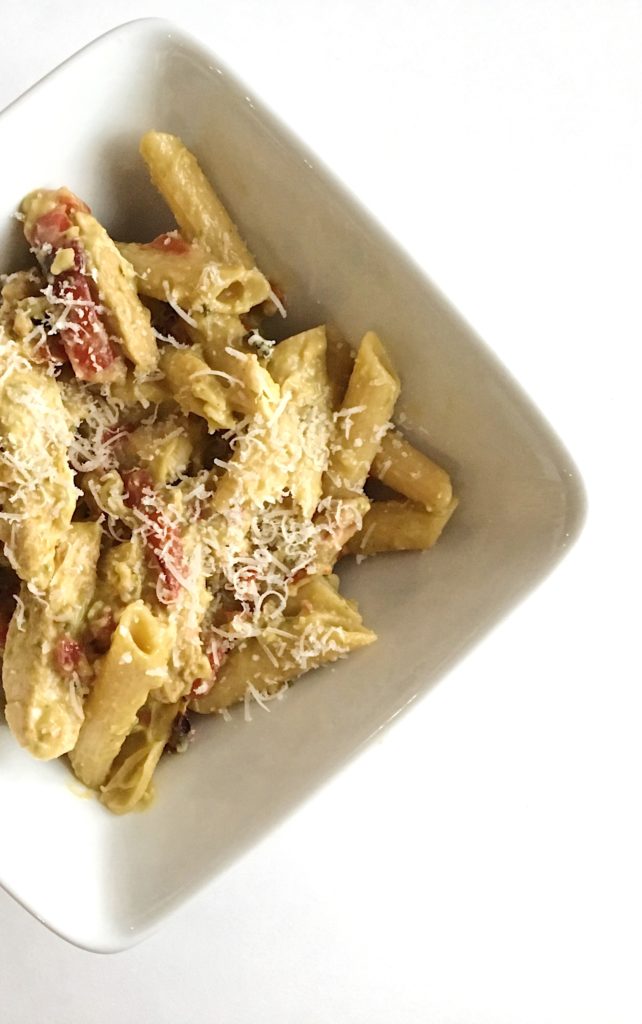 Add leftover chicken to your favourite pasta recipe for a protein boost!
5. Super Speedy Chicken Tacos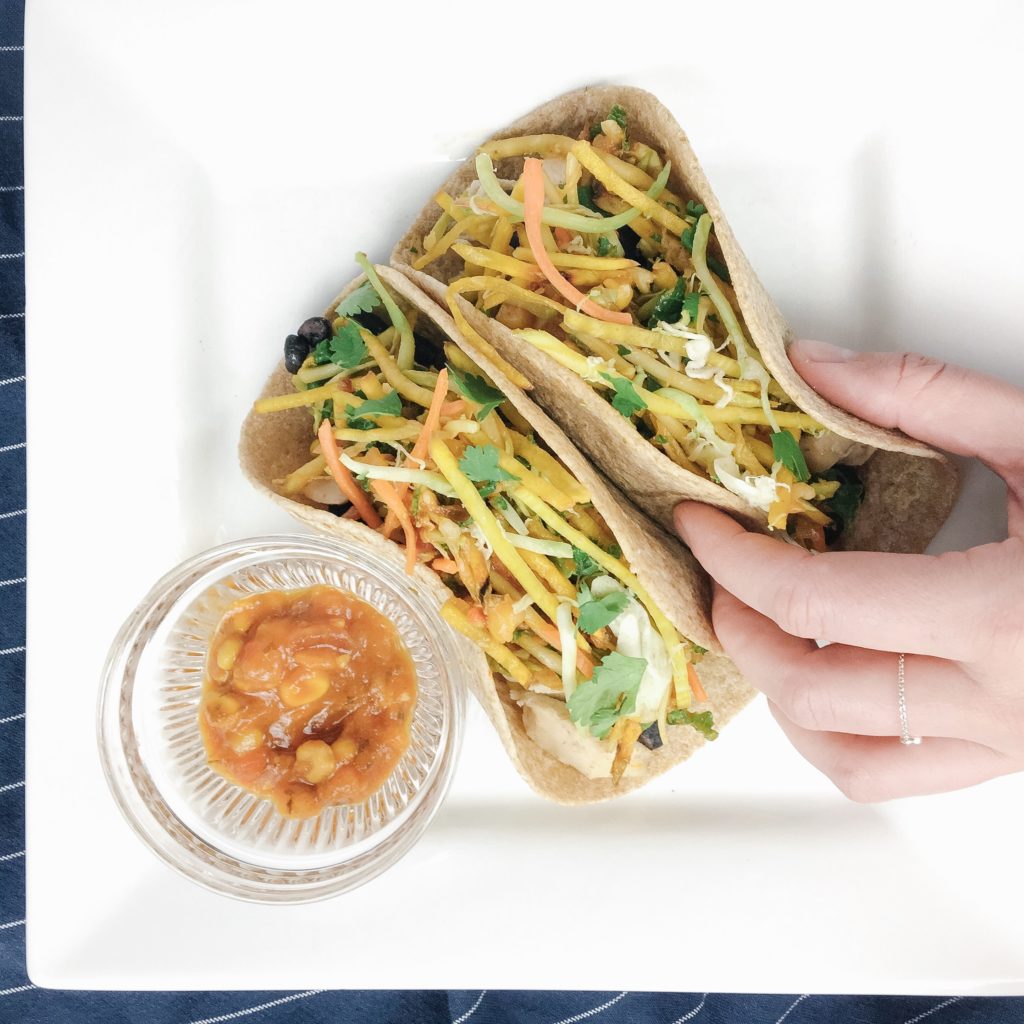 I love this super simple recipe from Super Speedy Chicken Tacos recipe from Good Housekeeping. With a few simple ingredients that you likely already have in your kitchen, you can reinvent your leftover chicken in a way that you will actually look forward to eating. For added convenience, we used pre-packaged slaw mix.
5.Tex Mex Salad with Spicy Chipotle Dressing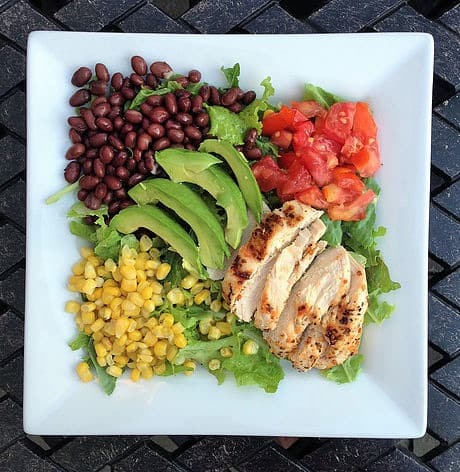 This Tex-Mex Cauli Rice with Chipotle Dressing has both sweet and spicy flavours that we know you'll love. Plus, the combination of healthy fats from avocado, complex carbohydrates from beans and corn, and protein from chicken and beans, makes for one satisfying salad!
What's your favourite way to use leftover chicken? Leave a comment below!
Don't miss a thing! Subscribe to receive the latest recipes and healthy eating tips straight to your inbox! ?
[yikes-mailchimp form="2″]
About Brittany
Hi there! I am a registered dietitian and I ? food! I am passionate about making it easier for busy people to eat well by sharing quick and healthy recipes. Healthy cooking at home can seem overwhelming, but it doesn't have to be. I love helping people uncomplicate weeknight dinners and reduce stress around meal time, so I'm so glad you're here!