11 Meal Planning Hacks that Make Healthy Eating Easier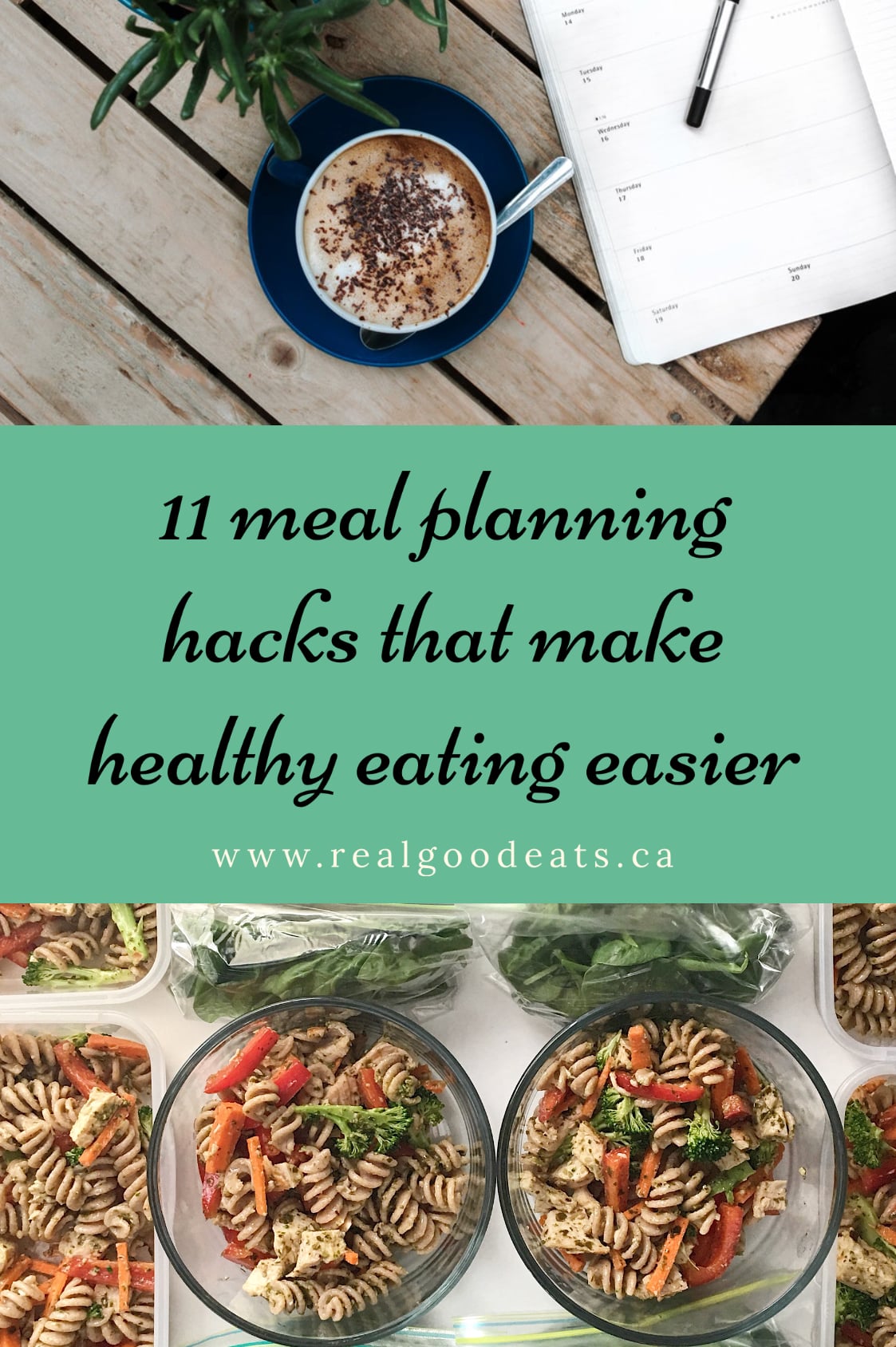 Author: Kelly Kennedy, MS, RD, LDN
Raise your hand if you've ever set a goal to start planning your meals ahead of time. Don't worry, we're all raising our hands here too! The benefits of meal planning are well known – more nutritious meals, appropriate portions (aka hanger prevention), plus incredible budget savings compared to eating out.
The truth is, busy lifestyles and ever-shifting schedules are all too common, and meal planning is usually the first thing to get cut at the end of a crazy day. We can totally relate and that's why we're sharing these eleven meal planning hacks that make healthy eating easier.
11 Meal Planning Hacks that Make Meal Planning Easier
1. Assess Your Tools
First thing's first – take a look around your kitchen and see what tools you have at your disposal. Gadgets like a slow cooker or pressure cooker will save you lots of time in the kitchen if you have them. But think outside the box too! Do you have something that helps you cut veggies with speed or cut them into smaller pieces so they'll cook more quickly? Yes, we're looking at you mandolin and spiralizer!
2. Set Realistic Goals
If you currently eat all of your meals away from home, don't plan on cooking three meals a day, seven days a week, every day for the rest of your life, starting tomorrow. Start with a small goal of 1-2 meals a week at home (or whatever works for you) and add additional meals (if you'd like) once you've comfortably reached that first milestone. Setting small goals that you know you can reach and then adding on as you reach that goal is one of the best ways to build a lifelong habit
3. Plan in Advance (whatever that means for you)
Many people find that planning one week at a time works best for their schedules. But if you like planning on a monthly basis or even day by day, do what works best for you as long as you stick with it! If you find that planning a week at a time is too much, try starting with planning for the next two or three days and then go from there. The goal is to build a habit that is maintainable for you no matter what may work best for your friend, family member, or coworker.
4. Schedule It
As silly as it may sound, set a specific time aside in your busy schedule each week to plan, shop, prep, and cook. Even more importantly, stick to that time each week. If you postpone any step of your process, you're much less likely to meet your meal planning goals. Prep extra cut veggie sticks while you're at it – they make a quick and nutritious snack or the perfect side to any meal.
5. Keep It Simple
Not every meal has to be a gourmet feast. Plan for ways to minimize prep time, cooking, and dishes (no one likes dishes!). For example, one dish and sheet pan meals, dump meals, and  grain bowls  all save time and effort in the kitchen.
6. Think Bigger (batches)
Meal planning does not mean that you'll need to cook a fresh meal each and every time you want to eat. Take a look at your schedule and figure out the time or times that work best for you to cook each week. Maybe you like cooking every night; or maybe you have a few free hours on the weekend to cook a large batch of food and take care of your cooking needs for the whole week! If you don't like repetition, cook large batches and freeze individual servings (or however many servings you need for your family) for use at a later date. Once you have a few different meals in the freezer, you can have as much variety as you'd like!
7. Use Your Freezer Like a Champ
When it comes to meal planning and healthy eating, the freezer is an invaluable tool when used correctly (i.e. not a place to store food until it becomes unrecognizable frostbitten). Think frozen veggies, individual servings of protein or whole grains, and pre-packaged (by you) healthy meals that you can grab and defrost in a pinch.
8. Become a Pantry Pro
A well-stocked pantry is one of the best tools you can have when it comes to healthy eating and successful meal planning. Stock your pantry with healthy items you can use as sides, or even to make a complete balanced meal in a pinch. Dry whole grains, canned beans (give 'em a good rinse to bring down the sodium), canned tuna, and natural peanut butter all great staple items to have on hand.
9. Go Semi-Homemade
No time to roast a chicken, but love to have it in your meal plan? Pick up a rotisserie chicken at your local grocer for a quick fix and a delicious semi-homemade meal. Add a whole grain and defrost plenty of frozen veggies for a quick and nourishing meal that will feel indulgent with very little time spent in the kitchen. The leftovers from the rotisserie chicken can even be made into a delicious chicken soup, or this Chicken Quinoa Fried Rice – killing two meals with one bird…wait?!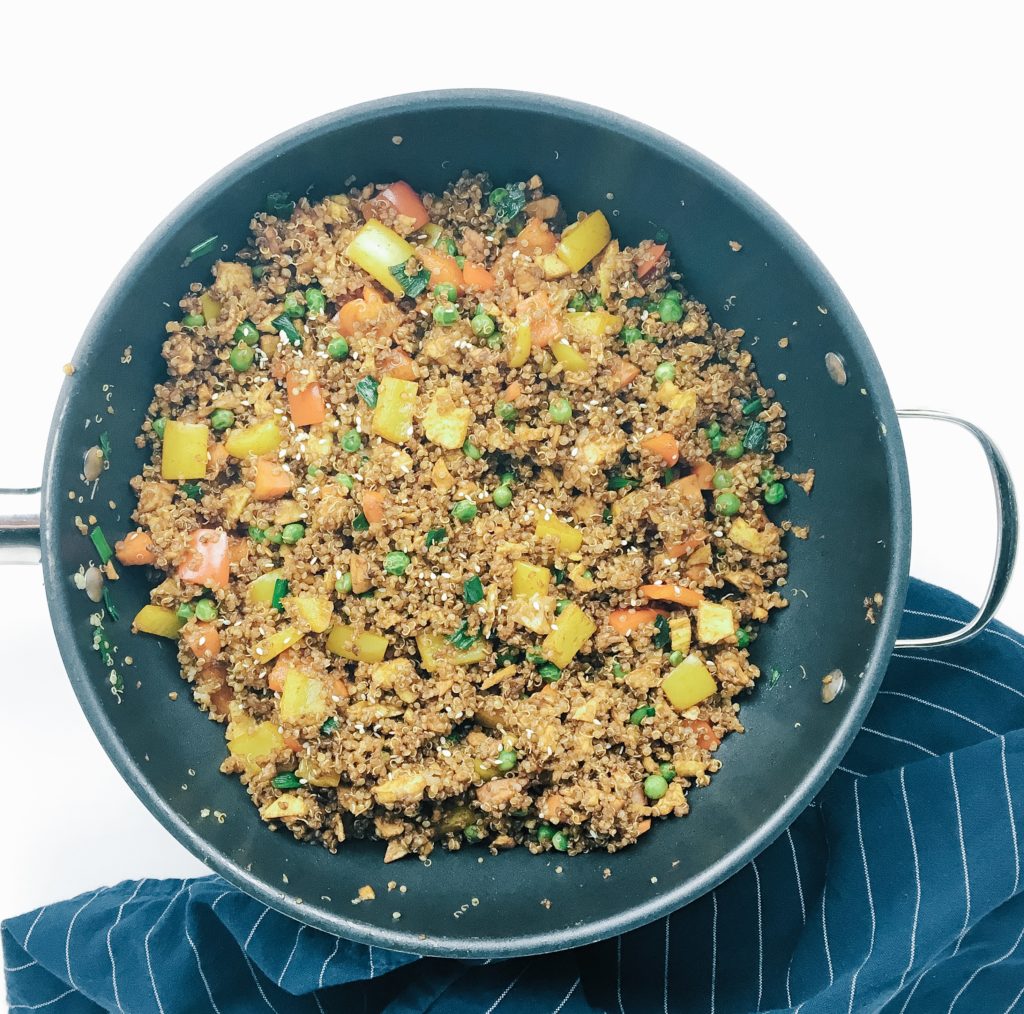 10. Have a "Catch All" Recipe
Have a loose recipe or two in mind that you can use as a "fridge cleaner". This is a great way to use up extra veggies that might otherwise go to waste, while making a quick and easy meal without having to take an extra trip to the grocery store.  Stir-Fry  and  broth-based soups  are great catch all recipes because they can be made with pretty much anything and are so nutritious too!
11. Have a Backup Plan
Things will come up, schedules will shift, life will get in the way. Have a back up plan in place that works for you. Whether it's frozen leftovers from a meal last week, or a  meal  you can quickly assemble from a few simple ingredients you always have on hand, planning for things to go awry is planning for success!
Don't miss a thing! Subscribe to receive the latest recipes and healthy eating tips straight to your inbox! 👇
About Kelly
Kelly Kennedy, MS, RD, LDN is a registered dietitian who has her bachelor's degree in nutrition from the University of Massachusetts, Amherst and master's degree in nutrition from the State University of New York College at Oneonta. She also holds a certificate of training in Adult Weight Management from the Academy of Nutrition and Dietetics. Kelly's passion for nutrition began in the kitchen and has evolved to include writing, personalized nutrition counseling, recipe development, and giving cooking demonstrations. She often jokes that she "majored in food" because that is what she loves the most!
---
---