Author: Holly Heximer, RD
Keeping your freezer full of food can help you save money, reduce waste and eat well, even on your busiest days. I'll pull lunch-sized portions out of the freezer on days I'm too busy to prep or there aren't enough leftovers from dinner to bring for lunch the next day. Having frozen ingredients that can come together into an easy weeknight meal also helps provide a quick alternative to take-out which helps save money too.
Continue reading for some of my Tips for Freezing Food to Make Meal Prep Easier, including tips for freezing individual ingredients and full meals.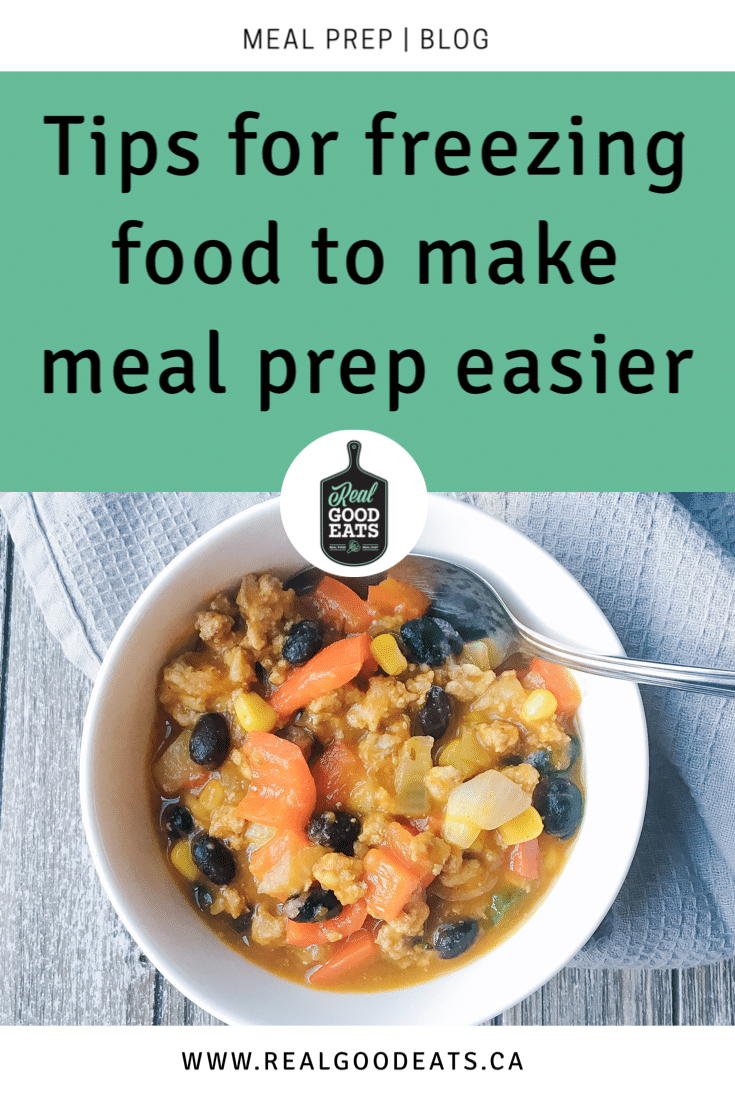 Tips for Freezing Food to Make Meal Prep Easier
Tips for freezing full meals
Remember food safety basics. The

danger zone

is any temperature between 4 and 60 degrees Celcius (aka your countertop!). Between these temperatures, it is an optimal environment for bacteria to grow. These numbers are important to know when freezing and thawing foods to avoid food sitting at this temperature.Two hours is the limit food can safely sit at temperatures within this range.
Cool hot meals prior to freezing to prevent freezer burn but also for food safety. This is especially important when using glass containers so they don't shatter. For food safety reasons, freeze or cool in the fridge within two hours of cooking
Consider how long it will take foods to thaw. I take my pre-prepared meals out the night prior and thaw in the fridge for food safety reasons.
Leave extra room in your containers to allow the contents to expand when frozen. I usually only fill containers three-quarters full.
Label everything! Have you ever heated up your lunch and realized it was not what you were expecting? I certainly have! Now I label and date everything in my freezer especially if I am re-using bags or containers. If you have a larger deep-freeze it may be helpful to keep a dry-erase board on the door with an inventory list of everything you have inside.
Make a double batch and freeze the rest. There are a number of recipes that I will double (or even triple) and freeze into meal sized portions for a quick meal at a later date. Check out the examples below.
Meals that freeze well
Veggie Burgers, Meatballs or Falafels: Freeze individually on a baking tray and then transfer to containers or ziplock bags.
Chilli or Stews: I actually re-use glass salsa containers to store chili or stews in as it's a great lunch serving size. Just remember to only fill ¾ way full to allow room for the product to expand. Try this 30-Minute Pumpkin Chili.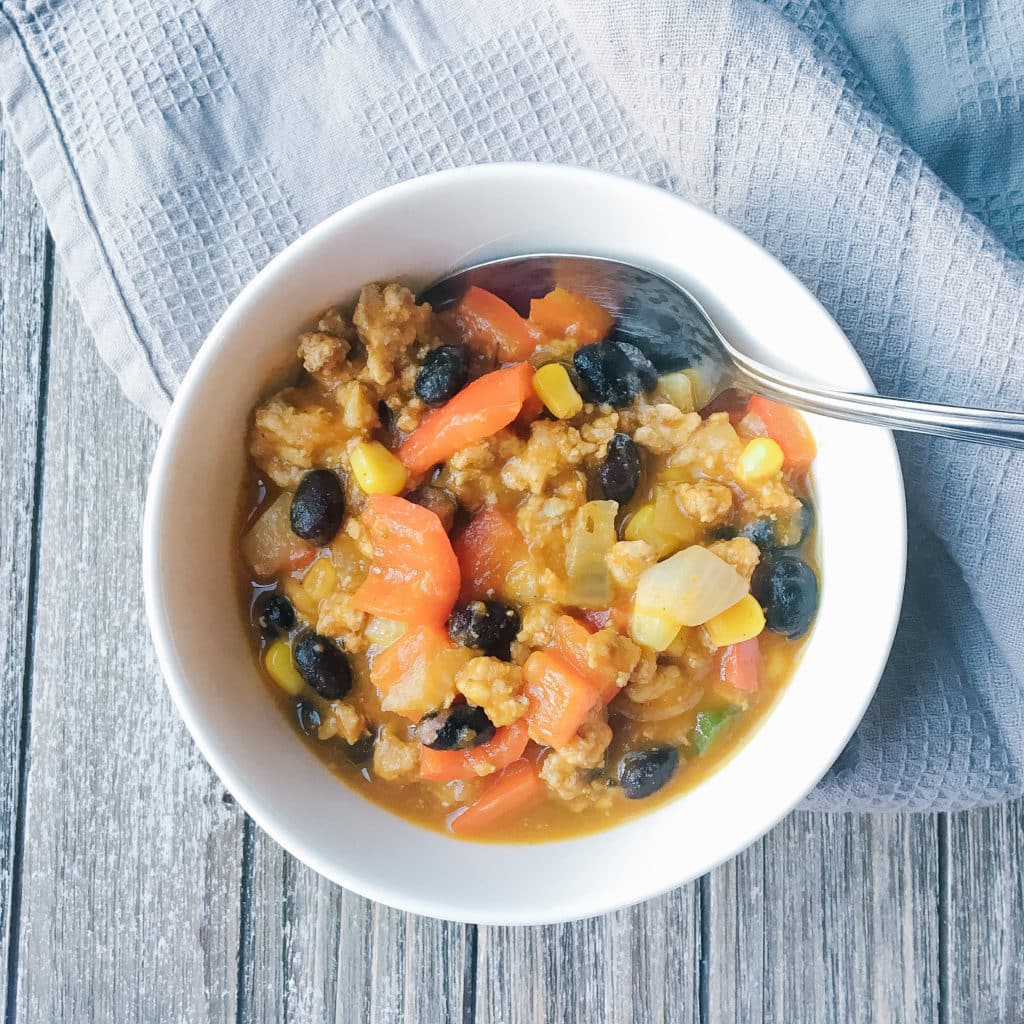 Lasagna: Either freeze a whole lasagna prior to being cooked or freeze cooked portions individually for a quick lunch.
Soups or Broth: Store soup in meal-sized portions. I store broth in re-used litre sized pasta sauce jars or mason jars. Try this Thai Sweet Potato and Coconut Soup.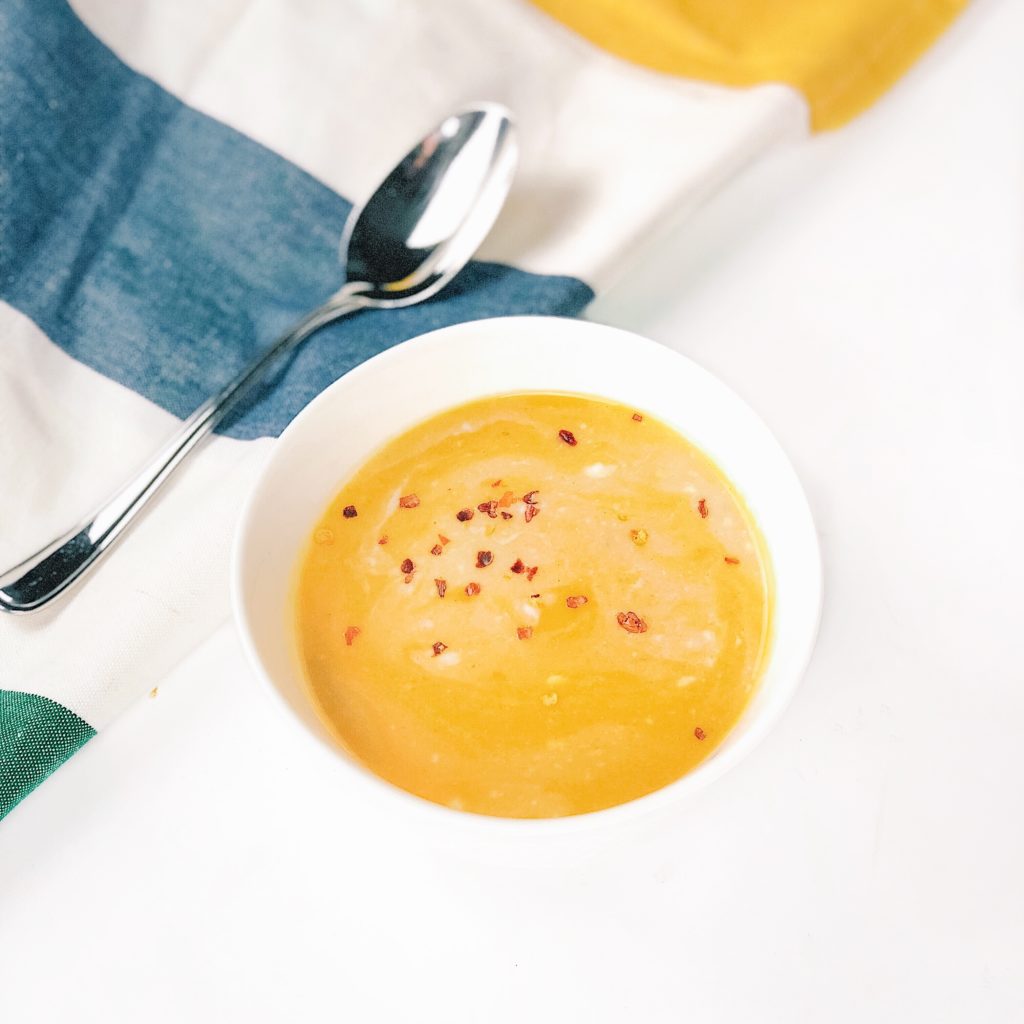 Curry and Dhal: If you use coconut milk the texture can change slightly with freezing however I don't find the taste is impacted. Try this Lentil and Broccoli Curry with Coconut Milk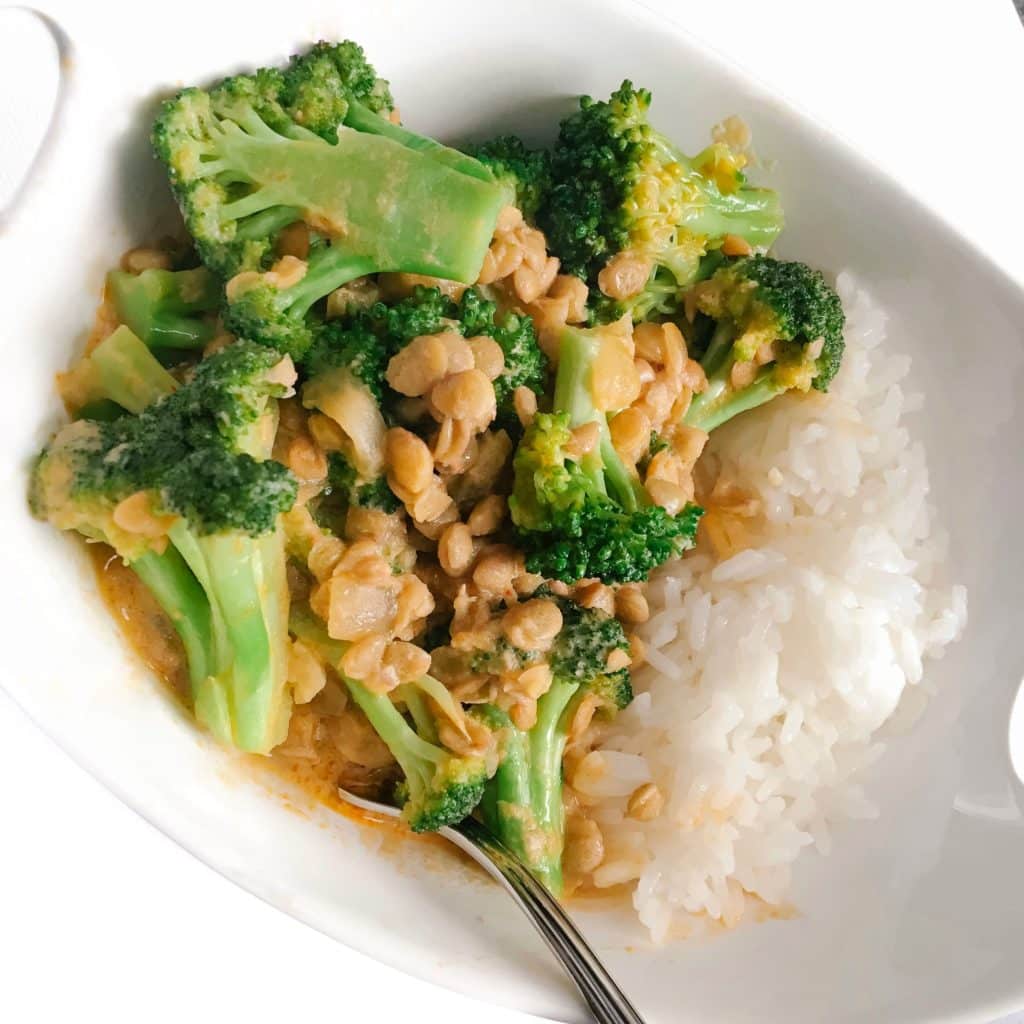 Sauces: Make a large batch of sauce and freeze in dinner-sized portions. Examples of sauces in my freezer include tomato, enchilada and butter chicken. These sauces can then be thawed and added to pasta, vegetables or meat to make a quick meal. Try these Spinach Enchiladas with Lentils with your enchilada sauce.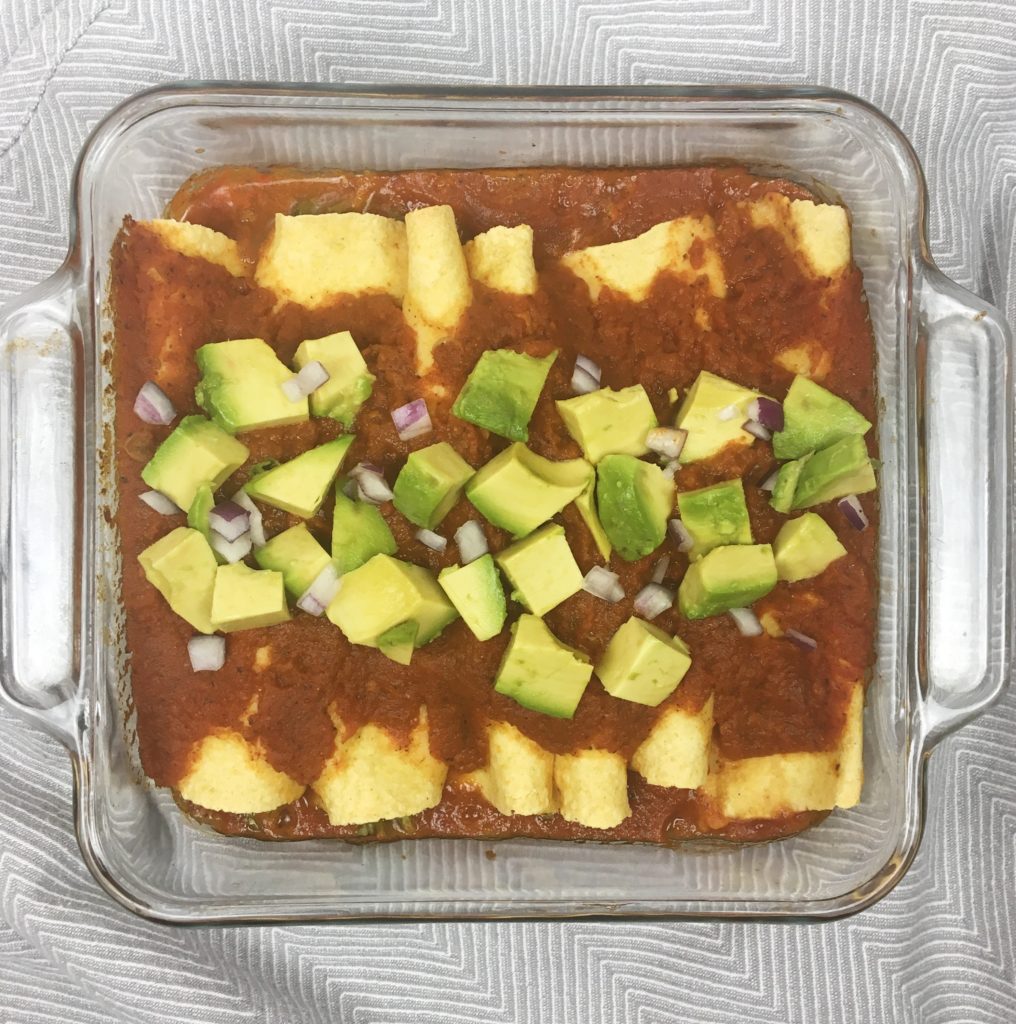 Tips for Freezing Food to Make Meal Prep Easier
Tips for freezing individual ingredients:
Pizza Dough: you can freeze your dough in a ball or stretch out and pre-bake the dough. If you freeze in a ball remember to take the dough out early enough it can fully thaw before kneading and stretching it out.
Waffles or Pancakes: a quick breakfast if you pop them in the toaster!
Beans and Chickpeas: these freeze well and can be added to salad, chili, wraps, or soup. I'll make a large batch in my Instant Pot and freeze for later use. Tip: you can also freeze bean dips, such as hummus, for later use.
Grains such as rice, barley or quinoa: these can be heated up quickly as a side or can be added to soups or chili.
Meat: buy in bulk when on sale and then freeze in individual (or family sized) portions.
Cheese: buy a larger block and grate half to keep in the freezer.
Vegetables & Fruit: preserve your garden (or farmers market haul) when it's cheaper and in season! Depending on the vegetable or fruit, I freeze in different ways. My rule of thumb is to use frozen produce within a year (although I'm usually out of my stock well before then!).
For most vegetables such as swiss chard, spinach, green beans, carrots blanching preserves them best. Blanche, then quickly put in an ice bath to stop the cooking process. Freeze on baking sheets in serving sized portions and transfer to a bag once frozen.
For heartier vegetables like kale, you can freeze it in bags as is.
For zucchini, simply grate it or chop into cubes before freezing. Grated zucchini is fantastic added to pasta sauces or muffins while cubed frozen zucchini adds a creaminess to smoothies.
Tomato: make pasta sauce or stewed tomatoes and then freeze into portions ready for a meal. You can also chop and freeze tomatoes so they are ready to add into a chilli or soup. Check out

these 5 Delicious Ways to Use Garden Tomatoes

for a number of additional uses for extra tomatoes.
Fruit: freeze individually on baking trays first before transferring to bags. For fruits with pits, such as cherries, de-pit them first before freezing. Freeze any foods that may stick together (such as fruit) on baking trays so they don't stick together. After they are frozen transfer to a container or bag.

Reduce Waste Tip:

I save the bags frozen fruit or veggies come in to re-use to freeze bananas or vegetables from my garden.
Herbs: herbs can be made into pesto and frozen, or frozen in ice cube trays with oil. Check out these 12 Ways to Use Fresh Herbs for more ways to use up additional fresh herbs.
How do you use your freezer? Let me know your favourite freezer-friendly recipes or tips in the comments below!
Don't miss a thing! Subscribe to receive the latest recipes and healthy eating tips straight to your inbox!
[yikes-mailchimp form="2″]
About Holly
Holly is a Registered Dietitian who graduated from the University of British Columbia. Her day job is working in clinical nutrition in pediatrics and after work, she enjoys gardening, cooking, hiking and camping. She has a passion for inspiring people to cook and experiment in the kitchen!