Tired of eating the same thing for lunch every day? We've got a great way for you to shake up your meals this week! One day of prep for a weeks-worth of new and exciting meals is all made possible by Mix and Match Meal Prep Buddha Bowls!
Insta-worthy Buddha Bowls are all the rage right now, and for good reason. They're extremely versatile, full of flavour, well-balanced and perfect for prepping ahead of time. Continue reading for 5 steps you need to prep and build your week of exciting meals.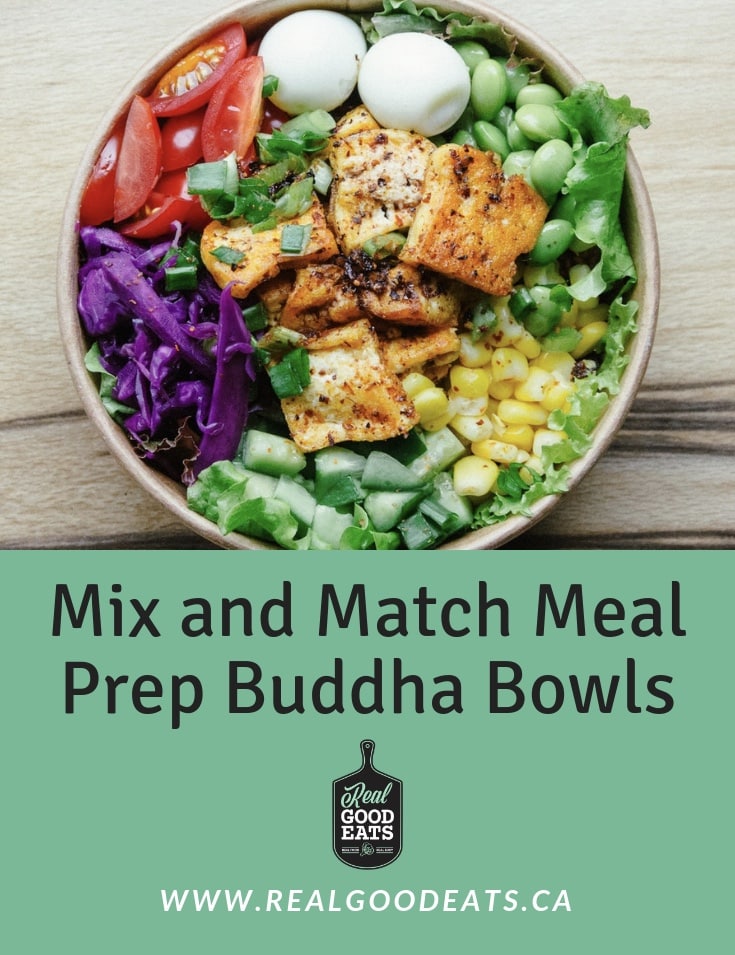 Mix and Match Meal Prep Buddha Bowls
Step 1: Grain or Starch Base
Make a big batch of 2-3 of your favourite whole grains at the beginning of the week. Alternate which ones you use as the base layer of your Buddha bowl each day.
Some examples include:
Flavour tip: cook quinoa or rice in broth instead of water for added flavour. Roast potatoes with oil, salt & pepper for a crispy and flavourful base.
Step 2: All the Veggies
As always, the more veggies the better! Variety is key when it comes to veggies. A good tip is to try and make every bowl look like a rainbow. Sheet pan veggies are a great way to make a number of different vegetables at once. Check out our favourite sheet pan recipes here. Or try experimenting with different seasonings to spice things up!
Some examples include:
Or mix things up with Asian inspired vegetables using this Asian Vegetable Stir Fry recipe from Recipe Girl.
Step 3: Protein
Both plant and animal-based proteins are great in Buddha Bowls. Beans, lentils, tofu, chicken, or shrimp, the options are endless.
Some examples include:
Step 4: Dressing
The dressing you choose can really pull a bowl together. Make a few dressings at the beginning of the week and mix it up your combinations all week long for endless variety. Prep anything from a fancy tahini dressing to a simple oil and vinegar combo.
Some examples include:
Step 5: Nutrition Boosters
For some extra nutrition, top your bowl with nuts, seeds, sprouts or fresh herbs! Some ideas include hemp seeds, fresh cilantro or toasted pine nuts. Yum!
Bowl Combinations
Need some more bowl-inspo? Try these tasty combinations:
Chicken Burrito Bowl:

Brown rice + corn + tomatoes + avocado + black beans + grilled chicken breast + honey chipotle dressing + cilantro + a squeeze of lime

Asian Beef Bowl:

Brown rice + broccoli + sugar snaps + mongolian beef + asian salad dressing + sesame seeds + green onion

Thai Tofu Quinoa Bowl:

Quinoa + shredded carrots + shredded purple cabbage + snow peas + baked thai tofu + thai peanut sauce + green onions + chopped peanuts

Greek Chicken Souvlaki Bowl:

Chicken (marinated in Greek dressing and grilled) + roasted peppers, red onion, zucchini + roasted potatoes with lemon, oregano, salt and pepper + hemp hearts + top with tzatziki. Try this

Sheet Pan Greek Chicken and Vegetables

recipe.
Don't let you meal prep routine get stale. Give Buddha Bowls a try this week!
Don't miss a thing! Subscribe to receive the latest recipes and healthy eating tips straight to your inbox!?
[yikes-mailchimp form="2″]