Author: Holly Heximer, RD
Have you ever purchased a bundle of herbs for a recipe that calls for a quarter cup, only to be left with 3 cups of fresh herbs that you have no use for? You're not alone!
Despite our best intentions, leftover bundles of fresh herbs end up unused and wilted in the back of the fridge way too often. I am on a mission to reduce food waste and wanted to find some tasty and unique ways to use up my herbs before they end up in the compost.
Fresh herbs can add so much flavour to a dish and can elevate any meal. Continue reading for my favourite ways to use fresh herbs.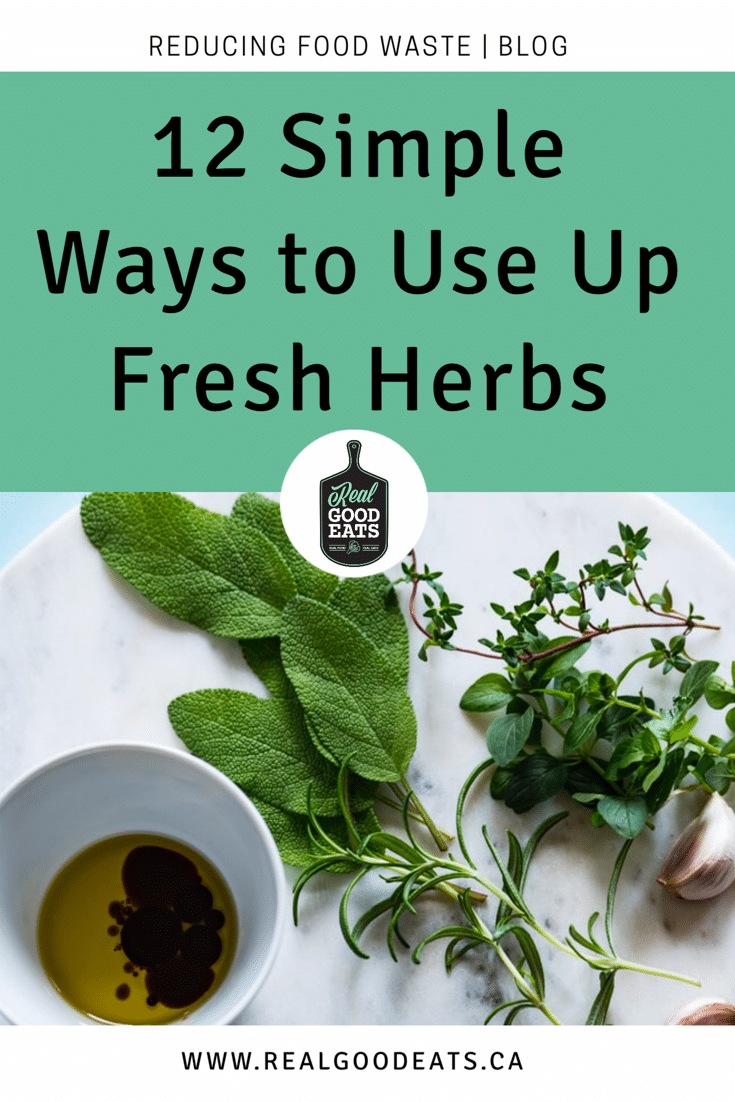 1. Use your leftover herbs by making pesto:
Making homemade pesto is one of the best ways to use up large amounts of herbs or greens. This is my go-to pesto recipe:
Combine 1 cup fresh basil, 3 tbsp pine nuts, 2 cloves garlic, ⅓ cup grated parmesan cheese in a food processor. Add ¼ cup olive oil and mix.
Pesto is extremely versatile and you can sub in other ingredients easily. Want to make it nut-free? Try sunflower seeds! Have some carrot or beet tops that you don't want to waste? Sub those in for half of the basil! Some other variations I have enjoyed include, adding spinach or swapping pine nuts for walnuts. If you'd like to make this dairy-free you can sub nutritional yeast for parmesan.
Use your pesto as a flavourful pasta sauce, or top chicken breast, fish or tofu with a layer of pesto before baking or grilling. Pesto can also be used to make simple 3-ingredient meatballs, check out the recipe here. Fresh Pesto will last 3-4 days in the fridge, but if you make extra you can freeze it for later.
2. Use leftover fresh herbs on roasted veggies
Roasted vegetables are one of my favourite ways to eat veggies. Simply toss cut vegetables with oil, fresh herbs, and spices, and bake them on a sheet pan until softened. I encourage you to experiment with different combinations of vegetables and herbs that you have in your fridge but to get you started, here are a few of my favourite combinations:
Garden carrots or diced potatoes + dill

Smashed potatoes + chives

Butternut squash, zucchini, carrots or cauliflower + sage

Green beans, carrots, peppers or potatoes, zucchini + thyme and/or rosemary
3. Add leftover fresh herbs to your Sandwiches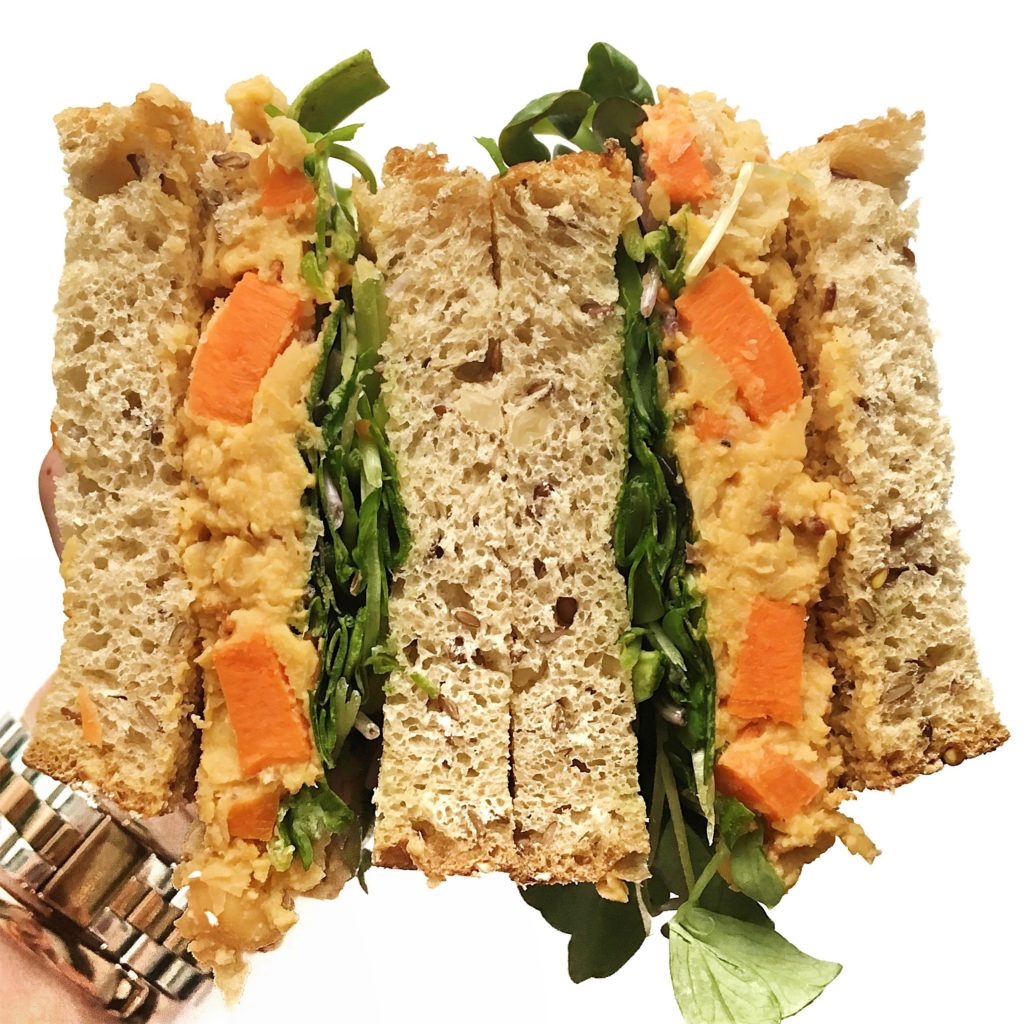 Adding fresh herbs such as chopped fresh dill and a squeeze of lemon adds tons of flavour to a tuna or chickpea salad sandwich. Or make a basic sandwich spread by mixing mayonnaise with any leftover herb.
4. Add herbs to salads or bowls
Adding fresh herbs such as basil to a salad or bowl can enhance the flavor even if there aren't many other ingredients. Use your fresh oregano in a simple Greek salad with tomatoes, cucumbers, feta cheese, oil, and vinegar. This Roasted Fall Veggie Bow recipe is a great use for parsley, and cilantro is great added to a taco salad or a grain and bean bowl. For fruit salad, try adding mint.
5. Salad dressings or marinades
Home-made salad dressings are the perfect way to use up leftover fresh herbs. Try this simple recipe for an easy salad dressing with tons of flavor:
Olive Oil + Lemon + Herb of Choice + Crushed Garlic
Adding herbs to your favourite marinade recipes or bottled marinades can also take the flavour up a notch.
6. Mix fresh herbs into sauces
Blended sauces are also a great way to use fresh herbs. Avocado Cilantro Cream Sauce is one of my favourites. This recipe was inspired by Oh She Glows Enchilada sauce and is delicious on tacos, enchiladas, and bowls.
Ingredients: 1 ¼ cup avocado 2 tbsp water 2 tbsp lime juice 1 cup packed fresh cilantro 1 tsp salt ½ tsp garlic powder Black pepper
To make, combine the avocado and water in a food processor until creamy. Add in the remainder of the ingredients and mix until smooth and well blended.
7. Use fresh herbs in smoothies
I'll admit, I thought it was crazy when I first heard of adding herbs to my smoothie, but it adds a delicious kick of flavour. Use up leftover mint, cilantro, or parsley in your usual green smoothie. Start off by adding a few leaves and increase based on your taste preferences.
You can also try this recipe from Oh She Glows using Cilantro and Parsley, or make a chocolate smoothie using leftover fresh mint for a delicious mint chocolate combination.
8. Garnish your dishes with fresh herbs:
Restaurant meals or in magazine food pictures are usually garnished with herbs. Not only does this look nice, but it adds a nice finishing flavor too. Try garnishing chicken or meat dishes with a sprig of thyme. If you have a tomato-based dish, such as pasta or lasagna, add fresh basil. Tacos, enchiladas, or quesadillas are great topped with cilantro.
9. Add fresh herbs to pre-prepared dishes:
Have a store-bought pasta sauce or pizza? Add some fresh basil or oregano for extra flavour. Many store-bought soups can also be kicked up a notch by topping with dill, parsley or cilantro.
10. Infuse water with fresh herbs:
This can be a great way to add a variety of flavours to your water. Fresh herbs work well alone, or you can combine herbs with some fruit for an even bigger punch of flavour. Some of my favourite combinations include mint watermelon, basil strawberry, and basil peach. Mint leaves can also be added to boiling water to make your own mint tea.
11. Freezing leftover fresh herbs:
Did you know you can freeze herbs in water or oil? Simply chop the leaves and divide them into portions you would use for cooking (i.e: 1 or 2 tbsp). Put fresh herb portions into ice cube trays, and fill the cubes with oil. Set in the freezer until the contents are completely frozen. Once frozen pop out of the tray and transfer to a freezer bag or container. Defrost cubes of herbs as needed on the counter or in the pan while cooking.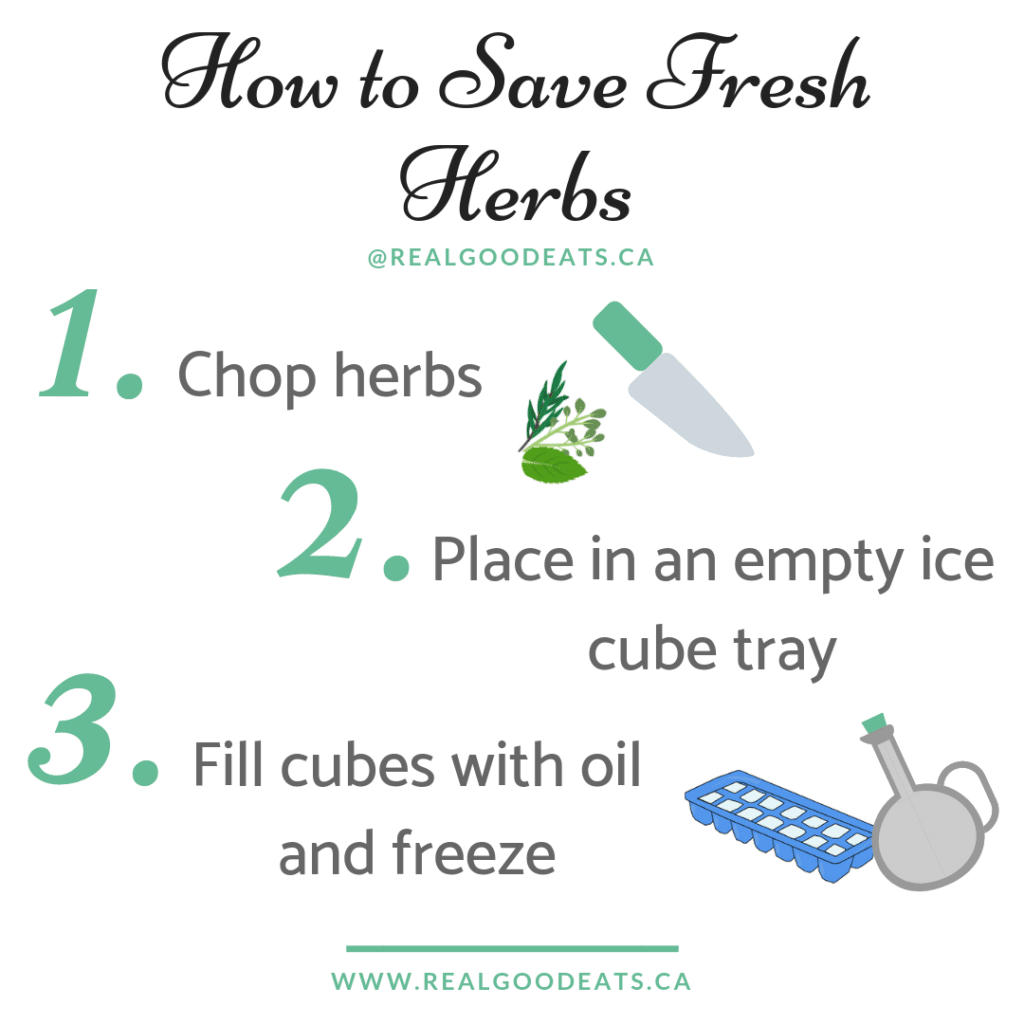 12. Drying fresh herbs:
Drying extra herbs is also a great way to preserve and prevent waste. For some herbs such as thyme, you can dry the leaves by leaving them in a dark, warm room. Once the leaves have dried, you can crumble the leaves and store them in an air-tight container. For other herbs like basil or oregano, dry them using a dehydrator on the herb setting (usually a lower heat). Once dehydrated you can crumble and store in an airtight container for future use.
What are your favourite ways to use up fresh herbs? Comment below and share your favourite recipes!
Don't miss a thing! Subscribe to receive the latest recipes and healthy eating tips straight to your inbox!
[yikes-mailchimp form="2″]
About Holly
Holly is a Registered Dietitian who graduated from the University of British Columbia. Her day job is working in clinical nutrition in pediatrics and after work, she enjoys gardening, cooking, hiking and camping. She has a passion for inspiring people to cook and experiment in the kitchen!