Author: Holly Heximer, RD
Did you get an instant pot over the holidays and are looking for some recipe inspiration? My instant pot has been a staple in my kitchen since Christmas 2013. Continue reading for our Instant Pot Tips for Beginners and 5 Healthy Weeknight Recipes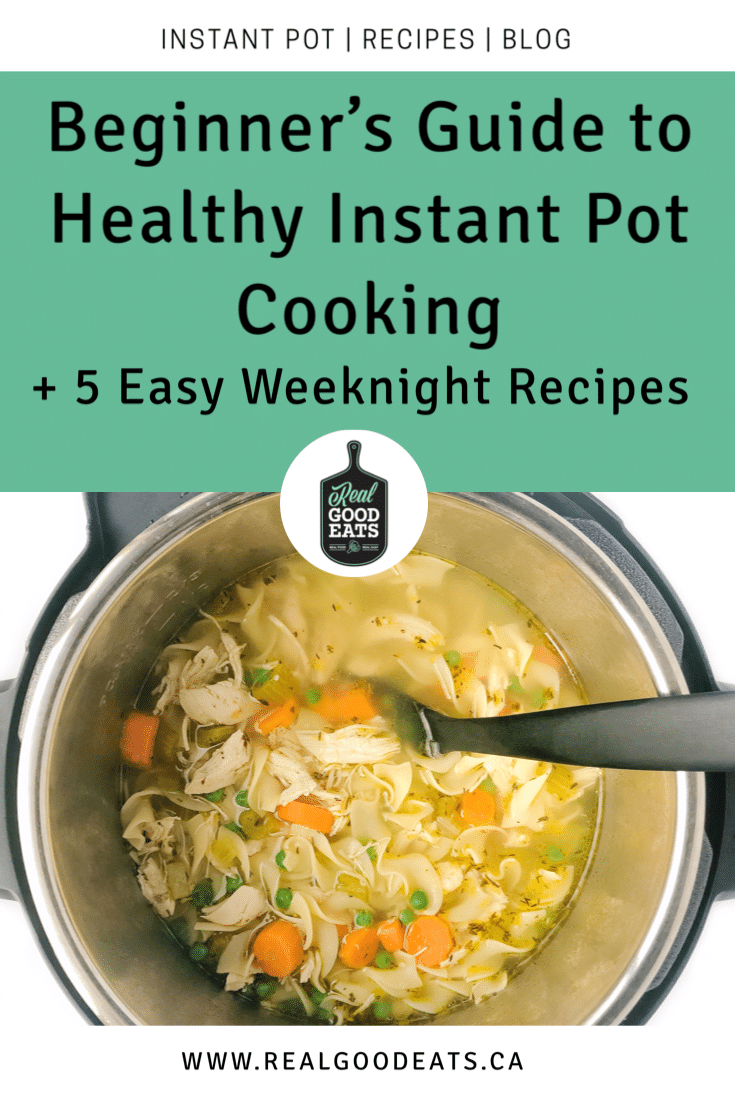 Instant Pot Tips for Beginners and 5 Healthy Weeknight Recipes
What is an Instant Pot?
An Instant Pot is essentially an electric pressure cooker that uses pressure to cook your food faster as the water boils above 100 degrees Celcius. There are many neat functions and uses from the sauté function to brown vegetables to using the slow cooker function which turns your instant pot into the traditional slow cooker. During university, it was a lifesaver and put to use daily. It's great for keeping budgets in check as you can often put together a meal in the time you could get takeout and for a much lower cost per serving.
Keep reading for some of my tips for using your Instant Pot, the basics I cook in my Instant Pot most often, as well as my go-to quick and simple Instant Pot dinner recipes.
Instant Pot Tips for Beginners
Before you start cooking here are a few things to keep in mind:
The cook time doesn't include the time it takes for the instant pot to come to pressure or the time to vent. Factor this into your prep time.

Make sure your pressure valve is set to the seal position otherwise your instant pot will never get up to pressure. After cooking you can manually vent by moving the pressure valve to vent position (and steam will release quickly) or let it naturally vent by just leaving the valve on seal.

When naturally venting you will see a timer start to go up (ie: L00:05). This allows for the pressure to release slowly but it also continues to cook your food as pressure is released.

Don't overfill your instant pot. Make note of the fill line in your pot and don't go past this.

Make sure you have enough liquid for your food to cook, especially if you are using dried ingredients. A good rule of thumb is a minimum of 1 cup fluid when cooking.

You can add frozen ingredients right to the pot – just be aware it will take a bit more time to come up to pressure when using frozen ingredients and you may need to add a few extra minutes to the cooking time.

Different cuts and types of meat will require varying cooking times.

This website

is a handy guide for cooking time for meat and poultry.
Healthy Instant Pot Meal Prep: The Basics
Here are some of the basics that I often cook in my instant pot:
Hard-boiled Eggs
Add 1 cup of water into your instant pot. Place the rack that came with your pot inside your instant pot and place the eggs on top. Cook on manual for 4-5 minutes (depending on how you like your hard-boiled eggs). move the valve to vent and move the eggs to a bowl of cold water to stop the cooking process. Store in the fridge for an easy breakfast for up to one week!
Rice
I use a 1.25:1 ratio of liquid to dry rice (so for 1 cup dry rice use 1 1/4 cup water or broth) however, some people prefer a 1:1 liquid to rice ratio. The rice preset function is calculated for white rice so if you use brown or wild rice you'll need to cook on manual function. For brown rice cook for 25 minutes and wild rice for 30 minutes. Then let it naturally vent for 10 minutes.
Quinoa
For quinoa use a 1:1 liquid to dry quinoa ratio. Using the manual function you'll only need to cook it for 1 minute. (Nope that's not a typo – it will cook in ONE minute!) Allow it to naturally vent for at least 10 minutes after cooking.
Oatmeal
Another staple I'll make a big batch to eat throughout the week. I use a 2:1 ratio of liquids to steel-cut or rolled oats. I'll often use milk or soy milk as a liquid instead of water for extra creaminess. Put on manual for 4 minutes and then let it vent naturally for 10-15 minutes.
Dried Beans
For dried beans or chickpeas this is my go-to method to cook as I never remember to pre-soak dried beans the night before. I use a 3:1 liquid to dried beans ratio. I typically don't use the bean preset function on my instant pot and instead use the manual function for times below. After cooking I let the instant pot naturally vent for 10 minutes.
Chickpeas: Cook for 50 minutes to get tender chickpeas (to use in hummus, in pasta sauce, or in curry). If I want a harder chickpea (such as roasting) cook for 40 minutes.

Black Beans or Pinto Beans: Cook for 20-25 minutes depending on how tender I want the beans. I naturally vent the instant pot after cooking.

Kidney Beans: Cook for 30-35 minutes, and again naturally vent the instant pot.
Vegetable or chicken broth
I keep a bag of veggies scraps (carrots, onions, celery, herbs, etc) in the freezer until the bag is full. Once the bag is full I add it to my instant pot with enough water to cover it. If you had chicken or turkey bones you can add these as well. cook for 45 minutes on manual setting and allow to vent naturally. Freeze any extras you won't be using in the next week.
Pro tip: use vegetable or chicken broth for extra flavour when cooking grains.
Healthy Instant Pot Recipes
Now that you know the basics here are some of my favourite instant pot meals and 5 healthy, quick and easy weeknight recipes:
1. Easy 5-Ingredient Chicken and Lentil Tacos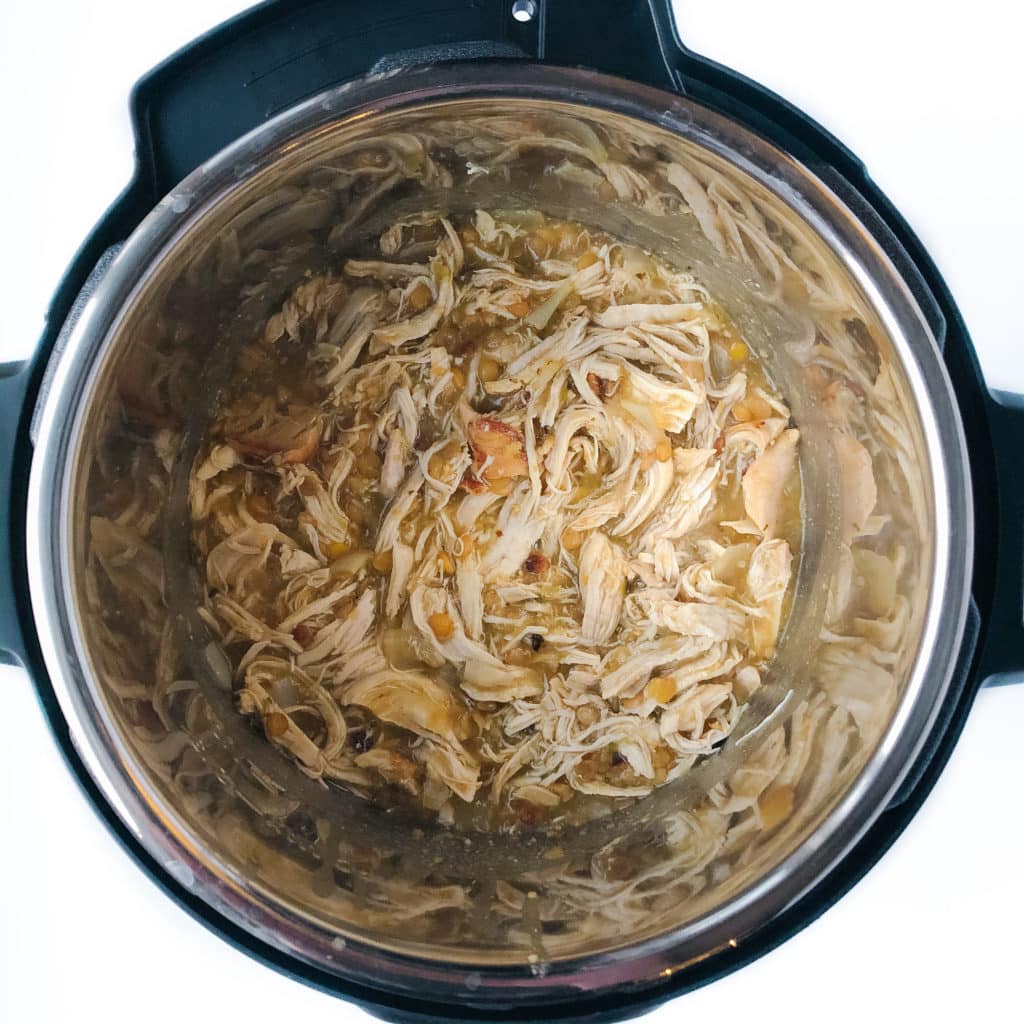 This Chicken Lentil Taco Recipe was the first recipe I converted from a family favourite slow cooker recipe for the instant pot. To incorporate more plant-based proteins into my diet I've played around with the ratio of meat and lentils and this is the winning combo that adds a bit more fibre from the lentils and helps to stretch your meat budget.
2. Cauliflower and Butternut Squash Curry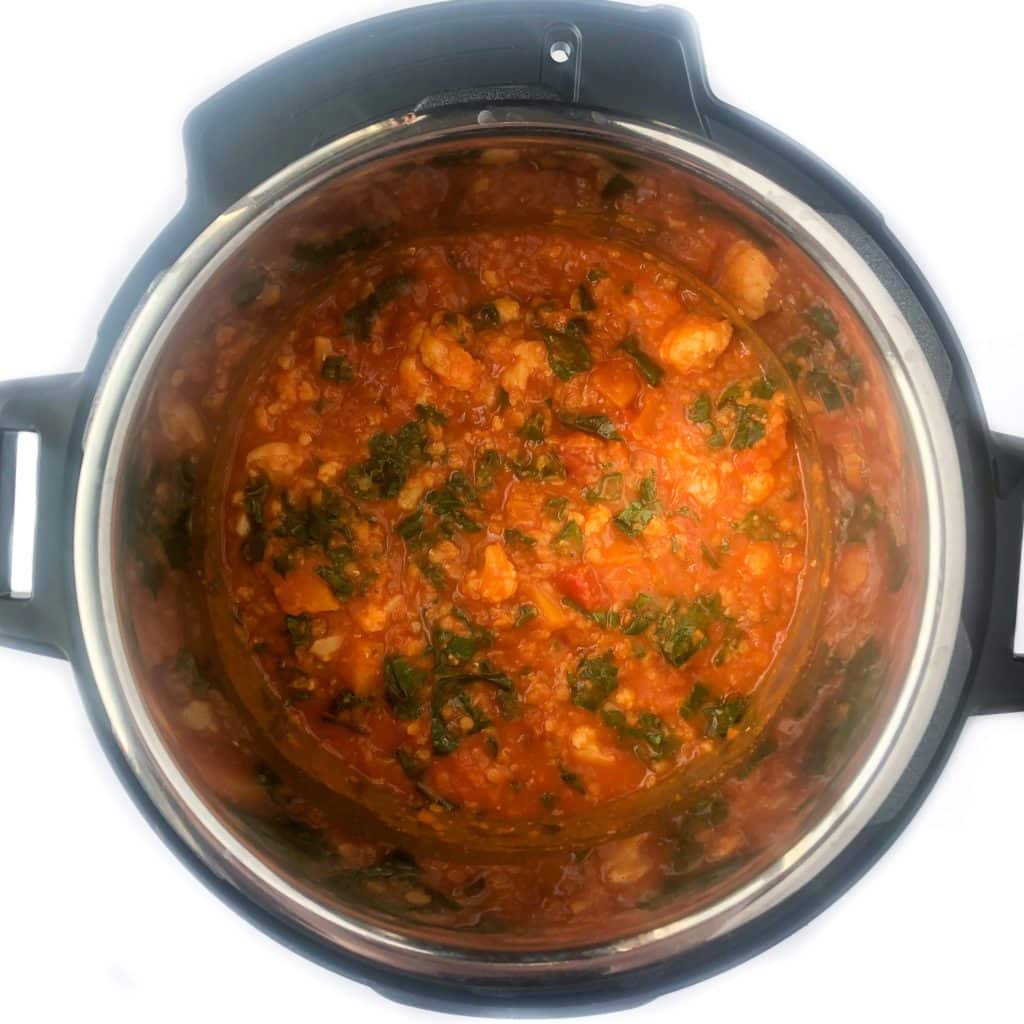 Curry is a weekly staple in my house. Oh She Glow's Cauliflower and Butternut Squash Curry is one of my favourite vegetarian curry recipes and as it comes together quickly with ingredients that are always stocked in my pantry or freezer.
3. Cheesy Broccoli Chicken and Rice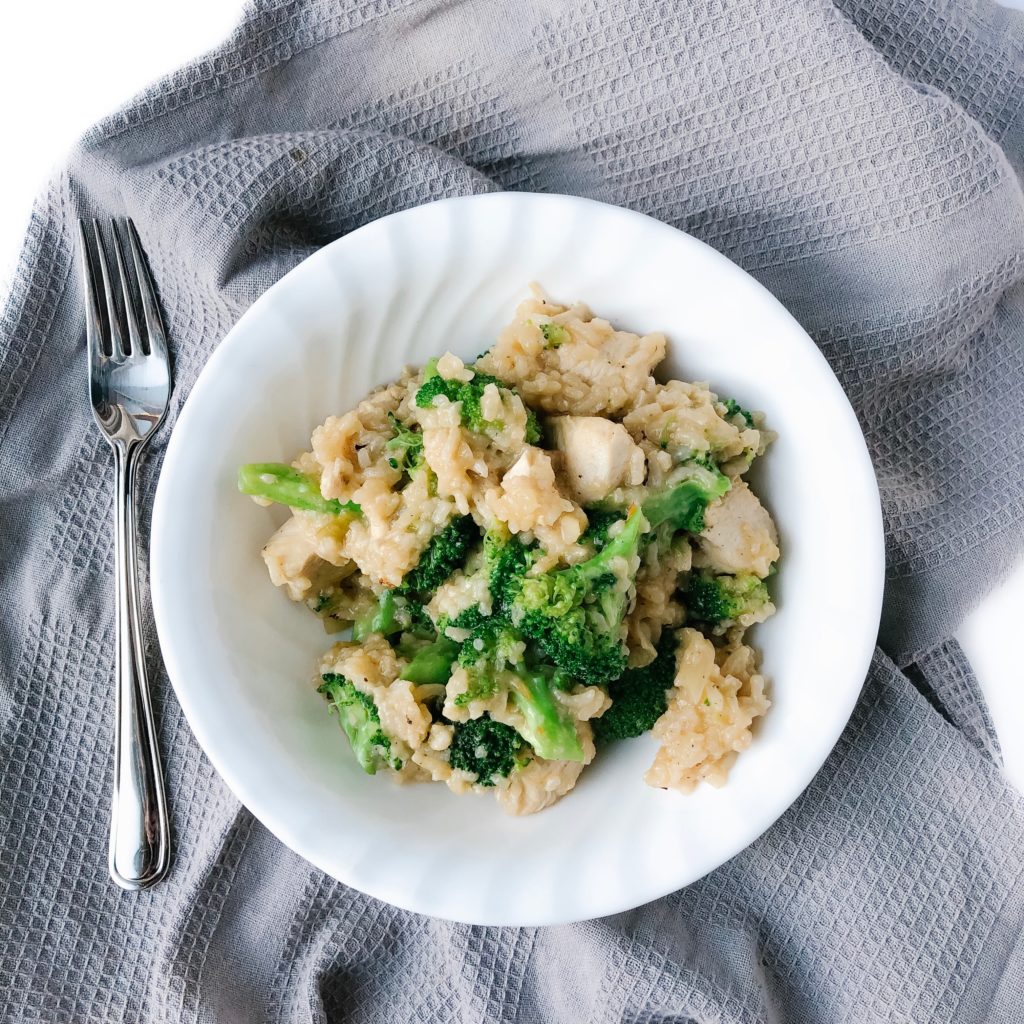 One of the biggest perks of using the instant pot is using only one pot which means minimal dishes! This Cheesy Broccoli Chicken is a great well-rounded meal.
4. Lentil and Brown Rice Chilli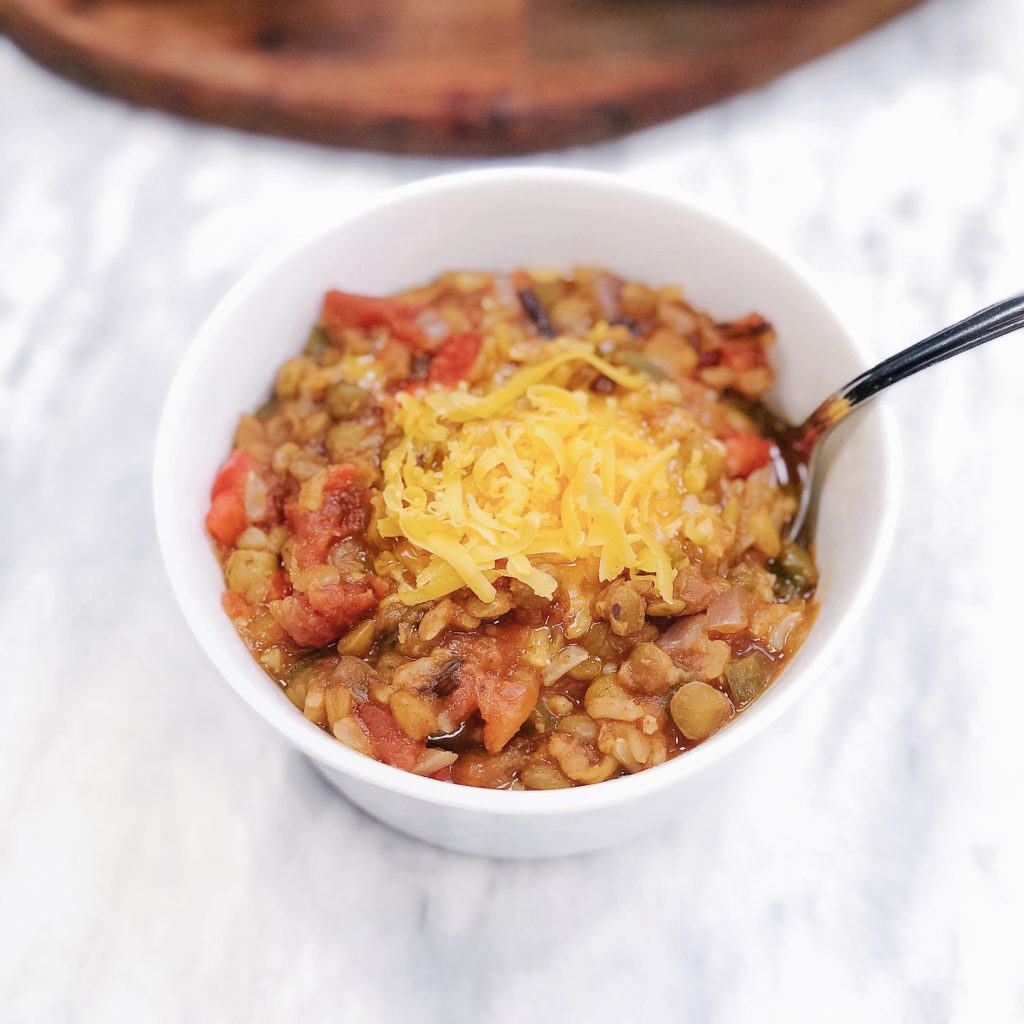 Chilli is one of my favourite winter instant pot recipes. This is a great and easy recipe for Lentil and Brown Rice Chilli . I've also experimented with my favourite chilli recipes and converted them to instant pot recipes very easily. First I use the sauté function to sauté the onions and garlic. If using meat I add this in while on the sauté function until browned. I then add the remainder of my ingredients into the pot and switch to the beans function for 20 minutes.
5. Instant Pot Chicken Noodle Soup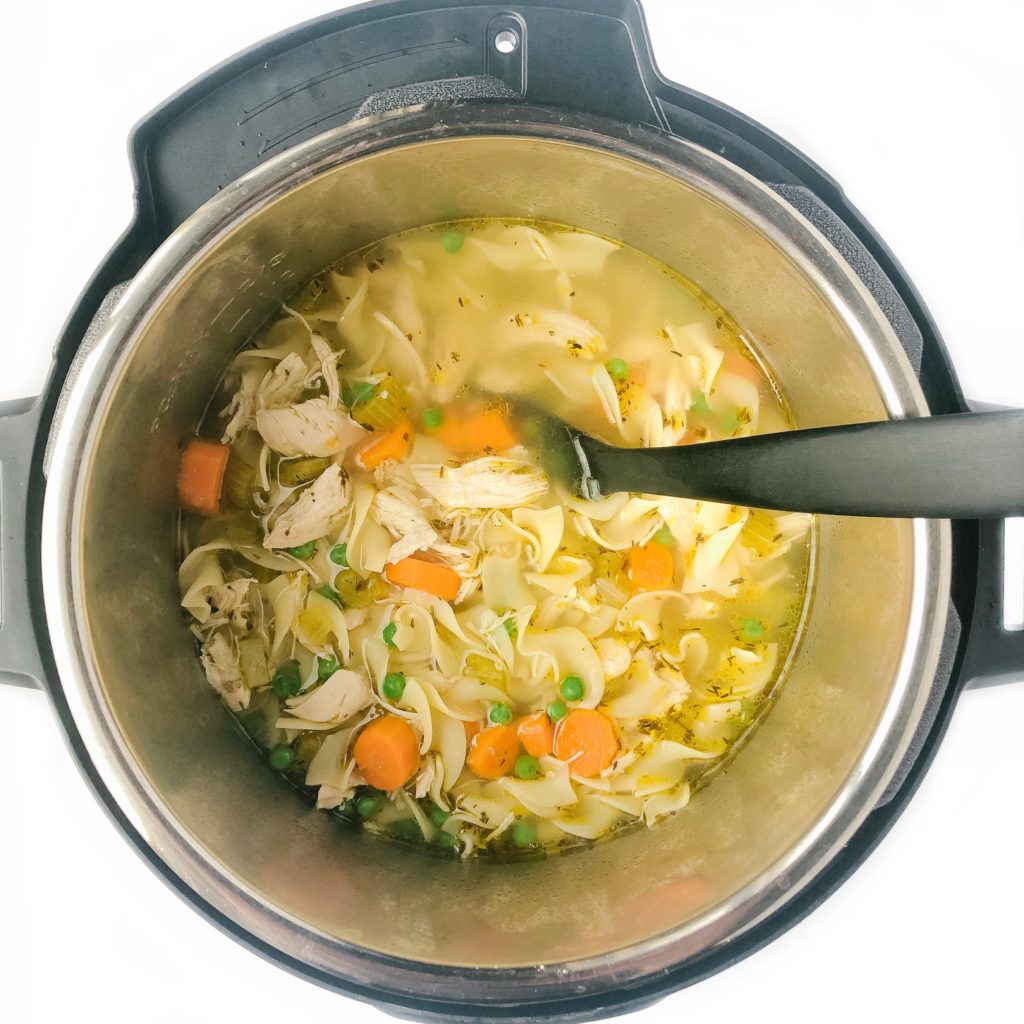 Making homemade soups is quick and easy in the instant pot. This recipe for Instant Pot Chicken Noodle Soup requires minimal prep and is ready in under an hour. Using the sauté function to sauté the veggies adds a ton of flavour, and allows this to be a one-pot meal.
Comment below with your favourite Instant Pot recipe or if you've cooked any of my favourites.
Don't miss a thing! Subscribe to receive the latest recipes and healthy eating tips straight to your inbox!
[yikes-mailchimp form="2″]
About Holly
Holly is a Registered Dietitian who graduated from the University of British Columbia. Her day job is working in clinical nutrition in pediatrics and after work, she enjoys gardening, cooking, hiking and camping. She has a passion for inspiring people to cook and experiment in the kitchen!