You don't need a dietitian to tell you that vegetables are good for you, but despite knowing better, most of us aren't getting enough. We're sharing our 11 dietitian tips to eat more vegetables – even if you're not a vegetable person!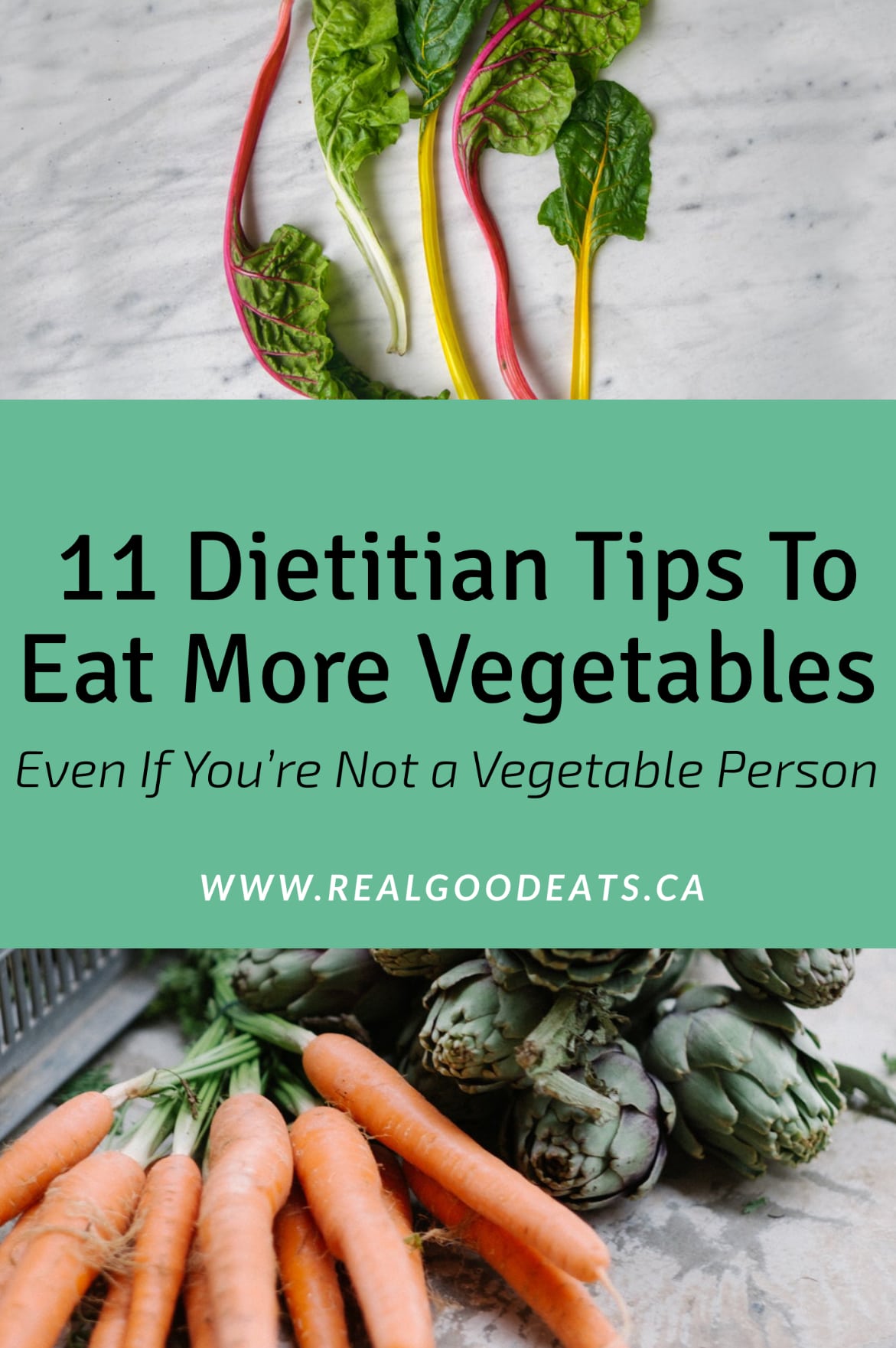 If you think about it, nothing about vegetables screams survival. Back in the hunting and gathering days, vegetables weren't a priority over nutrient-dense options like meat and fruit. Vegetables are low-calorie, sometimes bitter, and maybe even inedible if not cooked right. It's no wonder they can be easy to forget about at mealtime.
We now understand the importance that vegetables play in our diet and health. Not only do vegetables contain a variety of vitamins and minerals essential to our health, but they're rich in fibre and antioxidants, which can help prevent chronic disease. However, according to Health Canada, only 26% of Canadians get enough vegetables daily.
Easy Ways to Eat More Vegetables – Dietitian Tips
Maybe the memories of your mother's boiled Brussels sprouts make you cringe, but just as our food system has changed, so have our food prep methods. There are ways to prep, season, cook, and even 'hide' vegetables that we just didn't do before. I've asked my Dietitian colleagues to share their best tips to help you eat more veggies and actually enjoy them! Keep reading for eleven tips to eat more vegetables – even if you're not a vegetable person.
Easy Ways to Eat More Vegetables – Dietitian Tips
1. Hide vegetables in smoothies
Boost your intake of leafy veggies by blending them in your smoothies. "Greens hide well and if you use a magic bullet, you also have built in portion control. Win-win." – Michelle Archer, Registered Dietitian. Not a fan of green smoothies? Use blueberries to hide the green colour.
2. Try vegetables roasted or grilled
Registered Dietitian, Bonnie Huang suggests baking your veggies at a really high temperature, around 450F. "Depending on the vegetable, longer for root veggies and shorter for greens like kale. The idea is to get them nice and crisp without burning them." Here's why it works: roasting or grilling your vegetables brings out a sweet flavour and crispy texture that you might enjoy, even if you don't like that same vegetable when steamed or boiled. Simply drizzle with oil and toss with your favourite herbs and spices – you can't go wrong!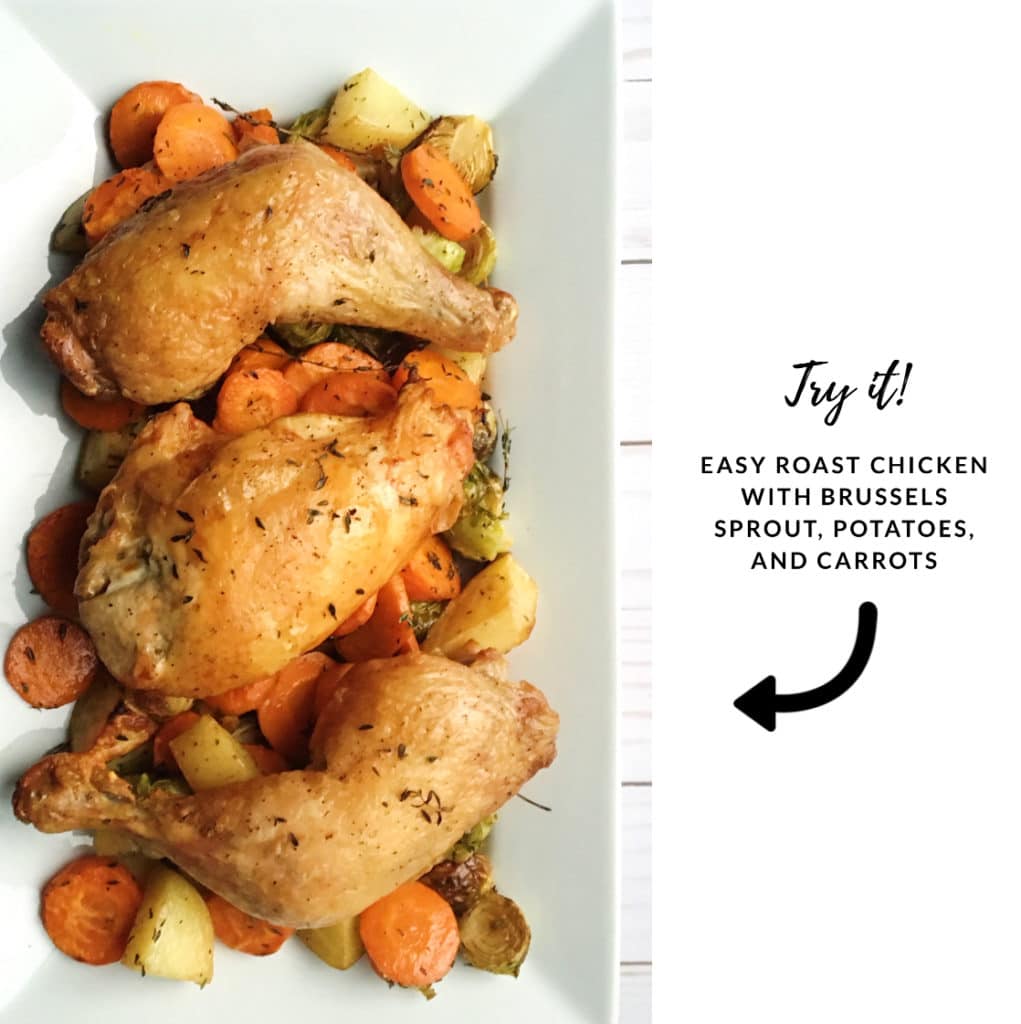 3. Make veggie popsicles
Veggie popsicles are perfect during the summer months. "Use peeled and grated carrots or beets (microwave for a minute to soften) or spinach blended with fruit and poured into a popsicle mould." – says Yasmin Pitts, RD. Her favourite combos? "Carrot, orange, and pineapple; beet, cherry, and raspberry; or spinach, kiwi, and mango".
4. Add a handful of spinach to warm mixed meals
Have you ever added spinach to a heated dish such as pasta, casserole, curry, or soup? It shrinks in volume, adding a subtle boost of nutrition. Add a handful of spinach in the last minute of cooking a recipe and mix until wilted and reduced in volume.
4. Experiment by adding herbs to your vegetables for different flavours
Adding spices and herbs can completely change the flavour profile of the vegetable dish, and you just might find a flavour combination that you really enjoy. Need some inspo? Registered Dietitian, Tamie Shaw shares some of her favourite combos, "Add rosemary to sweet potatoes, or try adding curry or turmeric with garlic to cauliflower". Tamie also suggests adding fruit, such as strawberries, sliced apple, orange segments, or dried fruit, into salads to make them more interesting.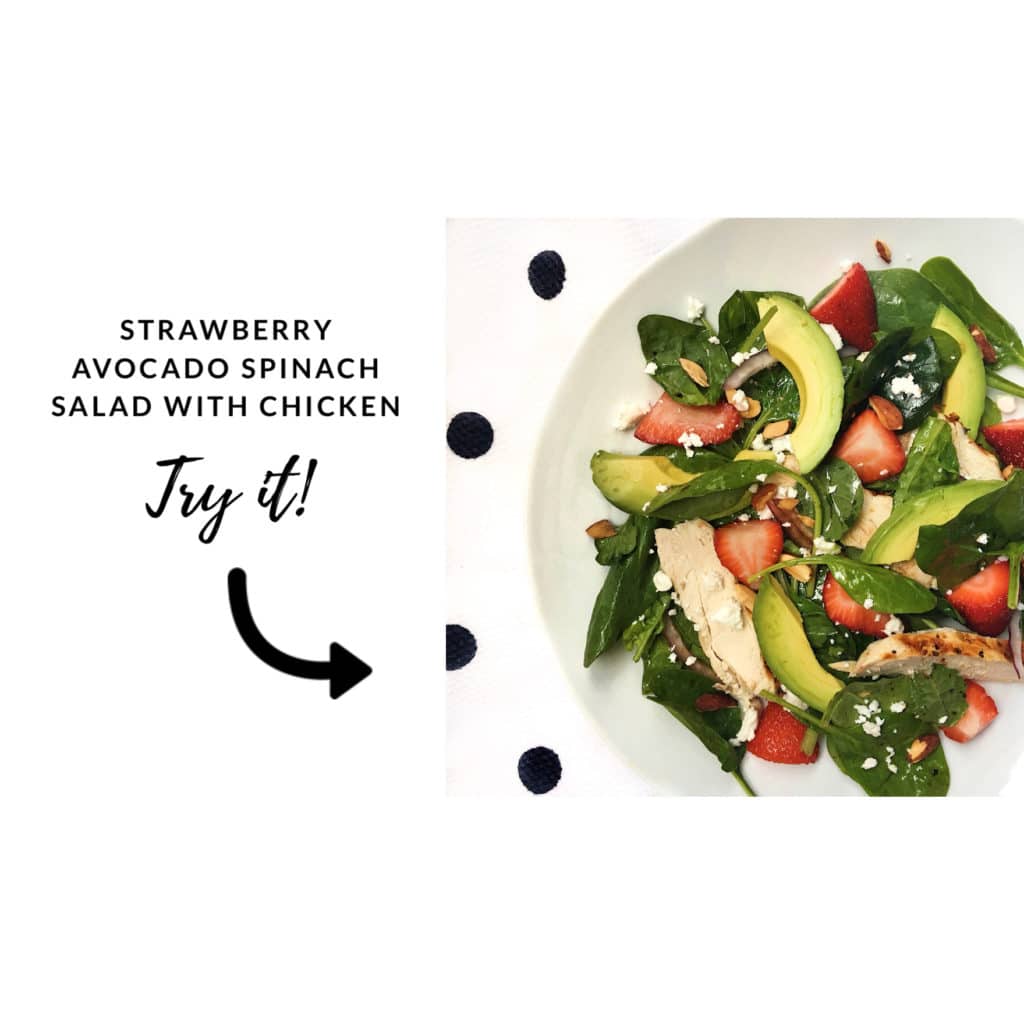 5. Add shredded vegetables to pasta
Shred vegetables such as zucchini and carrot and add them to pasta dishes for a hidden source of veggies. When shredded, these veggies are almost invisible but will still add the same boost of nutrition as if they were in larger chunks.
6. Pair vegetables with something you know you love
Registered Dietitian, Dawn Santacroce suggests combining your vegetables with something very familiar, like pasta or potatoes to help increase acceptance.
Easy Ways to Eat More Vegetables – Dietitian Tips
7. Load up your sandwiches with veggies
It turns out, you don't have to eat a salad to get your veggies in. Registered Dietitian, Lynette Street McGarrell suggests loading up your sandwiches with different leafy greens, microgreens, cucumber and peppers for a crunch, or shredded carrot.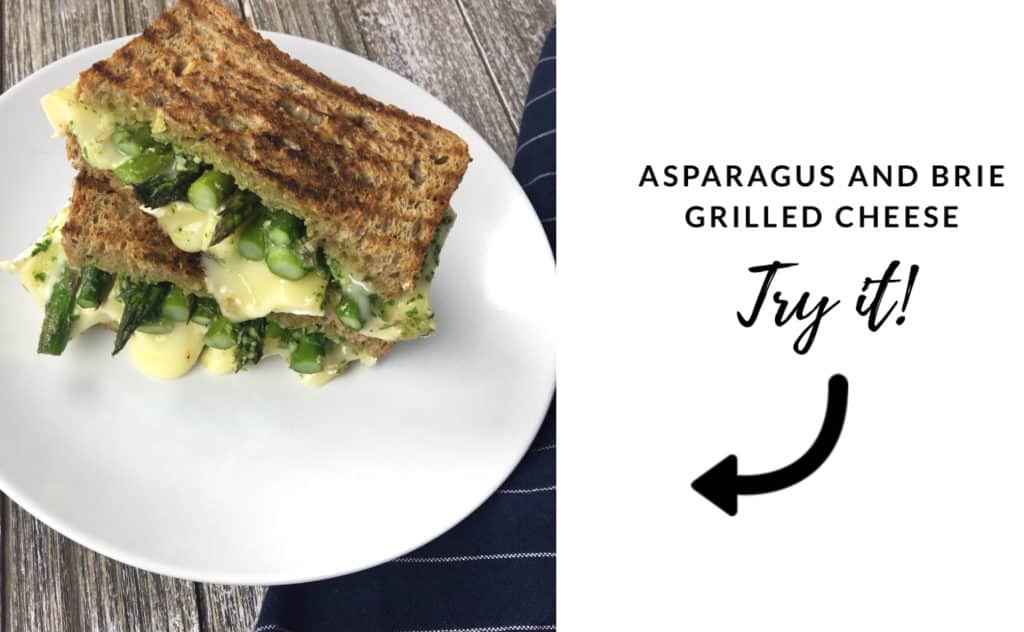 8. Purée veggies into pasta sauce
When you want your veggies to be completely hidden, purée them using an emersion blender and add them to your sauce. This will provide the nutrition of the veggies, without the chunks. "Cook eggplant in the oven or microwave, then peel it and purée the eggplant with pasta sauce. This works well with any cooked vegetables, and you won't even taste the veggies in the sauce!"– suggests Ayesha Sarathy, RD.
9. Include vegetables with breakfast
Start your day off right with a dose of veggies. Try a vegetable omelet or frittata, add shredded zucchini or carrot to your morning oatmeal, or throw a handful of greens into your smoothie.
10. Spiralize your vegetables into pasta or salads
Slicing vegetables into smaller or thinner pieces completely changes the texture. "I find veggies are better accepted when they are sliced very small/thin with a mandolin" – says Whitney Harms, RD. Or "spiralize your veggies in salads! Beets taste delicious this way. Cucumbers and carrots taste better this way too. Or use zucchini noodles with pasta sauce" – suggests Registered Dietitian, Lana Danielis.
11. Be patient – eating more vegetables can be an adjustment!
Like anything, vegetables can be an acquired taste. Registered Dietitian Bailey Green suggests adding them slowly into your diet, "if you don't like them, jumping into a whole plate of Brussels sprouts, broccoli, and asparagus will make you resent them!" Pearle Nerenberg, Registered Dietitian suggests strutting that trial period into a 21 day challenge, "have a small taste each day to overcome taste and texture aversion and move towards acceptance." After enough times, you'll likely start to enjoy them.
Easy Ways to Eat More Vegetables – Dietitian Tips
12. Include vegetable soup
Don't forget about veggie soup! Registered Dietitian, Melissa Wall suggests to include salad as a main meal, or side dish to up your veggie intake.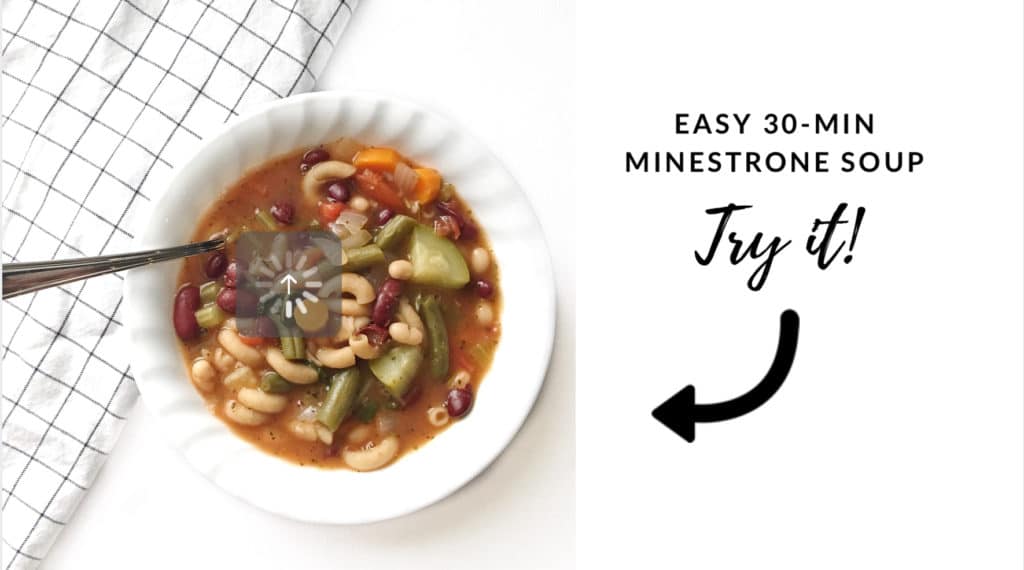 13. Cook vegetables with meat
Registered Dietitian Dianne Oickle suggests roasting veggies with turkey, beef, or ham, "then purée the veggies and use this as a gravy". Or for a stove top option, "if you cook steak in a pan, add onions, mushrooms, and carrots for amazing flavour" suggests Kevin Schwanz, RD.
14. Add a side of vegetable sticks to your meal
Adding vegetables to your meal doesn't need to be complicated. Sometimes those who dislike the texture of cooked vegetables may enjoy raw. Add raw carrot/celery/cucumber sticks as a side dish to your meal with hummus or your favourite vegetable dip!
Originally published on July 19, 2018.
What are your favourite tips to eat more vegetables? Let us know in the comments below!
Don't miss a thing! Subscribe to receive the latest recipes and healthy eating tips straight to your inbox! ?
[yikes-mailchimp form="2″]