Recipe Review – Instant Pot Chicken Noodle Soup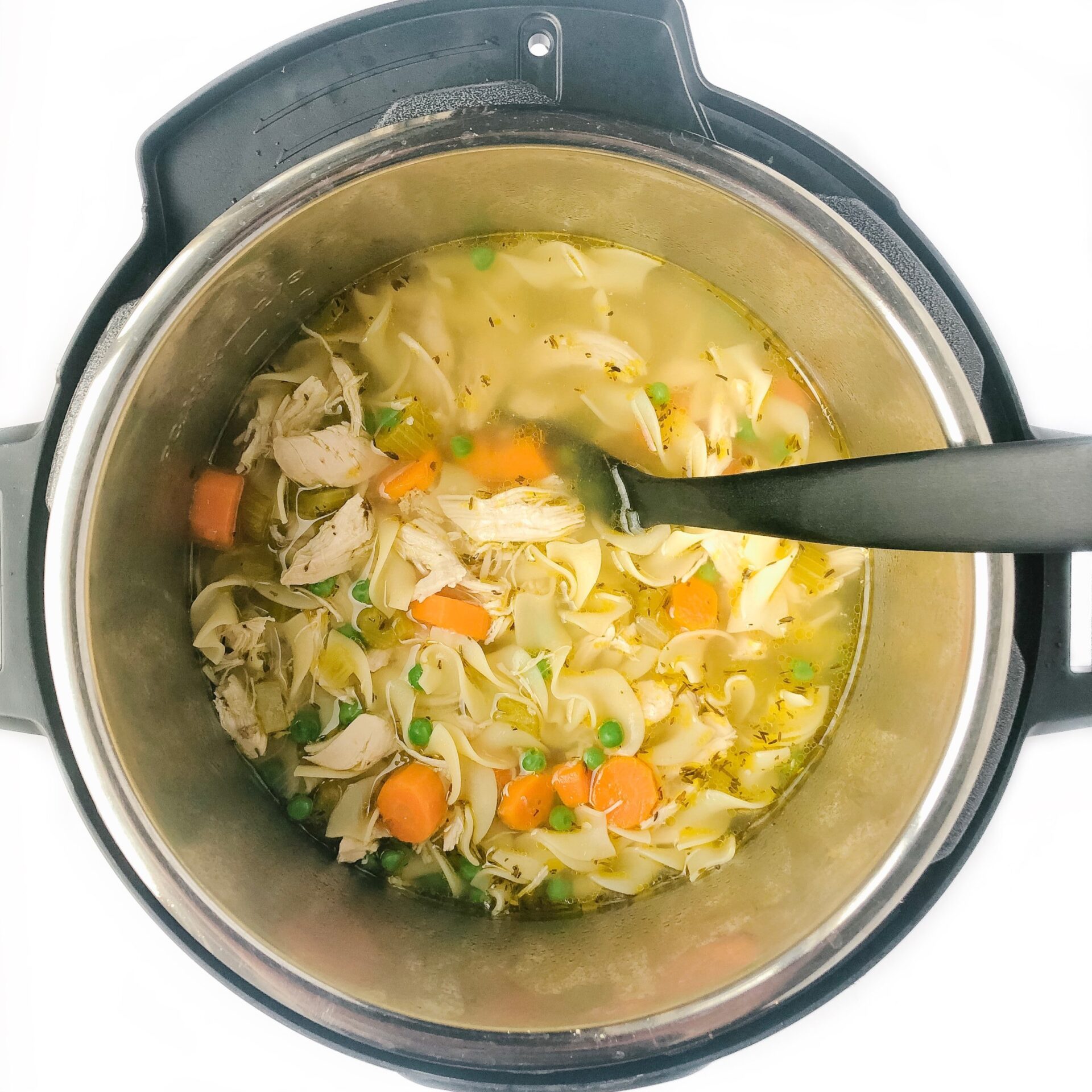 Note: these recipe reviews are my way of sharing recipes from other food bloggers and dietitians that I have tried myself and love!  Just as I recommend recipes to my 1:1 clients. The image(s) on this page are from my version. Check out why I love this recipe below, as well as any tips or suggestions to boost the recipe's nutritional content (as applicable), then scroll to the bottom of the post for the link to the full recipe from the source. Enjoy! 
Instant Pot Chicken Noodle Soup
This Instant Pot Chicken Noodle soup recipe from Rachel Cooks is warm and cozy, perfect for cooler weather, and made easy with your Instant Pot. This soup is high in protein from chicken and loaded with veggies, making it a meal-worthy soup. 
Are you new to the Instant Pot? Be sure to check out our Instant Pot Tips for Beginners.
I love using my Instant Pot for soup recipes because it contains both a sauté function and a pressure cooking function which allows you to make a quicker-cooking soup in one pot. 
​
To make this Instant Pot  Chicken Noodle Soup, you'll start by sautéing the onion, carrots, and celery in oil with salt and pepper in your Instant Pot. You'll then add the broth, water, chicken breasts, and herbs to the pot and pressure cook for 11 minutes.
After the mixture cooks, you'll use the quick release on the Instant Pot, then remove the cooked chicken, bay leaf, and rosemary sprig. You'll then switch the Instant Pot back to sauté and bring the mixture to a boil, then add the noodles to cook until tender. Meanwhile, you'll shred the chicken, then add it back to the pot once the noodles have cooked, along with the remaining ingredients.
Reducing Sodium Tip: salt improves the flavour of a recipe by enhancing the flavours of the other ingredients. Try adding a few drops of lemon juice to your soup at the end of cooking to bring out the flavours while adding less sodium. 
What you'll Need: 
1 tbsp olive oil

2-3 carrots

3 celery stalks

1 small yellow onion

1/2 tsp salt

1/4 tsp pepper

4 cups chicken broth

4 cups water

2 lbs boneless skinless chicken breasts

1/2 tsp dried thyme

1 bay leaf

1 sprig rosemary

3 cups dry wide egg noodles

1/2 cup frozen peas

1/4 cup minced fresh parsley
Makes 6 servings.
Ready in 50 minutes.
Don't miss a thing! Subscribe to receive the latest recipes and healthy eating tips straight to your inbox! 👇
Abut Brittany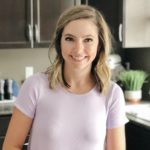 Hi there! I am a registered dietitian and I  💚  food! I am passionate about making it easier for busy people to eat well by sharing quick and healthy recipes. Healthy cooking at home can seem overwhelming, but it doesn't have to be. I love helping people uncomplicate weeknight dinners and reduce stress around meal time, so I'm so glad you're here!
---
---