Note: these recipe reviews are my way of sharing recipes from other food bloggers and dietitians that I have tried myself and love! The image(s) on this page are from my version.
Check out why I love this recipe below, as well as any tips or suggestions to boost the recipe's nutritional content (as applicable), then scroll to the bottom of the post for the link to the full recipe from the source. Enjoy!
Halibut Fish Tacos with Slaw
Think you can't make fish tacos at home? Think again! With a few steps, this recipe is sure to impress!
I love the balance of flavours and textures in this Halibut Fish Tacos with Slaw recipe from The Food Network Kitchen. Fish fillets cook really quickly, making them a perfect weeknight protein option. Pan-frying the fish rather than deep frying also makes this a much healthier version compared to traditional restaurant fish tacos. You'll need a mini food processor to make the delicious cilantro sauce, but otherwise, only one pan is needed for cooking.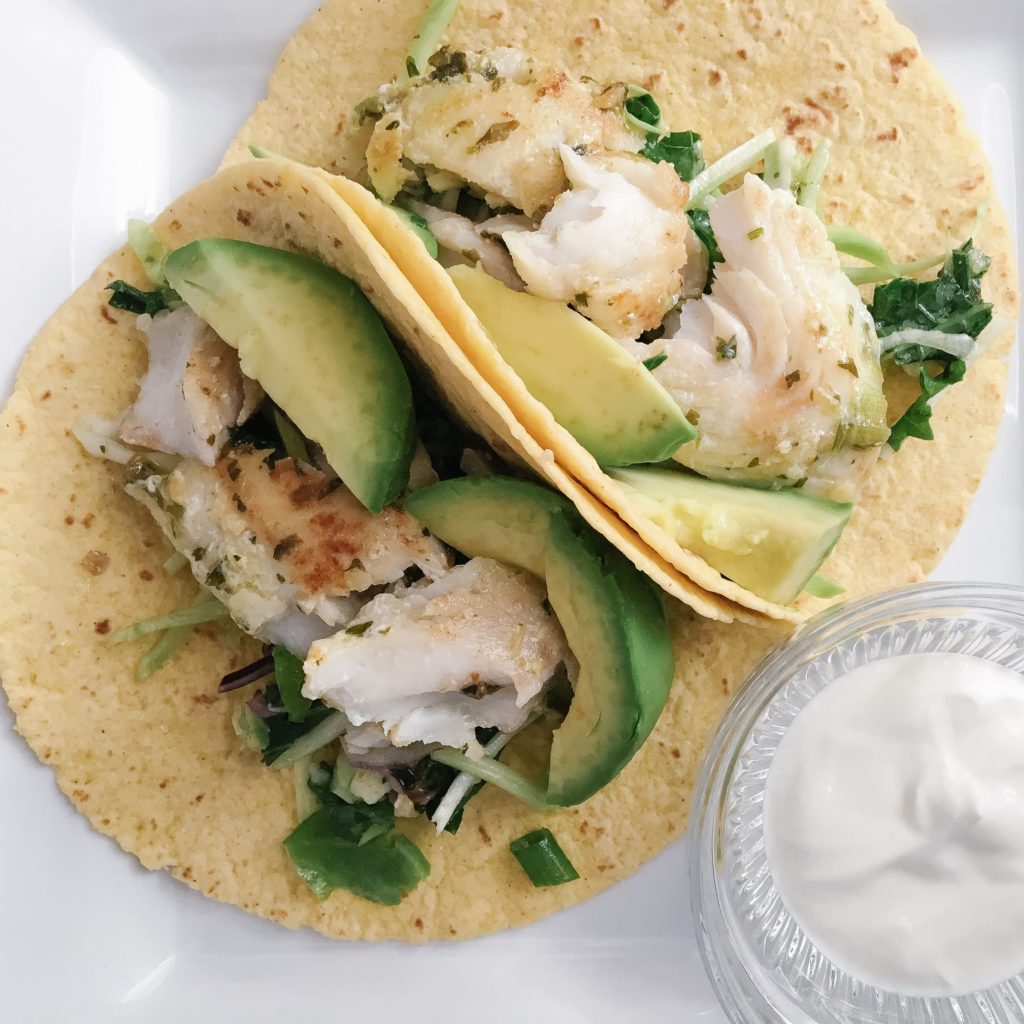 To make this halibut taco recipe, you'll start by blending the first 6-ingredients in a food processor. You'll add some of the sauce to the halibut and let marinate for about 15 minutes. Meanwhile, you'll prepare the cabbage by tossing with lime juice, olive oil, salt, and scallions.
The Greek yogurt dip is prepared by mixing in salt and the remaining lime juice. To cook the fish, you'll sauté in a pan until cooked. Lastly, you'll assemble the tacos. Delicious!
Nutrition Tip: I swapped plain yogurt for sour cream for an added nutritional boost, and 1 promise you won't notice the difference!
Time Saving Tip: I used a pre-cut slaw mixture to save time and frozen fish fillets for convenience.
What you'll need:
3 limes

2 cloves garlic

1 small bunch cilantro

1 bunch scallions

1 1/2 tsp ground cumin

kosher salt

1/4 cup extra virgin olive oil

1 lb halibut fillets

4 cups shredded cabbage (we used pre-shredded)

2/3 cup sour cream (we used plain Greek yogurt)

8 corn tortillas

salsa for serving
Makes 4 servings
Ready in 45 minutes