Note: these recipe reviews are my way of sharing recipes from other food bloggers and dietitians that I have tried myself and love! The image(s) on this page are from my version. Check out why I love this recipe below, as well as any tips or suggestions to boost the recipe's nutritional content (as applicable), then scroll to the bottom of the post for the link to the full recipe from the source. Enjoy!
Curry Cauliflower Fried Rice with Roasted Chickpeas
This Curry Cauliflower Fried Rice with Roasted Chickpeas recipe from Organic Authority is one of our new favourites. I used the convenience of pre-shredded cauliflower and canned chickpeas to make this recipe even easier.
​
To make, simply roast chickpeas for 25-30 mins. Meanwhile, you'll sauté onion and garlic in a pan before adding cauliflower rice, spices and seasoning. The final step is adding spinach and roasted chickpeas and combining until spinach has wilted. That's it!
​
If you typically have a carbohydrate with your dinner, add cooked rice to the pan with the spinach and chickpeas for a more satisfying meal. I suggest ~1/2 cup per serving.
What you'll Need:
2 cups canned chickpeas (500ml)

2 Tbsp melted coconut oil

1/4 tsp cumin

1/4 tsp turmeric

1 tsp salt

ground black pepper

1 package riced cauliflower (fresh or frozen)

1/2 onion

2 garlic cloves

1 tsp curry powder

1/4 tsp ginger

1 Tbsp lemon juice

2 large handfuls of baby spinach
Makes 2-3 servings
Ready in 40 minutes
Don't miss a thing! Subscribe to receive the latest recipes and healthy eating tips straight to your inbox! ?
[yikes-mailchimp form="2″]
About Brittany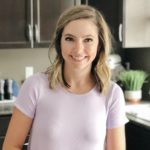 Hi there! I am a registered dietitian and I ? food! I am passionate about making it easier for busy people to eat well by sharing quick and healthy recipes. Healthy cooking at home can seem overwhelming, but it doesn't have to be. I love helping people uncomplicate weeknight dinners and reduce stress around meal time, so I'm so glad you're here!