It's that time of the week again. You go to the fridge and find that, much like Mother Hubbard's, your "cupboard is bare". With no time to get to the grocery store and little time to cook, what are you to do? There's always takeout or delivery, but we all know those choices aren't going to help you reach your nutritional goals. With a little creativity and thinking outside of the (ice) box, you can prepare a healthy and delicious meal in no time. Continue reading for 7 Meals to make when your Fridge is Empty.
7 Meals to Make when Your Fridge is Empty
First, survey your pantry, fridge, and freezer to get a sense of the ingredients you do have on hand. You may find that you have many more options than you imagined – helping you to forgo ordering out and stretching your food dollar even further by using up what you already have on hand. Remember that not every meal has to be a gourmet dish. The goal is to pair a source of lean protein with a fruit or vegetable and a fiber-rich complex carbohydrate. This type of meal provides nutritional balance and a will help you feel full until the morning. If a quick glance at your stock doesn't rev your cooking engines, continue reading for 7 meals to make when your fridge is empty.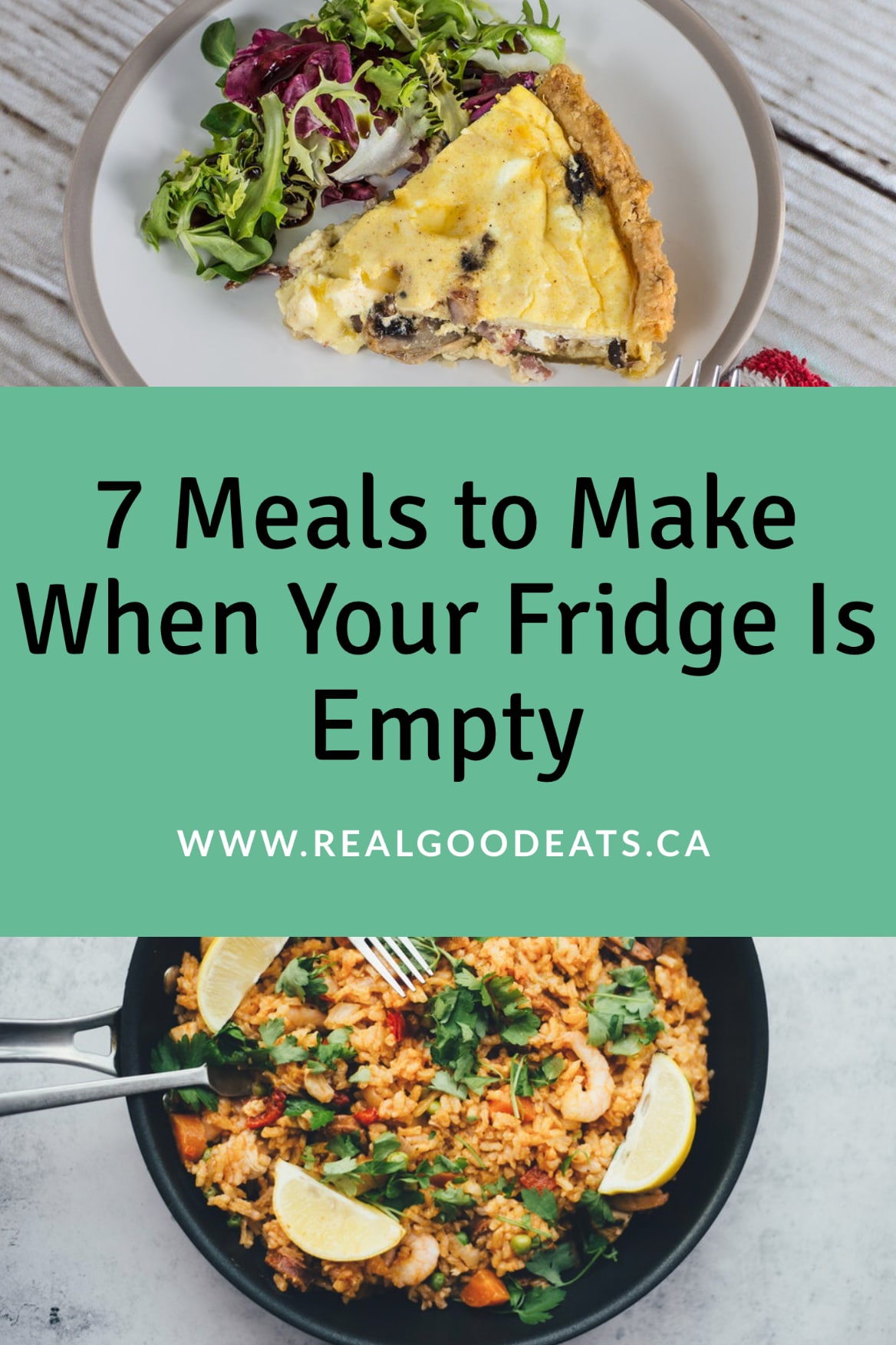 1. Beans, Brown Rice, and Canned Diced Tomatoes
Let these traditional side dish ingredients out to shine in the spotlight! You'll be amazed to find how delicious this simple meal can be. Cook the rice while you prepare the other ingredients and decide what herbs and seasonings you'd like to add. If you don't have rice on hand, you can substitute any other whole grain such as quinoa, barley, or farro. Have a leftover cooked grain from another meal? Even faster! Part of the beauty of this simple dish is that you can simply combine these three ingredients and enjoy as is or get creative with other ingredients in your fridge or freezer. A handful of frozen edamame or corn, those leftover cooked veggies from last night, or a touch of cheese all mix nicely into this versatile dish. Plus, it's delicious served hot or cold!
2. Canned Tuna & Sliced Tomato on Whole Grain Bread
Canned tuna is a nutritious and convenient source of protein. Mix in a bit of lemon or pickle juice, garlic powder, and pepper to add lots of flavor without too much mayo, or try mashed avocado in place of mayo for a nutritious fat alternative. Look for avocados in the frozen section for an easy way to always have them on hand. Served on a slice of whole grain bread, this tuna salad becomes a delicious sandwich. Top it off with a couple of slices of tomato and you've got a complete meal. If you don't have tomatoes on hand, any veggie will do – think lettuce, spinach, kale, or a side of carrot, cucumber, or pepper sticks.
3. Yogurt, Frozen Berries, and Granola
Did someone say parfait?! This meal is so quick to assemble, you'll have dinner on the table even faster than takeout. Simply defrost the berries and place them in a glass or bowl in alternating layers with Greek yogurt. Top with a bit of granola or a handful of nuts for added crunch and flavor. You'll be getting protein from the yogurt and nuts (if using) and loads of vitamins, minerals, and fiber from the berries. For even more fiber, stir some chia seeds into the yogurt before placing it in your serving dish. From now on, you may even want to make this deliciously easy and nutritious meals one of your go-to dishes whether the fridge is empty or full. After all, "parfait" is French for "perfect".




4. Fridge-cleaning Frittata
One of our favourite meals to make when your fridge is empty. When it's time to go grocery shopping, it's common to have small amounts of leftover or unused ingredients hanging around in the fridge. Rather than throwing them out, throw them together into one last fantastically nutritious meal that will also help you clean out the fridge before you stock it again. Vegetables, meat, and a bit of cheese all mix beautifully into a frittata, a baked egg dish similar to a crustless quiche. If you don't have any meat on hand, don't fret – the eggs in this dish will lend plenty of protein to keep you feeling full.
5. Whole-grain Pasta, Frozen Spinach, & Frozen Shrimp
Yet another delightfully simple and customizable dish. Whole-grain pasta serves as a blank canvas for whatever veggie and protein you may have on hand. Spinach and shrimp work very well, but any combination will do. If you'll be using shrimp, simply throw the frozen shrimp into the pot of boiling pasta during the last two minutes (a little earlier if they're raw) of cooking to allow them to defrost. The spinach can be thrown in during the last minute as well making this a quick one pot meal. If you prefer broccoli and chicken, go for it! This dish can be served with a light dressing of olive oil, salt, and pepper or with some jarred pasta sauce – your choice!
6. Last-minute Stir-fry
Few dishes are more delicious or nutritious than a stir-fry and making one from frozen veggies that you already have on hand makes it quick too! Simply defrost the vegetables you want to use and add them to a hot frying pan or wok with a little bit of oil and season as you'd like. Add a little bit of leftover protein (chicken, tofu, etc.) or cook up a little from the freezer for a more filling meal. The best part about stir-fries is that, because the protein is cut so small, it cooks quickly getting dinner on the table in a flash. Another one of our favourite meals to make when your fridge is empty.
7. Whole-grain Cereal with Milk and Frozen Fruit
Who doesn't love breakfast for dinner? Not only is this meal quick and delicious, it's nutritious too! With fiber from the whole-grain cereal and fruit plus protein from the milk, this meal will keep you feeling full while meeting your nutritional needs as well. No whole-grain cereal on hand? No problem! Reach for the old-fashioned rolled oats instead. They cook up in just a few minutes and offer the same nutritional benefits as a whole grain cereal. In fact, oats may even help to lower "bad" LDL cholesterol levels. Now that's a dinner with super powers!
Don't miss a thing! Subscribe to receive the latest recipes and healthy eating tips straight to your inbox! ?
[yikes-mailchimp form="2″]
About the author:
Kelly Kennedy, MS, RD, LDN is a registered dietitian who has her bachelor's degree in nutrition from the University of Massachusetts, Amherst and master's degree in nutrition from the State University of New York College at Oneonta. She also holds a certificate of training in Adult Weight Management from the Academy of Nutrition and Dietetics. Kelly's passion for nutrition began in the kitchen and has evolved to include writing, personalized nutrition counseling, recipe development, and giving cooking demonstrations. She often jokes that she "majored in food" because that is what she loves the most!