Are Nature Valley Bars Healthy? This Nature Valley Granola Bar review will help you decide if Nature Valley Crunchy Bars are a healthy choice to add to your grocery cart. Read on for our dietitian review of taste, nutritional properties, ingredients, use, cost, and overall versatility before making your decision.
Are Nature Valley Bars healthy?
Pro: Nature Valley Crunchy bars are made with whole-grain oats as the main ingredient. They are a source of fibre and complex carbohydrates.
Con: These bars contain 9-12g of added sugar (depending on the flavour), which we consider a moderate-high amount compared to other granola bars of the same size.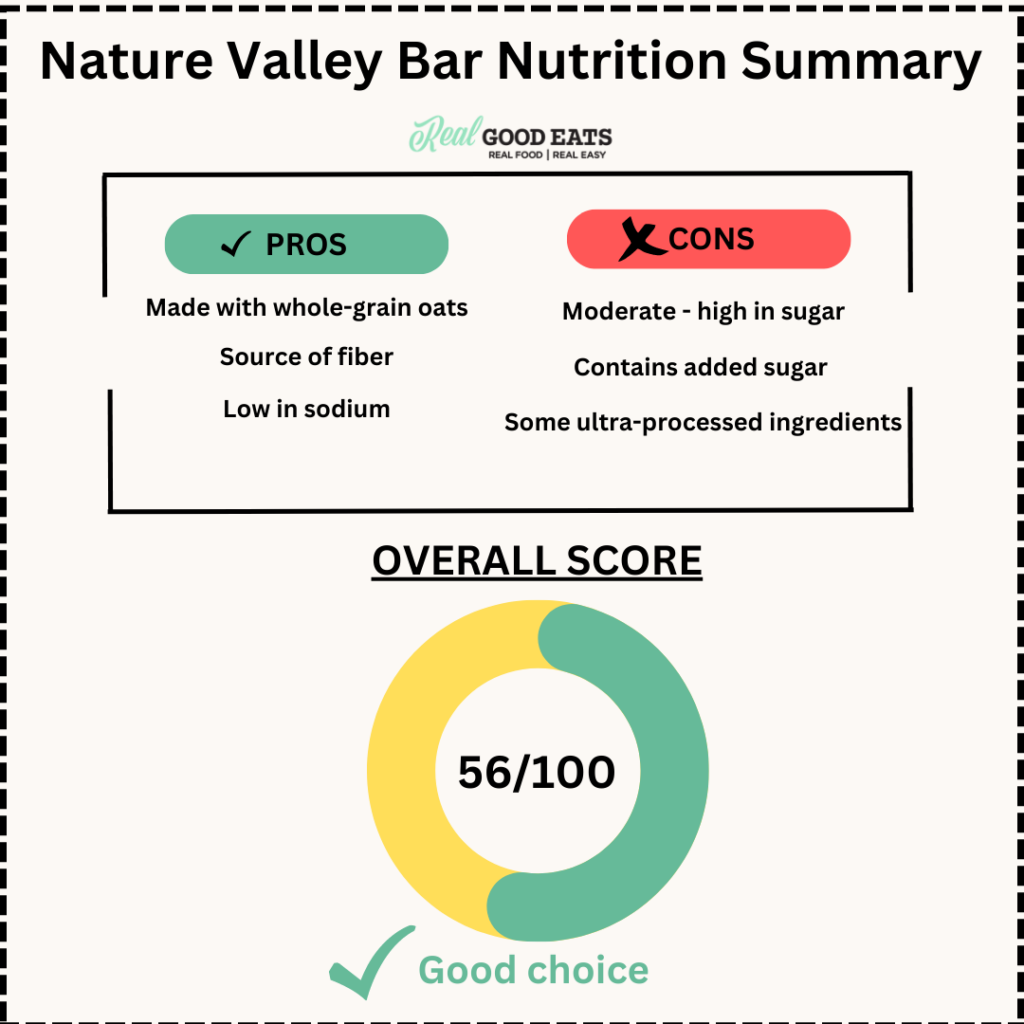 Read more about our Food Nutrition Score here! 
Are Nature Valley Bars too high in sugar?
It depends on the rest of your diet. The World Health Organization recommends consuming less than 10% of total energy from added sugars in the diet, but ideally less than 5%. In an average diet, this is equivalent to 25-50g (5-10% of total energy) of added sugar each day. If you don't have many other sources of added sugar in your diet, Nature Valley Crunchy bars can be a suitable option for a grab-and-go snack.
That being said, there are many other granola bars on the market that have lower sugar content. In general, we recommend choosing a granola/snack bar with less than 6g of sugar per bar. Check out our roundup of Low Sugar Granola Bar and Snack Bars here for lower-sugar alternatives.
If you do include these bars as part of your routine, keep in mind that they are not a significant source of protein. Be sure to pair them with a source of protein and/or healthy fats to slow digestion and provide a more satiating balance.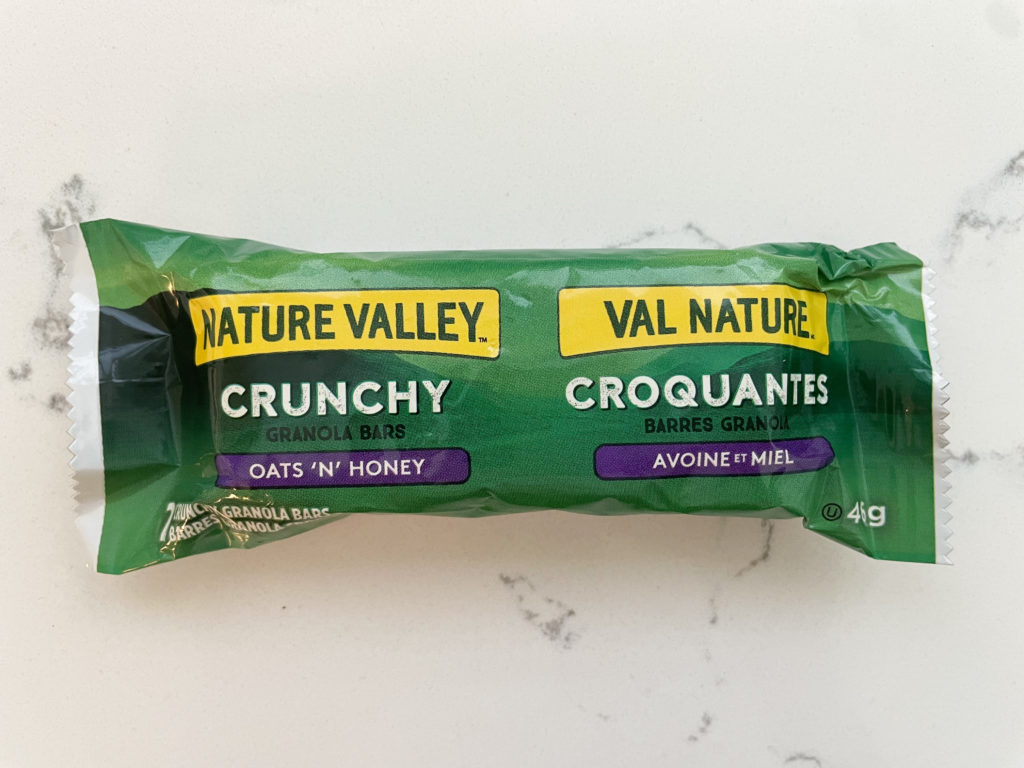 About Nature Valley Granola Bars
Nature Valley Crunchy granola bars are oat-based granola bars. They are available in seven different flavours: Oats 'N' Honey, Apple Crisp, Maple Brown Sugar, Oats 'N' Dark Chocolate, Peanut Butter, Pecan, Roasted Almond.
Nutrition Marketing Claims
Nature Valley Crunchy bars are marketed as a 'tasty snack for an active lifestyle'. Nature Valley also describes these bars as a 'wholesome' and 'smart' snack.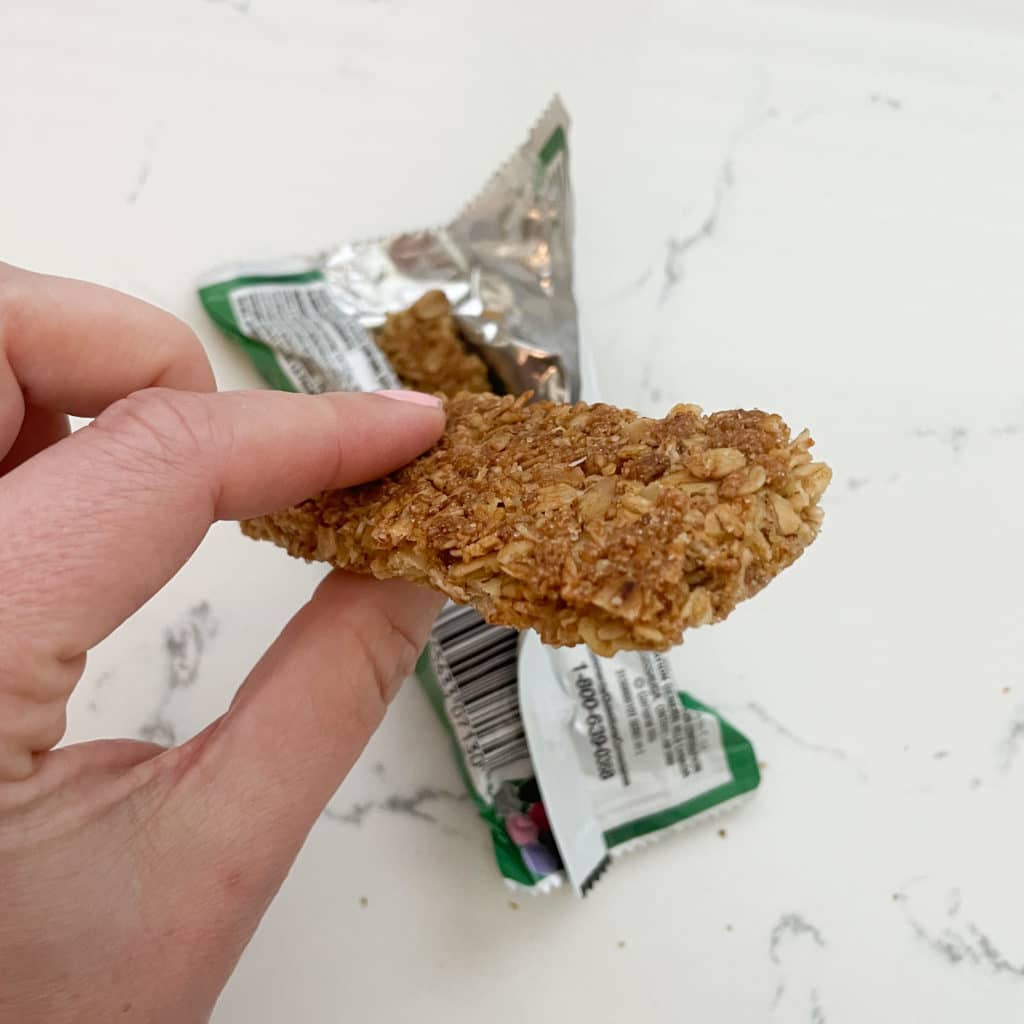 Taste & Texture
Nature Valley Crunchy Granola bars are crispier than other granola bars on the market. They have a sweet flavour. The Oat' N' Honey flavour has a subtle honey taste. They are very crumbly and tend to be a bit messy to eat.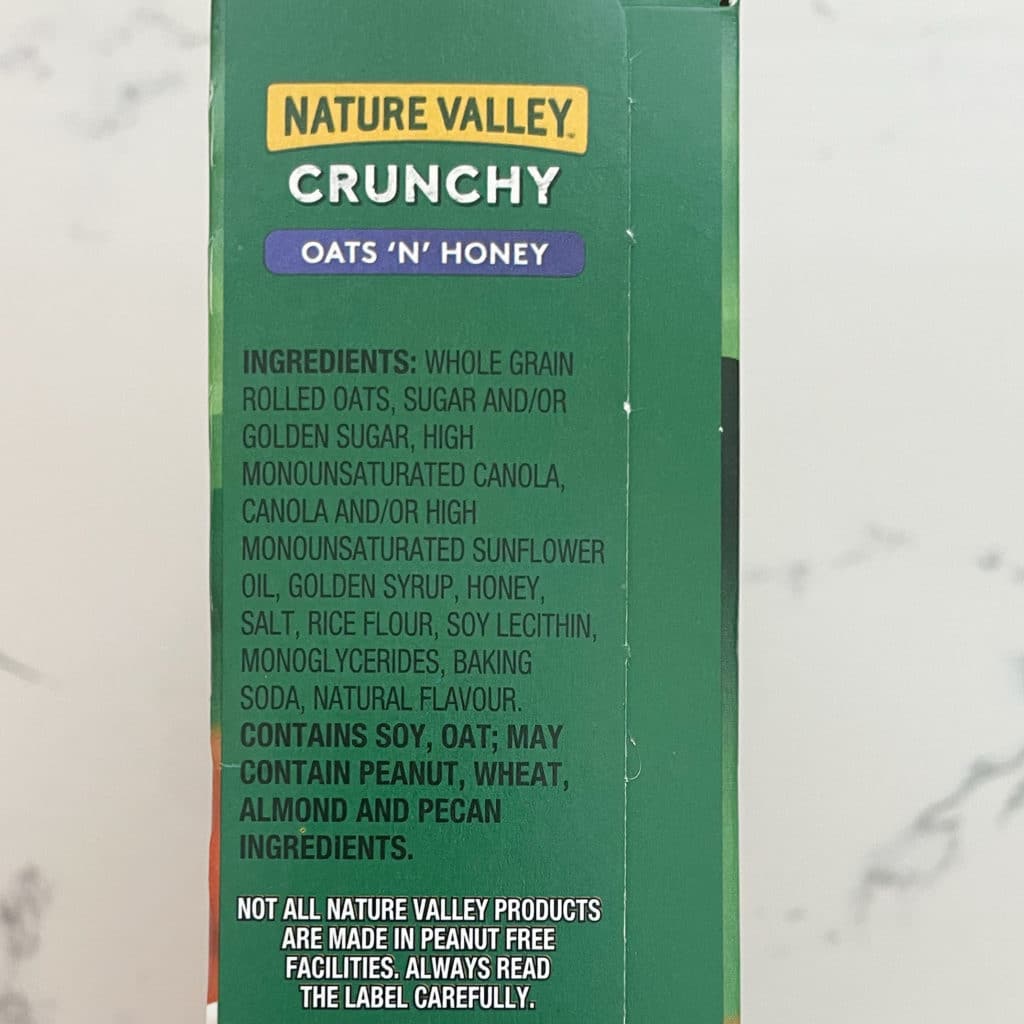 Ingredients
Whole grain rolled oats: the main ingredient of Nature Valley Crunchy granola bars. Oats are a source of carbohydrates and a good source of fibre.
Sugar: added to flavour the bars.
High monounsaturated canola oil, and/or high monounsaturated sunflower oil: vegetable oils rich in monounsaturated fatty acids. This is the source of fat present in these bars. Is canola oil bad for you? In short, no. Check out our full canola oil review here.
Golden syrup: a syrup made from combining sugar with water, and citric acid.
Honey: used as a flavour ingredient in the Oats 'N' Honey flavour.
Salt: used for flavour.
Rice flour: likely added to support the texture of these bars.
Soy lecithin: a mixture of phospholipids found in plant and animal sources. Soy lecithin is the most commonly used type of lecithin in our food system because it can be economically extracted from soybean oil, and is a very stable form of lecithin. Read more about lecithins in our Lecithin Food Ingredient Review here.
Monoglycerides: used as an emulsifier and stabilizing agent.
Baking soda: used as a leavening agent.
Natural flavour: an essence or oil extracted from plant or animal products to add flavour to foods. Read more about natural flavours in our Natural Flavours Ingredient Review here.
Are Nature Valley Bars Healthy? Dietitian Review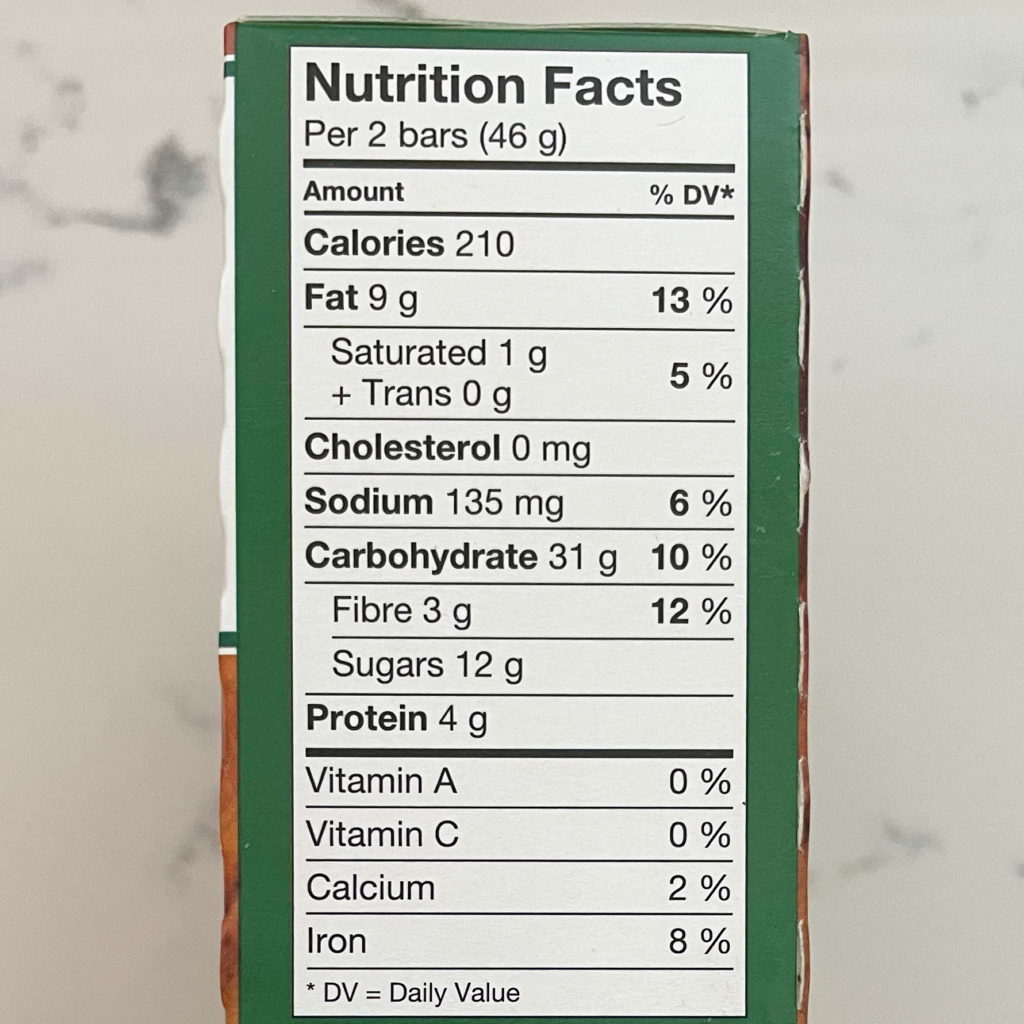 Nutrition Facts
Per package (2 bars, 46g)
Calories: 210 (190-220)
Fat: 9 (7-11g), from canola oil and/or sunflower oil. The equivalent of ~1.5-2 tsp of oil is present in each bar.
Saturated fat: 1 (0.5-1.5g), from vegetable oil.
Sodium: 133 (130-170mg), from salt.
Carbohydrate: 31 (28-31g), from oats and sugar.
Fibre: 3 (2-3g), from oats. This is a moderate amount of fibre compared to other granola bars.
Sugar: 12 (9-12g), from sugar, golden syrup, and honey. The sugar content of Nature Valley Crunchy bars is considered added sugar. This is a moderate-high amount of sugar compared to other bars of similar size, and is equivalent to 2-2.5 tsp of sugar per package.
Protein: 4 (3-5g). A typical amount of protein that you will find in granola bars is 1-3g.
Micronutrients: calcium 26mg, iron 1.4mg (1.4-1.8mg).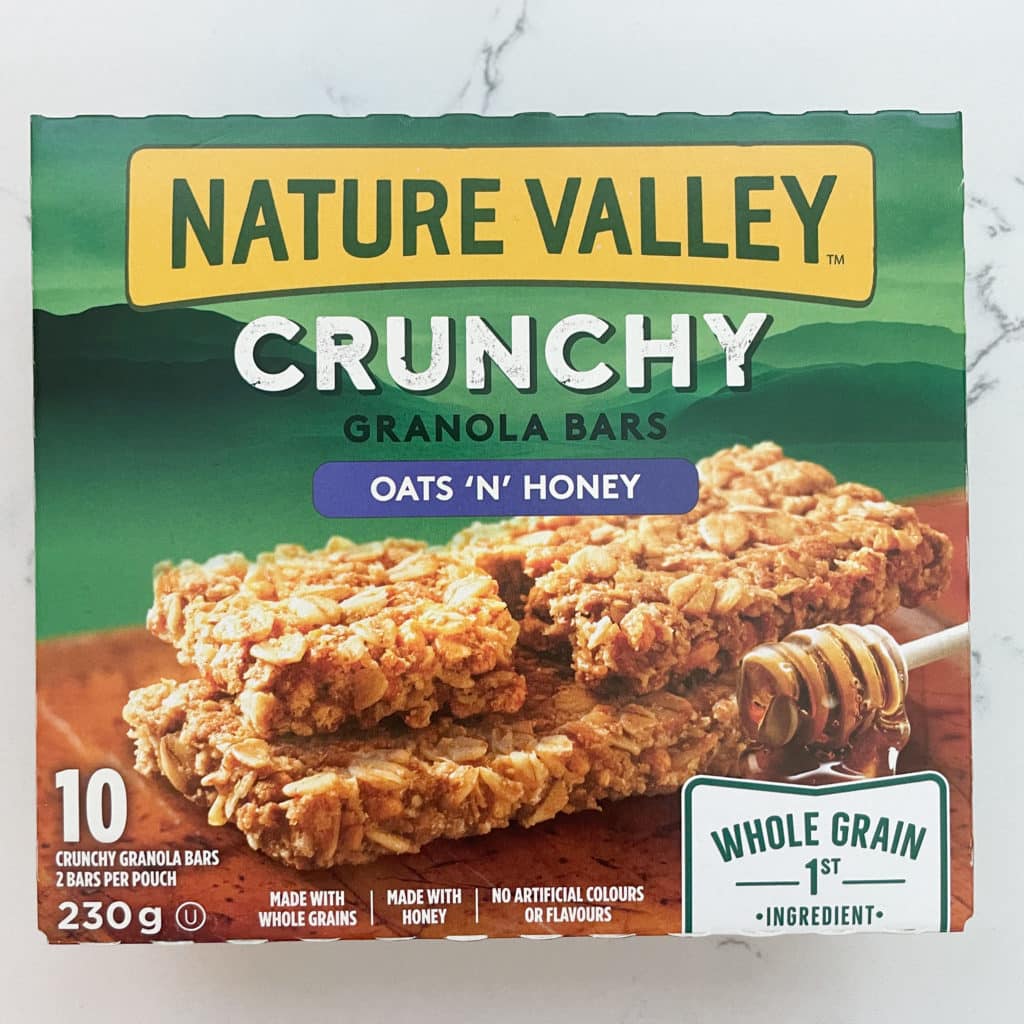 Cost
Nature Valley Crunchy bars are available in Ontario for $3.29-3.47 per box (5 bars).
Do you have any questions about Nature Valley Crunchy Granola Bars that weren't answered here? Let us know below! 
More Healthy Snack Reviews 
That's It Fruit Bar

That's it fruit bars are a healthy option for a shelf-stable snack on the go. They contain only dried fruit and are minimally processed, so the fibre and many other nutrients in the fruit are still present. The amount of carbohydrates and sugar in these bars is comparable to 1 medium apple, or 1/4 cup of dried fruit. Read the full review here.
Harvest Snaps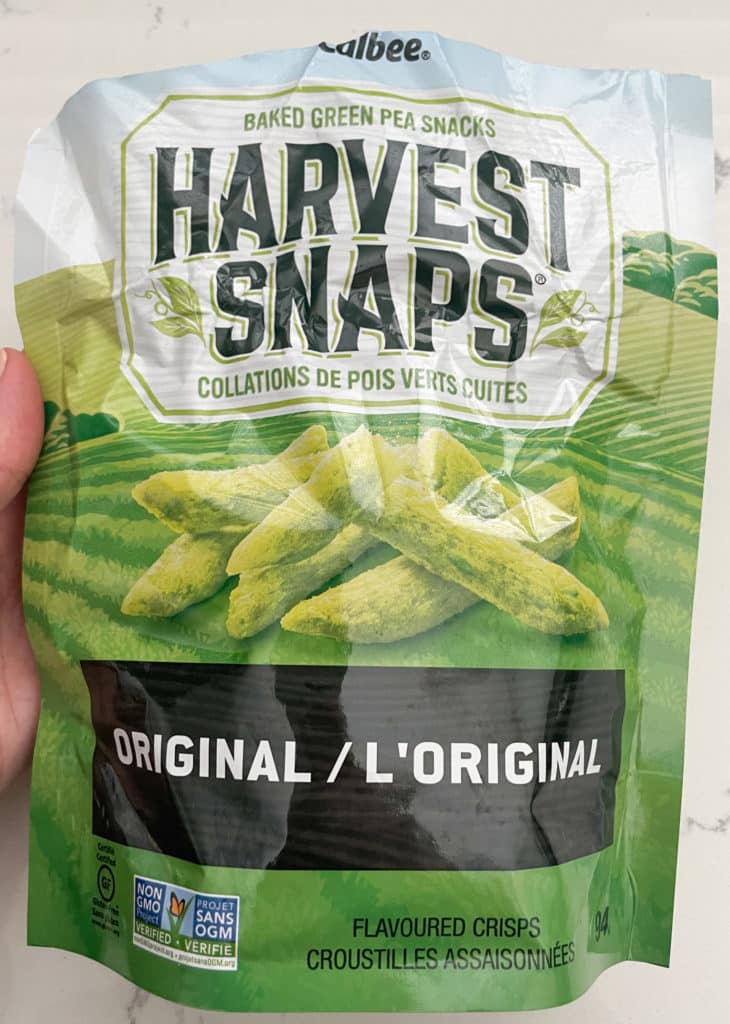 Harvest Snaps are a more nutritious option than traditional potato chips. Compared to potato chips, Harvest Snaps are baked instead of fried and contain less saturated fat and sodium. However, Harvest Snaps are still considered a processed food and are best consumed in moderation. Read the full review here.
KIND Bar 

KIND bars are an excellent choice for those looking for a balanced snack option on the go. They contain a good balance of protein, healthy fats, and fibre to keep you sustained. We also love that they are available in 10 low-sugar flavours. Read our full KIND bar review here.
Sources: 
Emulsifying, Gelling, Stabilizing, thickening Agents. Health Canada.
Guideline: Sugar Intake for Adults and Children, World Health Organization (2015).