We're sharing the Top Foods to buy from the Bulk Food Store to help you make the most out of your food list! Continue reading for tips from our expert dietitian, Holly Heximer, RD.
Over the past few years, I have been actively trying to reduce waste in my household. One of the ways I have been able to do this is by shopping at bulk food stores. Buying food in bulk can help reduce plastic waste from food packaging and can also reduce your food waste by allowing you to buy the exact amounts you need. Continue reading for my Top Ten Foods to buy from the Bulk Food Store.
Top Foods to buy from the Bulk Food Store
Buying in bulk can often save you money too, but don't assume that all items purchased in a bulk store will be cheaper than those in conventional grocery stores. Pasta and quinoa, for example, are often more expensive to buy from the bulk store. Be sure to do some price comparisons before you buy to avoid spending more. Keep a price list for your commonly purchased items saved on your phone for quick price comparison.
Pro tip: save additional costs while buying bulk by signing up for your bulk stores' loyalty program. For example, Bulk Barn has weekly coupons and I haven't shopped at Bulk Barn in the last year without using a coupon.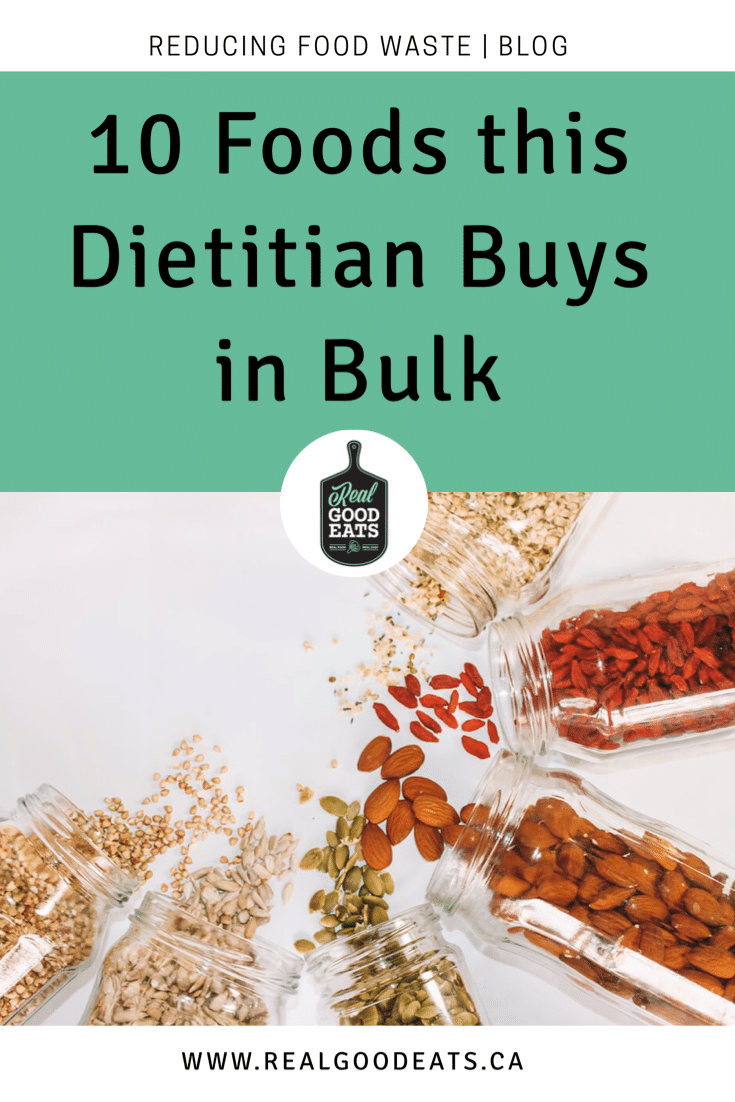 Using your reusable containers is a great way to reduce the unnecessary use of plastic bags, but not every store will tare or weigh your container. In these situations, I use my cotton reusable produce bags and transfer the items into containers at home. Bulk Barn weighs your container before you shop while others will have you weigh your container on the scale provided and record the amount yourself. Think you need to invest in fancy containers before you BYO to the bulk shop? Think again! I use old pasta sauce, peanut butter or mason jars and my reusable bags.
With so many options in bulk food stores, it can be difficult to know where to start. Continue reading for my ten go-to bulk food items and how to use them
TOP FOODS TO BUY FROM THE BULK FOOD STORE
1. Spices
Did you know that spices can lose their flavour and intensity over time? I don't know about you but I have bags of spices in my pantry that are years old. Or is there a recipe that calls for a spice you've never heard of before and are unsure if you will ever use it again? Buy the amount you will use for the recipe or know you will use in the next six months so your spices keep their flavour profile.
2. Lentils
Lentils are one of my favourite things to buy in bulk. They are such a bang for your buck protein source and so versatile. If you are new to cooking with lentils try buying just the amount you'll need for a recipe to try them out! These Lentil Tacos are a go-to recipe for me and come together quickly.
3. Dried Beans & Chickpeas
Cooking with dried beans is one of my biggest money-saving tips. Canned beans are already a cheap source of protein but when you buy dried beans and soak them yourself it's even cheaper (and less wasteful!). I use my instant pot which is a fast and easy way to cook dried beans. Chickpeas, black beans and kidney beans are always on hand in my pantry to add some plant-based protein and fibre to my dishes! Try soaking and cooking your chickpeas the night before so they are ready to go for this 20 Minute Chickpea Curry recipe or this Chickpea Spinach Salad recipe.
4. Hemp Seeds
Hemp Hearts can also lose freshness. While some people keep them in the freezer or the fridge to extend shelf life I find I forget I have them if I don't see them in my pantry. I keep a smaller jar in my pantry and fill it up every few months. With it visible I remember to add hemp hearts to salads, pasta, oatmeal and yogurt daily.
5. Nuts and Seeds
Nuts and seeds are another food that can be more economical to buy in bulk. Jars of pecans, almonds, sunflower seeds and pumpkin seeds have permanent spots in my pantry. However, watch out for the trail mixes that often cost twice as much! I will buy a variety of nuts, seeds, dried fruits and some chocolate to combine into my own trail mix that works out to be a lot cheaper (and I can customize to my preferences).
TOP FOODS TO BUY FROM THE BULK FOOD STORE
6. Peanut or Almond Butter
Many bulk stores will have fresh peanut or almond butter in bulk. If you're lucky you can even grind your own. Kids (and adults) love watching peanuts become peanut butter in seconds. Be aware that it may not be cheaper than your typical peanut butter but if you are used to buying 'natural' peanut butter brands it should be similar. This is also where the coupons come in handy.
7. Dried Fruit
You can often find dried cranberries, blueberries, cherries and mangos at a good price. Just check the ingredient list as many dried fruits have added sugar. I use dried fruit in my own trail mixes, on top of salads or granola.
8. Dates
Dates have become a staple in my baking over the past few years thanks to their natural sweetness. They are great in energy bites or even adding them to my smoothies. Try this chocolate date smoothie. I enjoy buying dates in bulk in quantities I can use.
9. Nutritional Yeast
Nutritional yeast is loved by plant-based eaters or those avoiding dairy for its cheesy flavour! I add it to pasta sauces and to salad dressings. However, my favourite way to use nutritional yeast is on top of popcorn! Add some oil and toss as much nutritional yeast into your bowl of popcorn as your tastebuds desire! If you've never tried nutritional yeast before buying a small amount is a great way to start.
10. Tofu
If you are really lucky your store might stock fresh tofu in bulk. I find it tastes so much better and fresher! This Sheet Pan Teriyaki Tofu recipe is a great use for tofu.
What's your favourite food you buy in the bulk section? Let us know in the comment section below!
Don't miss a thing! Subscribe to receive the latest recipes and healthy eating tips straight to your inbox! ?
[yikes-mailchimp form="2″]
About the author:
Holly is a Registered Dietitian who graduated from the University of British Columbia. Her day job is working in clinical nutrition in pediatrics and after work, she enjoys gardening, cooking, hiking and camping. She has a passion for inspiring people to cook and experiment in the kitchen!