Disclosure: Brittany Raftis (and Real Good Eats by association) is a FreeYumm ambassador. The bars used to develop these recipes were gifted, but no compensation was exchanged directly for these recipes or this post. All opinions are our own.
We understand that it can be challenging to find convenient and nutritious snack options that are free from common food allergens. We love that FreeYumm bars are made without the use of the top 9 priority allergens – milk, eggs, peanut, tree nuts, wheat, sulphites, seafood, and sesame.
Not only are these bars delicious to enjoy on their own, but they make a tasty addition to recipes. Using FreeYumm bars in the recipes below helps to trim down the ingredient list by adding big flavour in convenient little packaging. Continue reading for 3 allergen free snack recipes using FreeYumm bars.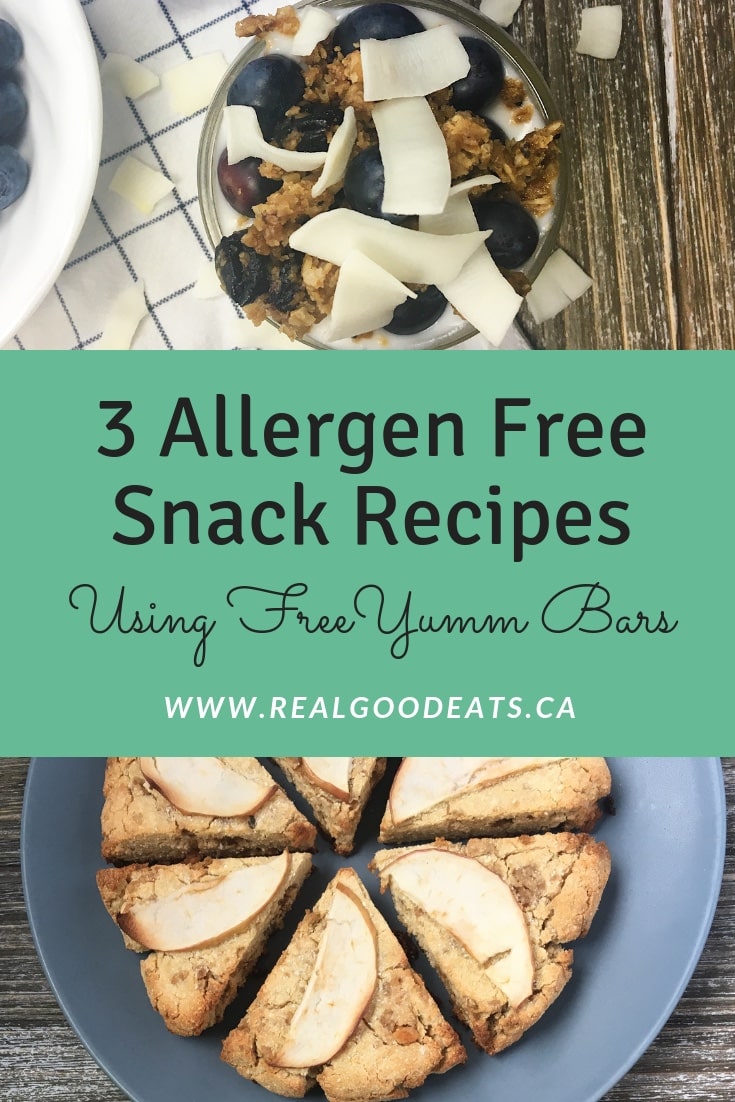 Blueberry Oat Yogurt Parfait
Makes 1 serving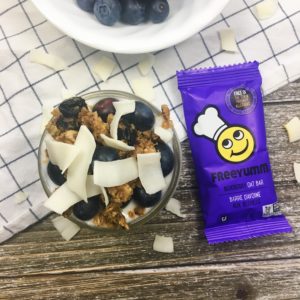 Ingredients:
½ cup unsweetened oat milk
½ tsp vanilla extract
1 tsp honey
¼ cup blueberries
1 FreeYumm Bueberry Oat bar, crumbled
How to make it:
In a small bowl, mix yogurt with vanilla and honey. Add half of the yogurt mixture to a small glass jar. Layer with ½ crumbled FreeYumm bar and ½ the blueberries.
Sunbutter and Jelly Chia Pudding
Makes 1 serving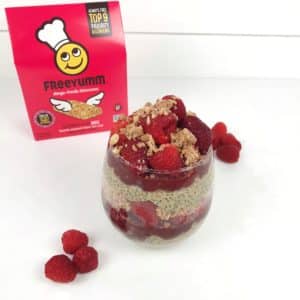 Ingredients:
½ cup of unsweetened oat milk
1 tbsp of maple syrup (1.5 tbsp if omitting jam)
2 tbsp of unsweetened, unsalted Sunbutter
2 tbsp of whole chia seeds
1 tbsp of raspberry jam and/or ½ cup of fresh raspberries
1 Free Yumm Raspberry Chia Bar, crumbled
Chia pudding: combine coconut milk, maple syrup and Sunbutter. Whisk until thoroughly mixed, stir in the chia seeds. Refrigerate overnight or for a minimum of 4 hours.
Assembly: add half of the chia pudding mixture to a glass. Top with ½ tbsp of jam and/or ¼ cup of berries. Add half of the crumbled Free Yumm Raspberry Chia Bar. Repeat with the remaining ingredients
Allergen Free Apple Cinnamon Scones
Makes 6 scones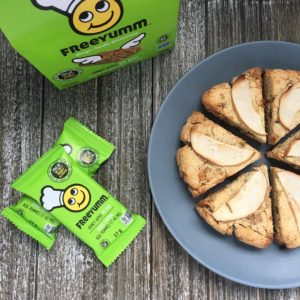 Ingredients:
½ cup chickpea flour
¼ cup coconut flour
1 tsp cinnamon
1.5 tsp baking powder
¼ tsp salt
½ cup applesauce
1 tsp vanilla extract
1 tbsp maple syrup
2 tbsp vegan butter, melted
2 FreeYumm Honey Apple Oat Bars Apple slices for topping (optional)
How to make it:
In a medium bowl, mix together chickpea flour, coconut flour, cinnamon, baking powder, and salt. Set aside.

In a second bowl, mix together applesauce, vanilla extract, and maple syrup.

Combine wet ingredients, dry ingredients, and coconut oil. Mix until fully combined (it will be crumbly). Crumble FreeYumm bars with your fingers, and gently fold crumbs to the dough mixture.

Loosely cover the dough with paper towel, and refrigerate for 15 minutes to allow the dough to firm up.

With your hands, scoop the dough into the centre of a parchment lined baking sheet and form into a circle, roughly ¾- inch thick.

Using a sharp knife, cut dough into 6 wedges (dough will not fully separate).

Bake at 350F for about 15 minutes. Remove from oven and separate the 6 wedges with a knife. Return the pan to the oven and cook for another 8 minutes, until edges are golden brown and crisp. Allow to cool slightly before serving.
Don't miss a thing! Subscribe to receive the latest recipes and healthy eating tips straight to your inbox! ?
[yikes-mailchimp form="2″]