Perfect Bar – Dietitian Review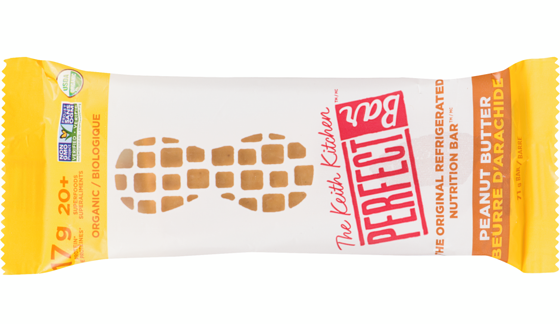 This Perfect Bar Dietitian Product Review will help you decide if Perfect Bars are nutritionally sound and worth the money. Read on for my review of taste, nutritional properties, ingredients, uses, cost, and overall versatility before making your decision.

About Perfect Bars
Perfect bars are energy bars that come in a variety of flavours. They are marketed as 'whole food' energy bars, using no artificial preservatives or ingredients that you can't understand. According to their website, they require refrigeration but can be left at room temperature for 2-7 days, depending on the flavour.
Perfect Bar – Dietitian Review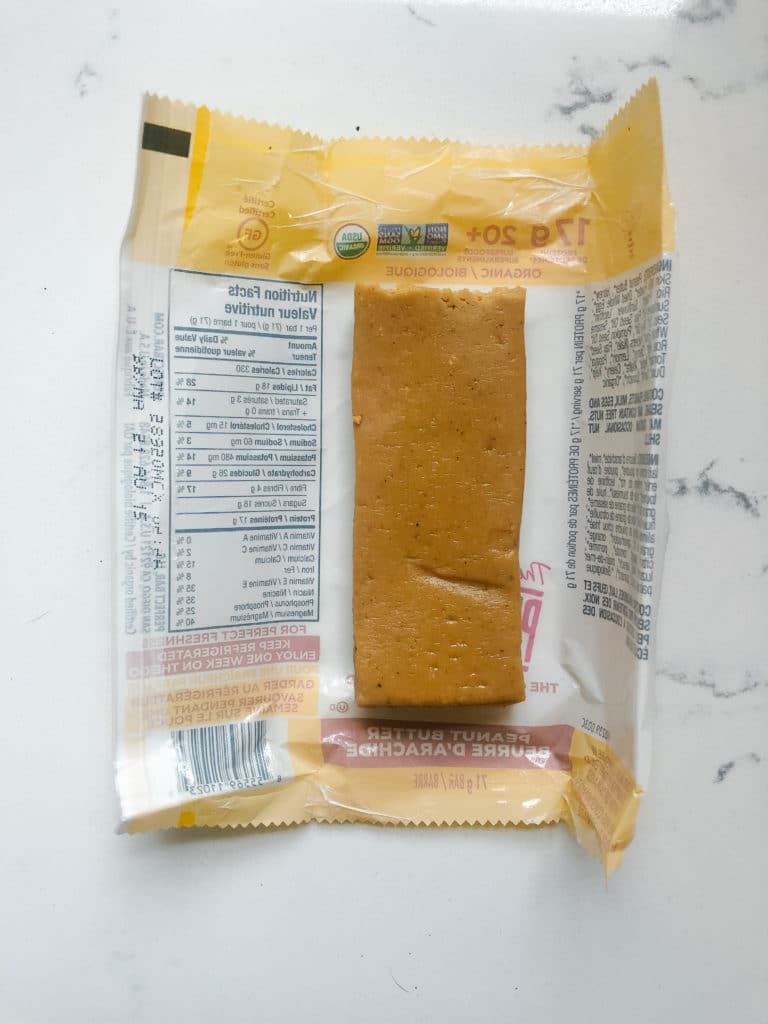 Taste:
I sampled the peanut butter flavour. Overall, I thought the product had good flavour. It has a soft, pasty texture but I find it to be less chalky than some other protein or energy bars. It has a strong honey flavour which some people may not enjoy.
Ingredients: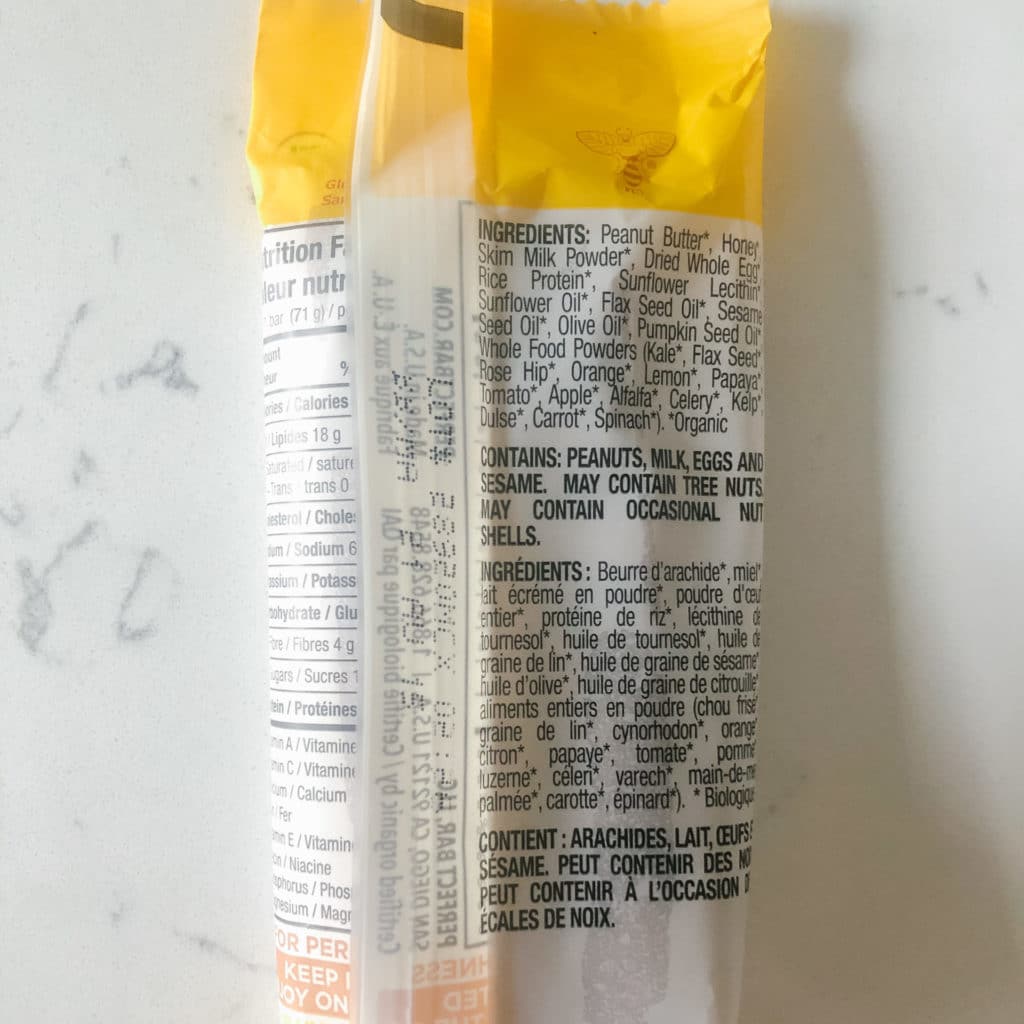 Overall, I like the ingredient profile of these bars. Perfect bars are made with whole-food ingredients that you can understand, which makes them a less processed option compared to some other bars on the market. There are a variety of protein sources, seed oils, and vegetable powders incorporated into these bars which is evident in the nutrition profile.
Priority allergens:
Perfect bars are gluten free.
Contains: peanuts, milk, eggs, sesame. May contain tree nuts.
Note: always check the nutrition label for up-to-date allergen information.
Perfect Bar – Dietitian Review
Nutrition profile:
Calories: this bar is energy-dense. I would classify this in the 'energy bar' category.
Fat: perfect bars are a source of healthy fats coming from peanut butter and a variety of seed oils in the ingredient list. This helps the snack be more satiating and keeps you full longer.
Carbohydrate: this bar has a moderate source of carbohydrates compared to other energy bars. It is lower in carbohydrates than many other bars with similar calorie content.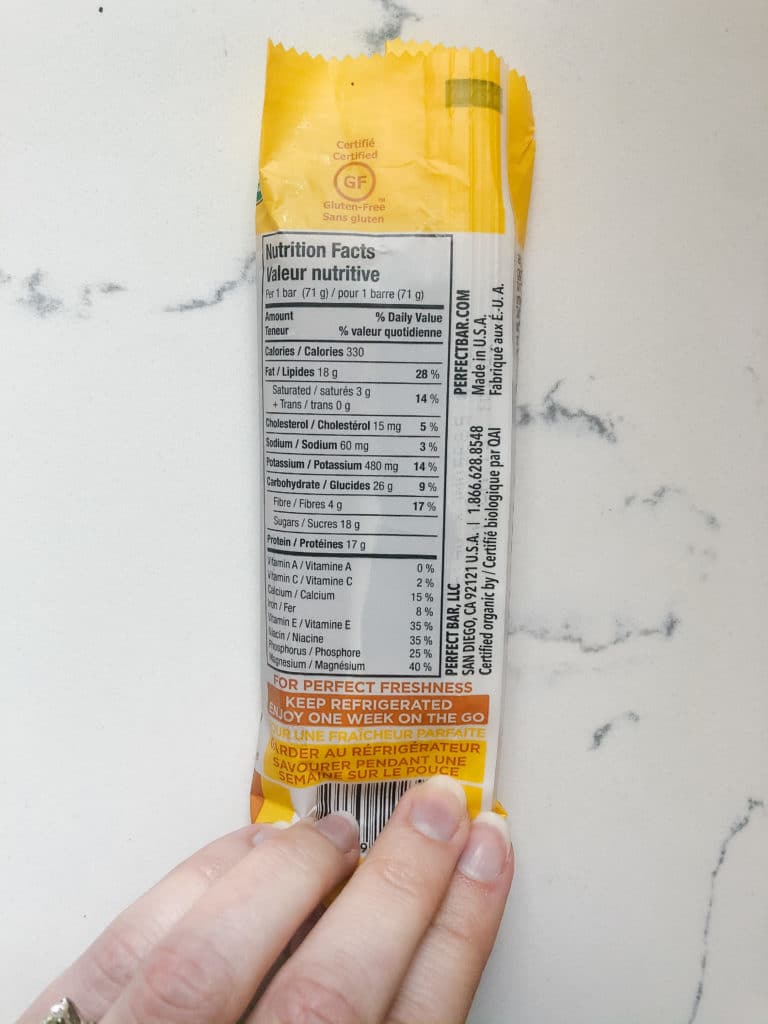 Fibre: this bar is a good source of fibre, with 4g of fibre per bar.
Sugar: this bar has 18g of sugar per bar. This is mostly added sugar from honey, which is the second ingredient on the ingredient list. I would consider this to be a high amount of added sugar, though it's important to note that this is fairly common for energy bars.
Protein: each flavour varies in protein content. The peanut butter bar that I sampled is high in protein, with 17g of protein per bar coming from skim milk powder, rice protein, peanut butter, and dried egg. I like that there are a variety of protein sources used in this product, most of which are not ultra-processed.
Other nutrients: perfect bars are a source of a variety of macronutrients, coming from the vegetable powders. The peanut butter flavour provides a good source of calcium, iron, vitamin E, Niacin, Phosphorus, and Magnesium.
Perfect Bar – Dietitian Review
Are Perfect Bars Healthy? (suggested uses)
Perfect bars are a great option for those looking for a good quality, whole-food-based protein bar or energy bar. It can be used as a post-workout snack for athletes or those with high nutrition needs, though additional carbohydrates may be required. It may also be an option for those looking for a convenient way to help meet their energy and protein needs throughout the day.
This bar is energy-dense and the full nutrition profile may not be necessary as a snack for the average adult depending on their eating habits and nutrition needs.
These bars require refrigeration, so they lack the added convenience of some shelf-stable products. Check the product package for individual shelf life.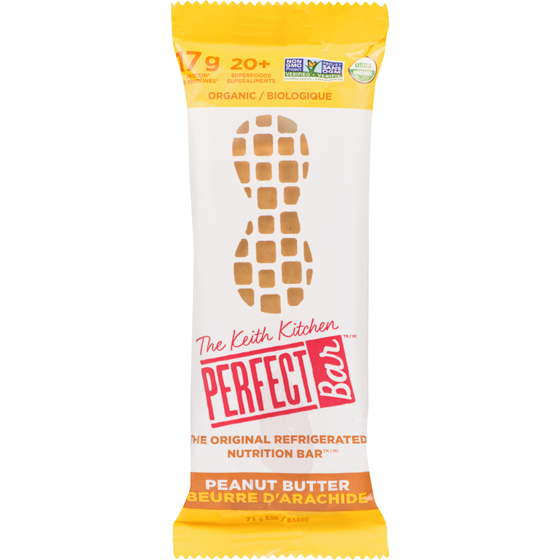 Cost:
$$$ – expensive
The average cost that I can find (in Ontario) is $3.89 per bar. This is high for n snack bar, but not uncommon. This is comparable to other less-processed energy bars on the market.
Would I Purchase Perfect Bars Again?
I would purchase this bar again for days where I am on the go and may be inconsistent with my meals and snacks. I love that the ingredients are more whole food based, and it seems like a less processed protein bar compared to others on the market. These bars are dense nutritionally which is not something that I typically need as a daily snack. For that reason, it's not something that I would use as part of my daily routine.
Frequently Asked Questions
Are Perfect Bars gluten-free?
Yes, Perfect Bars are gluten-free. They contain peanuts, milk, eggs, sesame. They may contain tree nuts. Note: always check the label for up to date allergen information.
Are Perfect Bars keto?
Perfect Bars contain 24-26 grams of carbohydrate (20-22g net carbs) per bar and are not considered keto.
Are Perfect Bars Low FODMAP?
Perfect bars contain honey which is a source of fructose. Therefore, they are not considered low FODMAP.
Are Perfect Bars a meal replacement?
Depending on your nutritional needs, Perfect Bars may be suitable as a meal replacement. Keep in mind, consuming a processed food item (such as a bar) will likely digest much faster than a whole-food-based meal, meaning you will not feel full as long. Perfect bars are also higher in sugar and lower in fibre than a balanced whole-food meal would be.
Are Perfect Bars Whole 30?
Perfect Bars are not considered Whole 30 as they contain dairy, added sugar (honey), and nuts.
Are Perfect Bars Paleo?
Perfect Bars are not considered paleo because they are processed, contain dairy, and contain vegetable oil.
Have you tried Perfect Bars? Let me know in the comments below!
Don't miss a thing! Subscribe to receive the latest recipes and healthy eating tips straight to your inbox!
About Brittany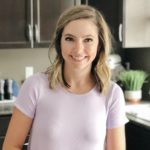 Hi there! I am a registered dietitian and I 💚 food! I am passionate about making it easier for busy people to eat well by sharing quick and healthy recipes. Healthy cooking at home can seem overwhelming, but it doesn't have to be. I love helping people uncomplicate weeknight dinners and reduce stress around meal time, so I'm so glad you're here!
---
---