As a working mom of a two-year-old, I know how hard it can be to get dinner on the table for a hungry little munchkin. These 5 meals that make dinner time with your toddler less stressful are both parent and toddler approved in my experience.
Author: Christina Iaboni, MHSc, RD
Many parents I know have shared that they struggle to make a dinner that their toddler will actually eat and they end up making two meals – one for the adults and one for the kids. I don't know about you but I barely have time to make one meal so making two separate meals is not an option. We shouldn't be short-order cooks and this habit of making two meals isn't going to help kids have a healthy relationship with food and eating in the long-run.
Continue reading for my tips and favourite 5 meals that make dinner time with your toddler less stressful.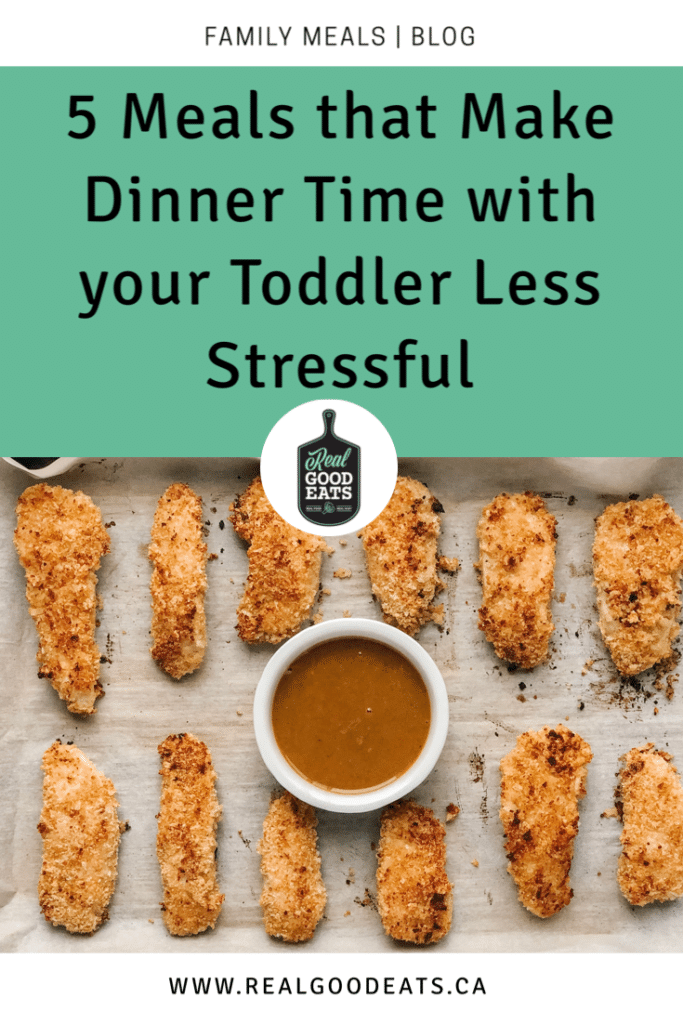 Children may not eat everything or anything we put on the table and that's okay! Here are a few tips and things to keep in mind to make dinner easier on us parents.
5 meals that make dinner time with your toddler less stressful
Tips to make meal time less stressful
First, plan ahead as much as possible. This likely isn't the first time you've heard this, but it really does make a world of difference. Planning ahead makes that time between daycare pickup and eating dinner as stress-free as possible. Spend some time on the weekend preparing meals. This might mean cooking on Sunday or just getting a head start on chopping vegetables so that weeknight preparation is faster. Sometimes I also like to make a big pot of something, like chili, and then freeze half of it to have another time. If you hare having a particularly busy week and don't have time to cook ahead of time, have some simple things on hand so that you can prepare a quick meal when you get home.
The next tips are from Ellyn Satter, a well-known registered dietitian who has devoted her career to helping parents transform family meals into happy, healthy, and struggle-free events. Below I will share two of her core principals and how they can help you make family meals easier.
1. Parents decide what food is offered, when and where. The child is responsible for how much they want to eat and if they want to eat or not.
This means that if you have made pasta for dinner and your child wants grilled cheese, you would respond with something like "that's not for dinner tonight, we are having pasta." If you are used to making separate meals for your children, this may not be so easy at first but over time and being consistent, it will pay off. In the end, children will not starve. As parents we should be offering regular meals and snacks so if they miss one meal or don't eat too much, it is okay. Children are good about being in-tune with their hunger cues and will eat the amount of food that their growing bodies need.
2. Be considerate of young children's taste preferences without catering.
Children don't have the same experience with eating as us adults and it can take many exposures and trials of the same food before a child accepts them. When cooking, we should be considerate of their preferences. Rather than making two meals, you can make the same meal but just tweak it a little bit for toddler preferences. For example, we love making pizza in our house but my daughter won't eat a lot of the vegetable toppings I like. So, I make a portion of the pizza with just sauce and cheese for her. When we actually eat, I put a few of the other veggies on the side of her plate along with a slice of plain pizza and she can try them if she likes (I don't force her to). If she doesn't try them, that's okay, it is still considered an exposure. Another example of how you could adapt a meal is with chili. If you like a lot of spice in your chili but your kids don't, make the chili and then separate some out for them before you add the spices.
Here are 5 Meals that Make Dinner Time Less Stressful with your Toddler
1. Pasta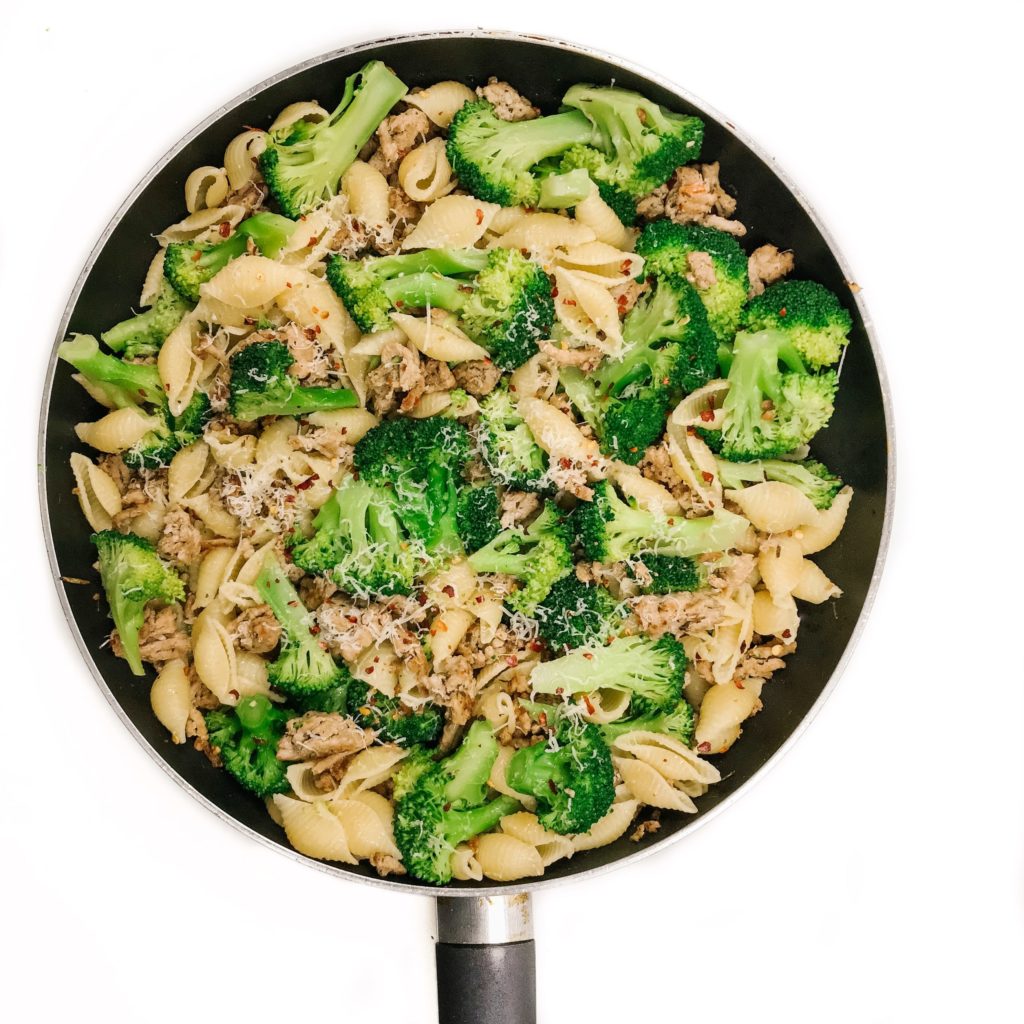 Pasta is simple to prepare and is a hit with everyone. I like to make my own tomato sauce on the weekends (with either meatballs or beans in it) and keep it on hand for a quick meal during the week. You can also keep some low-sodium store bought sauce in your pantry as another easy option. I'll serve pasta with some cooked vegetables, usually broccoli since my daughter likes it. For a different option without tomato sauce, try this Pasta with Turkey and Broccoli– it is great balanced option and comes together in 20 minutes. Separate some of the turkey mixture out into another pan before seasoning with fennel and crushed red pepper if you don't think your kids will eat it.
Looking for more inspiration? Browse our roundup of the Best Healthy Weeknight Pasta Recipes.
2. Homemade chicken fingers and fries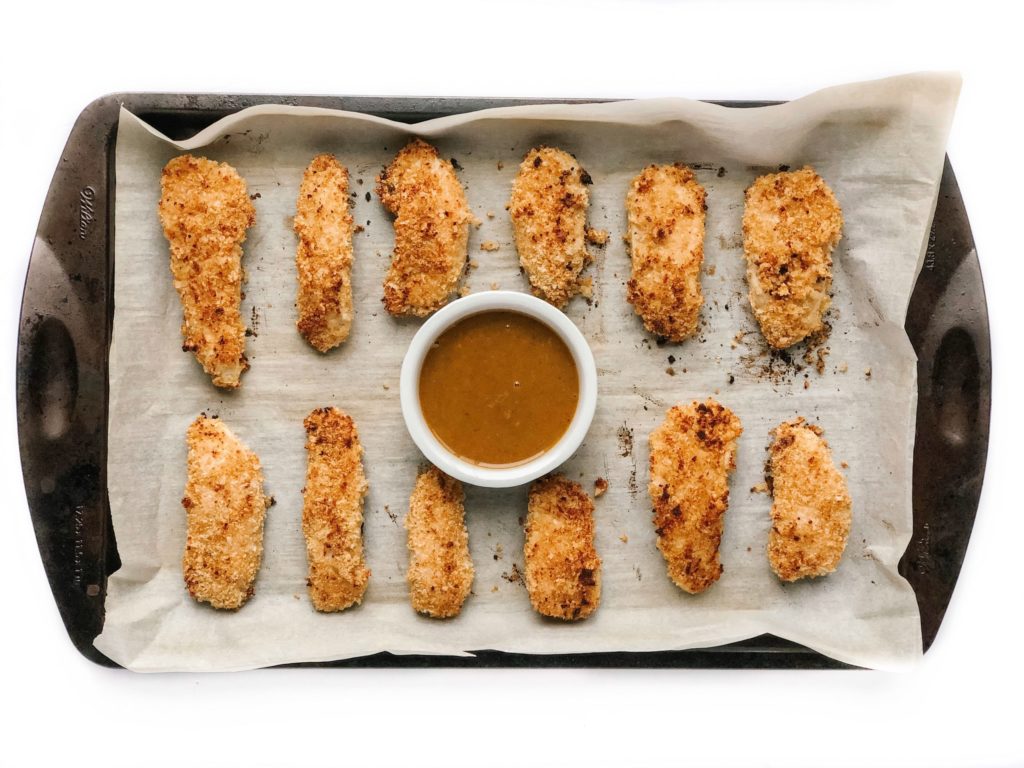 Kids love chicken fingers and fries and so do adults! A homemade baked version is simple and healthier than fried versions. You can buy chicken tenders, dunk them in an egg wash and then a seasoned breadcrumb mixture and bake. At the same time, I prepare some potatoes and roast them with olive oil, salt and rosemary. You can prepare a dipping sauce that adults may like, such as a honey mustard sauce or use a spicy dipping sauce of your choosing for those adult palates. Serve alongside your family's favourite green or orange veggie.
3. Quesadillas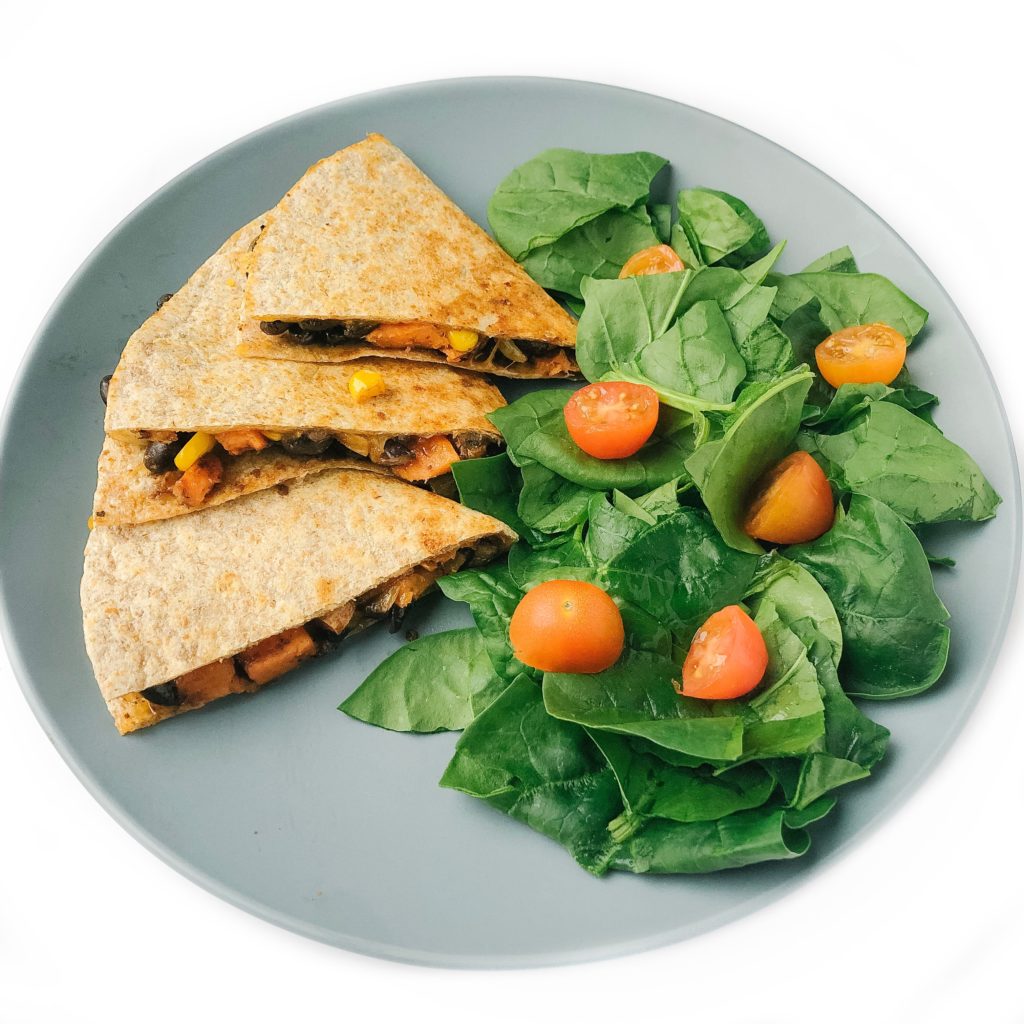 These are one of my staple meals when I am really short on time or haven't prepared in advance. I keep frozen whole wheat tortillas in the freezer and then top them with shredded cheese, canned black beans or leftover chicken, corn and diced peppers. I heat them in a pan until the cheese is melted and everything is warm. Then cut into wedges and serve with salsa and guacamole. Try this One Pan Sweet Potato and Black Bean Quesadilla recipe for from Chelsea's Dishes for inspiration. Omit the spices for your little ones as needed.
4. Breakfast for dinner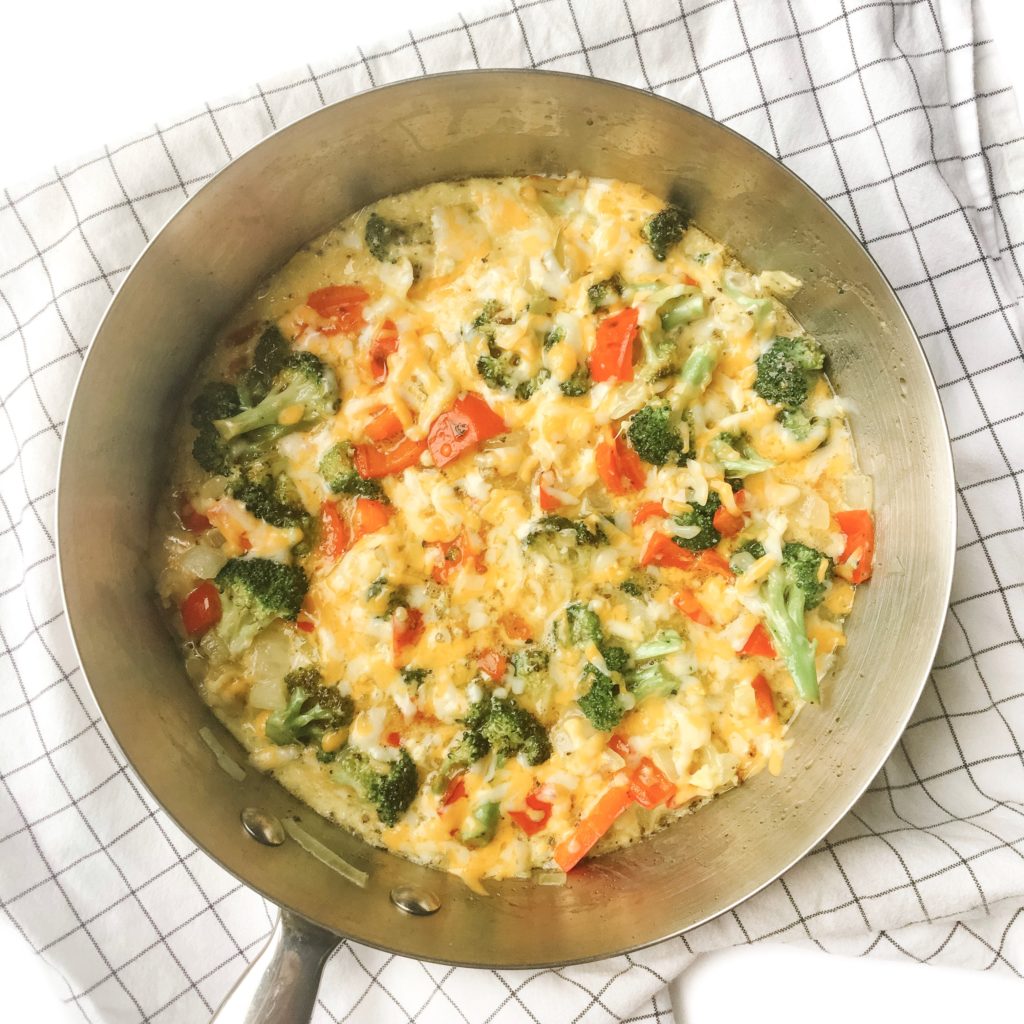 Kids love breakfast for dinner, it is a fun meal that is quick to make. Scrambled eggs, toast, sliced fruit and vegetables and viola dinner is served. For another option, try this Cheese and Vegetable Frittata recipe from Get Cracking with toast or roasted potatoes.
5. Tuna patties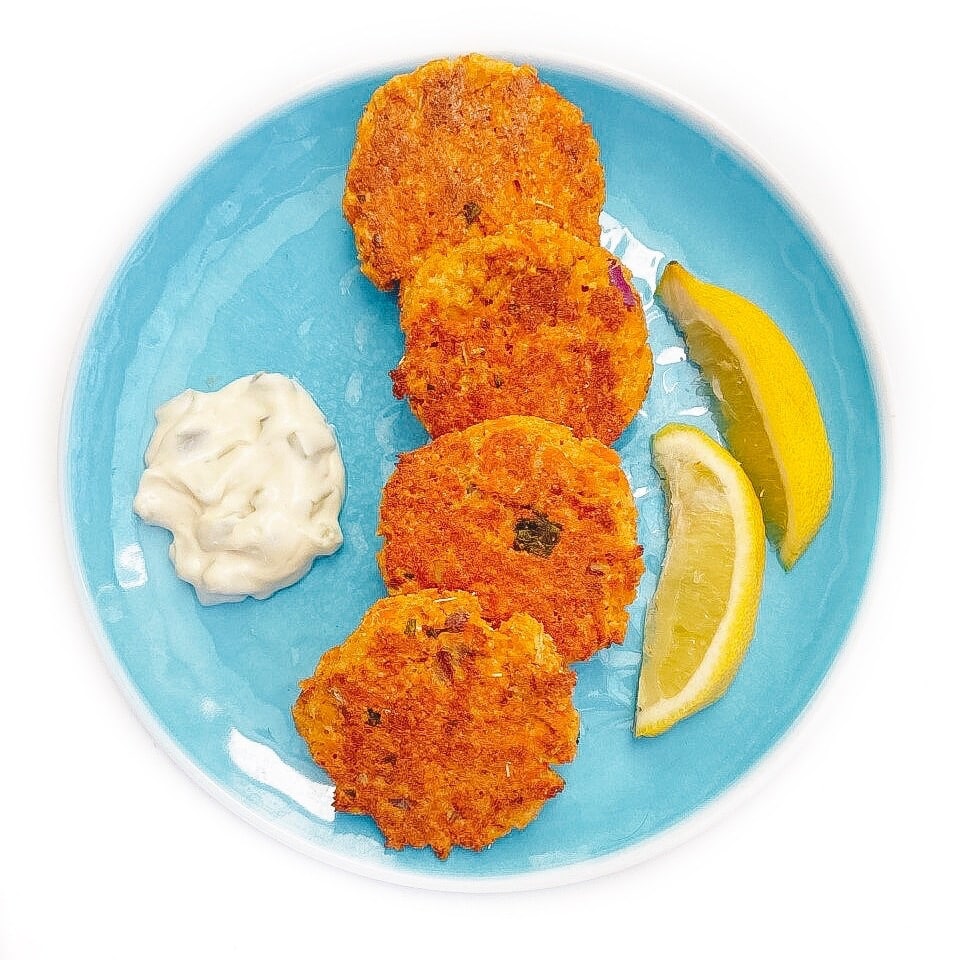 As far as fish goes, canned tuna is probably one of the least "fishy" tasting fish you could find and is generally accepted by kids. It is also a pretty economical choice. I like this recipe for tuna patties and sometimes substitute canned salmon as well. I usually will make a couple smaller ones for my daughter. You can serve them on a bun or with a side of rice and I'll usually try to prepare some frozen vegetables as well to balance the meal out.
There you have it! 5 meals that make dinner time less stressful with your toddler. In my experience, these are both toddler and parent approved! What's your favourite toddler-approved family meal? Comment below and let us know! ?
Don't miss a thing! Subscribe to receive the latest recipes and nutrition tips straight to your inbox.
[yikes-mailchimp form="2″]
About Christina
Christina is a Toronto-based registered dietitian who has been working in the area of mental health and addictions for several years. She is also a mom, foodie and fitness enthusiast. She has always been passionate about health and nutrition and wants to empower others to improve their physical and mental health by eating nutritious foods. Christina loves to cook and believes that healthy eating doesn't have to be fancy or complicated, if you start with whole foods and good quality ingredients, the flavours will speak for themselves. Follow her on IG @cucina_di_christina for delicious recipes and nutrition tips or check out her blog.