Note: these recipe reviews are my way of sharing recipes from other food bloggers and dietitians that I have tried myself and love! The image(s) on this page are from my version.
Check out why I love this recipe below, as well as any tips or suggestions to boost the recipe's nutritional content (as applicable), then scroll to the bottom of the post for the link to the full recipe from the source. Enjoy!
Chicken Quinoa Fried Rice
This Chicken Quinoa Fried Rice recipe from Eating Well is a great way to use leftover chicken and any veggies you have in the fridge.
Time Saving Tip: use frozen mixed veggies instead of fresh to cut down on prep time.
To make, you'll scramble the eggs in a pan then transfer to a separate plate. Using the same pan, you'll sauté ginger and garlic, then add chicken and vegetables. Once cooked, you'll transfer this mixture to the same plate as the eggs. You'll then add the cooked quinoa to the pan until heated, then add back the chicken mixture and sauce ingredients, mixing until heated through.
What you'll need:
2 Tbsp + 1 tsp peanut oil

2 large eggs

3 scallions

2 tsp ginger

2 tsp minced garlic

1lb boneless, skinless chicken thighs

1/2 cup diced red bell pepper

1/2 cup diced carrot

1/2 cup peas

2 cups cooked quinoa

3 Tbsp reduced-sodium soy sauce or tamari

1 tsp toasted dark sesame oil (optional)
Makes 4 servings
Ready in 30 minutes
Don't miss a thing! Subscribe to receive the latest recipes and healthy eating tips straight to your inbox! ?
[yikes-mailchimp form="2″]
About Brittany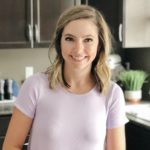 Hi there! I am a registered dietitian and I ? food! I am passionate about making it easier for busy people to eat well by sharing quick and healthy recipes. Healthy cooking at home can seem overwhelming, but it doesn't have to be. I love helping people uncomplicate weeknight dinners and reduce stress around meal time, so I'm so glad you're here!