Recipe Review – Lentil Bolognese
Note: these recipe reviews are my way of sharing recipes from other food bloggers and dietitians that I have tried myself and love! Just as I recommend recipes to my 1:1 clients. The image(s) on this page are from my version. Check out why I love this recipe below, as well as any tips or suggestions to boost the recipe's nutritional content (as applicable), then scroll to the bottom of the post for the link to the full recipe from the source. Enjoy!
Lentil Bolognese
This bolognese recipe from Running to the Kitchen is a high fibre, plant-based alternative to the traditional beef version. This is a great recipe to try for plant-based beginners. It's easy to make and has familiar flavours of a traditional meat sauce.
Balanced pasta tip: serve pasta sauce with a combination of traditional noodles and veggie noodles to keep things balanced. I love using zucchini or carrot noodles in a 50/50 mixture with my spaghetti!
​
To make, you'll need to cook the lentils by boiling in water, or for a quicker option, use canned lentils and skip this step. Meanwhile, in a large skillet, you'll sauté onion, carrot, and celery before adding garlic and tomato paste to the pan. You'll then add red wine and continue cooking until most of the liquid has cooked off, then add tomatoes, continuing to simmer for about 10 minutes. Lastly, you'll mix in the cooked lentils and fresh herbs into the pan.
​
We served this dish with a mixture of zucchini noodles and spaghetti to keep things balanced.
What you'll Need:
3/4 cup dry green lentils

1 tbsp olive oil

1 medium onion

1 medium carrot

2 celery stalks

3 cloves garlic

1 tbsp tomato paste

1/2 tsp dried basil

1/2 tsp dried oregano

pinch of red pepper flakes

1/4 cup red wine

15oz can diced tomatoes

15oz can crushed tomatoes

1/3 cup fresh chopped parsley

1/4 cup fresh chopped basil

salt and pepper, to taste
Makes 4 servings.
Ready in 40 minutes.
Don't miss a thing! Subscribe to receive the latest recipes and healthy eating tips straight to your inbox! 👇
About Brittany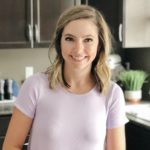 Hi there! I am a registered dietitian and I 💚 food! I am passionate about making it easier for busy people to eat well by sharing quick and healthy recipes. Healthy cooking at home can seem overwhelming, but it doesn't have to be. I love helping people uncomplicate weeknight dinners and reduce stress around meal time, so I'm so glad you're here!
---
---