Note: these recipe reviews are my way of sharing recipes from other food bloggers and dietitians that I have tried myself and love! The image(s) on this page are from my version.
Check out why I love this recipe below, as well as any tips or suggestions to boost the recipe's nutritional content (as applicable), then scroll to the bottom of the post for the link to the full recipe from the source. Enjoy!
Spinach Enchiladas with Lentils
These Spinach Enchiladas with Lentils from Naturally Ella are perfect for meatless Monday! They're loaded with spinach and lentils which keeps this recipe balanced. I saved a step by using an immersion blender to puree the sauce in the pot, rather than transferring it from a stand-alone blender.
To make, you'll puree sauce ingredients in a food processor or with an emersion blender (as noted above) and simmer on the stovetop for 10-15 minutes. To make the enchiladas, you'll combine the ingredients in a bowl and assemble with warmed tortillas. You'll place enchiladas in a pan with the sauce, bake for 25-30 minutes, and top with optional toppings.
What you'll need:
​For the enchilada sauce:
28oz can whole tomatoes

1 cup diced red onion

1 clove garlic

1 tsp chili powder

1 tsp cumin

1/2 tsp coriander

1/2 tsp oregano

1/2 tsp smoked paprika

1/2 tsp salt

pinch of cayenne

2 tbsp fresh cilantro (we used cilantro paste)

2 tbsp apple cider vinegar

1/2 cup vegetable broth
​
For the enchiladas:
2 cups shredded baby spinach

1/2 cup cooked black lentils

1/4 cup minced red onion

3 tbsp minced cilantro (we used cilantro paste)

1 tbsp lime juice

1/4 tsp salt

6 corn tortillas

toppings: minced onion, avocado, cilantro
Makes 2 servings
Ready in 40 minutes
Don't miss a thing! Subscribe to receive the latest recipes and healthy eating tips straight to your inbox! ?
[yikes-mailchimp form="2″]
About Brittany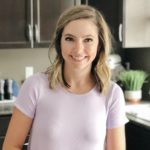 Hi there! I am a registered dietitian and I ? food! I am passionate about making it easier for busy people to eat well by sharing quick and healthy recipes. Healthy cooking at home can seem overwhelming, but it doesn't have to be. I love helping people uncomplicate weeknight dinners and reduce stress around meal time, so I'm so glad you're here!