These Sheet Pan Summer Roasted Vegetable Tacos are a great plant-based option for your workweek. Throw your ingredients onto a sheet pan and bake in the oven or on the bbq.
Sheet Pan Summer Roasted Vegetable Tacos
I've been struggling with what plant-based dinner options this summer. It feels like we've been in a heatwave for weeks! With all this heat, we've been leaning on our bbq for most of our dinner prep. Our go-to bbq meals usually revolve around meat, making meatless Mondays a challenge these days.
Tacos are always a great simple meal option and can be easily made plant-based. I created this summer roasted vegetable taco recipe for a tasty plant-based dinner that can be cooked in the oven or on the bbq to increase our intake of plant protein this summer.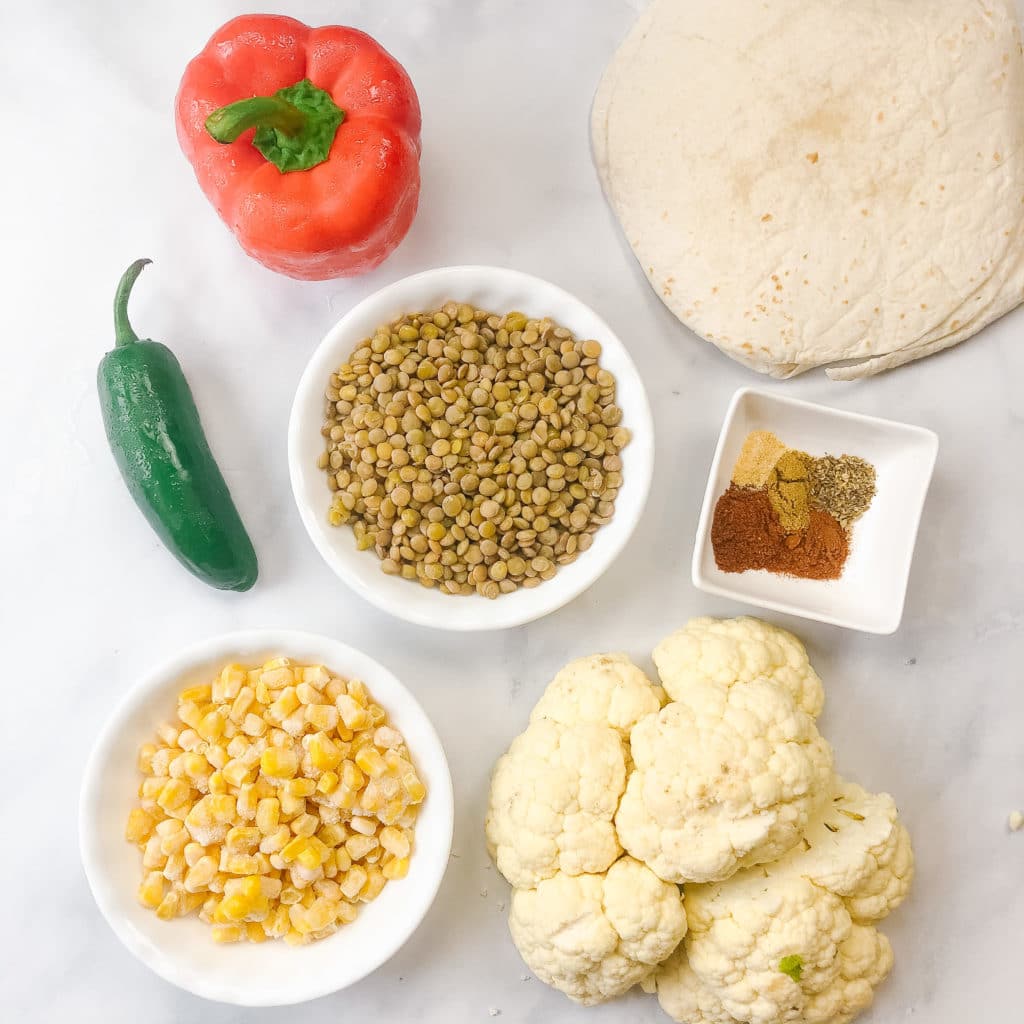 Ingredients:
These Sheet Pan Summer Roasted Vegetable Tacos are loaded with veggies, making them a balanced meal all on their own. I used bell pepper for some subtle sweet flavour, jalapeno for a little spice, and cauliflower for some substance. I also used corn which adds a sweet flavour and is such a staple for me in summer meals.
The protein source for this taco recipe is crispy roasted lentils. I love roasting lentils because they get crispy and add a delicious crunch to this taco recipe. You'll need to boil the lentils before roasting or use canned lentils to save about 20 minutes of additional prep.
Nutrition tip: if you're using canned lentils, be sure to give them a good rinse and pat dry to help reduce the added sodium content.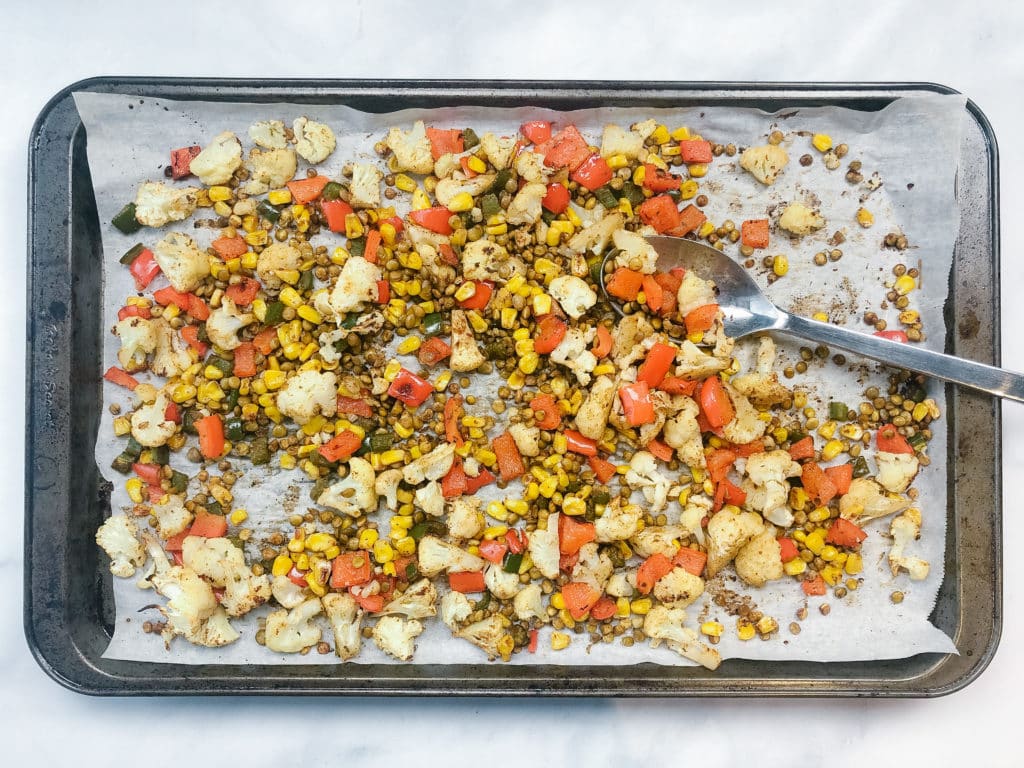 How to make it:
To make this recipe, prepare your vegetables by dicing the bell pepper and jalapeno pepper. Remove the seeds from the jalapeno pepper if you don't like spice! Cut your cauliflower into small bite-sized florets. Cauliflower takes the longest to roast, so be sure to cut the pieces small so that they will cook at the same time as everything else.
I used frozen corn for this recipe out of convenience. Simply thaw frozen corn by running it under hot water in a strainer and pat dry.
Assemble your sheet pan by layering all of the veggies along with the cooked lentils. Drizzle the sheet pan with oil and season with salt and pepper, to taste, and the remaining spices. Stir to combine. If you're cooking this mixture in the oven, it will bake for about 20 minutes at 425.
You can cook this recipe in the oven or on the BBQ. Note: if you're using a sheet pan on the bbq, cooking time may vary. You'll also want to use an older sheet pan as it may get a bit burnt.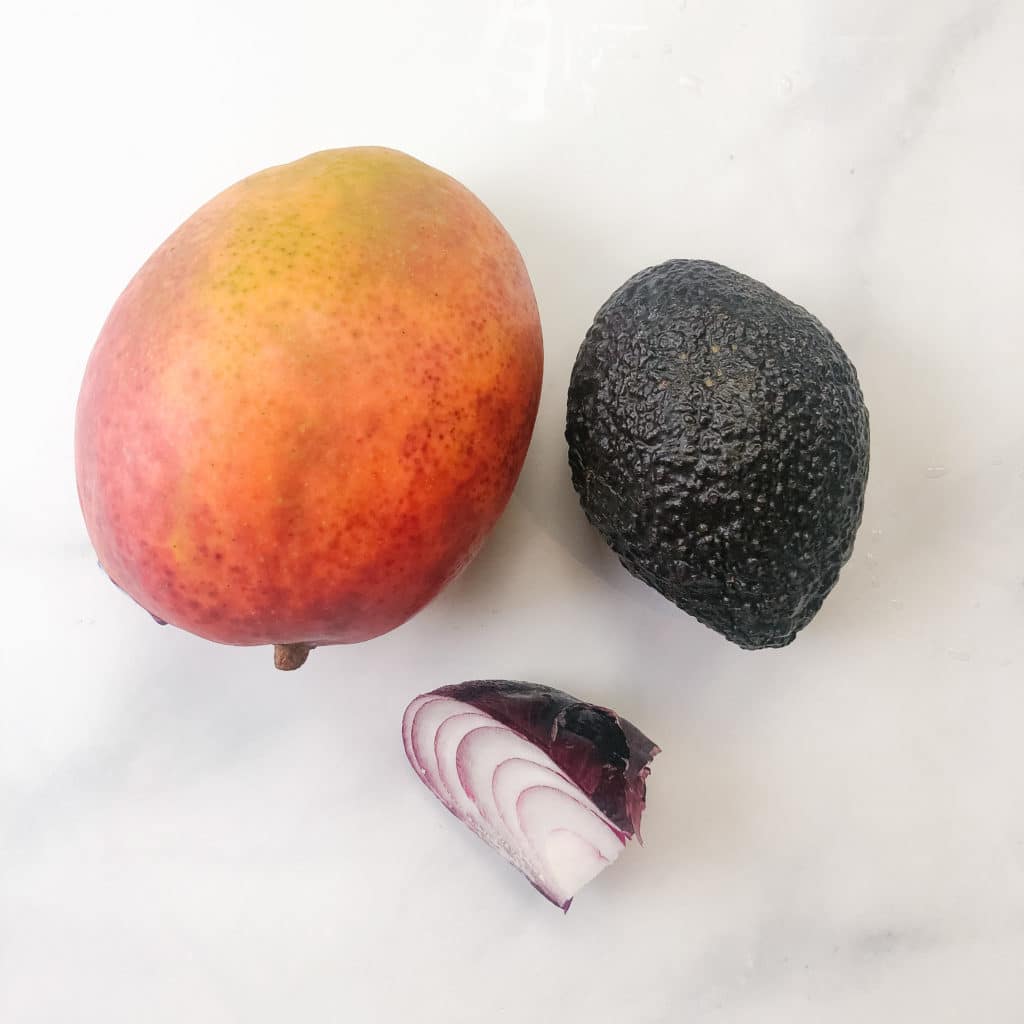 Meanwhile, you can prepare your toppings so that you're ready to go once the sheet pan mixture is cooked. For toppings, I used feta cheese, sliced mango and thinly sliced red onions. I loved this combination of salty and sweet!
And of course, avocado. In my opinion, you can't have tacos without some avocado. For this recipe, you can add sliced avocado as a topping, or mash your avocado with cilantro (I used paste), lime juice, and a bit of salt for an added layer of flavour!
Looking for more taco recipes? Check out my favourite Taco Recipes here.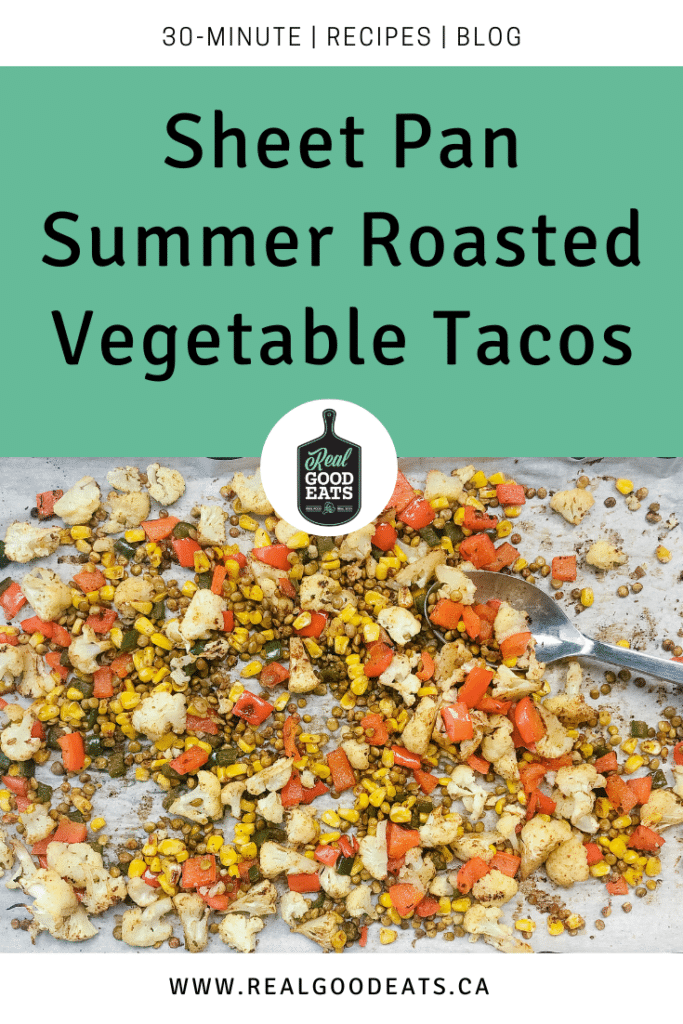 Sheet Pan Summer Roasted Vegetable Tacos
Print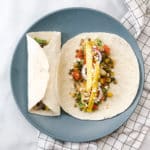 Sheet Pan Summer Roasted Vegetable Tacos
---
Description
These Sheet Pan Summer Roasted Vegetable Tacos are a great plant-based option for your work week. Throw your ingredients onto a sheet pan and bake in the oven or on the bbq.
---
Tacos:
1 cup Frozen Corn, thawed
1 bell pepper, diced
1 jalapeño, diced
3 cups cauliflower florets
1 cup cooked lentils
6 small tortillas
Seasoning: 
½ tsp cumin
1 tsp chili powder
½ tsp smoked paprika
¼ tsp garlic powder
¼ tsp oregano
1 tbsp oil
Salt and pepper, to taste
Toppings: 
Feta cheese, to taste
Mango, sliced
Red onion, thinly sliced
Avocado
For Mashed Avocado (optional, see below):
Lime juice, to taste
Cilantro pasta, to taste
---
Instructions
Preheat oven to 425F.
Place corn, bell pepper, jalapeño, cauliflower, and lentils on a sheet pan.
Drizzle with oil and add seasonings. Gently mixed until well combined.
Bake at 425 for 20mins, or until lentils are crispy and vegetables are lightly browned.
Serve on tortillas with mango slices, red onion and feta cheese.
Optional: mash avocado and mix in cilantro pasta, lime juice and salt, to taste. Spread avocado mash on tortillas before additional toppings. Alternatively, top with sliced avocado.
Notes
Cook your sheet pan on the bbq for the perfect summer meal!
Prep Time:

10

Cook Time:

20
Keywords: taco, recipe, 30 minute recipe, lentils, vegetarian, cauliflower, avocado, red pepper, jalapeno pepper, corn, mango, red onion, feta cheese
Don't miss a thing! Subscribe to receive the latest recipes and healthy eating tips straight to your inbox! ?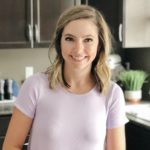 Hi there! I am a registered dietitian and I ? food! I am passionate about making it easier for busy people to eat well by sharing quick and healthy recipes. Healthy cooking at home can seem overwhelming, but it doesn't have to be. I love helping people uncomplicate weeknight dinners and reduce stress around meal time, so I'm so glad you're here!