These quick and healthy dinner recipes using asparagus are perfect for asparagus season and beyond! We've brought together everything you need to know from how to pick the perfect bunch to our favourite quick and easy recipes to take advantage of this seasonal and highly nutritious veg.
I'll admit, I wasn't always a fan of asparagus, and I don't think I'm alone in this. Asparagus has tough, woody ends, and if you're part of the 40% of the population with the genetic predisposition, it will make your pee smell. However, I have since experimented with asparagus using a variety of recipes and cooking methods, and now when asparagus comes into season each spring, I can't wait to get my hands on my first local bunch.
In case you're new to asparagus (or still not sure how to cook with it), I've put together a summary of the basics here – everything you need to know from buying a fresh bunch to storage to cooking with it.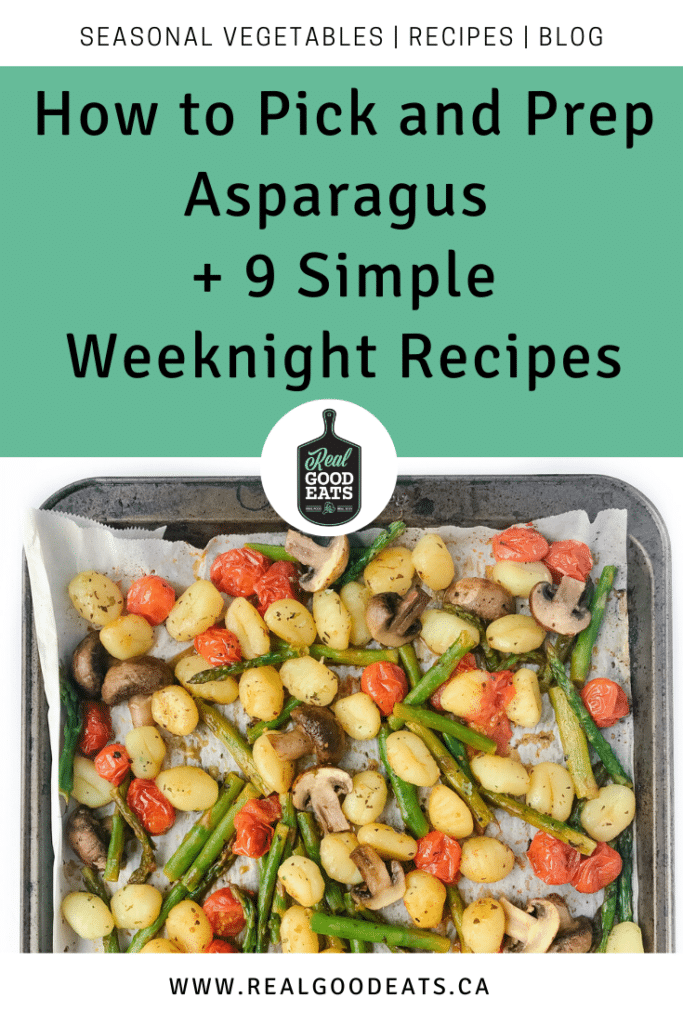 How to buy asparagus
First, how do you know how to pick asparagus at the grocery store? The most common variety of asparagus is green in colour, but there are 3 types of asparagus. Green, purple and white. Purple asparagus is genetically modified to produce a purple pigment called anthocyanin, while green and white asparagus occur naturally. The difference? White asparagus is grown in the absence of sunlight and lacks chlorophyll, the green pigment produced during photosynthesis. Whichever you choose, all varieties of asparagus are delicious and nutrient-rich.
Asparagus also comes in a variety of thicknesses. What thickness you choose depends on personal preference and cooking method. Keep in mind that the thinner the asparagus, the quicker it will cook. In some recipes, like this Easy One Pan Roasted Vegetable Gnocchi, this is a benefit because everything else is quick cooking as well. This recipe only takes 15 minutes in the oven! If you're cooking your asparagus on the bbq or using a longer cooking method, you may want thicker asparagus to prevent it from getting over-done. It also comes down to personal preference. I, for example, prefer the texture of thin asparagus.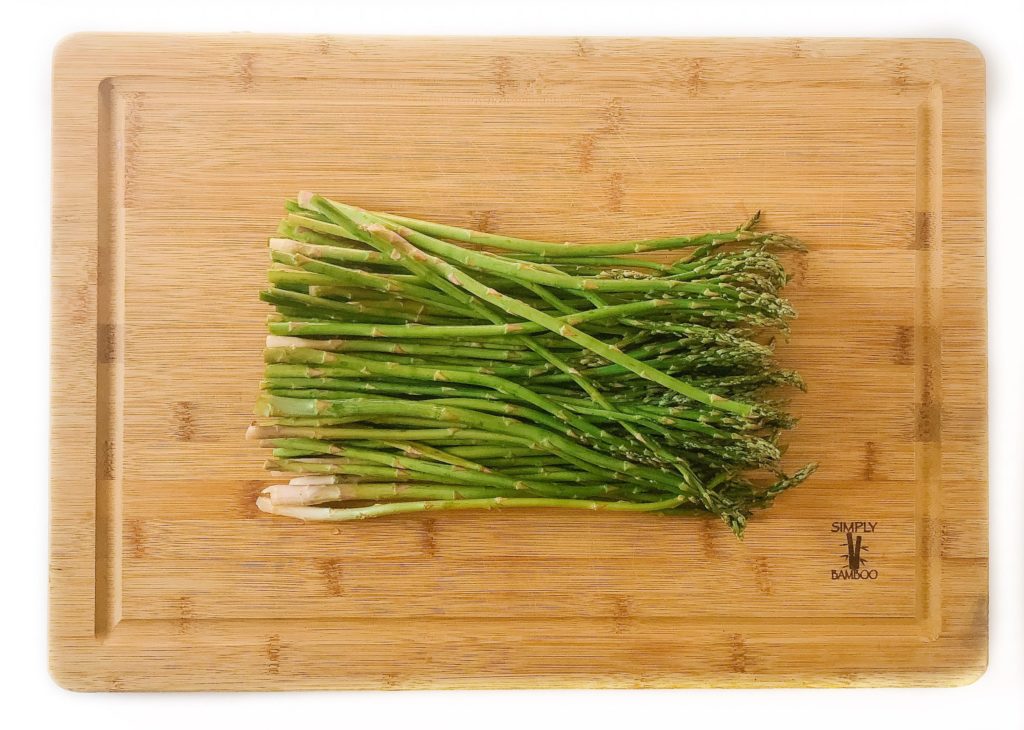 To choose a fresh bunch of asparagus, make sure the asparagus is firm to touch, and vibrant in colour (not turning yellow-ish). You also want to make sure that the ends of the asparagus look healthy and have not started to wilt or break down, as this is often where the first signs of spoiling tend to show.
Storing Asparagus
Once you have your asparagus home, storing your asparagus properly can help you get the longest shelf-life out of it. To store, simply stand the asparagus in a shallow dish of water. This will keep your asparagus crispy and fresh for much longer. If you go an extra step and keep the asparagus (still with base in water) in a plastic bag or sealed container, it can stay fresh for up to 2 weeks! If you plan to use your asparagus within the next 3-4 days, you can skip this step and simply keep it stored upright in a base of water in the fridge.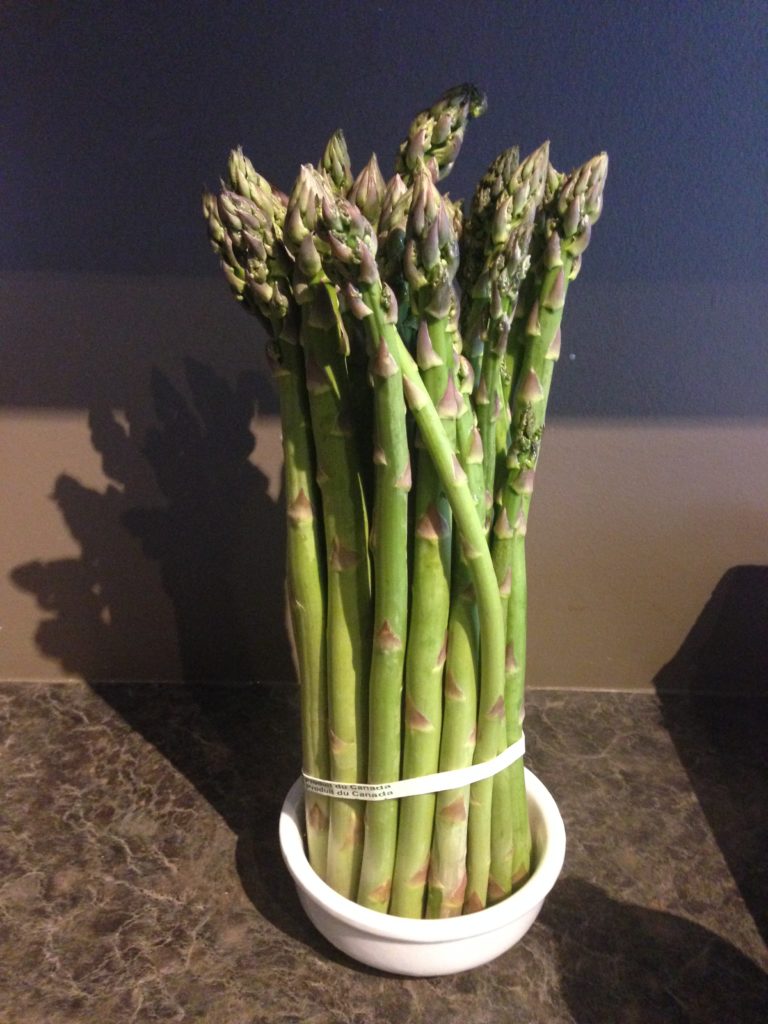 Prepping and Cooking Asparagus
Next, prepping your asparagus. Once you're ready to use your asparagus, it's essential to prep it properly. It's really important to remove the woody ends of asparagus. These ends are tough and don't taste great. To remove, simply bend each piece of asparagus toward it's base and break it where it naturally snaps. I find that this is enough on its own, but if you want to go a step further, you can also peel the skin of the bottom ¼ of the remaining asparagus to remove any tough exterior remaining.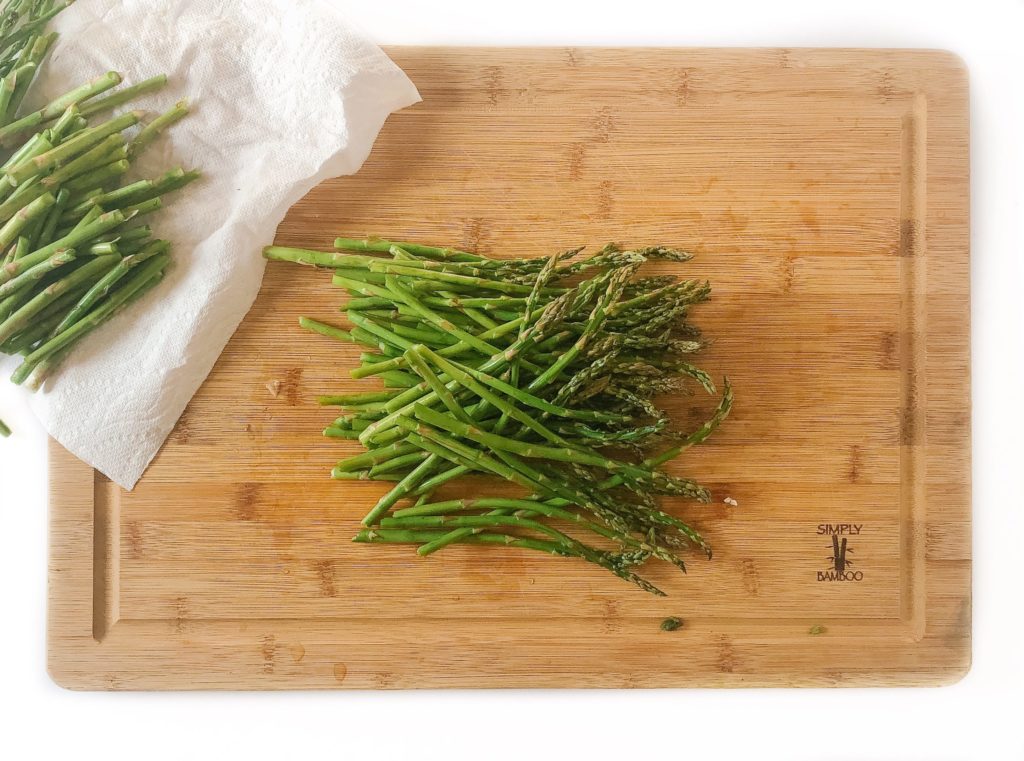 Once it's prepped, it works well as a side dish or part of your entrée. Asparagus is very versatile and can be prepared by simply blanching, steaming, pan-fried, or even eaten raw. Try adding asparagus ribbons to your next salad for a tasty addition!
For a simple side-dish, my favourite easy way to cook asparagus is as follows:
Drizzle your prepped asparagus (as above) with oil, season with salt and pepper. Bake at 425F on a sheet pan until easily pierced with a fork; OR if you're using your barbecue, add your asparagus directly to the grate and cook until it has softened and the edges are slightly charred. YUM!
If you're looking for more asparagus dinner inspiration, be sure to continue reading to the end of this post for a recipe roundup of my favourite 7 quick and easy recipes using asparagus.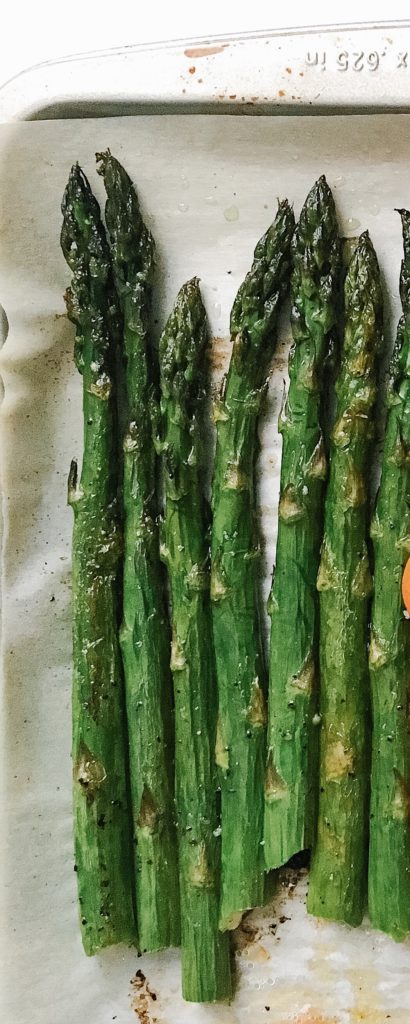 Nutritional profile of asparagus
Asparagus also boasts an impressive nutritional profile. It's a great source of fibre, with 2 grams per 6 spears, which helps support healthy digestion, and keeps you feeling full for longer. Additionally, asparagus is a source of folate, potassium, thiamine, vitamin C and vitamin K. In fact, just 6 spears of asparagus contain almost 40% of your daily vitamin K needs for blood-clotting and bone health.
Perhaps the most impressive nutrition quality of asparagus is it's anti-inflammatory and antioxidant properties. Antioxidants help protect us against harmful free radicals that cause oxidative stress in the body, which has been associated with many chronic illnesses. Foods rich in antioxidants, like asparagus, prevent this oxidative stress, which in turn protects us from related diseases.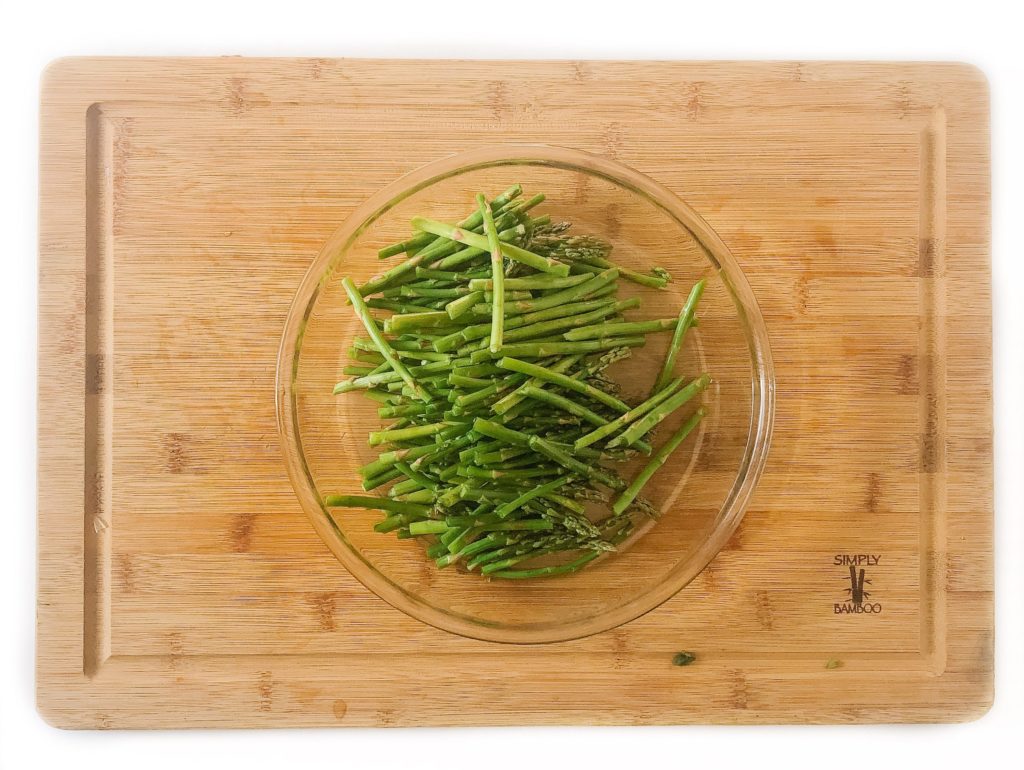 Quick & Healthy Dinner Recipes Using Asparagus
Looking for more asparagus recipes? We've got you covered. Check out our favourite tried and tasted recipes using asparagus.
1. Easy One-Pan Roasted Vegetable Gnocchi with Hemp Seeds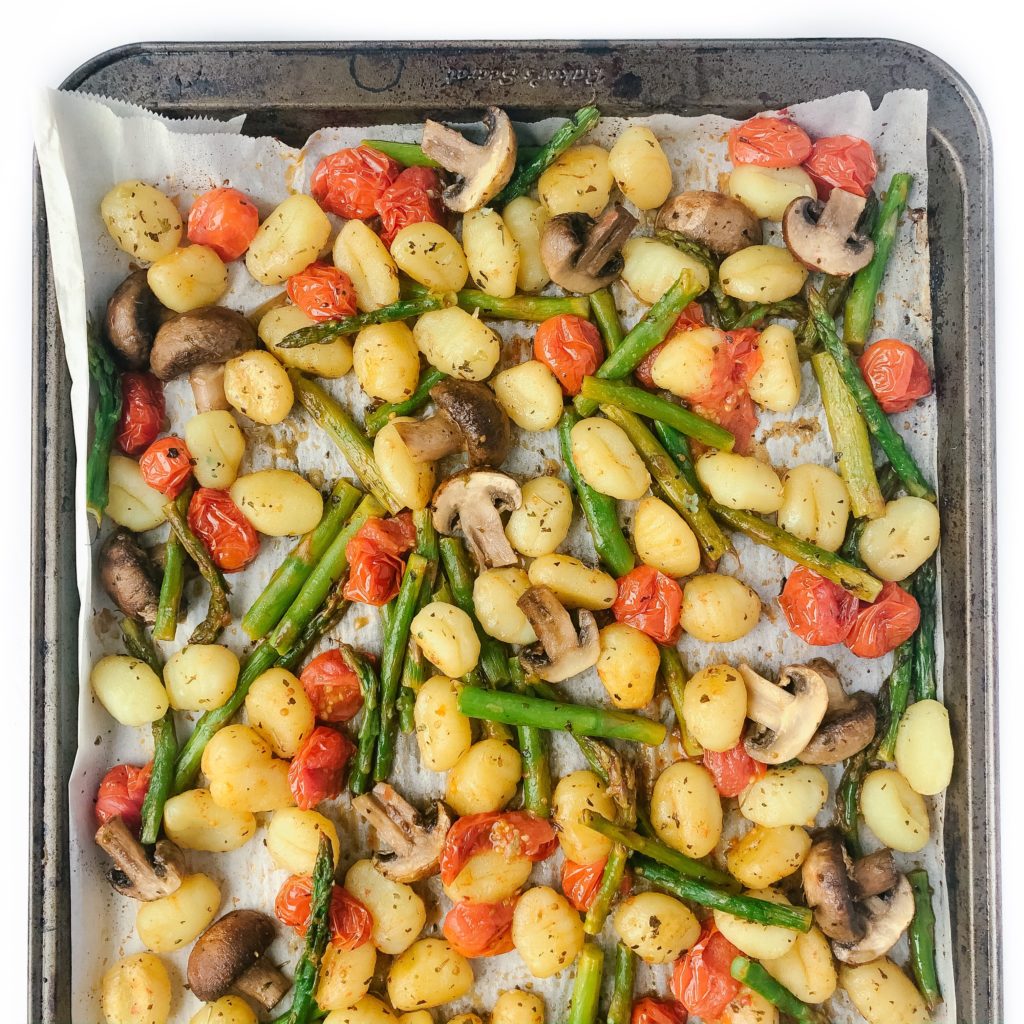 Gnocchi just got a whole lot easier. This Easy One Pan Roasted Vegetable Gnocchi with Hemp Seeds is loaded with veggies and uses hemp seeds as a quick protein source. Delicious, comforting and balanced. This meal will be your new weeknight go-to. No boiling required and it's ready in under 30 minutes.
2. One-Pan Garlic Butter Chicken Bites with Lemon Asparagus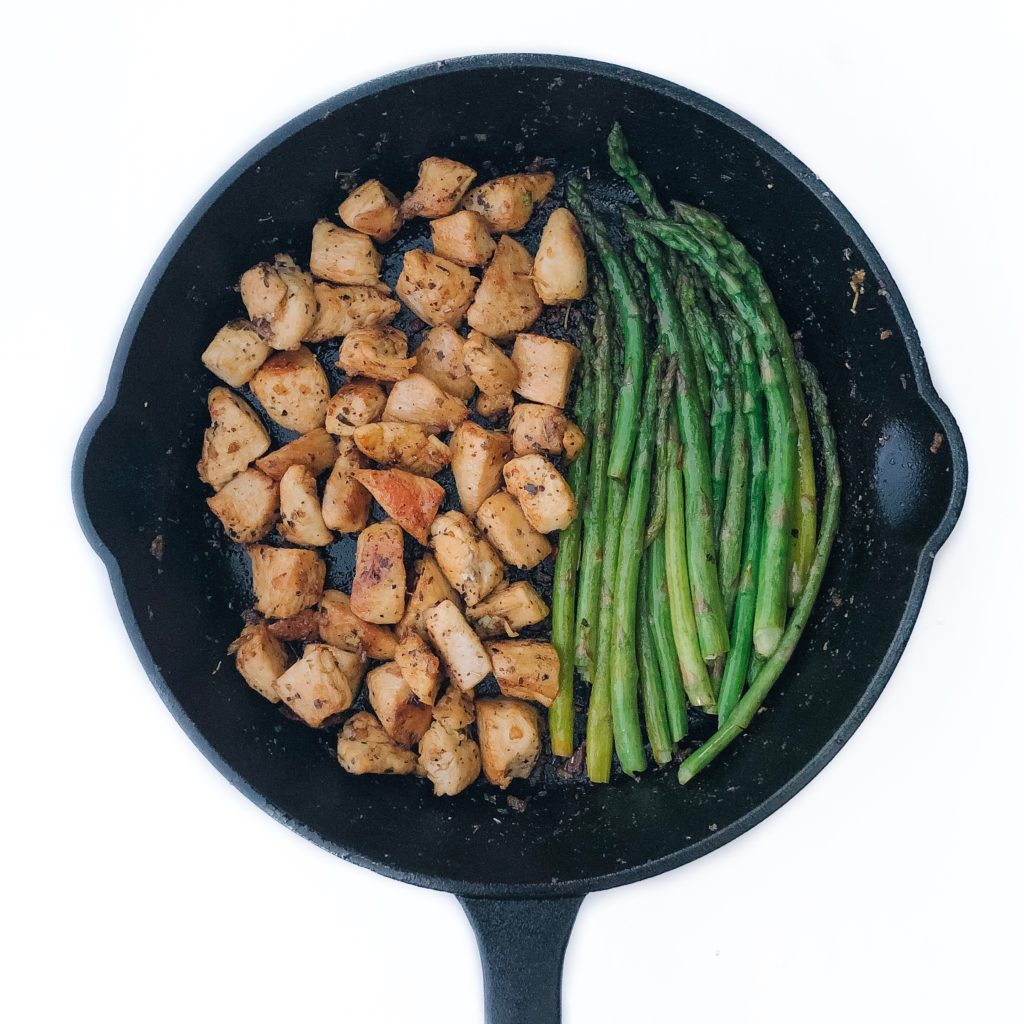 This 30-minuteOne-Pan Garlic Butter Chicken Bites with Lemon Asparagus recipe is loaded with flavour and simple to throw together. Best part? Everything cooks in one pan to cut down on dishes. Serve on its own or with a side of rice for a balanced meal.
3. Sheet Pan Ginger Orange Shrimp and Vegetables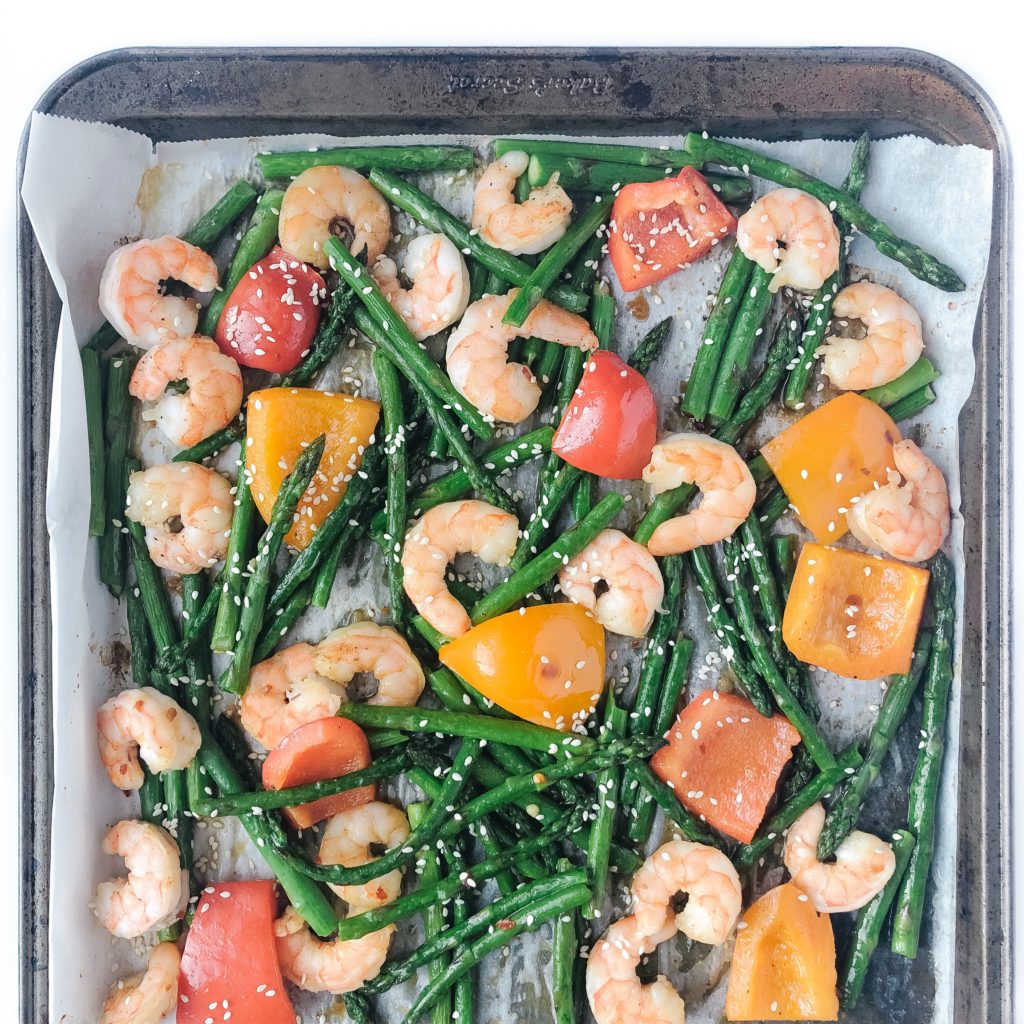 This Sheet Pan Ginger Orange Shrimp and Vegetables recipe from Fresh Food Bitesis loaded with vegetables to keep things balanced and takes advantage of shrimp as a quick-cooking protein option. All you need to do is place the vegetables and shrimp on a baking pan and it's ready in 15 minutes.
4. Sheet Pan Garlic Butter Tilapia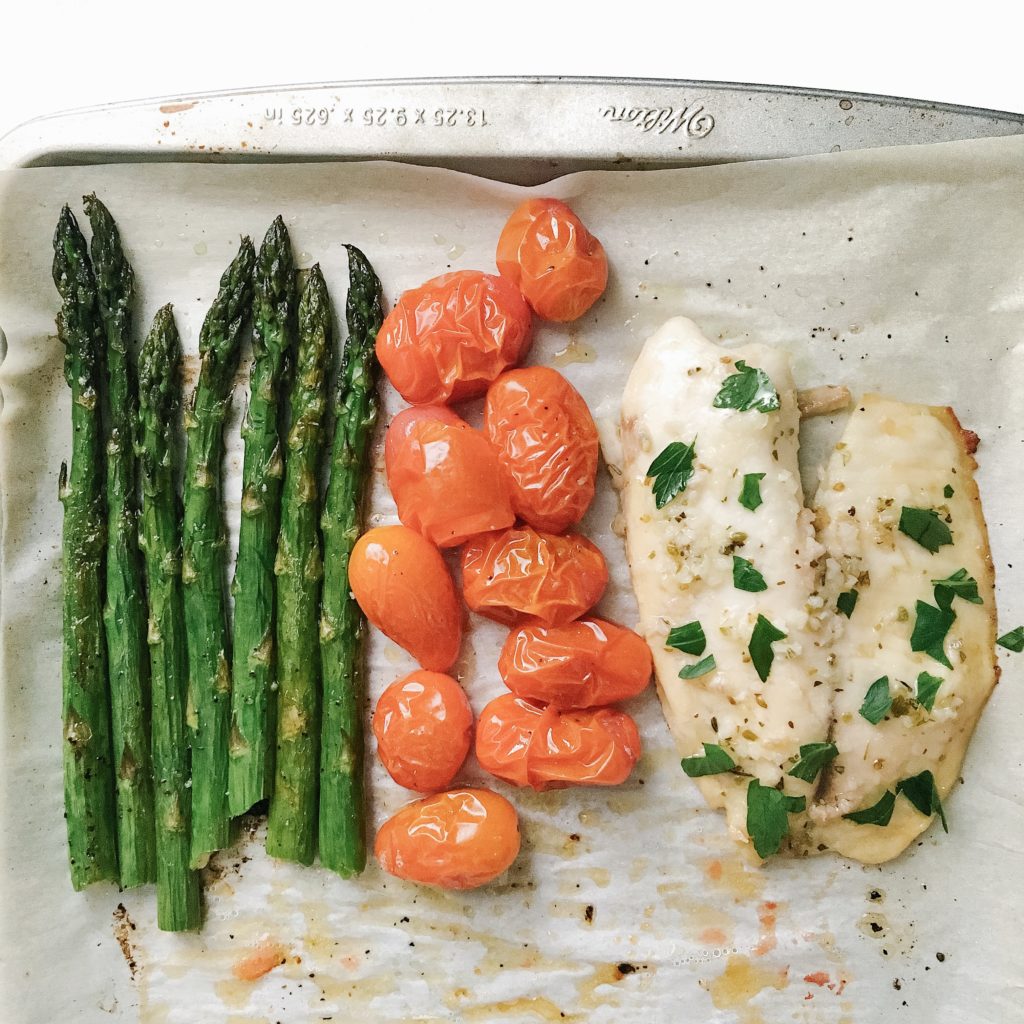 This 30 minute recipe from Sheet Pan Garlic Butter Tilapia recipe from Damn Delicious does not sacrifice flavour! We love how simple this meal is to make, and our dietitians love the tasty roasted sheet pan veggies. With minimal chopping and preparation time (we even used frozen fish), this dinner is a perfect weeknight meal.
Need a quick appetizer? Try these Lemon Parmesan Phyllo Wrapped Asparagus! ?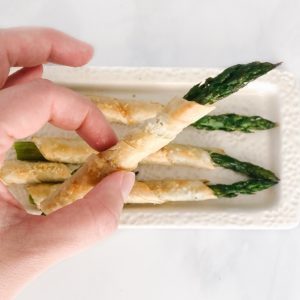 5. Shrimp Scampi Pasta with Asparagus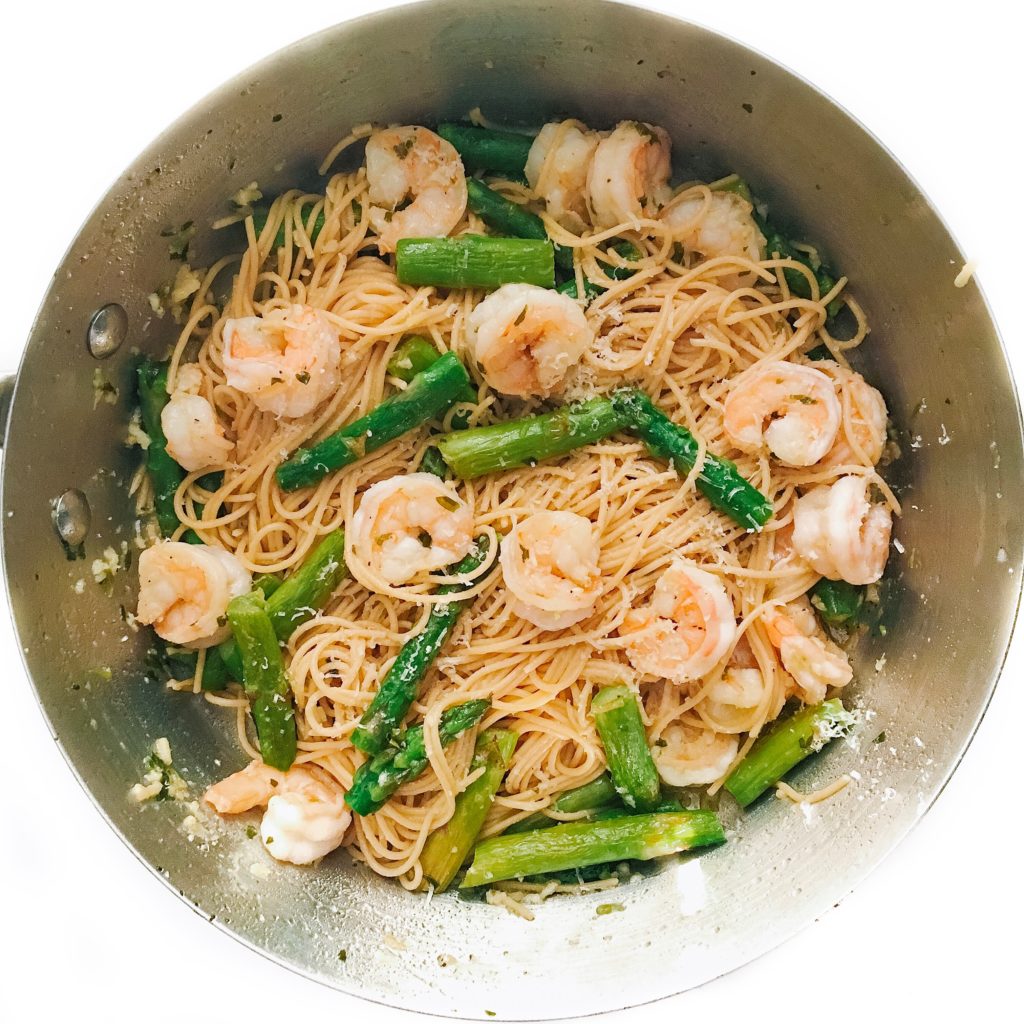 This Shrimp Scampi Pasta recipe from Shrimp Scampi Pasta with Asparagus recipe from Natasha's Kitchenis ready in under 30 minutes, making it the perfect weeknight meal.The use of lemon, herbs, and garlic give this recipe a light and fresh flavour, and our dietitians love the use of asparagus and shrimp to balance out this pasta dish.
6. Roasted Asparagus Grilled Cheese with Garlic Aioli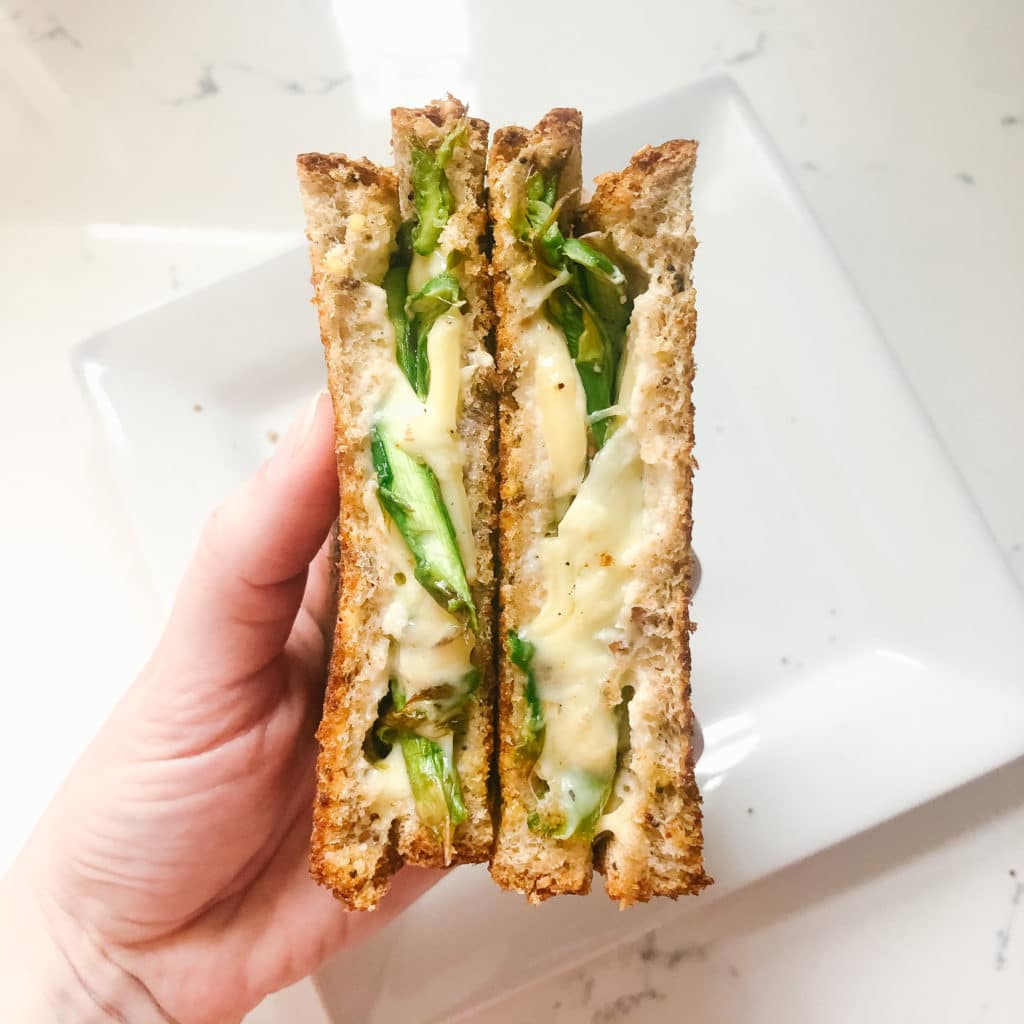 This Roasted Asparagus Grilled Cheese with Garlic Aioli has everything you love about grilled cheese but is boosted with veggies and delicious garlic aioli. Perfect for a work-from-home lunch or easy weeknight dinner.
7. Sheet Pan Lemon Chicken with Asparagus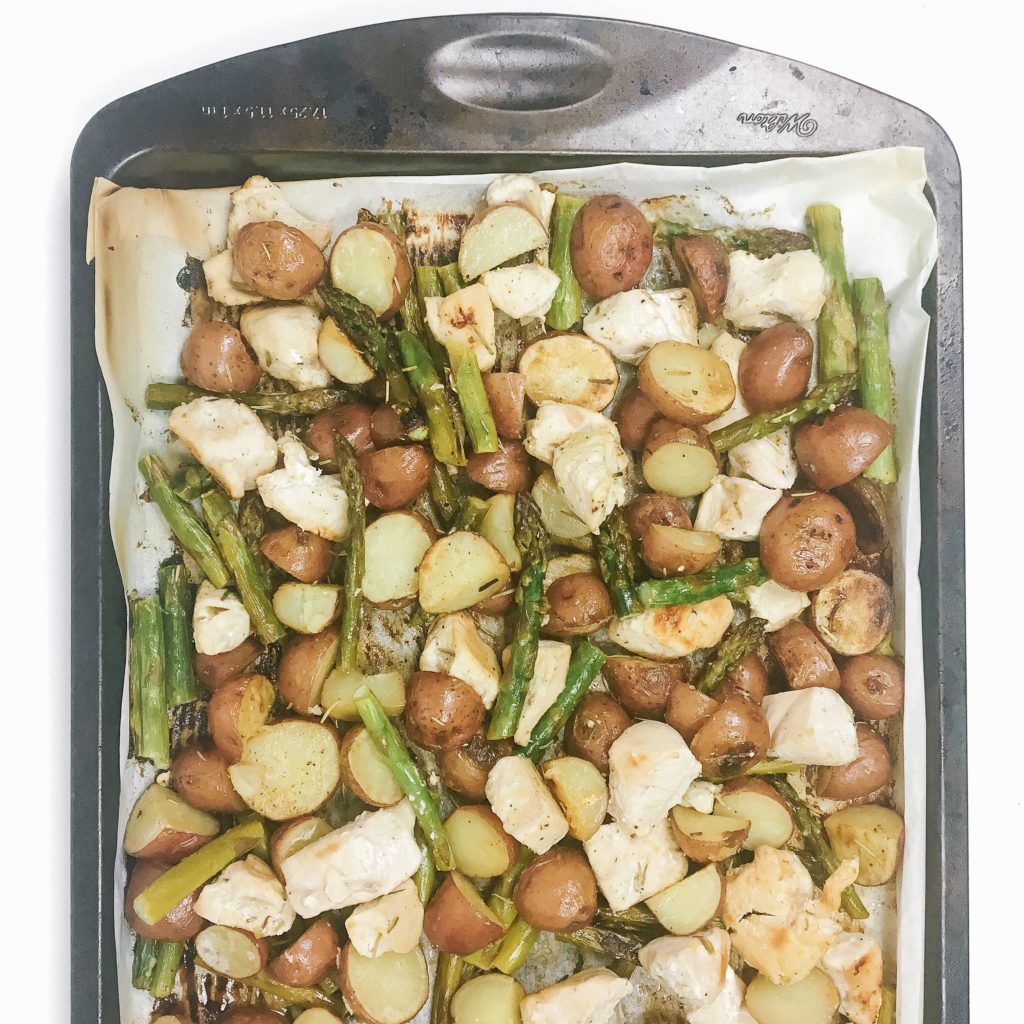 We love this recipe from Sheet Pan Lemon Chicken with Asparagus recipe from Well Plated. Using a sheet pan cuts down on time needed to do dishes, and including both asparagus and mini potatoes with the lemon chicken keeps this dish balanced. Bake it in the oven or toss it on the BBQ for a simple weeknight meal.
8. Chicken Asparagus Stir Fry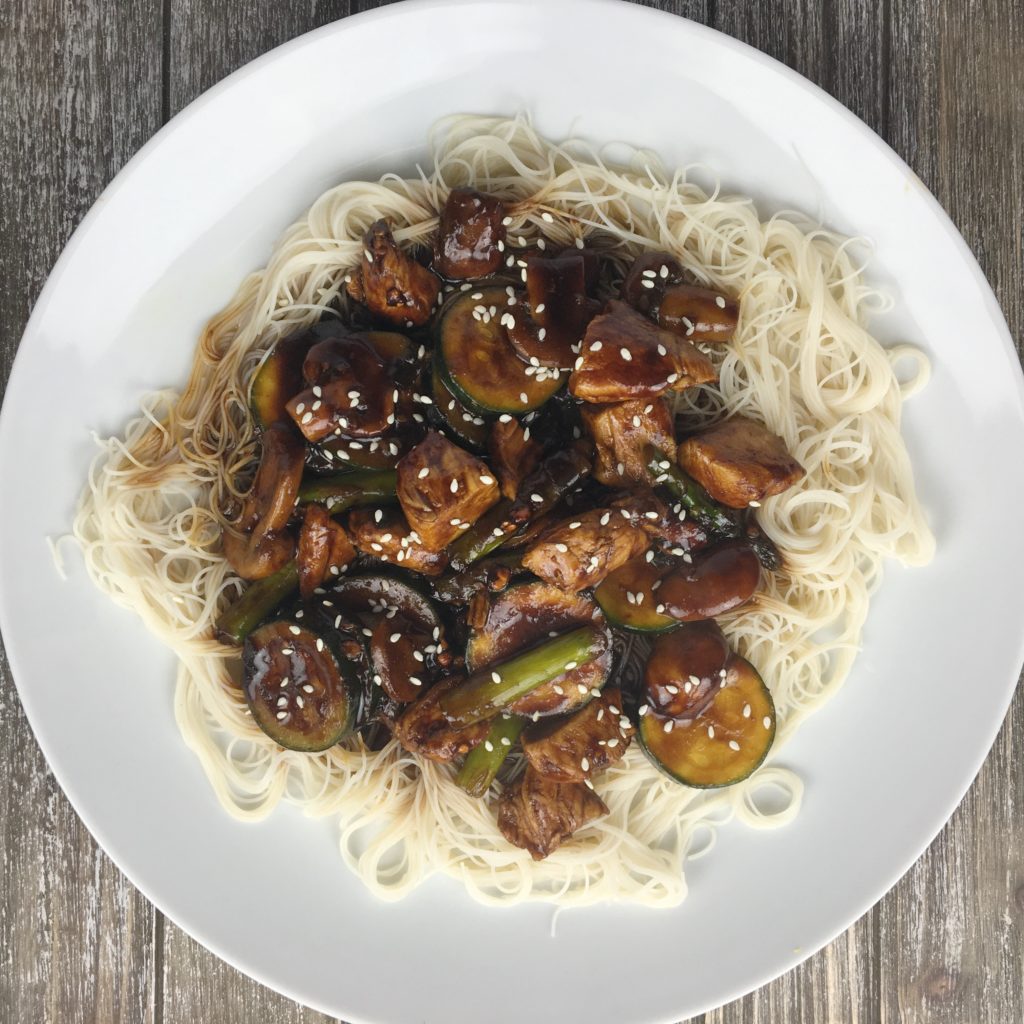 Think from-scratch meals are time consuming or complicated? Not with this recipe from Inside Chicken Asparagus Stir Fry recipe from Karen's Kitchen. This stir fry is perfect for a busy weeknight. It's loaded with veggies and protein, and comes together in only 30 minutes. You'll never need to buy pre-made sauce again!
9. One Pan Balsamic Chicken and Veggies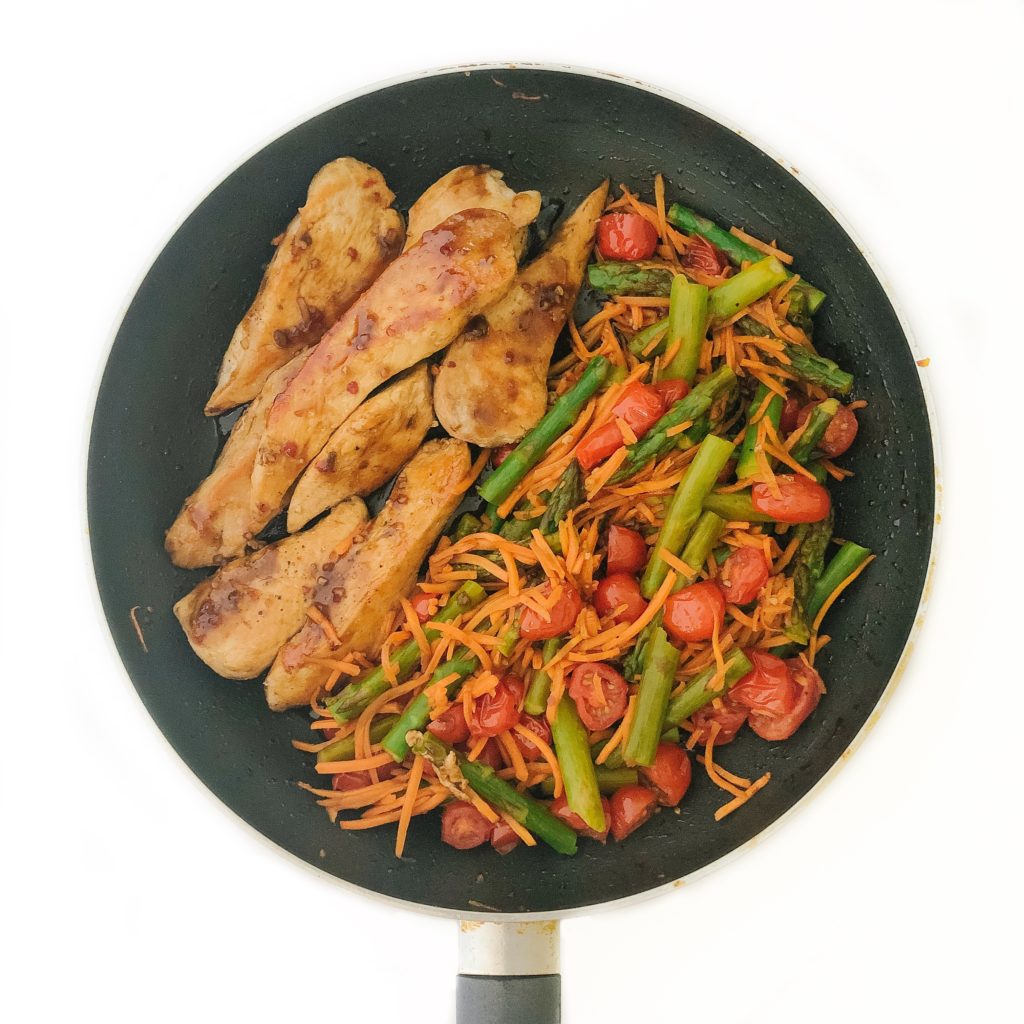 This One-Pan Balsamic Chicken and Veggies recipe from Cooking Classy uses quick-cooking veggies and chicken pieces for a flavourful meal in 20-minutes. Everything cooks in one pan which saves dishes and time in the kitchen. It also takes advantage of pre-shredded carrots for added convenience.
Don't miss a thing! Subscribe to receive the latest recipes and healthy eating tips straight to your inbox! ?
[yikes-mailchimp form="2″]
About Brittany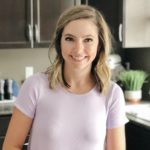 Hi there! I am a registered dietitian and I ? food! I am passionate about making it easier for busy people to eat well by sharing quick and healthy recipes. Healthy cooking at home can seem overwhelming, but it doesn't have to be. I love helping people uncomplicate weeknight dinners and reduce stress around meal time, so I'm so glad you're here!