Note: these recipe reviews are my way of sharing recipes from other food bloggers and dietitians that I have tried myself and love! The image(s) on this page are from my version.
Check out why I love this recipe below, as well as any tips or suggestions to boost the recipe's nutritional content (as applicable), then scroll to the bottom of the post for the link to the full recipe from the source. Enjoy!
Chickpea Salad Sandwich
Meal prep made easy with this simple mashed chickpea salad sandwich from The Simple Veganista. I love this simple vegetarian twist on traditional tuna/egg/chicken salad sandwich recipes.
Nutrition Tip: add some additional veggies to the chickpea salad mix, or serve with a side salad to keep things balanced.
Time Saving Tip: use pre-made hummus for a meal in minutes.
This recipe is so simple to make, and great for plant-based beginners. To make the chickpea salad, you'll simply mash rinsed chickpeas with a fork and combine with remaining ingredients. That's it! Use it in sandwiches, wraps, or salads.
What you'll need:
1 can (15 oz) chickpeas

1/2 cup diced celery

1/2 cup diced carrots

1/4 – 1/3 cup sliced scallions

1/4 – 1/3 cup or so hummus

1 – 2 tablespoons mustard

1/4 teaspoon garlic powder

sea salt & pepper, to taste

juice of 1 lemon (optional)

small handful pepitas (pumpkin seeds), optional
Makes 4 servings
Ready in 15 minutes
Don't miss a thing! Subscribe to receive the latest recipes and healthy eating tips straight to your inbox! ?
[yikes-mailchimp form="2″]
About Brittany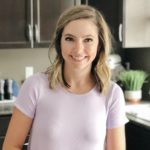 Hi there! I am a registered dietitian and I ? food! I am passionate about making it easier for busy people to eat well by sharing quick and healthy recipes. Healthy cooking at home can seem overwhelming, but it doesn't have to be. I love helping people uncomplicate weeknight dinners and reduce stress around meal time, so I'm so glad you're here!