This Easy High Protein Butternut Squash Soup with Tofu is loaded with fall flavours and seasonal fall veggies. With a high-protein secret ingredient – tofu!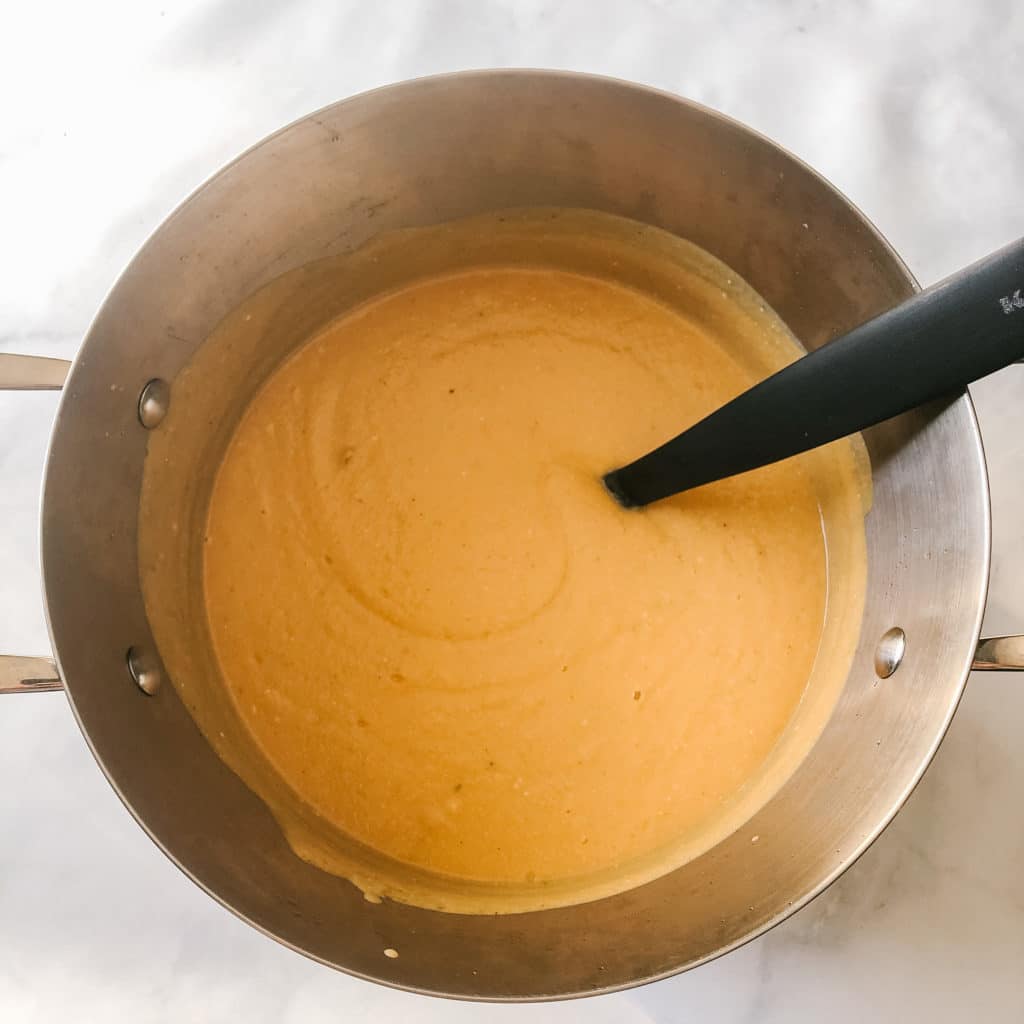 OK, so I love butternut squash soup, and most types of soup really. But I rarely make it. Vegetable soup is a side dish and the thought of making soup plus the actual entrée is usually way more time than I want to spend cooking.
I'm always on the hunt for a homemade soup that is full entrée worthy. This means they've got a source of vegetables, complex carbohydrates, and protein. I made this recipe a couple of years back for a program I was running at the time. When I saw local butternut squash coming into the grocery store this year, I thought I would bring this one back and give it a try.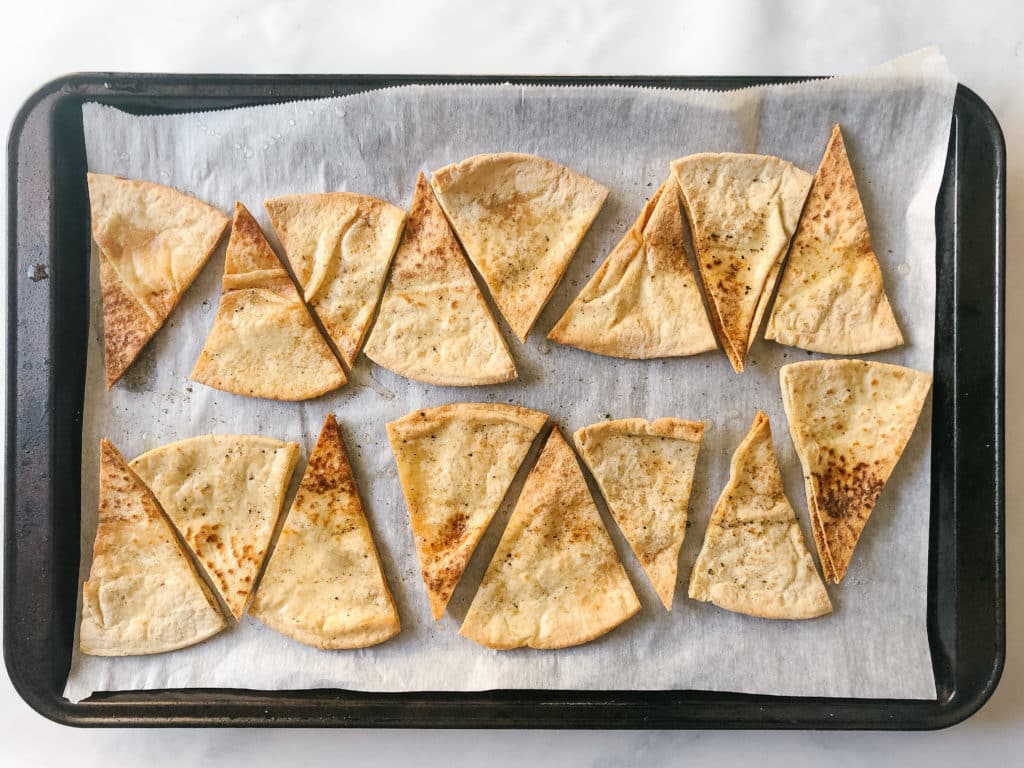 This soup has sweet potato which adds complex carbohydrate, and carrot which adds a subtle sweet flavour to the soup. The bulk of the soup of course comes from butternut squash.
The secret to making this soup meal-worthy and higher in protein is…silken tofu. Silken tofu contains a high-water content and blends well into recipes. This makes it the perfect protein-rich addition to soups and smoothies. If you're someone who doesn't love tofu, or you're unsure about the concept of adding it to your soup, know that it takes on the flavour of the soup completely, so you won't even know it's there!
Looking for more high protein soup recipes? Check out my favourite meal-worthy soup recipes here!
Time-Saving Tip:
This soup makes excellent use of seasonal veggies, but for added convenience, you can also use frozen butternut squash. This largely reduced the chopping needed for the soup and overall prep time needed.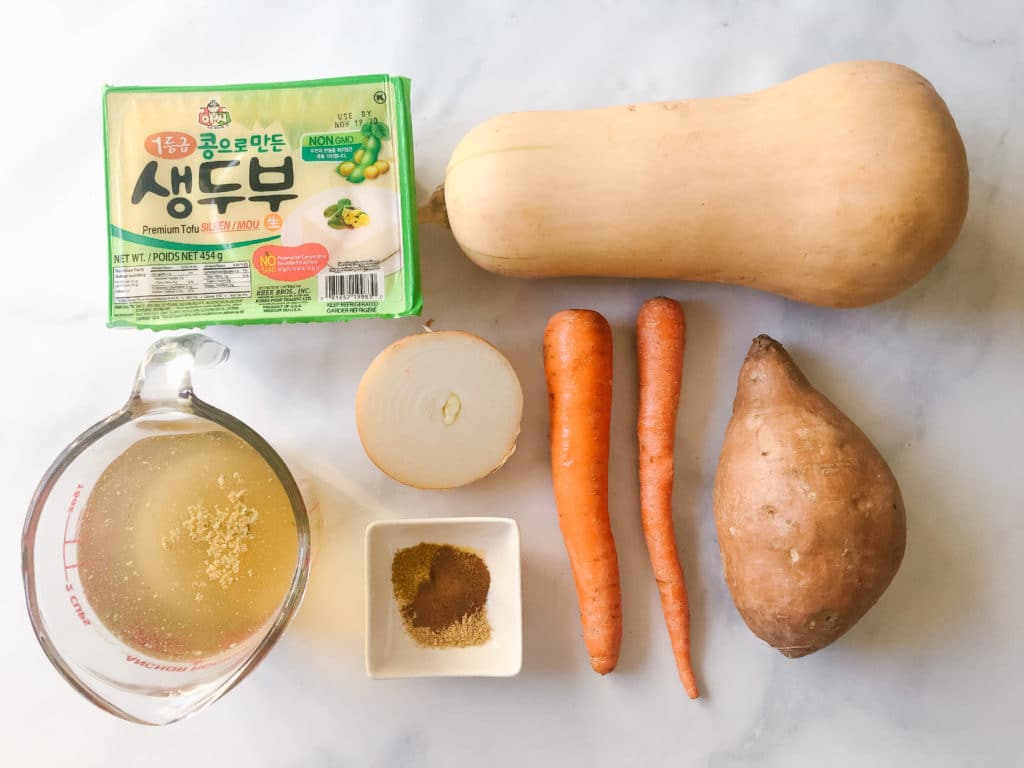 Equipment you'll need:
To make this recipe, you'll need a large pot and an emersion blender. You'll also need a cutting board and a sharp knife for chopping.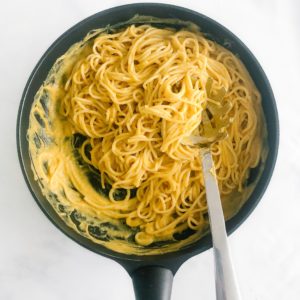 Easy High Protein Butternut Squash Soup with Tofu
How to make it:
Heat the olive oil in a large pot and add the chopped carrot and onion. Sprinkle with salt and sauté until onion is translucent about 5 minutes. Flavour tip: if you've got a bit of extra time, cook onions for a bit longer until caramelized. This will add a delicious flavour to the soup!
Once the onions have cooked, add the spices and stir until fragrant.
Add diced squash and sweet potato to the pot, followed by the vegetable broth. Bring the broth to a boil and simmer for about 15 minutes, or until the squash and sweet potato are soft and easily pierced with a fork.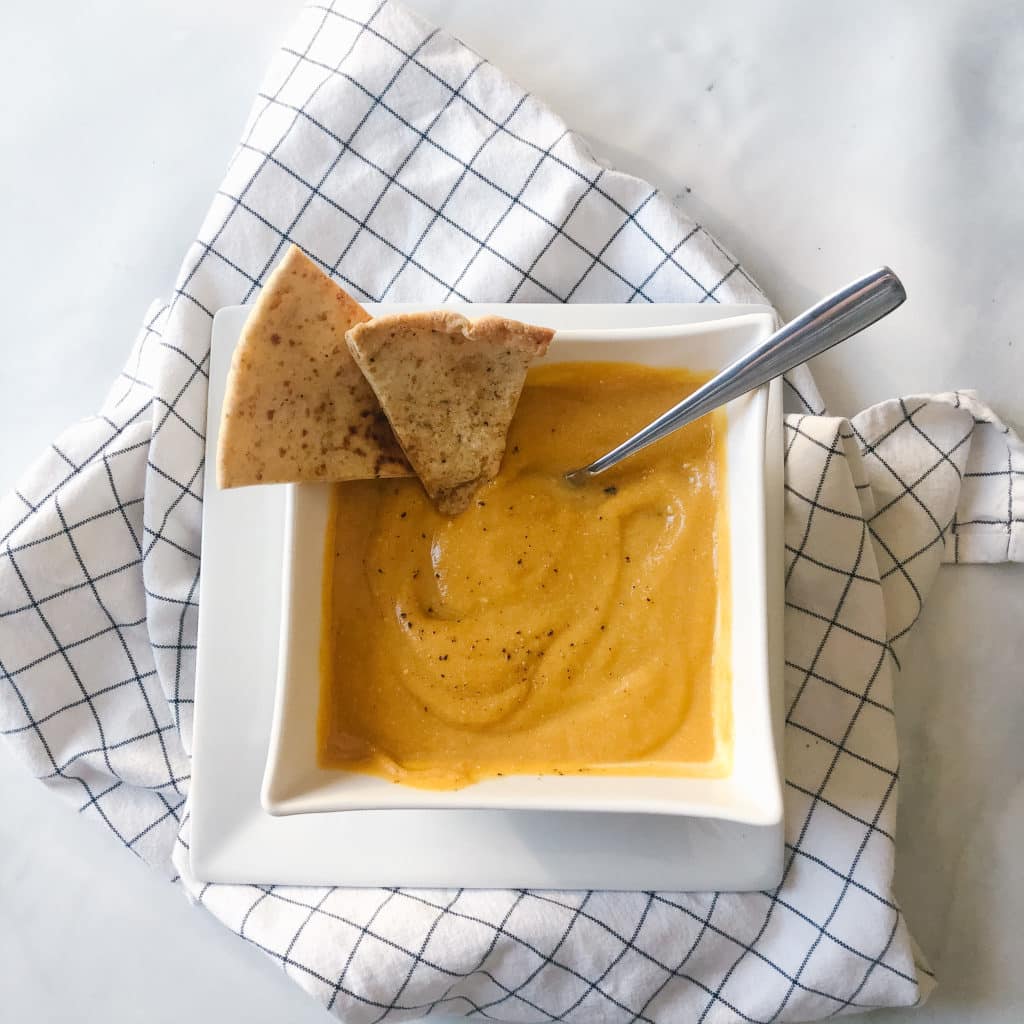 Once your veggies are tender, the soup is ready to blend! Add the cubes of silken tofu and blend the soup using your emersion blender until smooth. Add additional water, salt, and pepper, to taste.
I love serving this soup with baked whole wheat pita chips. To make these, slice your whole wheat pita into triangles (6-8 per pita) and place it on a parchment-lined sheet pan. Drizzle with olive oil, and season with salt and pepper. You can also add any additional spices or herbs here, such as garlic powder or oregano. Bake pitas at 350F until crispy and lightly browned, about 8-10 minutes. This will be your new favourite soup side dish!
Easy High Protein Butternut Squash Soup with Tofu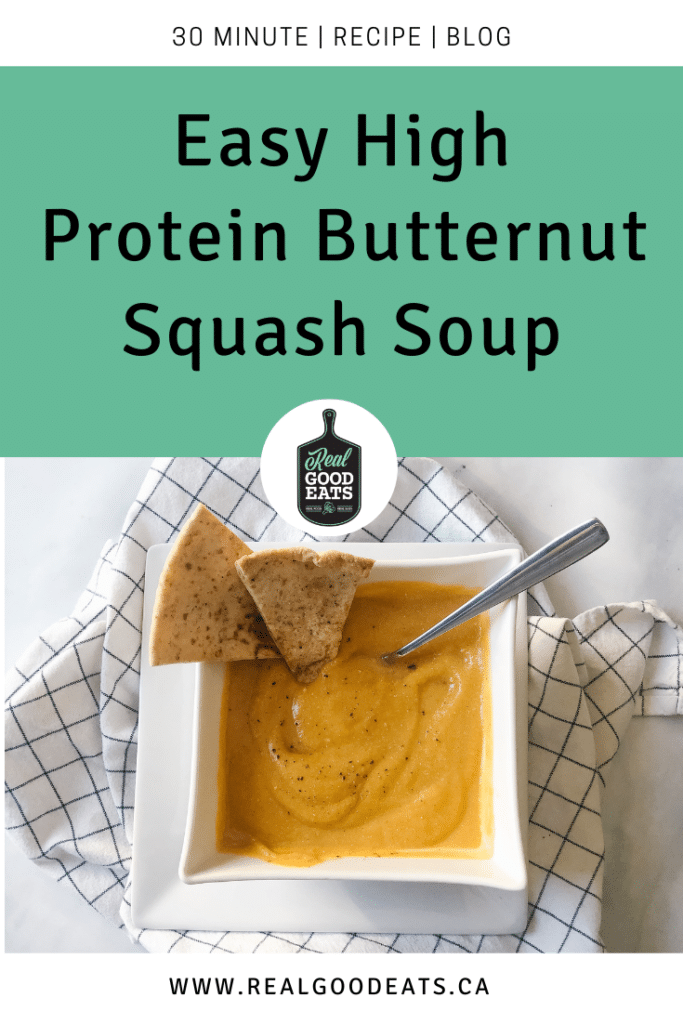 Print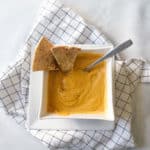 Easy High Protein Butternut Squash Soup with Tofu
---
Description
This soup is loaded with fall flavours and seasonal fall veggies. With a high-protein secret ingredient – tofu!
---
Soup: 
2 Tbsp olive oil
1 small yellow onion, chopped
2 carrots, peeled and chopped
¼ tsp salt
1 medium butternut squash, peeled and diced (about 5 cups)
1 large sweet potato, peeled and diced (about 3 cups)
5 cups vegetable broth
1 tsp garlic
¾ tsp ginger
½ tsp curry powder
¼ tsp nutmeg
½ tsp cinnamon
1 brick silken tofu (454g), drained and cubed
Pita chips:
Whole wheat pitas
Olive oil
Salt and pepper, to taste
Additional herbs, spices (optional)
---
Instructions
In a large pot, warm the oil over medium heat. Add the carrot and onion, sprinkle with salt and cook until onion becomes translucent, about 5 min. Add in spices and stir together.
Add diced squash and sweet potato to the pot, pour in vegetable broth and bring to a boil. Reduce to a simmer and cook until potato and squash are tender, about 15 minutes.
Once vegetables are tender, add cubed tofu. Blend with an immersion blender, or transfer to a large blender and blend until smooth.
To make pita chips, slice a whole wheat pita into triangles. Place on a parchment lined pan and drizzle with olive oil. Season with salt and pepper, to taste. Bake at 350 until crispy and lightly golden, about 10 minutes.
Prep Time:

15

Cook Time:

15

Category:

Entree

Method:

Stove top

Cuisine:

soup
Keywords: soup, high protein, tofu, butternut squash, dinner recipe, 30 minute recipe
Don't miss a thing! Subscribe to receive the latest recipes and healthy eating tips straight to your inbox! ?
[yikes-mailchimp form="2″]
About Brittany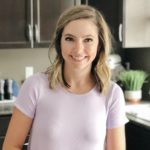 Hi there! I am a registered dietitian and I ? food! I am passionate about making it easier for busy people to eat well by sharing quick and healthy recipes. Healthy cooking at home can seem overwhelming, but it doesn't have to be. I love helping people uncomplicate weeknight dinners and reduce stress around meal time, so I'm so glad you're here!