My number one tip to help reduce produce waste in your household – plan a catch-all meal at the end of the week to use up any scraps or veggies you have left. Continue reading for 5 Catch-All Meals that Reduce Food Waste.
A catch-all meal is a great way to use up extra veggies that might otherwise go to waste while making a quick and easy meal without having to take an extra trip to the grocery store.
These are flexible meals where virtually any vegetable combination will work well! Keep a few of these in mind for the end of your week.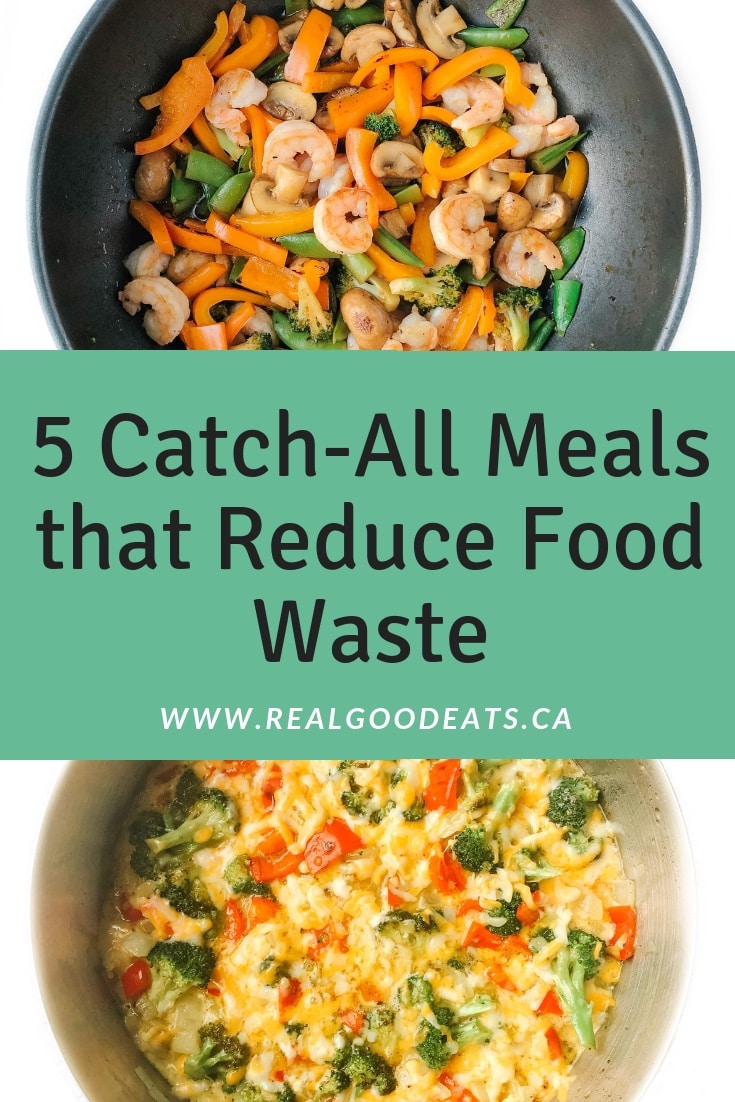 5 Catch-All Meals to Reduce Food Waste
1. Stir-fry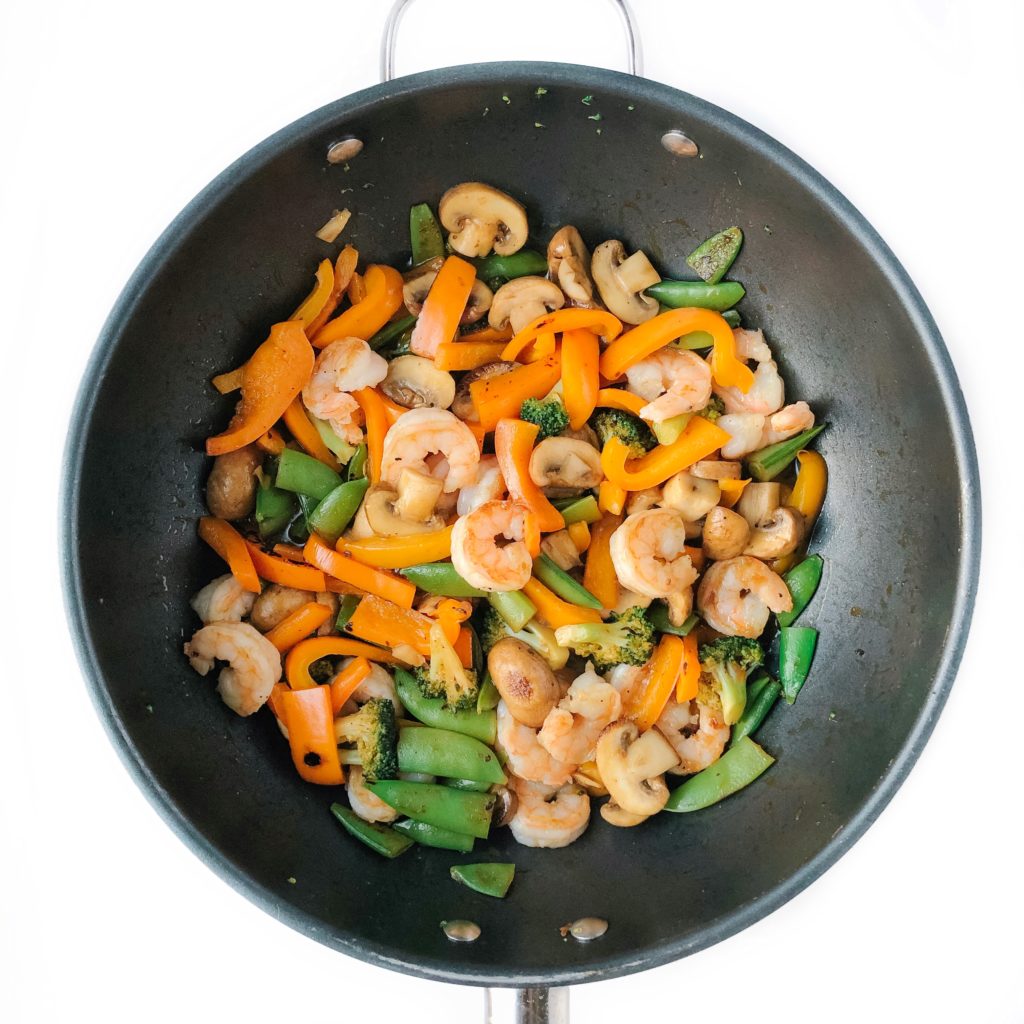 Stir fry is a quick and balanced meal option that you can throw together with any vegetables you have at the end of the week. Add in peppers, broccoli, zucchini, virtually any vegetable in your fridge! You can even add carrot or beet tops to avoid wasting these nutritious greens. Go semi-homemade with a store bought sauce, or make a simple one yourself with the recipe below:
Basic Honey Hoisin Sauce (makes 1 serving)
3 Tbsp low-sodium chicken broth (or water)
1 Tbsp low-sodium soy sauce
½ Tbsp honey
¼ Tbsp chili garlic sauce
¼ Tbsp hoisin sauce
½ tsp cornstarch
Whisk ingredients together until combined. Add to stir fry toward the end of cooking.
2. Pasta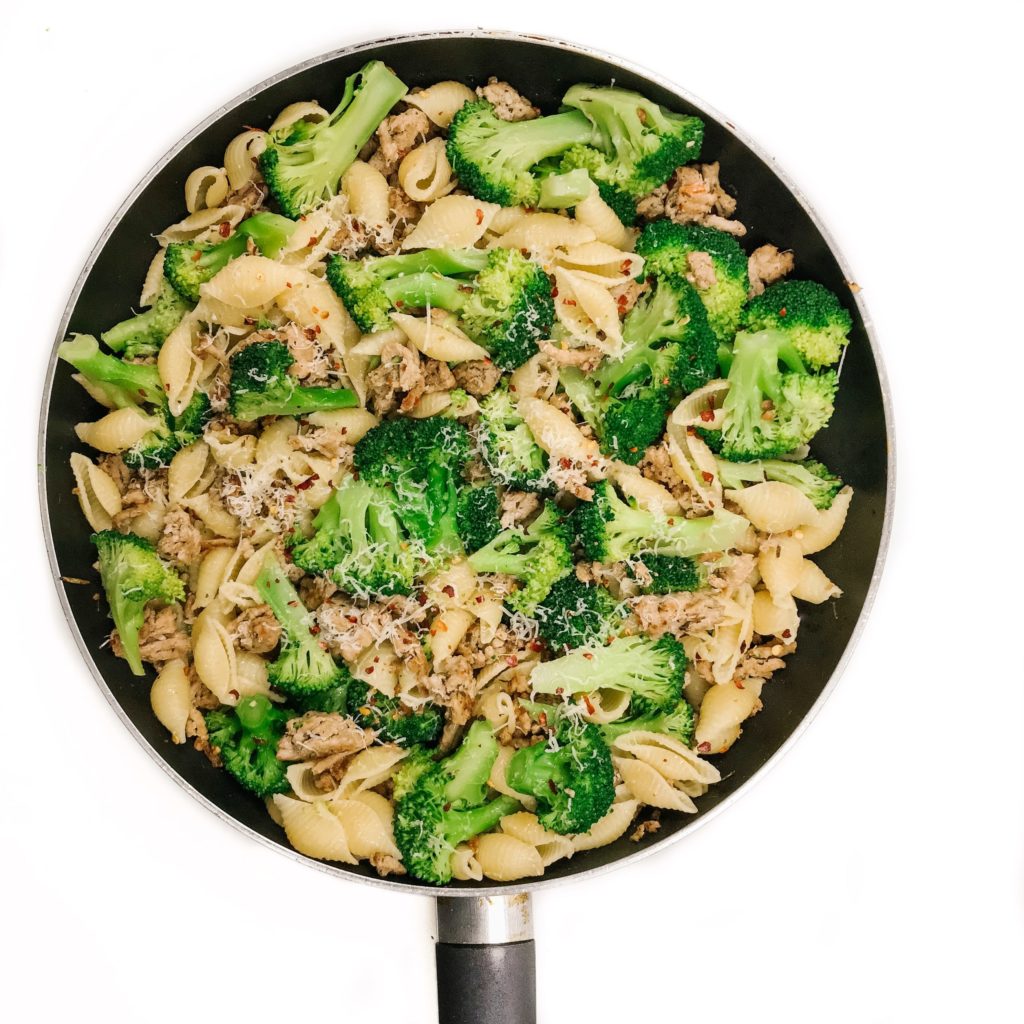 Pasta is another great fridge-cleaning meal. Use a stir-fry cooking method to cook any extra veggies you have in the fridge. Chop up broccoli stumps and sauté with carrots and onions. Use a lower sodium store bought sauce, or make a pesto with any leftover herbs and greens you have. Add in greens such as spinach at the end of cooking and heat until wilted. Need inspiration? Here are my favourite Healthy Weeknight Pasta Recipes .
3. Frittata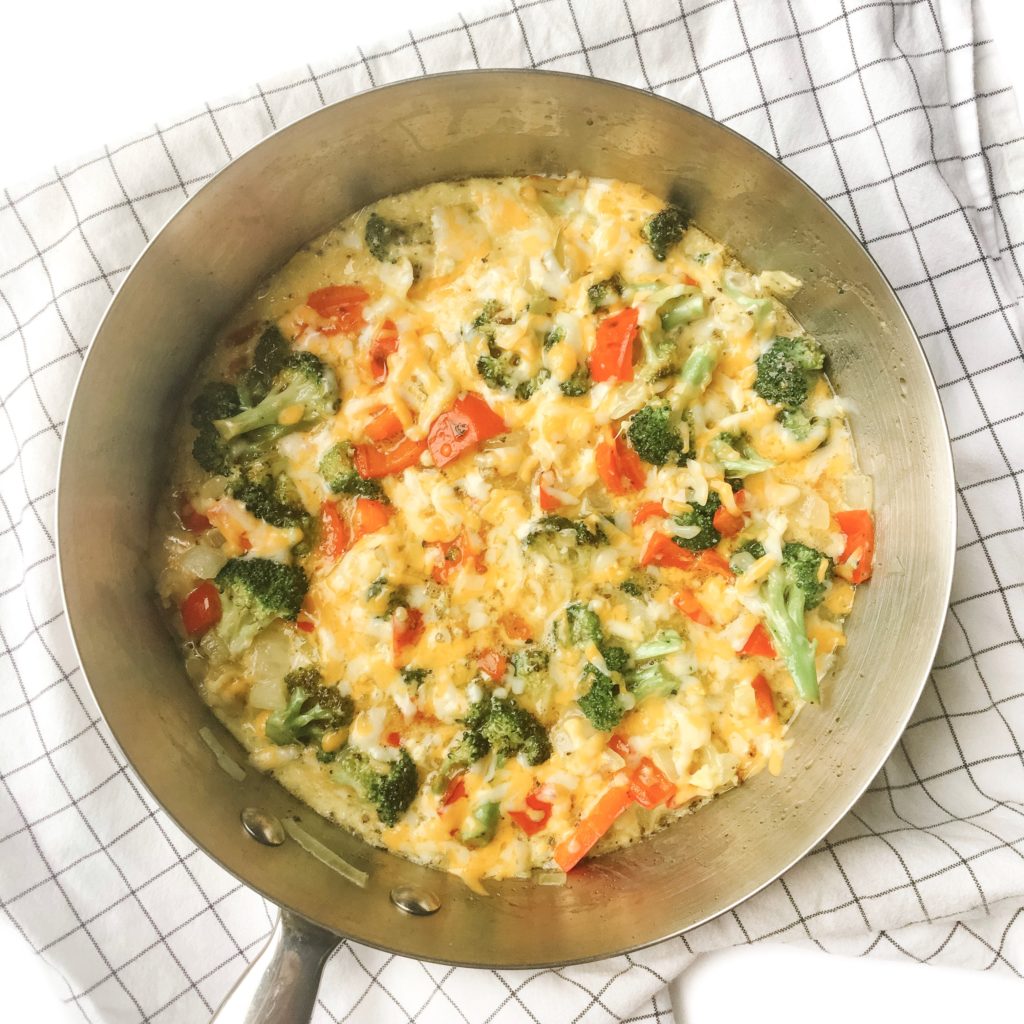 Have leftover vegetables to use? Why not have breakfast for dinner! Both cooked or raw veggies can be used here. Gently re-heat your leftover cooked vegetables and potatoes, or stir fry raw veggies until cooked before adding the eggs. Season with your favourite herbs and spices. For a basic frittata, add Italian seasoning, salt and pepper. Top with cheese (optional) and enjoy! Want more specific instructions? Check out this Vegetable Frittata Recipe.
4. Mix & Match Buddha Bowl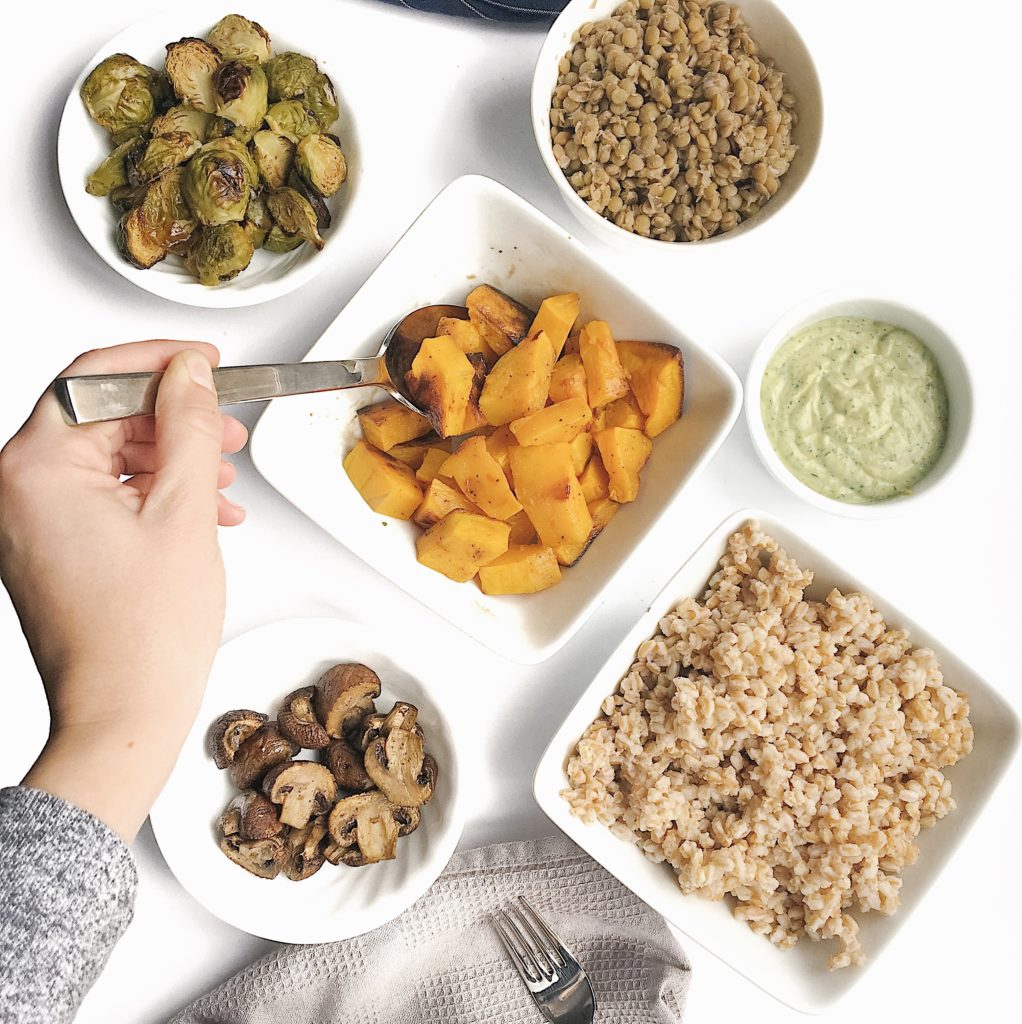 Buddha bowls are a great way to throw a meal together when you have a variety of leftovers in the fridge, but not enough of one thing to make a full meal. Include a leftover grain or starch, vegetables, a source of protein, and top with a sauce. Read more about building a Buddha Bowl here.
5. Soup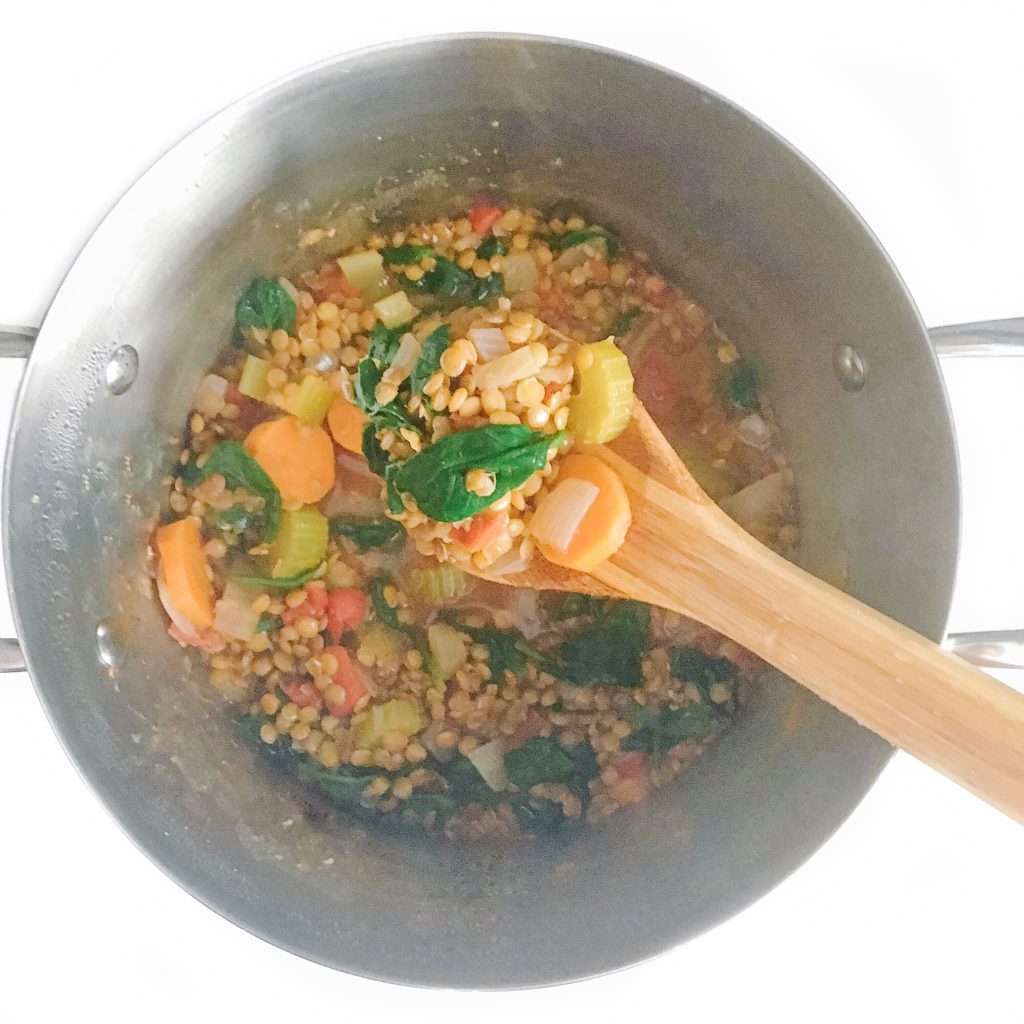 Broth-based soups are a great way to use up extra veggies that might otherwise go to waste while making a quick and easy meal without having to take an extra trip to the grocery store. Pretty much anything goes here, including almost-wilting greens! Check out these Best 30-Minute High Protein Soup Recipes for some inspiration.
Don't miss a thing! Subscribe to receive the latest recipes and healthy eating tips straight to your inbox! ?
[yikes-mailchimp form="2″]
About Brittany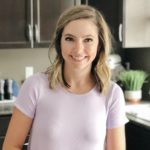 Hi there! I am a registered dietitian and I ? food! I am passionate about making it easier for busy people to eat well by sharing quick and healthy recipes. Healthy cooking at home can seem overwhelming, but it doesn't have to be. I love helping people uncomplicate weeknight dinners and reduce stress around meal time, so I'm so glad you're here!