Ahh, spinach. You're so good for us but your short shelf life really sucks. For most of us, not being able to use a whole container of spinach is a deterrent from purchasing it in the first place. Heartier lettuce varieties like romaine or iceberg can last for weeks, but spinach? We're lucky if it makes it till Friday.
Like any dark leafy green, spinach is a nutrition powerhouse. Rich in disease preventing antioxidants, and an impressive profile of vitamins and minerals, it's no wonder that spinach has become one of the most recognized superfoods. Just one cup of raw spinach has 20% of your daily vitamin A needs, a vitamin found mainly in dark green and orange veggies that's essential for skin and eye health.
Spinach is also one of the highest food sources of folate, a B-vitamin essential to DNA and cell function, and is an excellent source of vitamin K, with one cup containing 170% of your needs to support blood clotting and bone health. Additionally, spinach stands out as a vegetarian source of iron, which is typically found in greatest amounts in animal sources.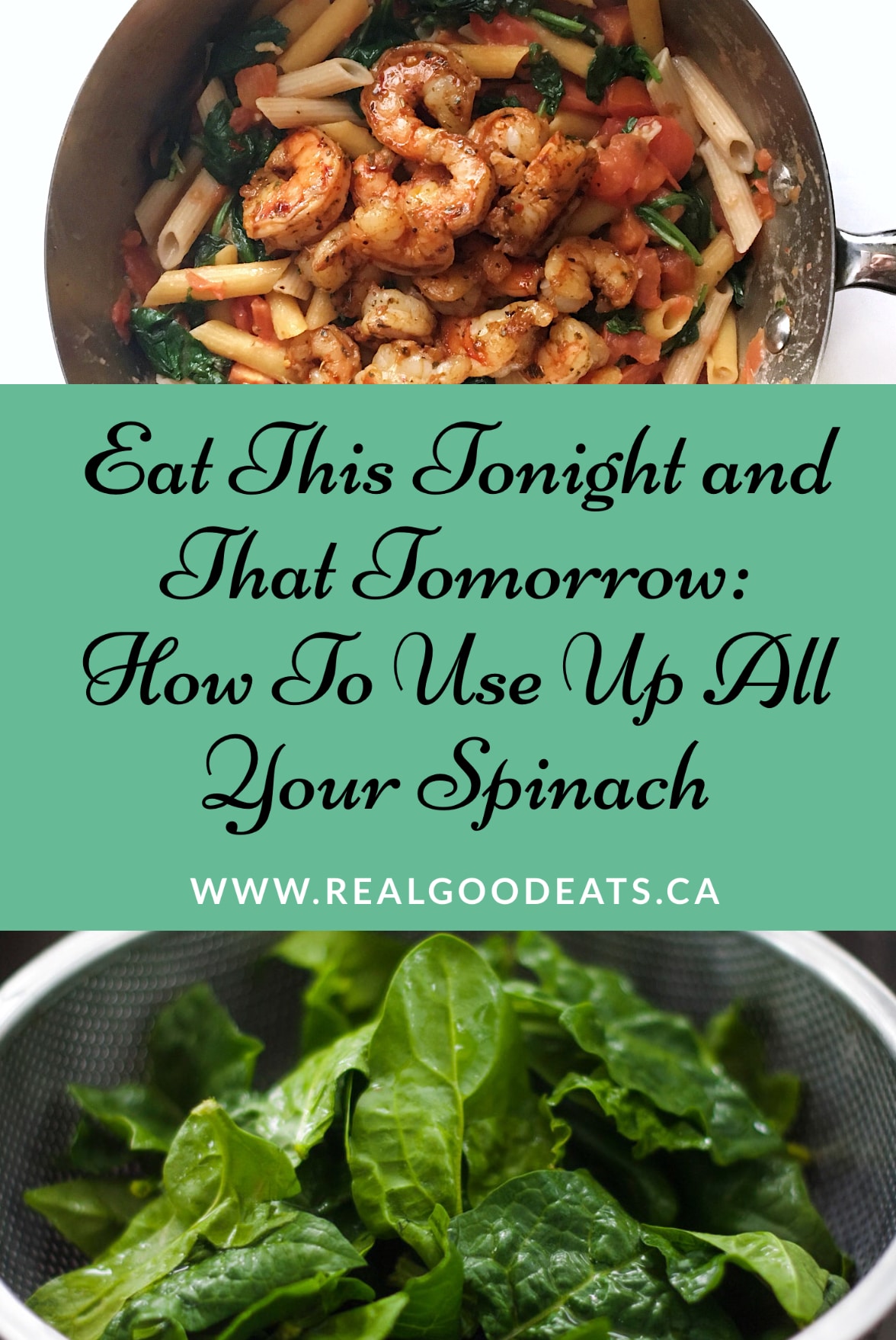 So rather than letting it go to waste, or choosing not to bring it home to begin with, I've gathered my favourite quick and healthy recipes using spinach to help you use up your entire stash of spinach, and reap the benefits of including this nutrition powerhouse in your meal routine.
Quick and Healthy Recipes Using Spinach
For when it's fresh today…
Take advantage of the freshness of spinach at the beginning of the week by using it in it's raw form. Load up sandwiches, wraps, and burgers for a nutrition boost, or use it as a base for salads. Need some ideas? Here are some of our favourite ways to use fresh spinach:
Strawberry and Avocado Spinach Salad with Chicken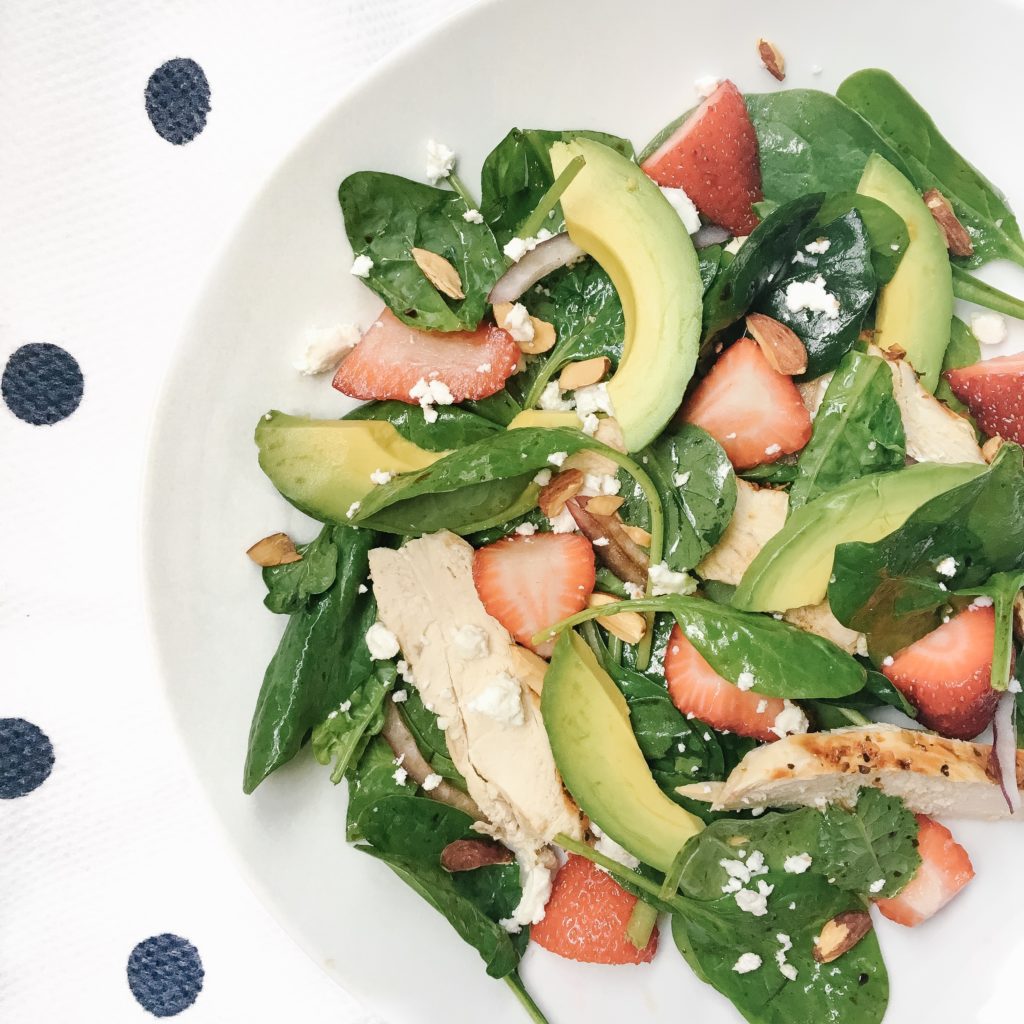 ThisStrawberry Avocado Spinach Salad recipe from Foodie Crush is as delicious as it looks! We love the use of strawberries to add a sweet flavour to this salad, and the variety of textures, and balance of protein & healthy fats makes for the perfect meal-worthy summer salad.
Chickpea Spinach Salad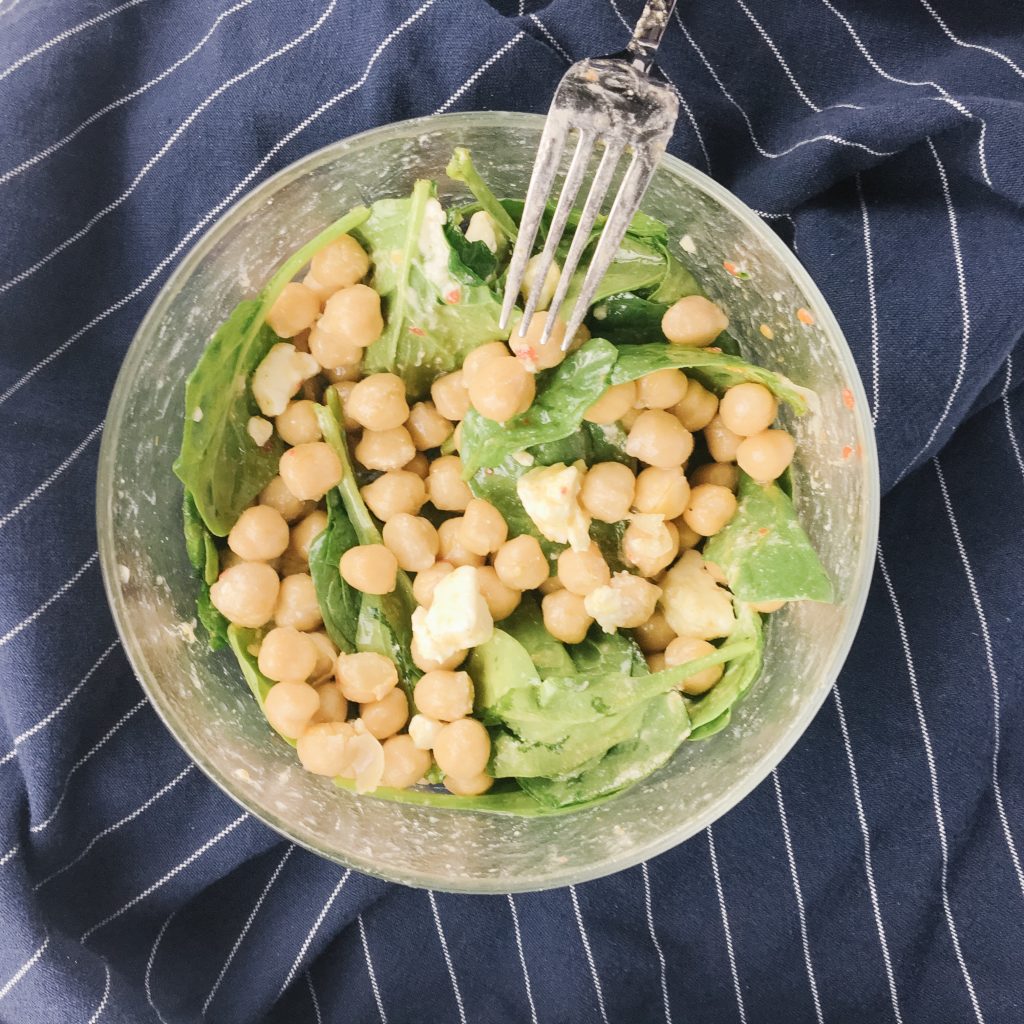 This quick and healthy recipes using spinach is one of my faves. Taking only 7 minutes, this Chickpea Spinach Salad recipe from Hurry The Food Up is as simple as it gets. It's quick (did I mention it only takes 7 minutes!!) and uses only a handful of ingredients you probably already have on hand. Using canned chickpeas helps to speed up this recipe as a quick and simple protein source, just give them a good rinse to reduce the sodium content.
Hummus and Grilled Vegetable Wrap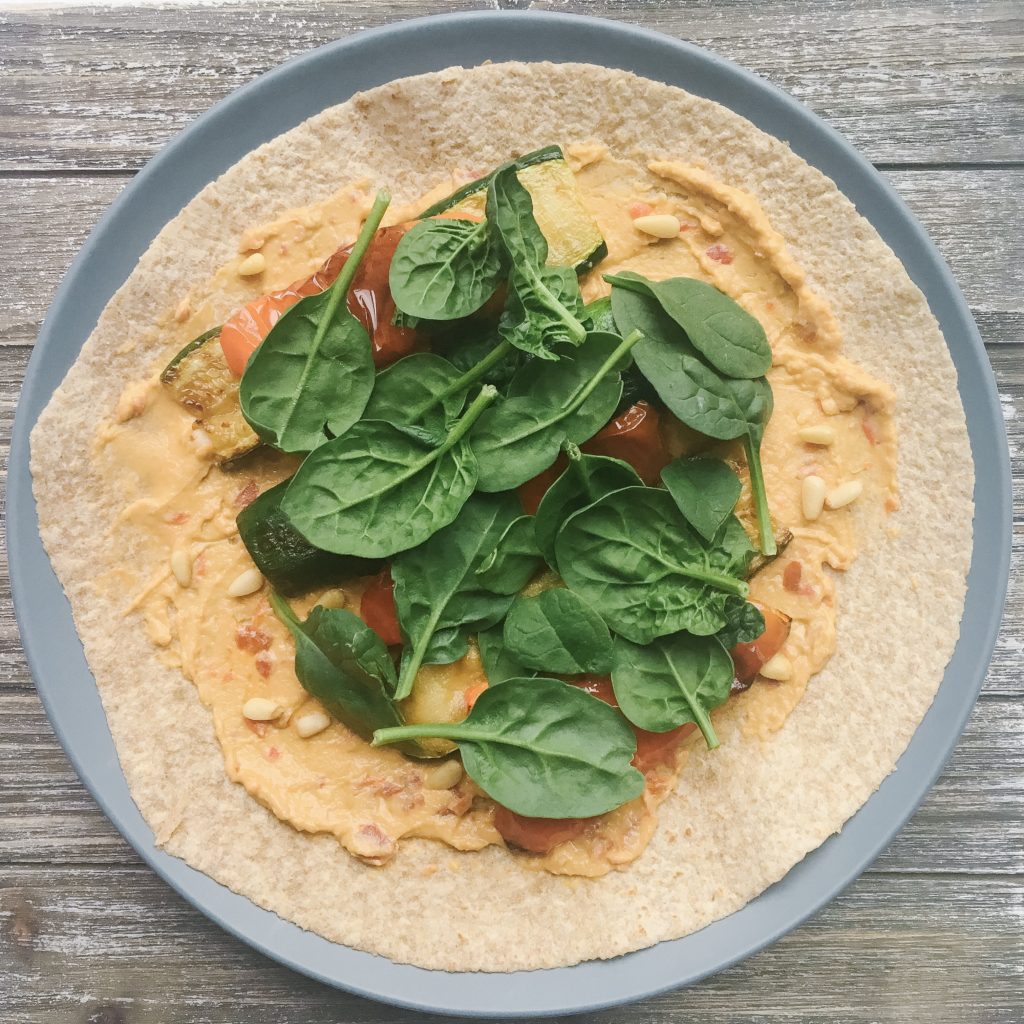 I love that this Hummus and Grilled Vegetable recipe from Food Network is packed with vegetables. The combination of cooked and raw veggies gives you a variety of flavours and textures, and the addition of hummus, pine nuts, and whole grains will leave you feeling satisfied.
Lentil Burger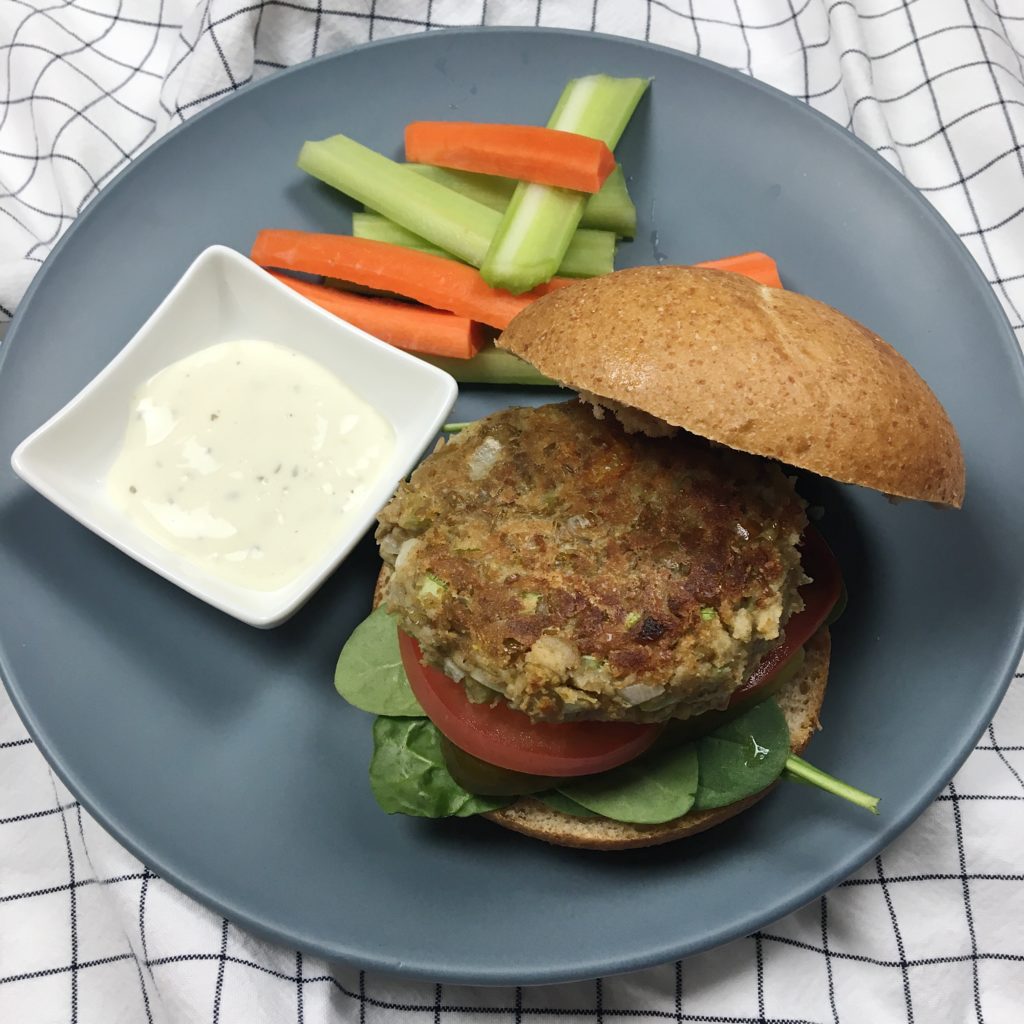 This Lentil Burger recipe from Diabetes Canada puts a heart healthy spin on a summer classic. Using lentils as a protein source makes these burgers high in fibre which is important for digestion, and maintaining healthy blood sugar & cholesterol levels. Top burgers with spinach and serve them with a side salad to keep things balanced.
For when it's not so fresh tomorrow…
Use the rest of your spinach in cooked dishes where it wilts from the heat anyway. You can add a surprising amount of spinach to soups, casseroles, pasta, or grain bowls. Once cooked, it shrinks down and you'll barely know it's there.
The best part? Many of the nutrients found in spinach, like calcium, iron, and vitamin A, are actually better absorbed when cooked. Try these recipes to avoid wasting spinach at the end of the week!
Shrimp Tomato Spinach Pasta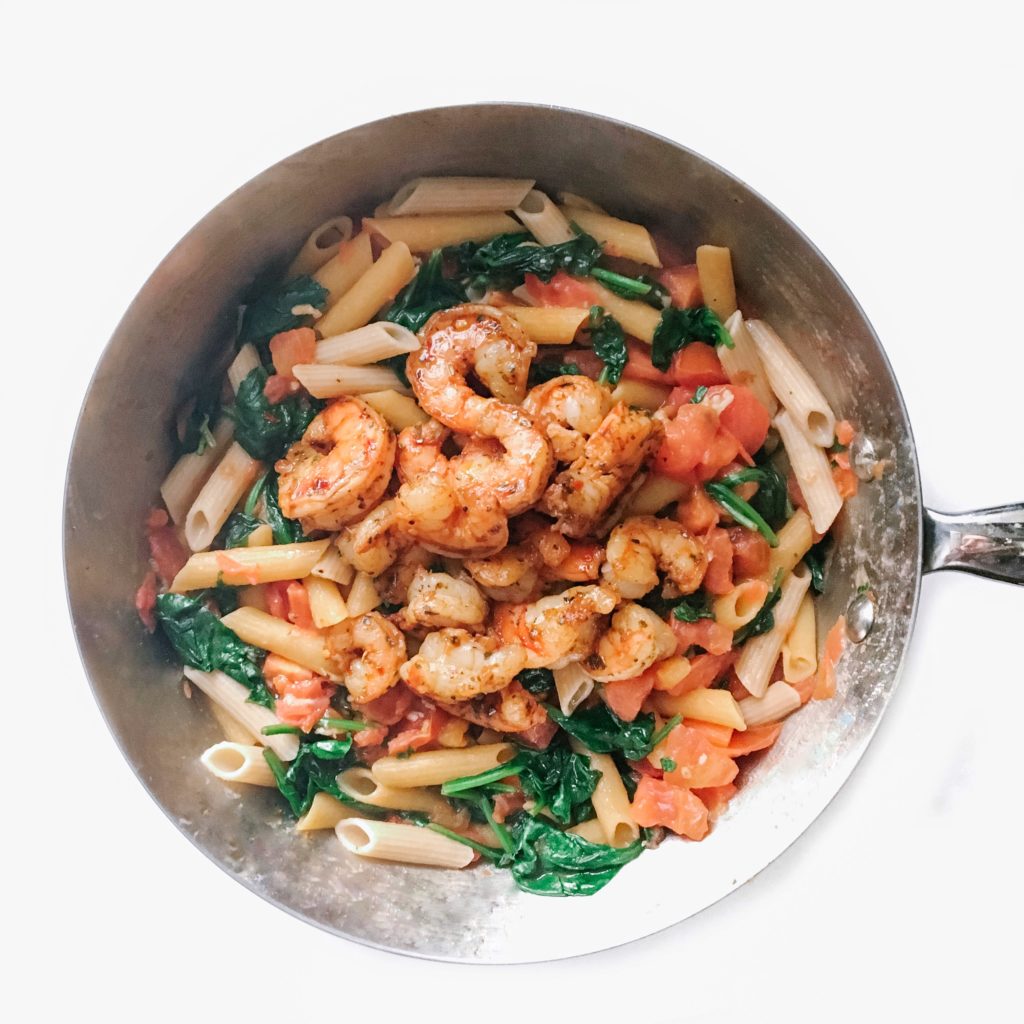 Who says pasta dinner can't be balanced? This recipe from Shrimp Tomato Spinach Pasta recipe from EatWell101 is loaded with spinach and uses shrimp as a quick cooking protein source for dinner in 20 minutes!
Easy Spinach Lentil Soup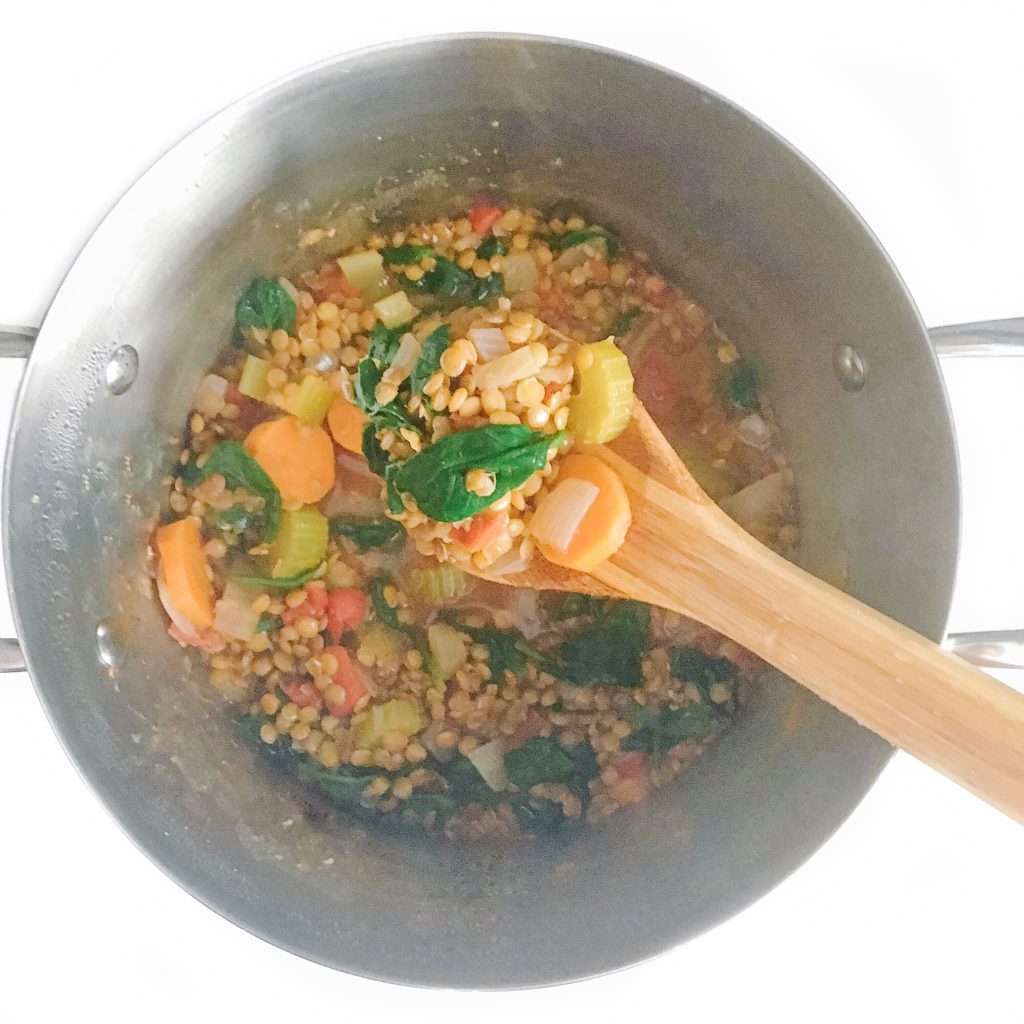 I love that this Easy Spinach Lentil Soup recipe from Delish can stand alone as a full meal. Using lentils adds a heart healthy source of protein, and adding spinach at the end is a great way to use up extra spinach in the fridge. Not to mention it only takes 30 minutes to throw together.
One Pan Chicken and Spinach with Dill Quinoa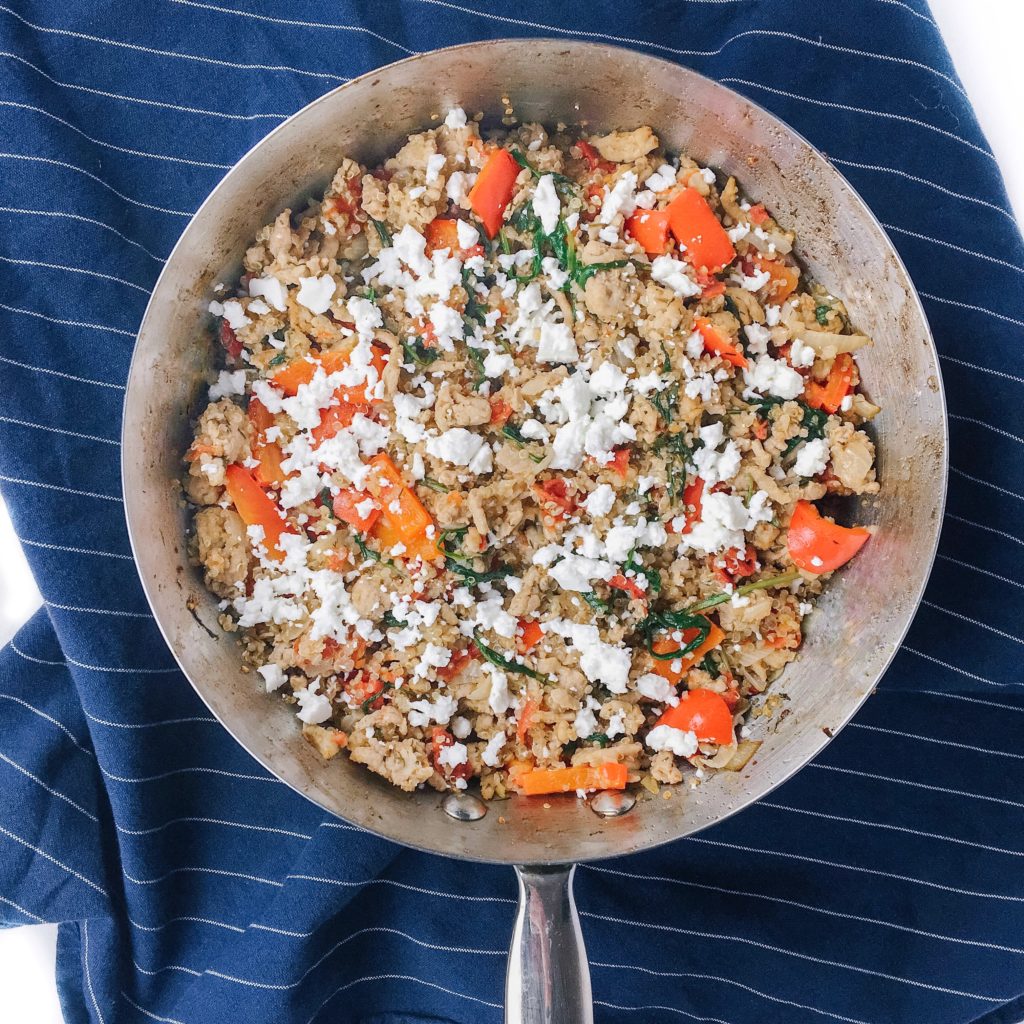 This One-Pan Chicken and Spinach with Dill Quinoa recipe is loaded with protein, complex carbohydrates, and veggies. With less than 10 ingredients, you can have dinner on the table in under 30 minutes. Don't be intimidated by the amount of spinach, it shrinks in volume once it heats up, so you'll barely notice it's there!
Curried chickpeas with spinach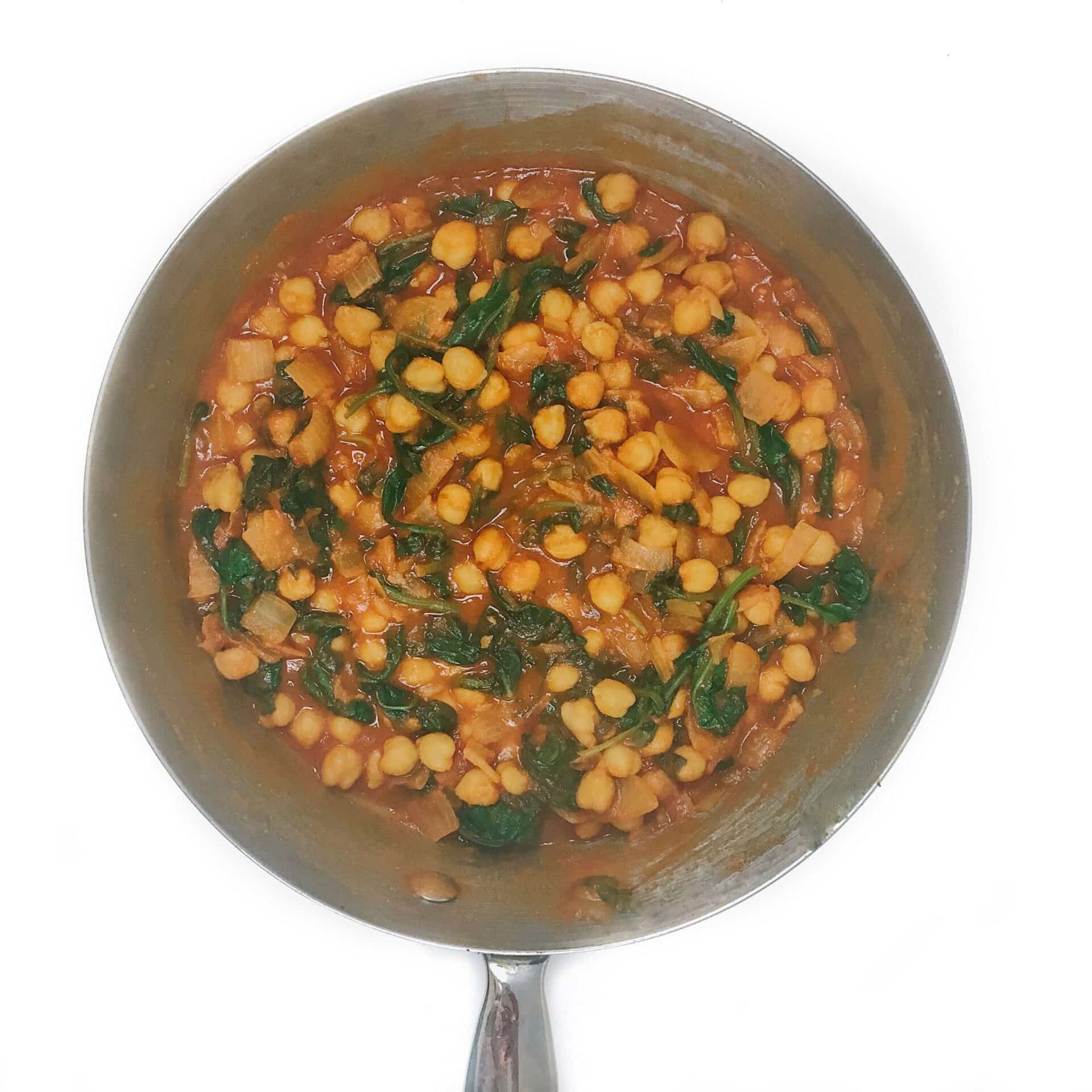 This recipe from Curried Chickpeas with Spinach recipe from Budget Bytes is both budget friendly and balanced. Using only a handful of ingredients, this delicious meal comes together in under 30 minutes.
What's your favourite spinach recipe? Leave a comment below!
Don't miss a thing! Subscribe to receive the latest recipes and healthy eating tips straight to your inbox!
[yikes-mailchimp form="2″]
About Brittany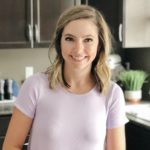 Hi there! I am a registered dietitian and I ? food! I am passionate about making it easier for busy people to eat well by sharing quick and healthy recipes. Healthy cooking at home can seem overwhelming, but it doesn't have to be. I love helping people uncomplicate weeknight dinners and reduce stress around meal time, so I'm so glad you're here!