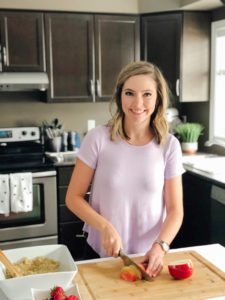 About Real Good Eats
Real Good Eats was started by registered dietitian Brittany Raftis as a solution to a far too common problem. There's a seemingly endless amount of healthy recipes and nutrition information available to us, yet we still can't figure out what's for dinner.
​
We have access to more health information and recipes than ever, but most of us don't have time to browse through various healthy eating sites to find good quality recipes, and we certainly don't have time to spend hours in the kitchen making dinner as our parents did.
RGE makes it easier to cook healthy meals at home. We specialize in quick and easy weeknight recipes that don't sacrifice nutrition. On this site, you'll find a combination of our recipes, nutrition tips, and meal ideas. You'll also find links to our favourite quick and healthy recipes from other food bloggers and nutrition professionals across the web.
Every recipe is cutting-board-to-table in under an hour, and many take less than 30 minutes. Consider us your one stop shop for realistic, healthy meal inspiration.
​
We've got allergen-friendly recipes that are free of top priority allergens, sheet pan & one-pot recipes for when you don't want to do dishes, and recipes that are ready in under 30 minutes. In the mood for tacos? Soup? Sandwiches & Salads? Browse all of our recipes to eat well, even on your busiest days.