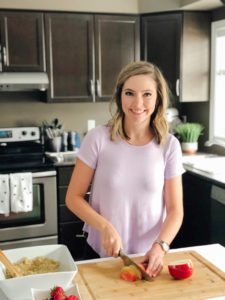 About Real Good Eats
Brittany is a registered dietitian and food enthusiast! She is passionate about connecting people to the right food products and simple recipes to make healthy eating easier.
We're busier than ever, and finding the right products to suit your needs can be challenging when there are so many options at the grocery store. Confused about nutrition labels, looking for the right protein bar, or wondering if a certain product is actually healthy? Check out our Grocery Shopping tips for product reviews and recommendations to make product selection easier.
Cooking meals at home can also be a challenge when you're short on time. We have access to more health information and recipes than ever, but most of us don't have time to browse through various healthy eating sites to find good quality recipes, and we certainly don't have time to spend hours in the kitchen making dinner as our parents did. Check out our collection of Original Recipes and Recipe Reviews for the best weeknight meal ideas to make home cooking easier.
Want to share your feedback or work with Brittany? Contact us at info@realgoodeats.ca .